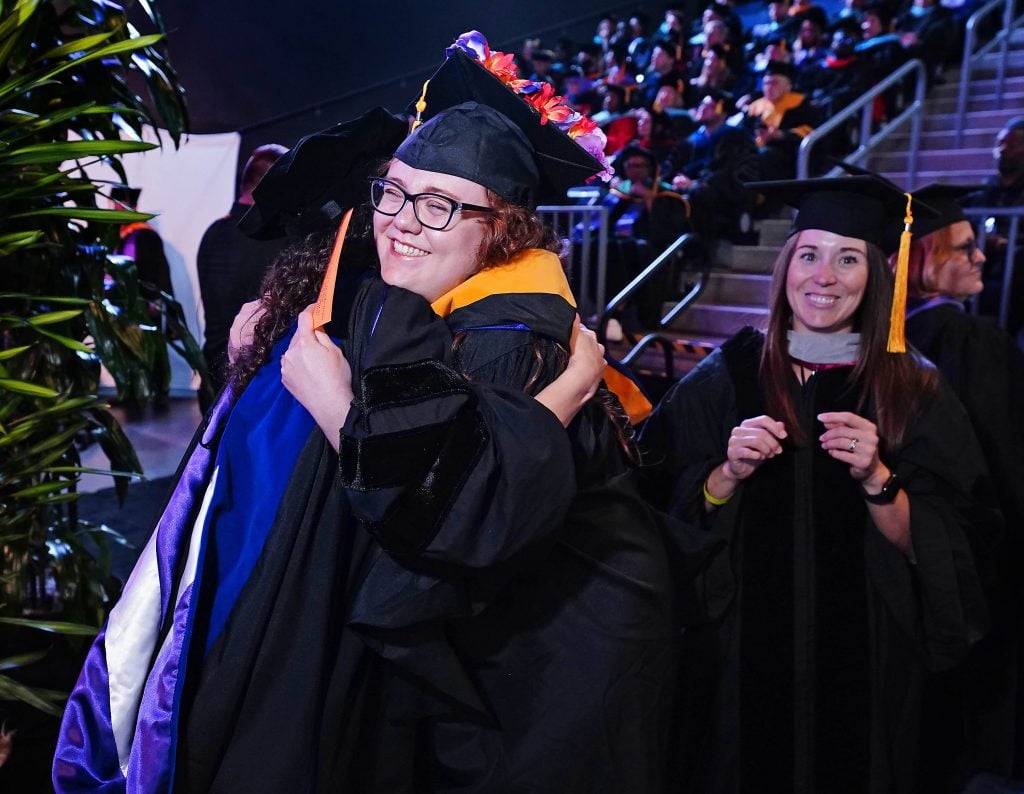 Photos by Ralph Freso / Slideshow
The first time Emily Moncada toured a forensic science lab in college, the bug bit.
"I knew it was the career for me," said Moncada, who was at the University of Arizona at the time completing double bachelor's degrees, one in health science and physiology and the other in molecular and cellular biology.
Forensic science spoke to her love of lab work — she was employed at a heart research lab for a time — and it also spoke to her passion for criminal justice, which was inspired by her prosecutor father.
So Moncada started searching for an online program and discovered one at Grand Canyon University.
She was among the first students to receive their master's degree in forensic science from GCU, celebrating her achievement at Friday morning's Commencement ceremony at GCU Arena.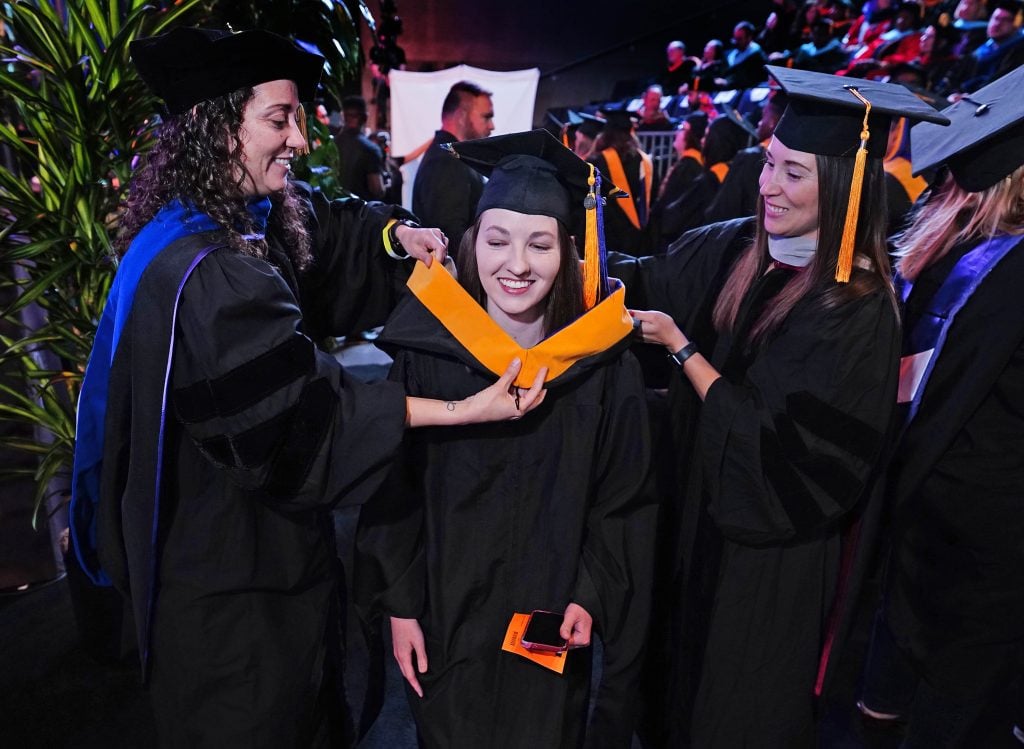 "It's very exciting. We have a great program, and enrollment is increasing with every cohort. We're doing good things," said associate professor of forensic science Dr. Melissa Beddow, who said of these first graduates and the new master's pathway, "… We're the trailblazers."
The innovative program was the first online science degree offering for the College of Science, Engineering and Technology, which is focused on increasing its presence in online learning. The college recently added an online master's option for nutrition and dietetics, and more science programs will follow.
"It's one of our goals," Beddow said of developing CSET's online presence.
When she started her studies for a master's in 2005, only three graduate programs for forensic science existed.
"Since then, there's been a huge desire for it" Beddow said.
Employment for forensic science technicians, who work in crime labs to help solve criminal or civil cases, is projected to grow 11% from 2021 to 2031, much faster than the average for all occupations. About 2,500 openings are projected each year on average over the decade, according to the Bureau of Labor Statistics.
What's so notable about GCU's program, which launched in August 2021, is that Beddow and Assistant Dean of Science Dr. Bina Vanmali believe it is the first online master's program in the country to incorporate remote lab work.
The college partnered with Carolina Biological to design lab kits with step-by-step instructions to conduct experiments at home. The kits might contain slides with dried fluids that students analyze using compound microscopes mailed to them, or they might include fibers they evaluate under a microscope.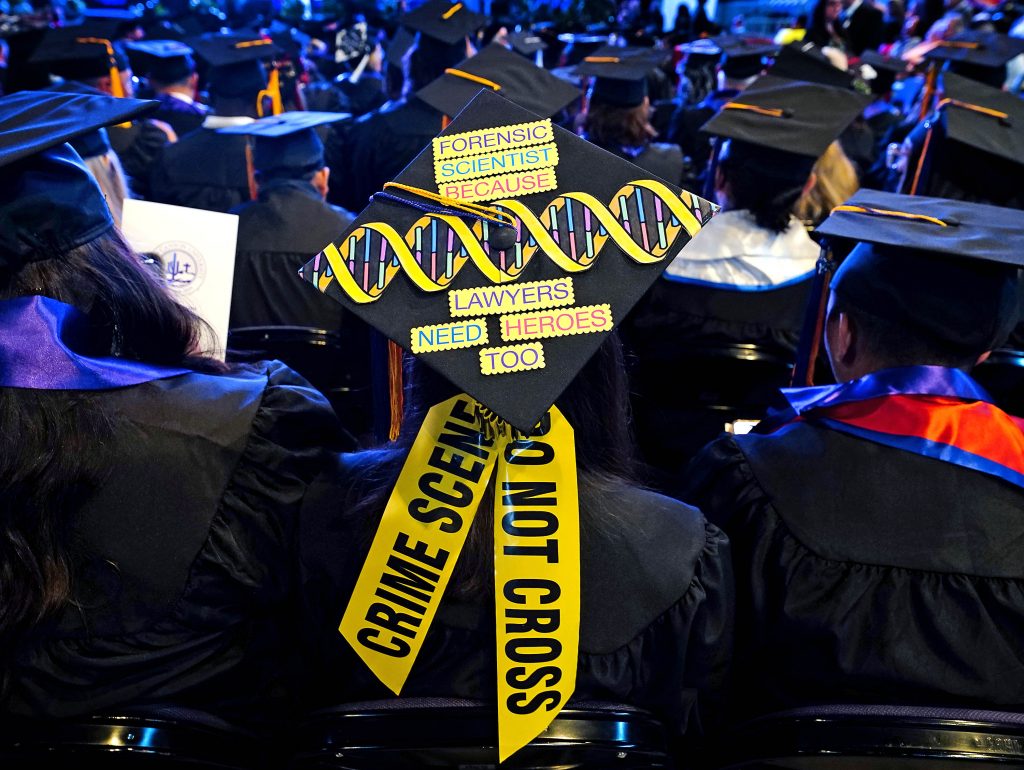 "It's like a laboratory in a box," said Brittany Fleck, who fell in love with forensic science after attending GCU's Forensic Science Day as a high school student. She, too, graduated Friday with her master's.
In one lab, students set up a crime scene in their own homes, complete with crime scene tape. In another, they observed the reaction of different chemical reagents on dyed fabrics. Also, they performed tests on red-stained cloth to determine if blood is present.
Fleck said the labs she completed at home helped her in her job as a crime scene technician for the Chandler Police Department. She landed the position after volunteering for the department as an undergraduate forensic science student at GCU.
"I was super interested in the crime scene processing in class. It's exactly what I'm doing in my job right now, so learning about that was really cool for me," she said.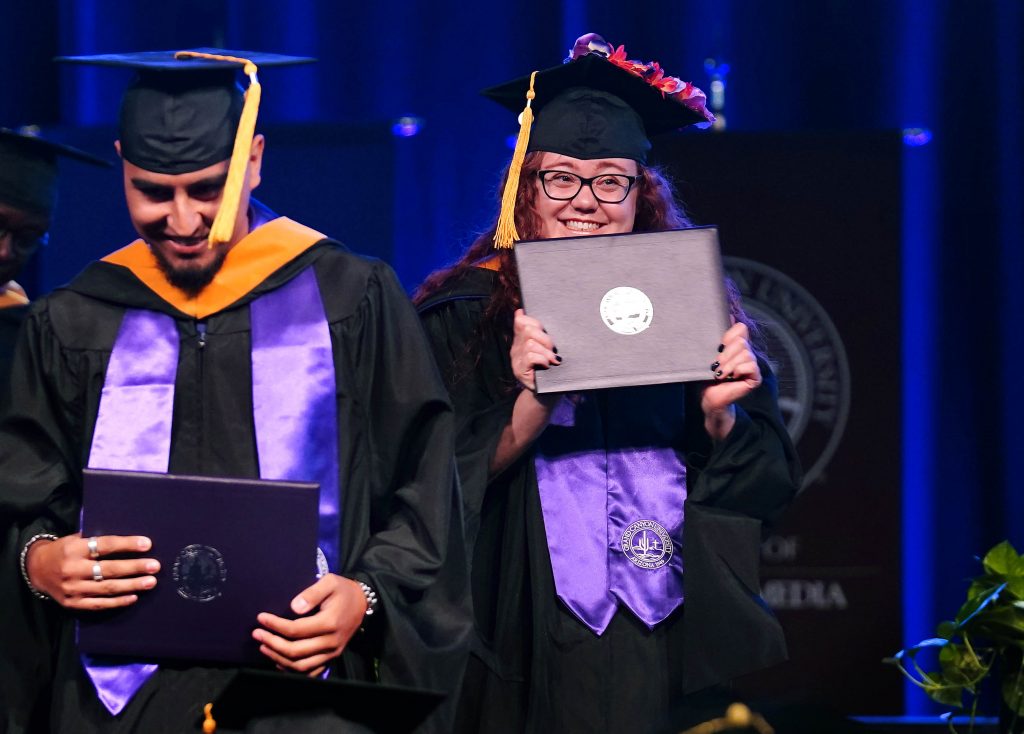 Her other favorite activity: her courtroom testimony class. Students had to answer prerecorded questions, as if they were experts on the stand.
Outside of the at-home labs, Fleck appreciated the program's flexibility.
"The program was very dynamic and challenging, but it was do-able in the sense that it was independent work, so you could do it on your own time," she said.
That hands-on knowledge is something Beddow believes will make GCU's master's graduates more valuable to industry.
"A master's is not required (to become a forensic scientist), but it does count as two years of experience. Students who get their master's, instead of ending up working in a lab right away, start at a higher level going in," Beddow said. "At the same time, if they're already working in a lab, they can promote faster if they get their degree while working."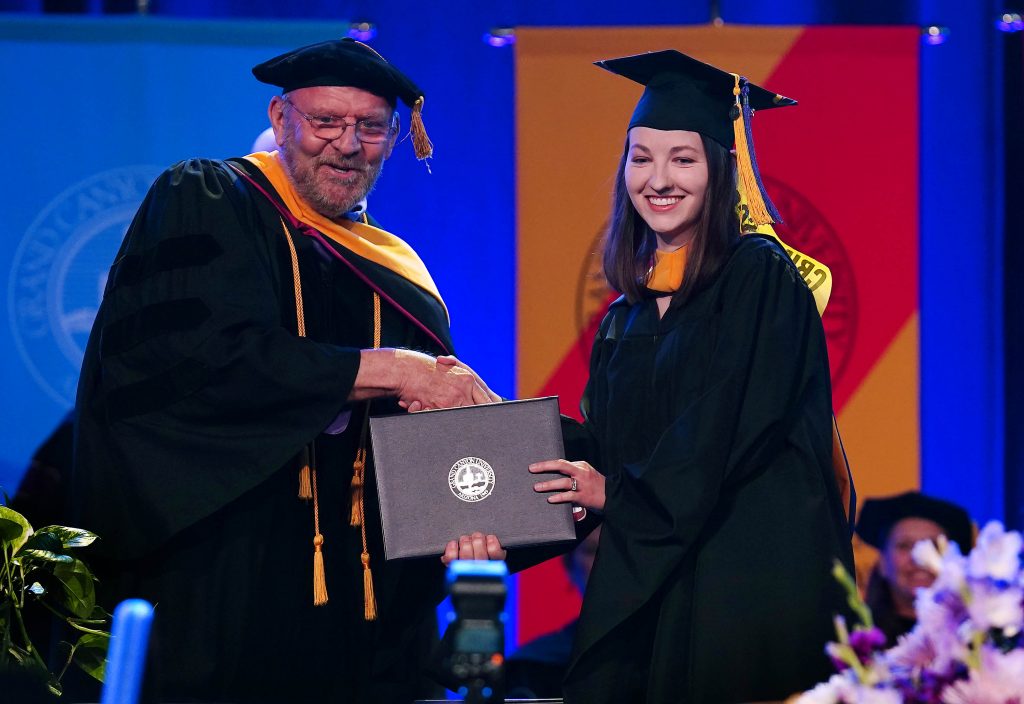 Moncada said, "Forensic science has become a more and more competitive field," so labs are looking for applicants with a master's degree.
Plus, added Fleck, "It's a rock-star thing to have on your resume."
It's also a rock-star thing to be among the first students to graduate from the program. "You never think you'll ever be the first at something. … I'm also the first person in my family to get a master's degree, so it's a double whammy, a double first," Fleck said.
With Commencement complete and her degree in hand, Moncada is in the midst of the application process while reflecting on her journey to her master's.
"I absolutely loved this program. … I feel very honored to be part of this first graduating class."
Manager of Internal Communications Lana Sweeten-Shults can be reached at [email protected] or at 602-639-7901.
***
Related content:
GCU News: A graduate's walk from dirt floors to dreams
GCU News: Former NFL player, now GCU grad, fielding career in life coaching
GCU News: Grad takes classroom lessons from GCU to Tanzania
GCU News: Three GCU degrees are researcher's therapy and hope for others after tragedy
GCU News: For Law, it was logical to graduate at 17
GCU News: Emotional encounter with military veteran leads to GCU degree