In Tanzania, home of the Serengeti and Kilimanjaro national parks, David Hoskinson felt fulfilled.
He watched as a teacher at Mairowa Integrity School used a learning strategy called Four Corners, in which the teacher asks a question and gives students time to think before they respond to the question by standing in a designated spot that represents their answer choice.
He saw one of the school's teachers use the strategy the next day, an approach he learned just a few months before in his graduate education program at Grand Canyon University.
"Everything I was learning in that course applied to exactly what we were doing in Tanzania," said Hoskinson, who traveled to the east African country last summer as part of Scottsdale Bible Church's global outreach efforts. The church partners with two schools in Tanzania.
To see a technique he learned in class at GCU, and to see how he affected a fellow teacher 9,600 miles away from his home in suburban Phoenix, "It warmed my heart," he said.
Teachers live for those moments.
Hoskinson lives for those moments.
Another moment he has lived for: Walking across the stage in GCU Arena at 2 p.m. today in the final of 10 Spring Commencement ceremonies spanning two weeks and celebrating more than 29,100 graduates.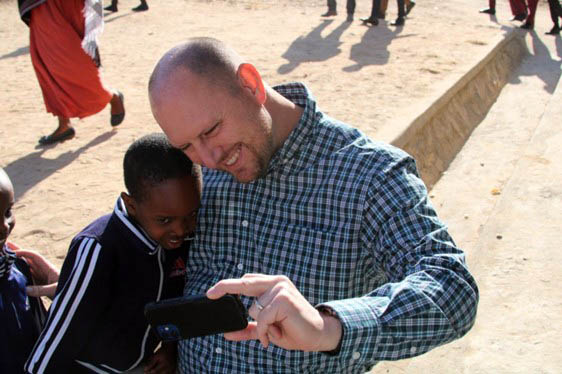 The teacher at Cesar Chavez High School in the Phoenix Union School District will receive his master's degree in educational administration. It's his third graduate degree, following previous master's degrees he has earned in special education and in secondary education for English teachers.
Hoskinson, who's from Dayton, Ohio, never set out to earn one master's degree, let alone three.
His undergraduate degree from Northwestern University is in psychology.
"But I got to the end of my junior year … and I really didn't know where I was going to go with that."
Then a trip to Rome between his junior and senior year of college changed everything. It's when he got his calling.
"What should I do?" he asked God. "He kind of answered … He said, 'Teach.'"
"I always love working with students. I always love looking for creative ways to teach students, help them succeed and maybe do things a different way."
It's what he has done as a special education teacher, an algebra teacher and, now, as the manager of a Chavez High micro-school to help students get into competitive colleges and universities, as Hoskinson did when he was accepted into Northwestern for his undergraduate degree.
Like in Tanzania, he brings his skills as a teacher to remote parts of the world as part of the global outreach work that he loves as much as enriching students' lives as an educator.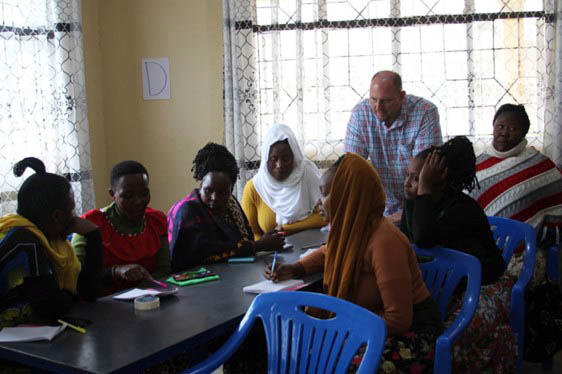 He spent the past two summers in Tanzania with wife Hilary Hoskinson, not only leading professional development courses for teachers but delivering laptops to students in 2021 and, this past summer, delivering robots for students to assemble. They'll use their coding skills to program those robots through a program called Scratch.
And this summer, he and Hilary will head to northern Uganda to work with refugees. Hoskinson will use his teaching skills once again, this time to educate leaders at a local church in how to lead Bible study.
Global outreach is nothing new to Hoskinson.
It's how he met his wife. They both were serving in northern Africa. For five years, he taught, coached and led a school through initial accreditation. Hilary taught first grade at the school and felt called into nursing during her time there, leading her to complete a second bachelor's degree through the nursing program at GCU.
But before they head to the far reaches of the world again, they'll be at GCU so Hoskinson can walk the Commencement stage.
Hilary is excited for David's graduation, remembering her own time here in nursing school and "being in a community with other Christians and being free to practice my faith in Christ. … It was just a great community to grow in my faith in Christ and develop skills that can make an impact in our world."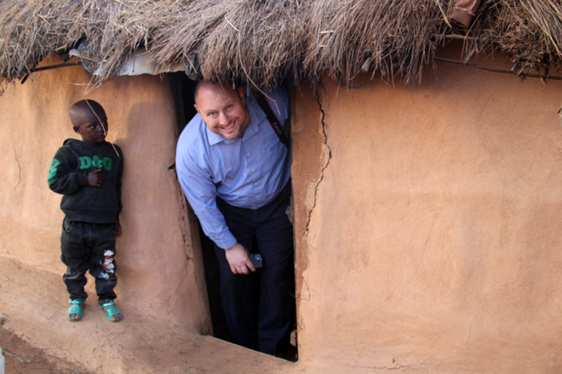 Hoskinson's hope is to become a school principal.
He always seems to be invited to serve on school committees, and when a team leader said to him, "You know, you're going to be a principal," he started thinking seriously about it, and about the moments that make him love his job as an educator.
He recalls when he was in Tanzania and planned to skip giving the teachers at the Mairowa Integrity School a QR code to evaluate him as part of his GCU coursework.
"I underestimated how fun it would be to watch these teachers discover how a QR code works."
And he cherishes the times students have told him, after struggling in math their entire high school career, that they suddenly felt they understood things.
"That's always rewarding," he said.
Whether in Phoenix or Tanzania, as an educator or when doing global outreach work, he wants to make an impact.
As a teacher, he lives for those moments.
Manager of Internal Communications Lana Sweeten-Shults can be reached at [email protected] or at 602-639-7901.
***
Related content:
GCU News: Three GCU degrees are researcher's therapy and hope for others after tragedy
GCU News: For Law, it was logical to graduate at 17
GCU News: Emotional encounter with military veteran leads to GCU degree