After 15 years in the NFL, it would have been easy for Lorenzo Alexander to scale down.
But he didn't.
Instead, the former professional football player — he played for such teams as the Arizona Cardinals, Washington Redskins and Buffalo Bills — pushed and challenged himself, just as he did in his professional football career.
Part of that challenge: earning his master's degree from Grand Canyon University.
He walked across the Commencement stage in GCU Arena on Wednesday alongside his daughter, Vanessa. Both received their degrees in psychology, though her concentration is in industrial and organizational psychology and his is in life coaching.
"My daughter set the tone. She was getting her master's, and I wanted to follow in her footsteps a little bit, so it was cool," said Alexander, who retired from the NFL three years ago at age 36, saying back then that he could continue to play on and on but wanted to be an active dad: "I'm with peace with it," he said, "because I'm choosing my kids and my family and my wife, versus not choosing football."
Although, he has not left the sport altogether.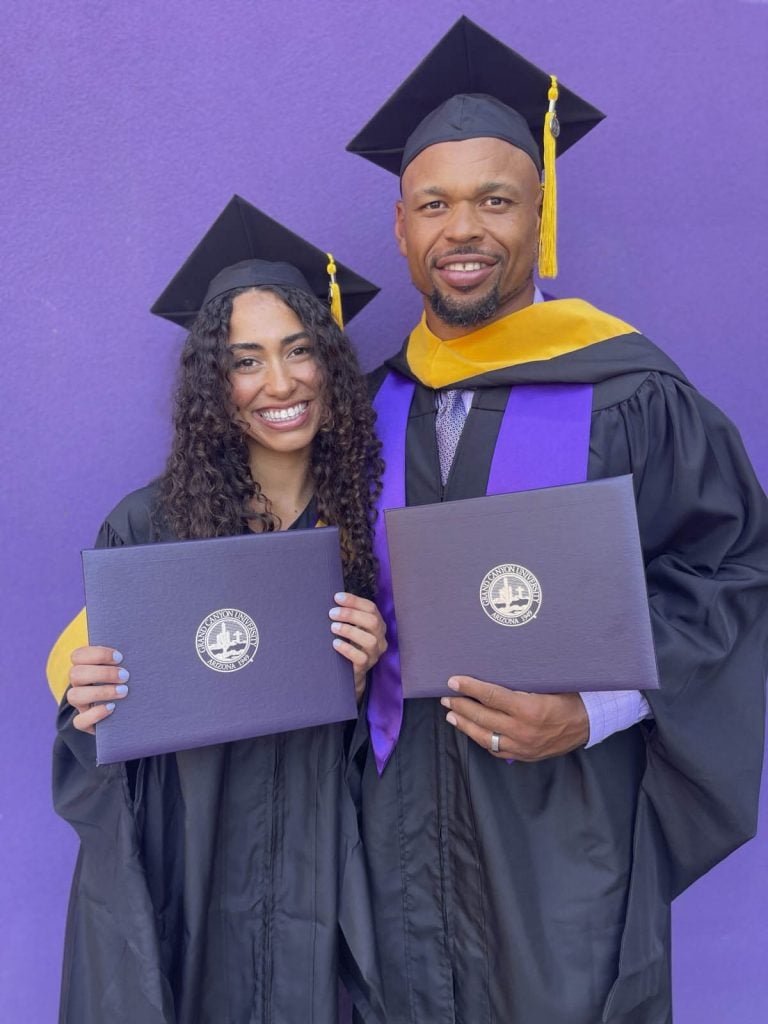 While he played professional football, he helped fellow players acclimate to the NFL life, and he still works for the league as a community coordinator, supporting former players as they transition away from the sport. He also mentors athletes with boutique marketing agency Avalon Sports as its vice president of player engagement.
"I'm a leader in that way, and I had a couple of coaches and players always talk about the growth mindset and to always continue learning. So, as I transitioned away from the game, I wanted to help guys make that transition, as well, because it's really hard for a lot of players — just, really, for anybody — to go through transition."
What's unique to the NFL, he said, is that a player's professional life in the sport is so short. According to data compiled by NFL experts, the average career lifespan is just 3.3 years.
Most players don't have time to even think about what life looks like after the NFL, which wasn't the same case for Alexander.
"I think mine went fairly smooth," he said of his transition. "I had an opportunity, like I said, to play 15 years, where most guys play two or three, and they still want to play but, for whatever reason, that opportunity is no longer open.
"I think because I had a long runway, I had time to process my own decision and go out on my own terms while watching other guys transition and what that looked like for them. I was able to make that pivot maybe a little bit more effectively than most guys."
For Alexander, whose undergraduate degree from the University of California-Berkeley is in pre-law, the biggest challenge in his own transition over the past three years has been structuring his own life. In the NFL, the organization schedules you, but afterward, "How do you now structure these things on your own and not procrastinate, be effective and efficient and not waste time? Those are the things you have to learn, no matter how prepared you are."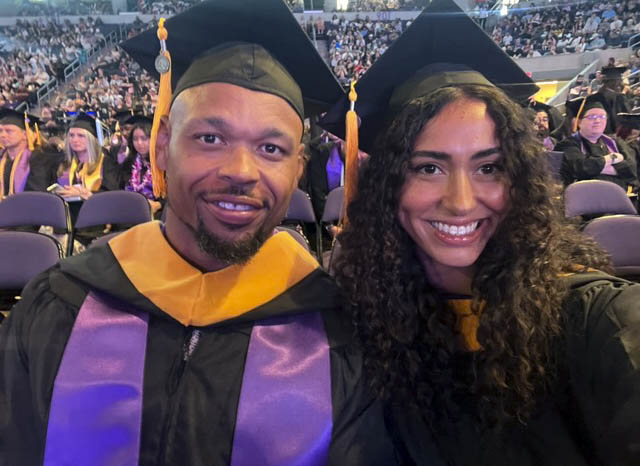 Seeing other players struggle with finding their footing after their athletic careers was one of the motivations for him in getting his life coaching degree. He wanted to add to his practical experience with an academic background.
"The biggest thing is knowing that guys have the ability. They have the skills to transition. A lot of times, they just get stuck because they don't possess the framing, the proper framing, of who they are and what they're capable of outside football.
"I just want to make sure I make guys frame their transition, because all of them possess the need to be successful in other areas of their life, but they lack the perspective."
Going through the pandemic, then working on his master's, he said, helped him with some of that framework in his own life.
It also helped him relate more and bond with his daughter, who started her master's program just a little before he did.
"It provided me some empathy or compassion in the way that she thinks or how this generation thinks and try to find out ways to kind of bridge the gap."
Alexander will be using his degree to continue helping NFL players as a consultant but also to help youth. He's the president of the ACES Foundation, which supports youth by promoting a healthy mind and body through sports, while also taking pride in the community, striving for educational excellence and emphasizing accountability.
He knows that most people who play sports as kids aren't going to play in college or professionally, but he wants to leverage sports the best he can to help make youth more rounded, impactful adults because "sports is such an adverse environment, and you want to make sure that you're learning, through that adversity, principles that apply in real-world applications."
Outside of helping other athletes, whether they're professionals or youth athletes, he also heeded to past mentors' advice about the growth mindset and to always continue learning.
He wants to be a lifelong learner, though that doctoral degree might have to wait.
"I have a couple of friends that are doing it. They say it's the hardest thing in their life."
Manager of Internal Communications Lana Sweeten-Shults can be reached at [email protected] or a 602-639-7901.
***
Related content:
GCU News: Three GCU degrees are researcher's therapy and hope for others after tragedy
GCU News: For Law, it was logical to graduate at 17
GCU News: Emotional encounter with military veteran leads to GCU degree