Photos by Ralph Freso/See slideshow here
In Emma Harris' common room, it's all about that audacious, velvety, emerald green sofa.
But when the Grand Canyon University communications/broadcasting sophomore steps into her residence hall room, it's less about audacious than it is about creating a Zen oasis to balance her go-go-go, roar-of-the-crowd college student life, which recently included 9 a.m.-to-5 p.m. Dance team practices.
"A trend right now on TikTok is the clean-girl aesthetic," said the high-energy Harris, who LOVES public speaking and fashion and dreams of walking the runway as a model. "I wanted my room to be super clean, so when I come home, I'm in a clean space and my mind is clean. It's just easier for me to work that way. Last year, my room was pretty hectic, so I wanted it to be super simple this year."
Harris' room, one of four in her Verde River Apartment, is decorated in whites — white bedding that's more about the waffle texture than the color, a white end table, white flowers and a white curtain serving as a closet door.
But what brings her room together, she said, is her rug. " I based everything off it," and added that when it came to decorating her space, it was "ALL ME."
Once she placed that white-and-orange checkered rug down to match the two gold-framed orange-and-pink flower prints above her twin XL bed, and once she added an orange-hued, weighted stuffed animal to it, it was done and DONE.
"Once I had this space figured out, then the year starts," she said.
The same goes for all of GCU's student residents who are moving into the residence halls this week. They're gingerly abandoning the sensible yesteryear armoires and sectionals of their parents' homes to 100% embracing their own design aesthetic.
And they get to do so in residence halls consistently ranked among the best in the country — Niche for 2023 named GCU No. 5 for Best College Dorms in America.
The University touts 30 residence halls, including Oak Creek and Turquoise, which opened just last week on the east end of campus.
"Students have a lot of choice in what sort of living environment they want for their college experience," said Residence Life Manager Sarah Byrne. "If you want a dorm experience where you can be close to your roommates and have a lot of community on your floor, it's available. If you want a private bedroom and full kitchen, that's also available, even to freshmen."
Other boons to living on campus? Its responsive facilities team and the fact that residence halls are just walking distance from a gym, pool, convenience store and at least one eatery, Byrne added.
"I think the fact that we have several new, nice options of accommodations for students that can give them the college experience they want for a price they can afford is really spectacular and not common for many universities."
The college experience for senior Havocs leader Emilie Bader means creating a space in her Agua Fria apartment that's uniquely her.
Like Harris, she keeps it simple and clean with a white, pink and orange color palette. "That's definitely the trendiness right now — orange, pink and white," Harris said. Bader's room includes an orange sunrise pillow and orange Pluto stuffed animal on her white comforter, along with a simple string of trendy fairy lights on her wall.
But what stands out are her decorated walls.
"I feel like everything is a refection of my life," Bader said of her room, which includes a colorful gallery wall. She took second-hand frames from Goodwill and painted them in oranges, yellows and navy blues, then filled them with photos and images she printed of rainbows, sunrises and polka dots.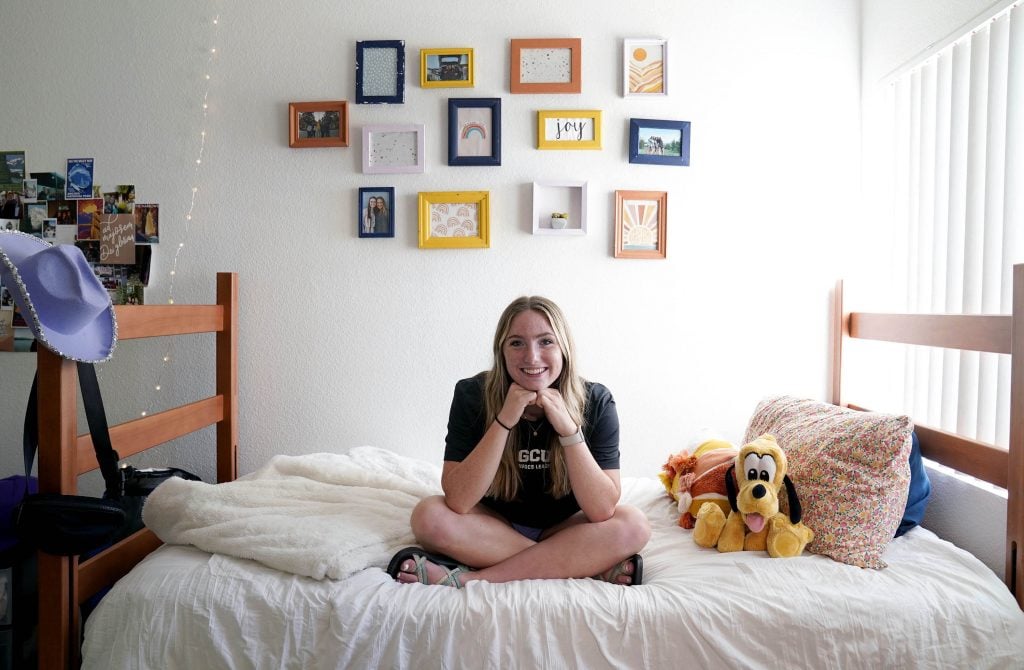 "I try to DIY when I can," she said, and added with a laugh of college-room decorating, "SO many Command strips!"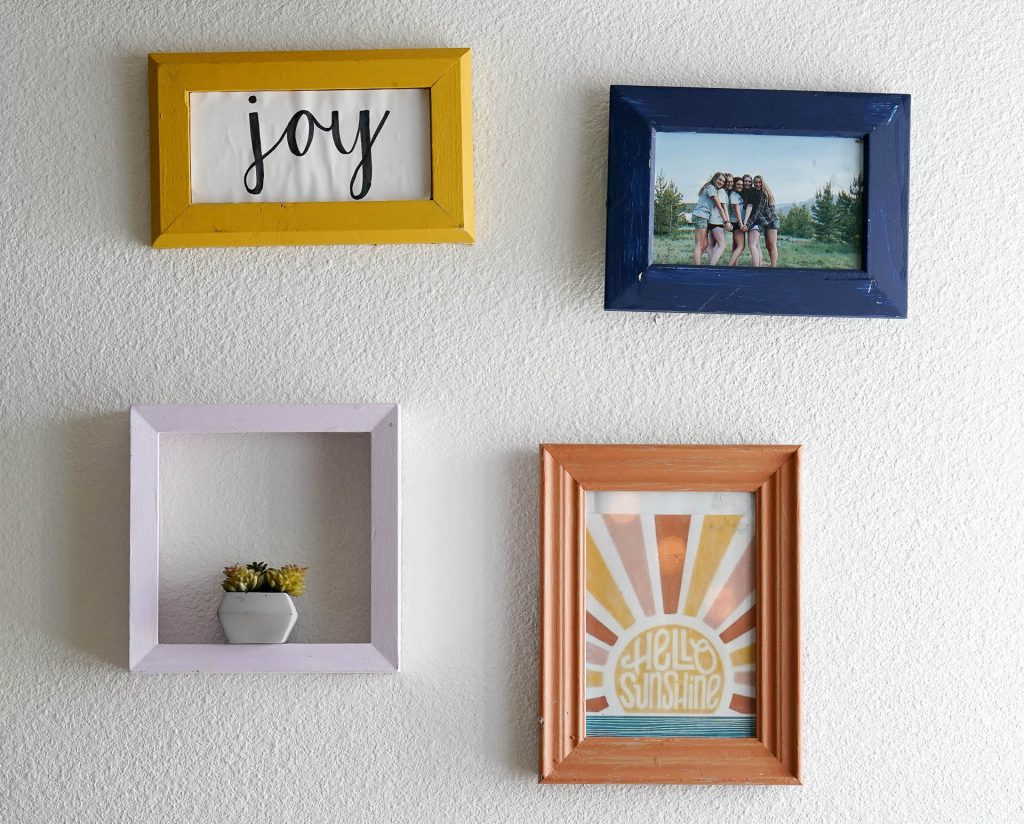 Then there are the vintage postcards she assembled into a photo wall, a nod to the outdoors along with the wall art of sunrises and rainbows.
"My family travels to national parks a lot. Every national park we go to, we get these vintage-looking postcards to hang up and display. It's fun to collect those."
What also was fun for Bader was coordinating décor with her roommates.
Their living room is dappled with an understated pink-peach theme in the wall art and array of pillows.
Other on-trend elements: a trio of macrame hanging shelves, more white fairy lights on the wall of the common area and plenty of artificial plants.
"We got a couch together, and we went to Five Below together and had a vision," Bader's roommate, senior Natasha Suder, said of decorating the common space.
Bader added, "It's a good bonding experience with your roommates right at the beginning ... getting to see how it all plays out and come together. It's just fun doing it with people that you're going to grow closer to throughout the year."
Dance team member Maya Cook, a junior psychology major, group chatted with her roommates to nail down a look for their common space.
It was, "Oh, I don't like this, or I don't like that," said Cook, who struck a bit of a boho vibe for her room in the Cactus Apartments, a space her fellow Dance team members unanimously agreed is about the cutest college apartment space around with its orange-pink-yellow color scheme against white bedding and a white folding dish love seat.
Some stand-out elements: the white-and-orange flower pillow, the SquishMallow chick with orange floral belly, macrame hanging shelves with cactus plants, an orange-yellow-pink patterned rug and a trio of white-framed posters, including an Andy Warhol "Sunset" print.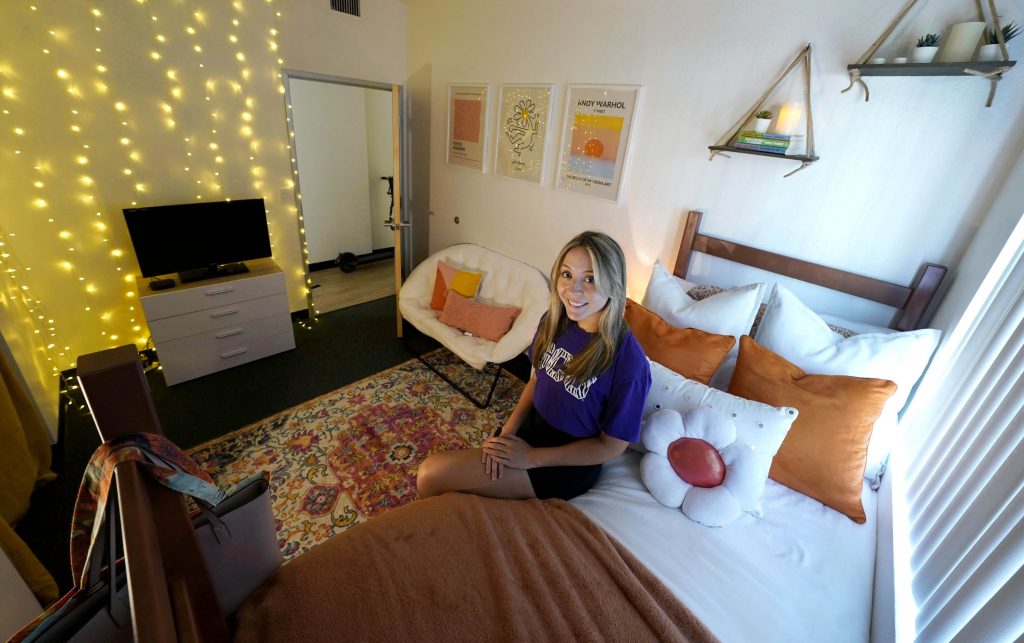 Cook said she wanted to change the mood of her dark room from last year.
"It got a little sad in there, so I needed some colors to lighten my mood," she said. "I honestly love bright colors or anything bright. I love the boho aesthetic."
Sophomore elementary education major and Agave resident assistant Josh Klippert decorated his apartment's living space with a small gray sofa, gray moon chair, black dining table set decorated with a gray runner, and plenty of real live plants for a little color.
He carries that black-and-gray color scheme to his room and adds blue for good measure: blue comforter, gray curtain, cube shelves with blue-and-gray bins.
He filled one photo wall of black frames with architectural design photos, landscapes and cityscapes. Part of another wall highlights photos and notes friends and family have written to him.
And like Bader, he dedicates part of his wall space to national parks.
"I've been to most of them," he said of his national park posters, sharing a little about his trip to Montana and Wyoming to visit Yellowstone and a recent trip to Hawaii, where he hiked the beaches.
What Klippert wanted to do this year was buck the popular dorm décor trends and just make his space feel like home, scouring places such as Target, Home Goods and GCU Buy Sell Trade on social media to make budget-friendly finds (Wayfair, Redbubble and Goodwill are also college décor hotspots).
"Last year I had the typical trend of a flag up, but this year I didn't want a flag. That's not super homey to me. I am trying to re-create something you'd see in an actual house," he said.
It's a sentiment echoed by Cook, whose favorite part about dorm decorating is, "I think, just making it my own. … I love decorating. It's one of my favorite things to do, and having this little space gives me a little bit of control."
Harris was preparing for the Dance team's first big campus event, a 5:30 a.m. call on Monday when television news crews head to GCU to cover Welcome Week and Move-In.
After the big events of the day, it'll be back to her clean, simple, Zen room to decompress.
It's where "I feel at home," she said.
Contact GCU senior writer Lana Sweeten-Shults at [email protected] or at 602-639-7901.
****
Related content:
GCU News: Preparation pays off with many happy returns
GCU News: Comfort level of campus keeps expanding
GCU News: Students eat, shop, socialize at First Monday
GCU News: Speedfriending had their interest at hello
GCU News: Welcome Crew puts the 'Woohoo!' in arrival