Photos by Ralph Freso
Students and employees returning to campus for the fall semester will notice considerable additions to the growing Grand Canyon University campus.
Chief among them are the refinement and creation of new gathering spaces, construction of two student apartments and new campus dining options.
Housing
GCU's evolution is most visible in its creation of expanded student housing to meet the needs of roughly 17,500 students who live on campus – more than 70% of all traditional ground students.
"Students want to live on campus because of its great reputation," said Director of Residence Life Holly Neely. "We have built spaces to create community and develop life skills."
Even upperclassmen stay on campus because they find it is a more affordable option and a place that nurtures a sense of community, offers programming in living spaces that help them in their career path and creates well-rounded individuals, she said.
With the addition of Oak Creek Apartments, north of Ponderosa, and Turquoise Apartments, east of Diamondback, the number of living areas on campus grows to 29 (30 buildings with Papago's pair). And it means the east side of campus, with its 13 living areas, is closer to the population of central campus and is sure to equal or surpass it next year with the construction of two seven-story apartment buildings near 29th Avenue and Colter Street.
Neely says the students love the east side because it feels more like of a vital part of campus now as options grow for dining and because of its proximity to fields used for Intramurals and the sprawling Canyon Activity Center.
The six-story Turquoise and Oak Creek Apartments are for sophomores through seniors and have a similar footprint to other recent residence hall construction.
Hot tip: The three-apartment complex called The Rivers, which opened last year, has thrived with a fitness center, arcade and gathering spaces, a swimming pool and restaurants. Its development fully matured in August with the opening of student coffee shop GCBC.
Gathering spaces
Prescott Field: GCU has created another signature, beautiful spot to gather right in the main thoroughfare of central campus. Prescott Field, once used mainly for lacrosse practice, has a new purpose: a fun space for many more to gather. Its turf lines have been painted, 20 lovely Indian rosewood trees were planted on the east and west sides for future hammock hanging and a paved patio on its south edge across from the Lope Shop is filled with tables and chairs.
The Quad: The green space to the north of GCU Arena was a blueprint for the above because of its popularity with comfortable chairs on a multi-tiered platform to the north and hammock-hanging shade on its edges. Now this fall it will have a new outdoor kitchen in the northwest corner that will serve up plenty of what students should like (see dining section below).
Thunderground: The six-lane bowling alley was removed for more event and hangout space and popular attractions, such as billiards, ping-pong, virtual reality and more. There will be shows, concerts, movie nights and more space for GCU student clubs to hold their socials or dances. Trivia and karaoke nights will be bigger than ever, too.
Hot tip: One under-the-radar spot to lay about, toss a ball about or just put your toes about in the grass is a new green space just north of the Mail Center. It was once a parking lot but now is a long, open field of inviting grass.
Dining
Havoc House: There is much anticipation for this new sit-down restaurant just outside the lobby of GCU Arena. It's scheduled to be completed this fall and will feature a sports grill theme and patio seating between the Arena and the Jerry Colangelo Museum.
Quad kitchen: Yet to be named, this counter-service location on The Quad will feature a menu of barbeque, tacos and more.
Purple Greens and More: This second Purple Greens will be in Turquoise Apartments and will feature the original menu of its Arena location, expanded with salads, noodles and more health-inspired options.
Hot tip: Canyon Pizza Co. in the Student Union has revitalized its recipes and offerings.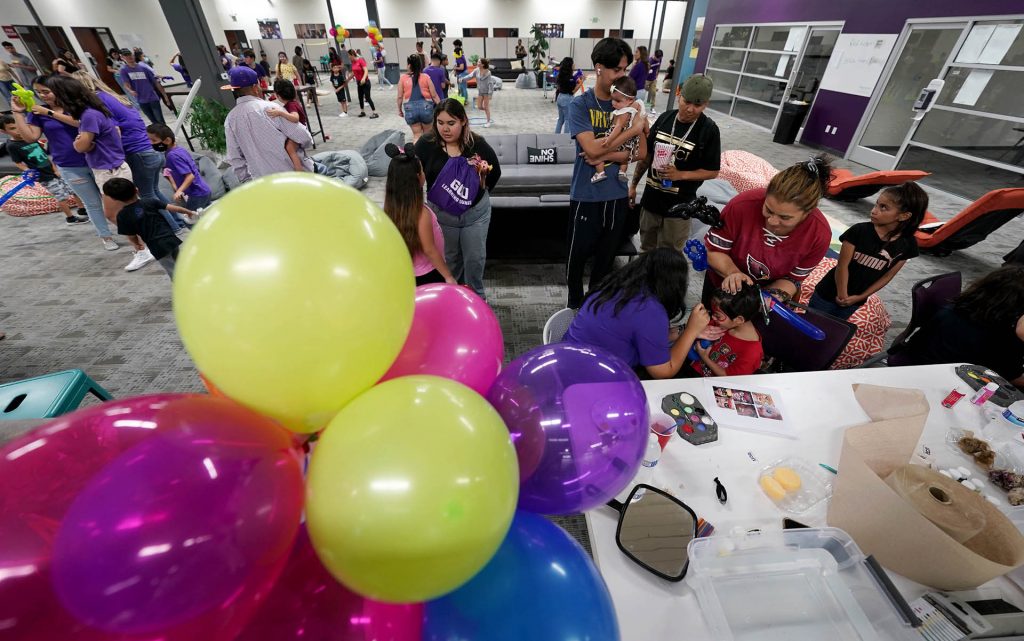 Learning Lounge
The innovative K-12 tutoring center has moved to Building 66 on 27th Avenue from its prior location in the College of Humanities and Social Sciences Building. It has filled the space formally used by Doctoral Studies with bean bags, colorful decor and study spaces.
It will have three times the space to expand programming for other enrichment opportunities, said Shari Stagner, Director of K12 Outreach. Parents even have an area to wait for their student, and there's a game room with cornhole, spikeball and other fun things.
Hot tip: Look for more collaborations with colleges, student clubs and the creation of youth ministries at the location, which is conveniently located in the same building as the hub of outreach, CityServe.
Other tips and takes
At last, GCU students will be able to grow their own food in a community garden. GCU ODR Garden outside Agave Apartments launches in September, operated by Outdoor Recreation and its student leaders. Ninety garden beds for $20 each are available at the Outdoor Rec Base Camp in Agave.
Student leaders asked for it and were heard, said Vice President of Facilities Planning and Operations James Kossler. A lot of potholes and cracks on hard surfaces, a pain to boarders, were repaired over the summer.
Grand Canyon University senior writer Mike Kilen can be reached at [email protected] or at 602-639-6764.
***
Related content:
GCU News: Students look ahead to what will be best in fall