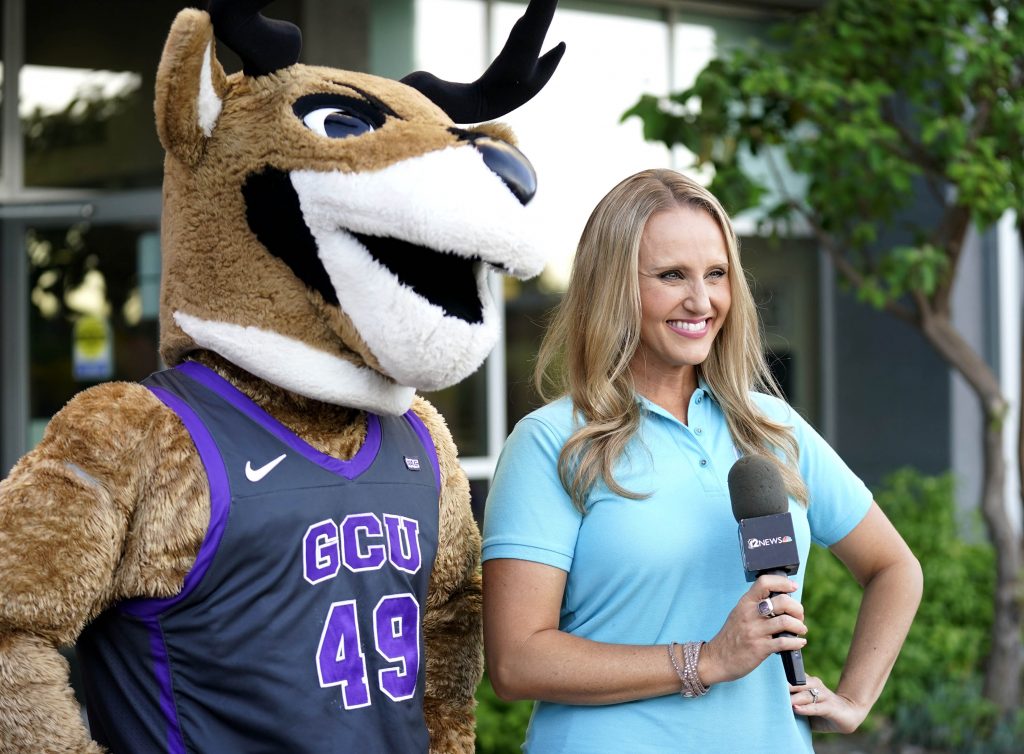 Photos by Ralph Freso Slideshow
It's 5:30 a.m. on the first day of Welcome Week at Grand Canyon University, which means one thing: It's go time!
"I got up at 3:40 a.m.," said full-of-verve Cheer team member and freshman business major Katey "Kiki" Arleth. Yet, amazingly, she was wide awake, all her faculties about her, and shouting "GCU!!!" with all her might for a 6:50 a.m. hit on 12 News.
She and the other Spirit team members received the request to be at The Grove at 5:30 a.m. Monday, so Arleth did just that, with full hair and makeup. The Spirit teams and student leaders woke up early to usher in the new year and show news crews what's so special about GCU.
Not surprisingly, there was a lot to show.
Getting up that early wasn't so easy, "I'd say, for girls especially. We need time for hair curling and makeup. The boys get to sleep in," she said.
GCU Thundering Heard Pep Band member Connor Geroux, a junior film/production major, hypes it up like no tomorrow for the news crews, which also include ABC15 Arizona, FOX 10 and AZ Family.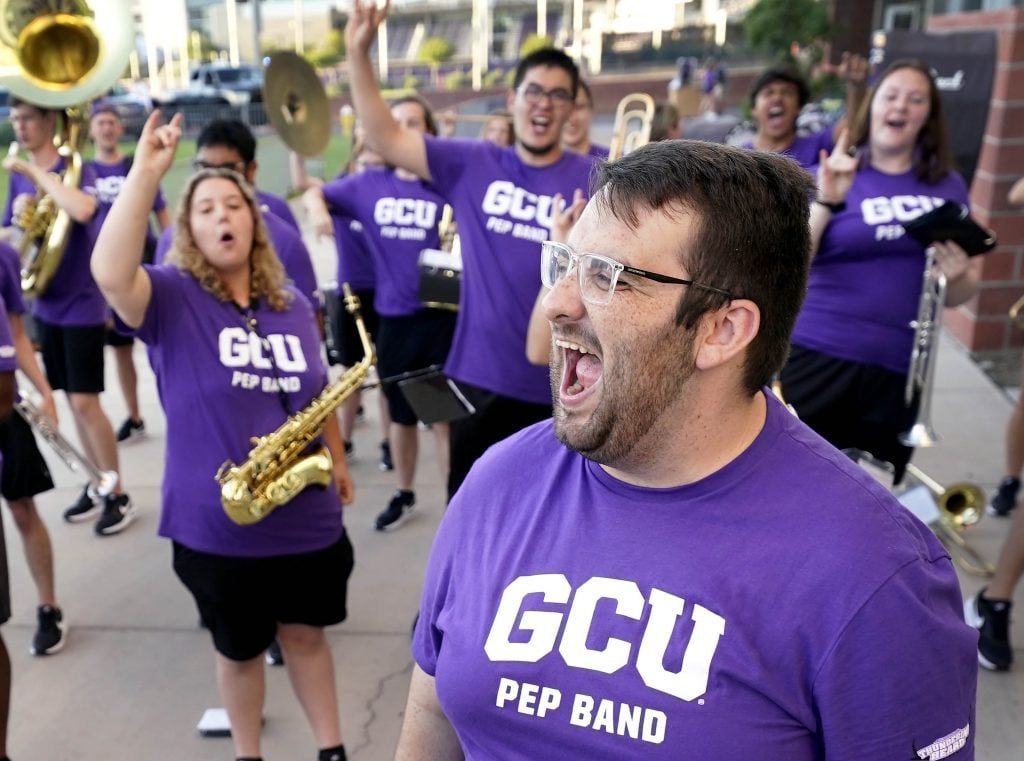 "The way we get hyped up? We're on the same mission. … Get everyone on the same page and just get super energized for the best performance possible," Geroux said after sharing that energy with families and news cameras descending on campus for Move-In.
He and fellow pep band members readied for Welcome Week and the year to come with a jaunt to band camp last week: eight hours of rehearsal each day for a week.
"We prepared all kinds of music. … So if they say, 'Play this,' we've got it," he said.
And they did have it — perfectly executed spirit — as GCU Public Relations Specialist Taylor Armer, positioned across from the Spirit team with an ABC15 Arizona cameraman, waves her arm in circles to signal to the band, dancers, cheerleaders and Thunder to start their performance for the impending newscast.
Spirit Programs Manager Jesi Weeks and new Cheer coach Ashley Aquilina are nearby, too.
"Forty-five seconds!" the cameraman tells Armer, who gives a thumbs-up to the cameraman.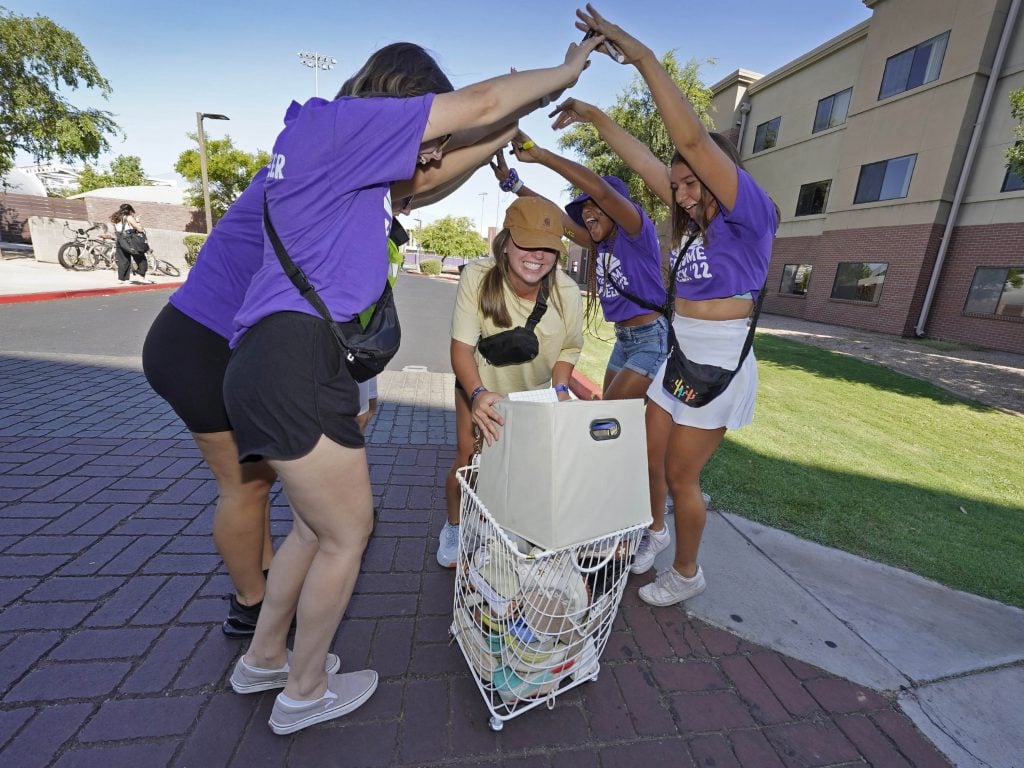 It's broadcast go time.
Associated Students of GCU President Camden Marasco was asleep by 9:30 p.m. Sunday ‪— "I knew it would be a long day," he said — so he could start making his way at 4:30 a.m. today to a 7 a.m. news interview and then to the Lope Shop at 8:30 a.m. for the next on-camera interview. It would be followed by new student orientation and speaking to parents in the afternoon at a parent panel.
And just for good measure, he stepped up between interviews to help a family get their Speed Pak moving again after its wheels got stuck near Acacia Hall.
"Those Speed Paks can be tricky," he said with a smile.
He added that the ASGCU team has been training since April to prepare for the new school year, but specifically, "It's been a lot of fun to get ready for Welcome Week," he said. "… The student leaders, I always tell them to love on the new students on campus and welcome them with open arms."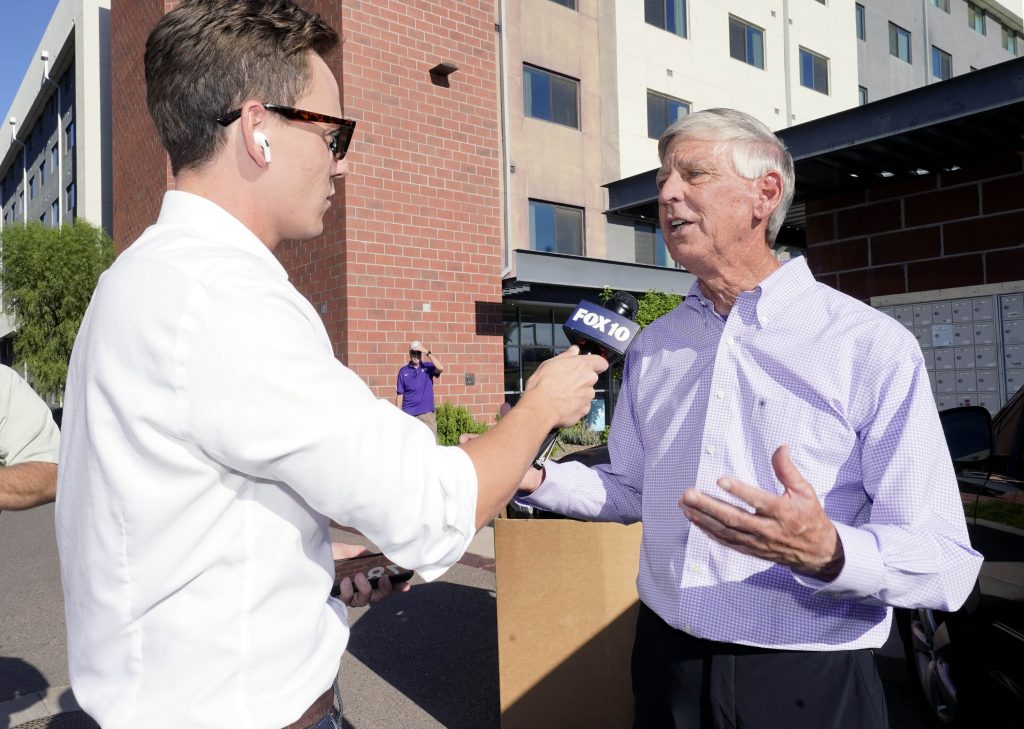 GCU President Brian Mueller is also in the midst of the frenzy of Welcome Week as it unfolds in front of news crews on The Grove.
He is just as excited as the students as he tells a news crew about all the good things at GCU: how Outdoor Recreation has more than 100 activities scheduled for the school year, how awesome GCU's Division I athletic program is, how resident directors and resident assistants have gone through intensive training to ready themselves for Welcome Week Move-In, and that the first Chapel is approaching.
The days are long for Welcome Week, "all five of those days, but you don't know it," he says of how the week flies by.
What he loves the most about it: "It's fun to see the students sit with their families, and watching the students, parents, brothers and sisters help GCU students move in and get acclimated. It's Family Weekend in a lot of ways."
And he chuckles when you ask him about the Brian Mueller tattoos included in the Welcome Week volunteer swag (along with cool bandanas, assorted stickers and fanny packs).
Cheerleader Hope Gibson was quick to press a Brian Mueller tattoo onto her arm before an AZ Family news team 8:30 a.m. broadcast.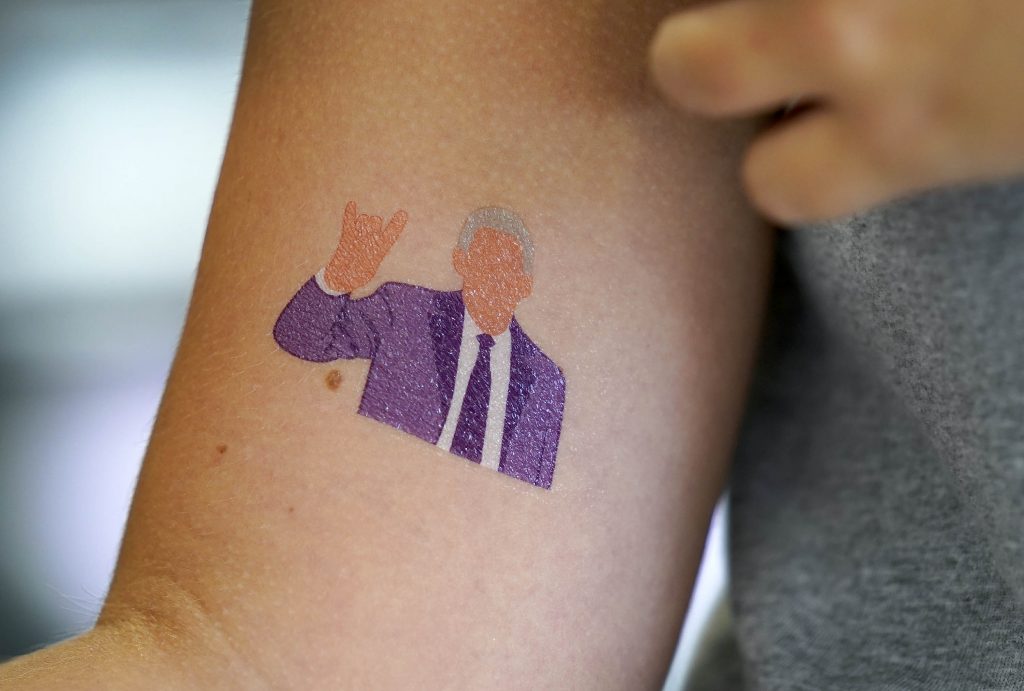 "They (the news team) said, 'How do none of you have these?'" Gibson said. "I said, 'I don't know, but we should be the first people!"
AZ Family spent two hours on the GCU campus moving its multiple-hit newscast from The Grove to the Lope Shop to show viewers all the neat GCU retail items.
"Welcome Week and Family Weekend are our two busiest times of the year," said Andy Dunn, Director of Retail & Campus Licensing, who was dressed for the occasion in a fun purple Hawaiian shirt.
The TV crew moves to GCU Arena and then the basketball practice facility to interview men's and women's basketball players and coaches before heading to the Esports Arena.
"I'm most excited about the atmosphere," women's basketball player Tiarra Brown said of the coming school year, right after displaying her jumping ability for the camera. "I missed being away from it."
"Good Morning Arizona" anchor Olivia Fierro said being at GCU for the first day of Welcome Week was a no-brainer.
"The energy here is really exciting and contagious," she said, "and you can tell students feel connected. … It's a very positive environment."
It's an environment Marasco and the rest of GCU's students were ready to share.
"This is our opportunity to shine," he said.
GCU senior writer Lana Sweeten-Shults can be reached at [email protected] or at 602-639-7901.
Related content:
AZ Family: It's Welcome Week at Grand Canyon University
GCU News: Students open the door to fun dorm decor
GCU News: Comfort level of campus keeps expanding
GCU News: Preparation pays off with many happy returns
GCU News: Students eat, shop, socialize at First Monday
GCU News: Speedfriending had their interest at hello