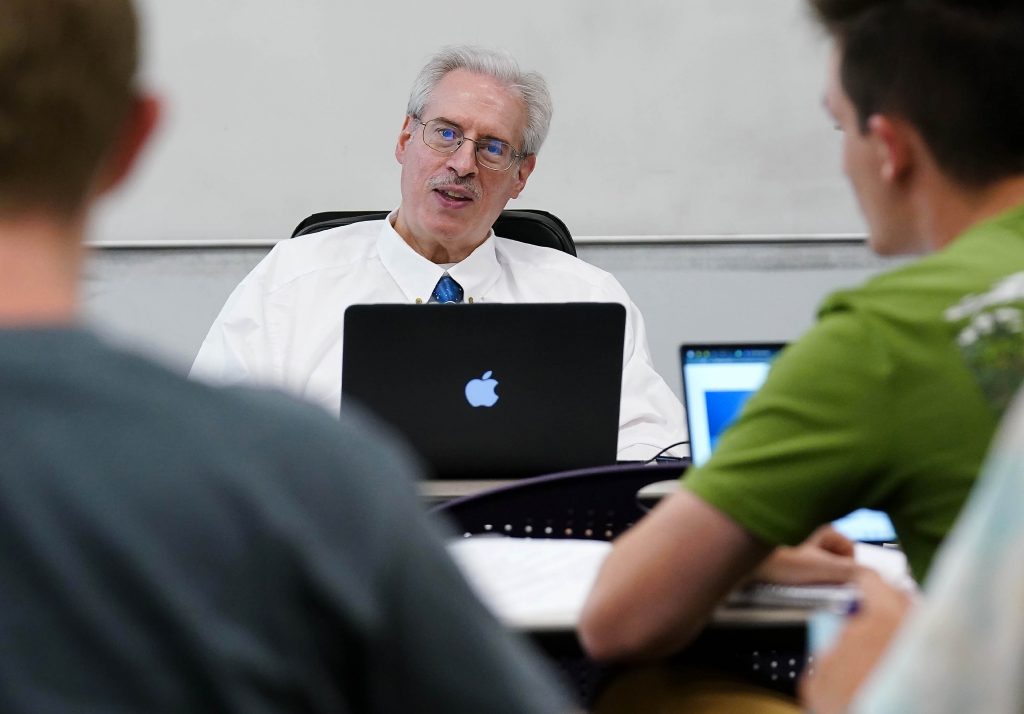 Grand Canyon University leaders have listened to students and tripled academic programs to 321 over the past 15 years.
What they've heard this year is students want to be dentists, veterinarians, entrepreneurs and aerospace experts.
The Bachelor of Science in Biology – Pre-Dentistry program already has enrolled nearly 100 students in its first fall semester and is among several new academic programs for traditional students launched in recent months.
Another biology degree in pre-veterinary medicine also was requested by students.
"We have been placing students in graduate dental and graduate vet programs with good results, but they would have to take the pre-med curriculum, which wasn't specific to their interests or needs," said Dr. Jon Valla, Associate Dean in the College of Natural Sciences. "So putting these two new programs in has allowed us to create coursework that is more specific to their interests."
Dentistry and veterinary graduate programs are highly selective, so these courses added to biology degrees will help students be more well-rounded for that process, he said.
For example, pre-veterinarian students will take courses in animal vertebrate physiology instead of human physiology, as well as animal nutrition and pathophysiology.
In dentistry, courses have been added in neurobiology and head and neck anatomy, which includes use of the cadaver lab.
The new offerings not only respond to student demand but are in fields with promising career opportunities.
GCU Provost Dr. Randy Gibb said the programs also are created after feedback and ideas from GCU's advisory boards and industry partners, followed by considerable work of subject matter experts in coordination with the teams in curriculum design and development – "an impressive system of teamwork."
"I'm so excited to see new programs get started with students in new courses," Gibb said. "The colleges work with so many stakeholders to create and develop these new programs that help students and, in turn, help our society."
In the Colangelo College of Business, two new emphases were added – Bachelor of Science in Entrepreneurial Studies with an Emphasis in Engineering Management and Bachelor of Science in Entrepreneurial Studies with an Emphasis in Technology Management.
Engineers, technology students and entrepreneurs don't always think alike, and this collaborative program helps bring the two together.
Another new CCOB program for the fall is Applied Cybersecurity Management.
"It is not a technology degree; it's the management side of the cybersecurity world," said CCOB Interim Dean Dr. Allison Mason. "As technology continues to grow, we have more challenges come up, and you have to be able to manage those concerns, not only from a technology standpoint but how you manage it in organizations."
One the fast-growing new areas in CCOB is the Bachelor of Science in Finance with an Emphasis in Financial Planning, which launched last year.
The courses give students a leg up on taking Certified Financial Planner exams.
"Any programs that have a specific pathway, students seem to do well," Mason said. "If they are in finance, they understand what a financial planner is and have a sense of it."
The Honors College is launching into another new area starting this fall with one course that could turn into more in the future. Space Foundations is for students interested in the commercial space industry, not necessarily as engineers or aerospace experts, but in fields that support their missions.
"It's really gearing to the boom we anticipate in all things commercial space," said Honors College Dean Dr. Breanna Naegeli. "When we think about space, we think about landing on the moon or orbiting earth and doing research. But we are nearing the point – for those who can afford it – of commercial flights into space.
"As we get nearer to realizing it, there are going to be space hotels, space entertainment, filming in outer space for the film industry."
Even in support roles, it's critical to know the language and the jargon of the industry.
Some examples of future jobs, Naegeli offered, are in space law or mental health. Legal experts to navigate the new worlds of space and behavioral health experts to help space travelers through missions.
The course, which will explore engineering, economics, history and science of space and include a simulated space launch, was developed with the help of KBR, a company that works in aerospace and engineering.
It adds to another venture into space at GCU, the 2022 launch of the undergraduate degree in mechanical engineering with an emphasis in aerospace. The degree includes courses in aerodynamics, propulsion, flight control systems and aerospace design.
The Honors College also has launched courses to help pre-law students prepare for law school entrance exams and a course in academic journal writing.
The College of Education is offering a graduate certificate in instructional coaching. And the College of Humanities and Social Sciences has renamed an undergraduate degree in Government with an Emphasis in Public Administration, which more tightly fits the field of study for students who want to work in state and city government or nonprofits.
Grand Canyon University senior writer Mike Kilen can be reached at [email protected]
***
Related content:
GCU News: GCU is intentional in its job-focused curriculum