Story by Lana Sweeten-Shults, Mike Kilen, Lydia P. Robles and Rick Vacek
Photos by Ralph Freso
EDITOR'S NOTE: This story originally appeared in the February issue of GCU Magazine.
Johanna Gonzalez majored in marketing, then she took a social media class and that was it.
"I LOVE social media. I LOVE designing stuff," said the Grand Canyon University sophomore, who had no clue she could major in social media before switching to it. "But once I found out it was available, I was like, 'Oh! I want to do that!"
And GCU is going to help get her there.
"We often hear, 'Wait, I can get a degree in social media?'" said College of Arts and Media instructor Sophia Zaft.
You can, because GCU is hyper focused on emerging careers that will set the tone of the job market, and then continually expands and shapes its curriculum to ensure it is leading to the single biggest college outcome: a job.
Social media wasn't even a career option a couple of decades ago, much less part of a degree plan. These days, you would be hard pressed to find a company without a social media strategist, social media audience engagement specialist or social media manager.
"There is not a company out there that is successful and NOT using social media in some way, shape or form," said Director of Digital Design Sheila Schumacher.
Schumacher constantly received feedback from employers saying, "We need kids that understand digital media" or "We have the backend of the data, but we need employees who can create content at a faster pace."
She took the feedback and implemented it into program redrafts to ensure students are prepared for jobs after graduation. In its first year, approximately 60 students jumped at the chance to earn a degree in social media, with the first graduates scheduled to walk the Commencement stage in 2023-24.
"The students know it's such a trending career … They understand design, strategy, content production and copywriting," said Zaft. "In various industries you're seeing a lot of, 'We want this but also want that person to know a little about social media.' It's popping up in unexpected places. It all makes for a well-prepared employee, and they feel good about it."
Gonzalez included.
"I've already gotten some logo work. It's my second year, and I've already gotten hired," she said. "It's pretty cool to see that."
GCU in recent years has added not only a social media degree but has beefed up curriculum across its colleges, especially in high-growth job fields, such as cybersecurity, social work and computer science.
In engineering, faculty leaders recently added a program emphasis in mechatronics. The College of Humanities and Social Sciences (CHSS) boosted its communications degree with an emphasis in new media, which focuses on blogs, online newspapers, podcasts and social media.
The Colangelo College of Business (CCOB) has enhanced its entrepreneurial degrees with emphases in engineering management and technology management. And both the College of Education and College of Nursing and Health Care Professions have expanded their offerings to address severe nationwide workforce shortages in teaching and nursing.
Between January 2016 and December 2022, the University grew its degree programs, emphases and certificates from 195 to 318 (and in the interim also retired existing offerings), said Mark Alexander, Grand Canyon Education's Senior Vice President of Curriculum and Publishing.
Even during the pandemic, GCU continued to expand its curriculum, adding 111 new programs, emphases and certificates from January 2020 to December 2022, vetting those programs through a complex viability phase that includes everything from looking at job projections to the number of open positions and what skills employers are looking for to certification or capital requirements.
GCU is always trying to get ahead of the markets and make sure any additional curriculum offering "has legs," Alexander said.
"Higher ed is typically thought of as being out of touch and educating students who are not properly prepared to enter the workplace. At GCU, we are very intentional in how we approach our curriculum," said GCU President Brian Mueller.
Not only does that mean focusing on where the jobs are so the University can create programs that lead to jobs, Mueller said, but it also means leaning on GCU's industry partners.
Hundreds of industry experts serve on GCU's 20 advisory boards and, together with faculty, help shape GCU's job-focused curriculum.
"With the help of the expertise of our 500-plus, industry-led advisory board members, we know our graduates are workforce-ready because they are learning not only the knowledge necessary in their field but also the project-based and critical-thinking skills that employers tell us they are seeking," Mueller said.
Those advisory board members "are very key to providing input to the skills that people in that profession will need and the types of jobs that they're needing in their industry," added Alexander. "They're absolutely critical to that aspect of this."
Assistant Dean of Technology Dr. Brandy Harris shared just how critical. After a Technology Advisory Board meeting in the spring, the faculty pulled its sequence of three PHP programming language courses after advisory board members told them there were other skills they needed more from future employees.
"That went in due to feedback from our advisory board," said Harris. "That's really one specific change, but it really does happen every single time with our advisory boards."
It happened, too, in the engineering college, which retired its electrical engineering technology program and wanted to add another option for students interested in that pathway.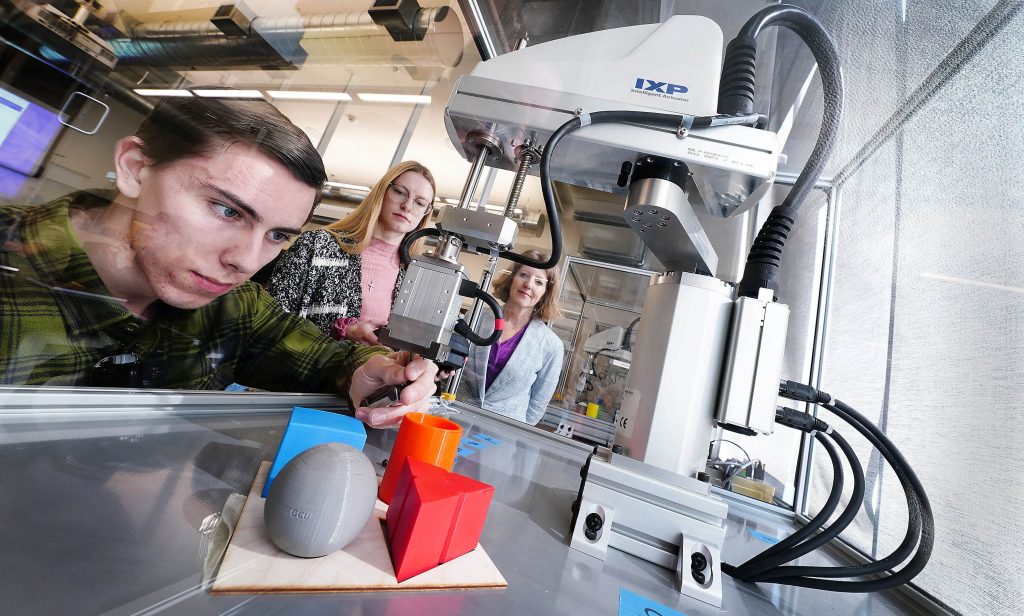 The faculty came up with mechatronics, an engineering on steroids that mashes together mechanical, electrical and electronic engineering systems and also dabbles a bit in robotics and computer science. Disney Imagineers and anyone who works in animatronics are likely mechatronics engineers.
"When we introduced it at the advisory board meeting, we asked, 'If you were hiring a mechatronics engineer, what key skills do you foresee them having?'" said Dr. Michael De Gregorio, Assistant Dean of Engineering and KEEN Engineering Unleashed Fellow.
"As we build a program, and as time goes on, industry needs change, so we always are looping in our advisory board whenever we're making or contemplating making a change in our curriculum. Because the biggest thing for us is having students who are prepared for a specific career.
"We can give you the general skills that you need, but what we feel really sets us apart is we're giving students specific skills to be, essentially, plug-and-play on their first day on the job."
One of those skillsets is being able to operate a scanning electron microscope, which the engineering college acquired as a result of discussions with industry.
"Not a lot of universities have them, and even fewer just let undergraduate students use them," De Gregorio said. "But if you're going to go into a job as a semiconductor manufacturer or a quality engineer for semiconductors, you are going to use a scanning electron microscope, and so our students have that skill."
Because of that, "Their ramp-up time should be significantly less," De Gregorio added. "You learn 90% of your job on the job, right? We're trying to minimize that. We're trying to do things in such a way to create these pathways so that students go directly from here and make an immediate impact wherever they are."
One way Lon Bartel, Vice President of Training and Curriculum at VirTra, helps shape curriculum is by introducing students to the only volumetric capture studio in Arizona. The company uses it for immersive simulations to train law enforcement and military personnel.
"We have some different technology that people don't typically have access to that's not very common. … This type of technology is going to be more and more available in the future," said Bartel, a Technology Advisory Board member. So it's a chance for GCU's students to learn about cutting-edge technology that could be the next big thing when it comes to jobs.
Alexander said one of the most impactful changes to the curriculum in recent years has been the pathway created for social work. Like mechatronics and social media, it also was driven by industry need.
Federal labor officials predicted social work would grow rapidly, and it did.
When COVID-19 caused even more demand, with steep increases in anxiety and depression treatments, according to the American Psychological Association 2021 practitioner survey, GCU was ahead of the game.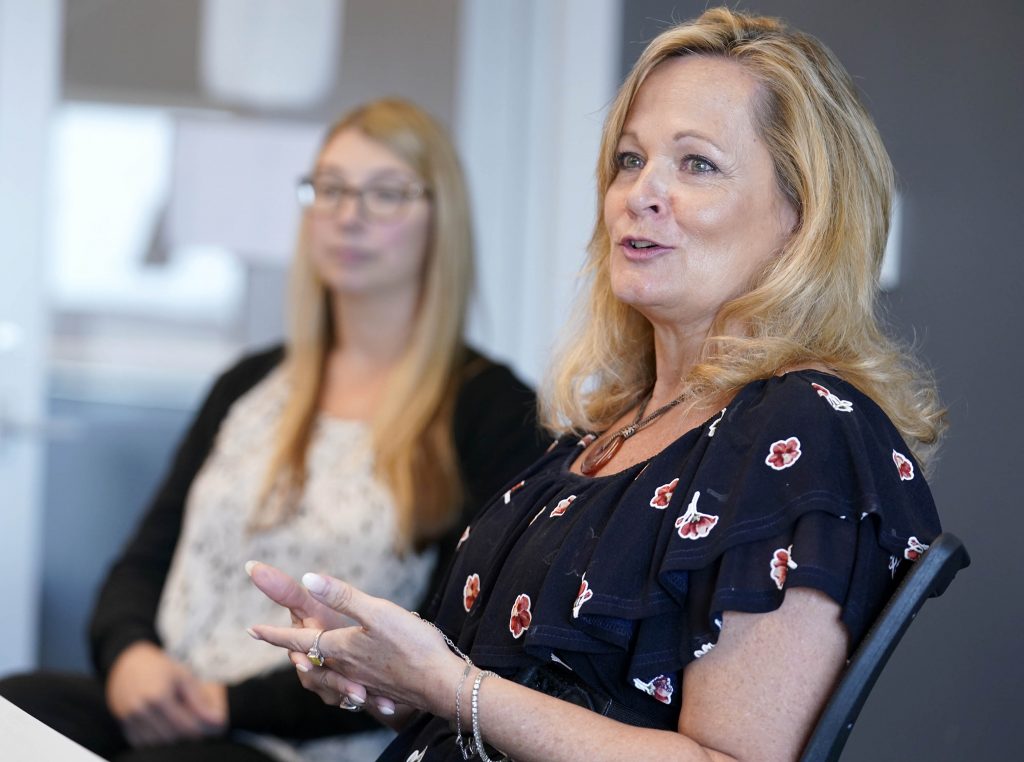 As the pandemic began, CHSS in 2020 launched its master's program in social work, which included graduate evening cohorts, followed by a robust online program. The Council on Social Work Education in 2022 accredited the graduate program. Then in July 2022, the college launched its bachelor's degree track in social work.
Since the social work programs were started, they have grown to include approximately 1,400 students this academic year, with numerous full-time faculty positions added.
"There was a great need before COVID, but COVID exacerbated the needs," said Assistant Dean Dr. Kathleen Downey of the isolation during the pandemic, how it magnified a lot of behavioral health issues and how these new programs came along at the right time — programs informed by the college's advisory boards.
Several members of CHSS advisory boards represent industry partners, which have been critical in embracing the University's students when it comes to clinical rotations.
"In the social work field, specifically, there are challenges with retaining the number of social workers," said Steven Sheets, CEO of Southwest Behavioral Health & Services and a 2005 GCU graduate. "So the new graduate program has opened the door to expanding our partnerships to bring on interns and master's-level students on a part-time basis in outpatient settings and community programs to get experience."
Those on-the-job experiences have helped educate students on industry trends, such as the integration of health care — putting social workers or counselors within primary care practices so there are seamless transitions to ongoing services, Sheets said. They're also learning about social disparities of health.
In addition to industry informing how GCU molds its curriculum through advisory boards, Alexander said, "President Mueller is constantly having conversations with people and then bringing those conversations back and using that as a catalyst to drive deeper conversations with the deans and the faculty around jobs and the importance of making sure that our degree programs are really aligned to jobs."
It helps, too, that the University's faculty often comes from industry and often are the ones who introduce new curriculum.
"It is absolute. I don't take faculty that hasn't been an entrepreneur. That's the foundation," said Tim Kelley, Assistant Professor for Economics and Entrepreneurship. It was through advisory board members' input, he added, that the business college recently added two emphases to its entrepreneurial programs: technology management and engineering management, both business-focused emphases for engineering and computer science students.
"Many of our faculty have extensive industry experience," said De Gregorio. "In fact, because we aren't a (Tier 1) research university, more of our faculty have industry experience than don't. All of our faculty try to relate their experience on what we are teaching to some real-world outcome. That helps us keep it relevant for students."
Christine Mackay, Director of Community and Economic Development for the city of Phoenix, has seen just how integral that tie to industry has been for GCU and, ultimately, how the University's approach to its curriculum helps move not only its students forward but the city forward, too.
Mackay spent two years working with other institutions as she tried to set up sterilization training for a life sciences facility.
Frustrated after another fruitless meeting, she called Mueller's office for help. He came to the phone immediately, asked her if she was in the neighborhood and, when she said she was, invited her to stop by campus to meet with Dr. Mark Wooden, Dean of the College of Science, Engineering and Technology.
"Within an hour, the entire thing was mapped out, I directed GCU to the company and within two weeks, it was conducting the training," she said.
"Two years I fought for that, and GCU did it in an hour. That's the way industry is. Industry doesn't have time to move at the speed of academics and government."
It helps explain why she meets with GCU leaders once or twice every month.
"When new employers come into town, we immediately connect them to GCU as a talent location but also as a partner with industry," she said of the University, which starts working with students when they're in high school "to make those connections, to get them ready for the workforce, and I think that goes miles for us."
The University always is looking to make those connections with its curriculum, too. The traditional way to do school, with students driving to campus or walking from their residence halls to attend in-person class, isn't the only way.
It also offers coursework fully online, through hybrid online/in-person programs and, just this year, innovated a workforce development curriculum — something traditional universities have not stepped into — to pump electricians into the workforce and fill yet one more need.
"Historically, education has done it their way," Alexander said. "They built a campus, they put faculty in buildings, they put programs out there and they say, 'OK, if you want this, you come here and do it.' Well, that's much harder for people today."
Mueller said, "To educate learners across their lifespan, you need to be able to offer education in as many different delivery models as necessary based on who that learner is and what needs to be learned. With our expertise in curriculum development, the investments we have made in proprietary technologies that support students, and our focus on meeting workforce needs, we have been able to be very flexible in adapting our programs to meet those needs."
A prime example of that is the Accelerated Bachelor of Science in Nursing (ABSN) program. The hybrid model combines online and in-person learning and is helping address the national nursing shortage by accommodating students at satellite locations not just in Arizona (in Sun City and Tucson) but near Salt Lake City, Utah, and Las Vegas, Nevada — with plans to expand to 20-25 more locations in the next five years.
Students, many of them "re-careering" after working in another industry, complete their didactic courses online but do their clinical work at a physical site.
"We've created a number of different pathways for nurses," Alexander said of the traditional ground student program and the hybrid offering for ABSN students. He said the University also is testing a pilot remote program for students preparing to enter a nursing program that combines synchronous coursework (students attend online at a specific time) and asynchronous (completed at a time of their choosing).
"We want to give people more options — more pathways — on how they attend class, how they get through a degree program," he said.
Another example of GCU pushing its curriculum forward in innovative ways is its partnership with Rosendin Electric.
The pre-apprenticeship program for electricians looks like vocational education that community colleges or trade schools might embrace.
"But none of them has stepped up to this for whatever reason, so President Mueller saw an opportunity … and put a program together," Alexander said.
It's just one more way the University is meeting industry needs.
Because GCU is so intentional in how it designs and builds its curriculum to fit workforce needs, and because the University offers so many ways to access that curriculum, students are even more workforce-ready and desirable to industry.
Not that industry doesn't value GCU's students for other reasons.
"Because we integrate the Christian worldview throughout the curriculum, employers are getting GCU graduates who are known for their high character and servant leadership skills," Mueller said. "And because of their communication and problem-solving skills, and their ability to work well in teams, they are becoming leaders in those organizations."
Added Associate Dean of Technology Dr. Pam Rowland, "We consistently get feedback from our Tech Advisory Board members that they appreciate the character of GCU students. They are looking for employees that think critically, integrate ethical behavior in their work and decision-making, and are kind and compassionate to those on the team.
"GCU students exemplify these character qualities."
The city of Phoenix's Christine Mackay said she's always impressed with them.
"They are definitely students who are moving forward in their careers. They're not checking a box on their education because their parents told them they had to. They are students who are moving on a career path."