Developing Grand Canyon University's new Advancement Department from the ground up over the last three years has been a unique challenge.
But it helps having strong leaders who are up for the task. It is exactly why Dr. Kale Gober, Vice President of Advancement, recently assigned Noah Wolfe and Cherylann Galdi to new roles that come with new responsibility.
Wolfe was promoted from Director of Alumni Relations to Director of Development, and Galdi's years of experience and aptitude for leadership enticed Gober to add the Director of Alumni Relations title to her role as Director of Annual Giving.
With 15 years of nonprofit fundraising experience, Galdi led the 2022 Annual Day of Giving the last two years and racked up $422,000 in October, double the previous year's total.
"Cherylann joined our team as Director of Annual Giving just over two years ago, and her experience has proven invaluable," Gober said. "We want to focus on making the transition from being an alumni to being an annual giver more strategic and seamless, so having someone of her caliber and acumen is exactly what we needed for this role."
As Galdi steps into the alumni role, she aspires to further support a student-centric environment where students feel heard and their thoughts are recognized.
"My focus coming into this role is to listen to both students and alumni to learn what is important to them, serve them with intention, find out what they need and engage with them as much as possible," she said.
Galdi sees her merge of roles as a direct alignment with her passion: values and, most of all, her heart. As the parent of a GCU sophomore mechanical engineering student, her commitment is multifaceted.
"You can't just have a job at GCU. It becomes a calling because we're very mission based," she said. "It's an honor to be able to expand my calling here."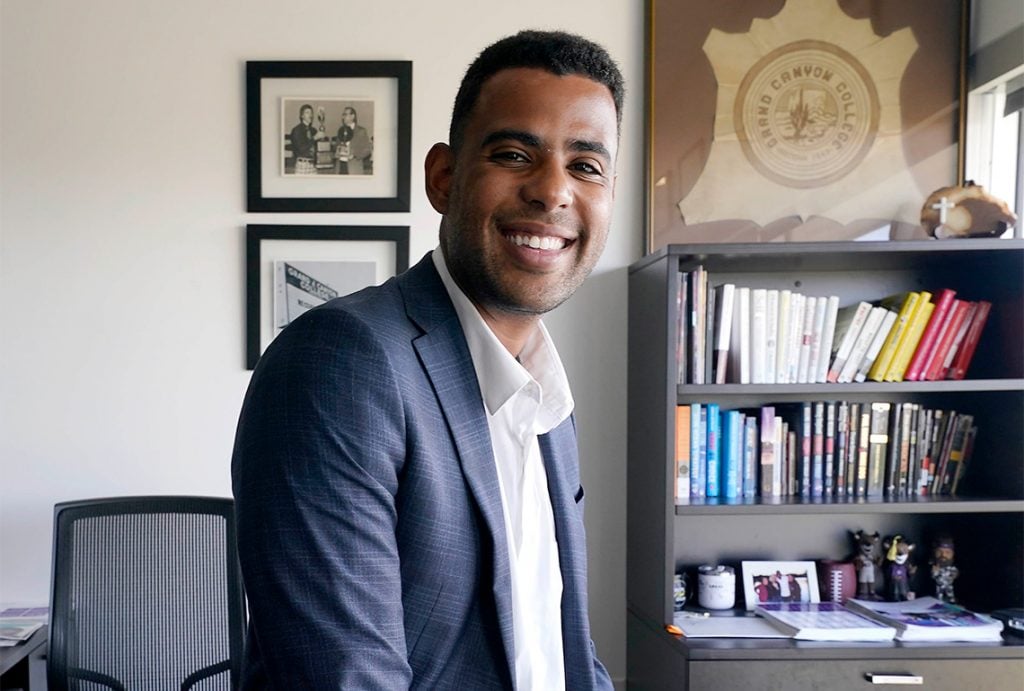 Wolfe also felt called to GCU.
Going to a Lopes basketball game on a Discover GCU tour initially introduced Wolfe to GCU, but it wasn't just the tsunami of purple that sealed what he'd be doing the next nine years. The booming growth of a university in the middle of Phoenix was hard to ignore, and he just knew he had to be a part of it.
"I got this weird feeling that happened to be so spot-on true about GCU, which was there was so much growth happening on this campus," he said. "I just thought, 'Man if a place like this exists, I'd love to get involved. And my student experience here was spot on with my initial thoughts."
He wasted no time getting involved. Wolfe later became student body president, Discover team lead, senior development associate and, after graduation, Director of Alumni Relations for the last two years.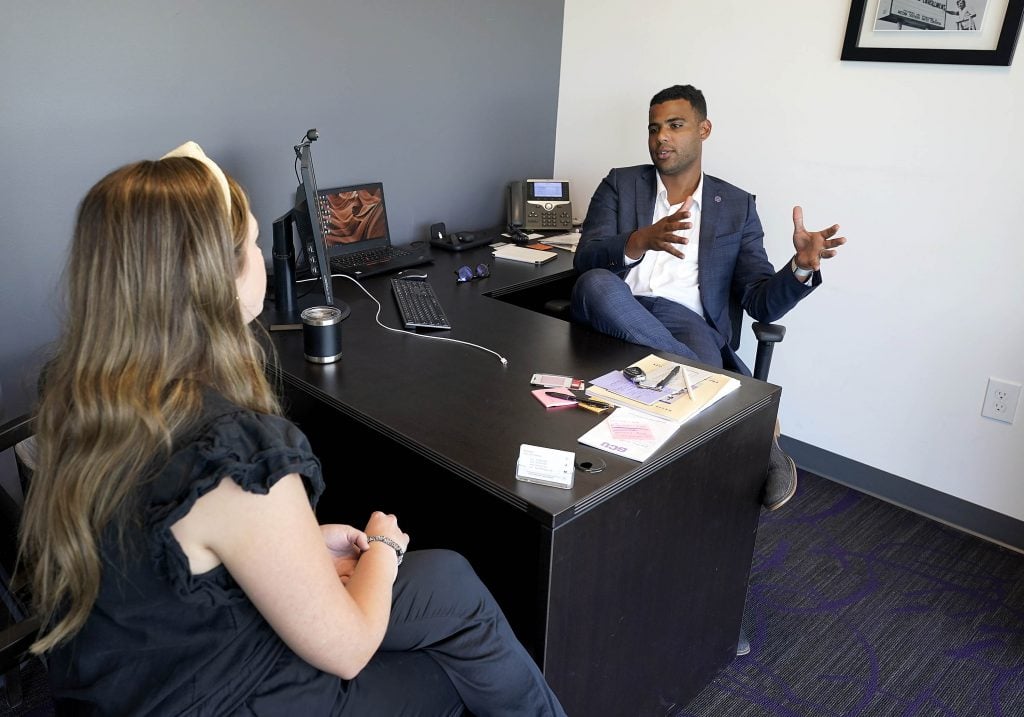 Now, his everyday duties involve raising support and money for the University's nine colleges and all of its initiatives, such as GCU CityServe and the LOPES Academy.
"Our goal is to find people who are passionate about GCU's mission and explore what it could look like to work alongside each other in ways that create a lasting impact," Wolfe said.
Wolfe's and Galdi's efforts, alongside the rest of the Advancement team, have broadened Lope spirit all around the country by helping students remain connected to the University, even after graduation.
This year's events brought in more than 8,000 attendees, and Galdi predicts that an additional 2,000 will join the growing number.
"These three purple letters bring people together in ways I've never seen, both for on campus and online grads. People see us wearing GCU gear, stop us and want to share what a great experience they had and how they genuinely felt cared about by their professors," Galdi said. "They are so proud to be Lopes."
It is a professional work environment at GCU, but to Wolfe it is home.
"This place is more than a job to me. I've spent the past nine years of my life here. I've literally lived here, ate here, done everything here," he said.
"I feel the most at home walking into work and seeing everything that's happening. I'm so thankful that the University keeps validating its commitment and promise to students and believing in me."
Contact staff writer Lydia P. Robles at 602-639-7665 or [email protected].
****
Related content:
GCU News: Keeping recent grads connected to campus