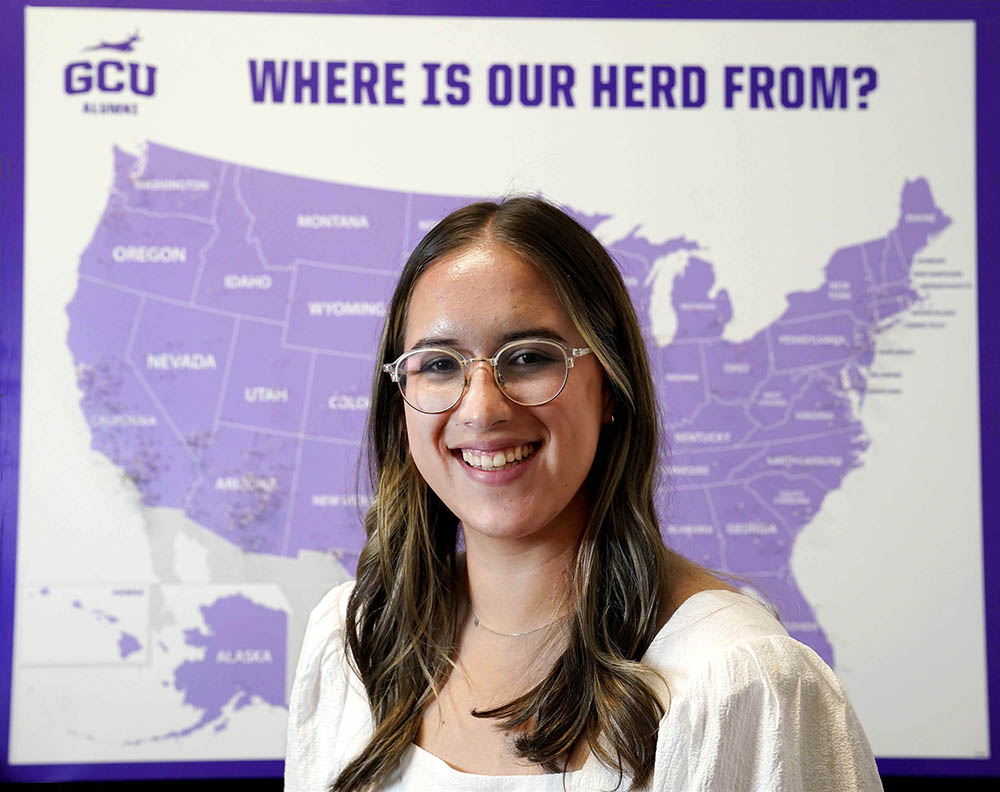 From 'Grads Who' to podcast and travel, Alumni Office links Lopes
This story originally appeared in the November issue of GCU Magazine.
Lexi Noble understands the pressure and fear that comes with graduation — she was in the same position last April.
Although active throughout her Grand Canyon University experience, she still faced uncertainty after graduating with a biology degree.
"Working in the campus mail office for two years and as a student leader for Welcome Programs throughout college prepared me for graduation, but I struggled with the difficult questions of 'What am I going to do with my life?'" she said.
"Not pursuing a career in the degree I was graduating with was very daunting. Life was just a big question mark."
But after completing 10 volunteer hours with the Office of Alumni Relations, Noble saw the need for the office to be more integrated with alumni who were going through the same struggle.
So she went to Director of Alumni Relations Noah Wolfe and said, "Hey, it would be really cool for the office to guide recent students through the transitions they face after graduation."
"And then my position was born," she said. "I interviewed for the job, I hoped and prayed, and here I am. It was a long time in the making, but it was where I was supposed to be."
The position is student program specialist, and the new program has a spawned a series called "Grads Who ____."
The Alumni office fills in the blank, depending on the event. In "Grads Who Ball," for example, alumni were invited to campus for a pickup basketball game in the Canyon Activity Center, the 3-year-old building that many were seeing for the first time.
"I am in no shape or form a basketball player. I don't typically do stuff like this, but I felt encouraged to step outside my comfort zone," said Ally Ching, who graduated with a master's in elementary and special education. "I love that GCU has programs like this that help me stay connected to campus and allow me to once again be surrounded by Lope spirit."
Can't attend local events in person? Noble has paved the way for graduates to listen to a podcast titled, "Tim Talks," featuring Dr. Tim Griffin, Vice President of Student Relations, Dean of Students and University Pastor. It is set to drop this fall.
"The podcast is designed to help graduates navigate life's big questions, such as post-grad identity," Noble said. "When planning the podcast, the Alumni team was thinking, 'Who on campus has wisdom to give and is someone people trust?' Pastor Tim is someone we thought would be a good introduction to this series because of the leadership he continually shows.'"
Noble also is taking the GCU spirit around the world. Alumni can choose four international locations for exclusive offers on group travel. The first flight is scheduled for next spring, and 70 seats already have been sold.
One of the most popular ideas that came out of the Alumni office's think-tank sessions was Lopes on the Road, which brings together alumni for GCU athletic events, professional sports games, city celebrations and travel across the United States. About 1,200 alumni and their families recently toured the Wildlife World Zoo in Litchfield Park, Arizona.
The Alumni office also connects traditional students with those who completed their degree online.
"A large portion of who we interact with on the Lopes on the Road events are online students who haven't seen or spoken to anyone from GCU aside from their Student Services counselor," Noble said. "It puts things into perspective – a moment of reality where people say, 'Wow, this is a place that people actually attend.'"
Back on campus, Noble recalls a man and his wife walking around looking for Fleming Hall, where they first met in college. They didn't recognize it because it's now the Lope Shop.
"It was cool to see the impact campus had on their relationship and to think about what the campus would look like 15 years from now," she said. "Even just the physical growth of GCU is a testament to the good things that are constantly happening on campus."
Stories like that help her stay focused on her objective: easing the transition from students to alumni.
"I think our main goal with this position is to make it known to students and recent grads that they're not alone post-graduation," she said. "There is no time to wonder what's next because Alumni Relations creates that seamless line where you'll always be connected and part of the Lope family."
Related content:
GCU News: How alumni can stay in touch, no matter where they live