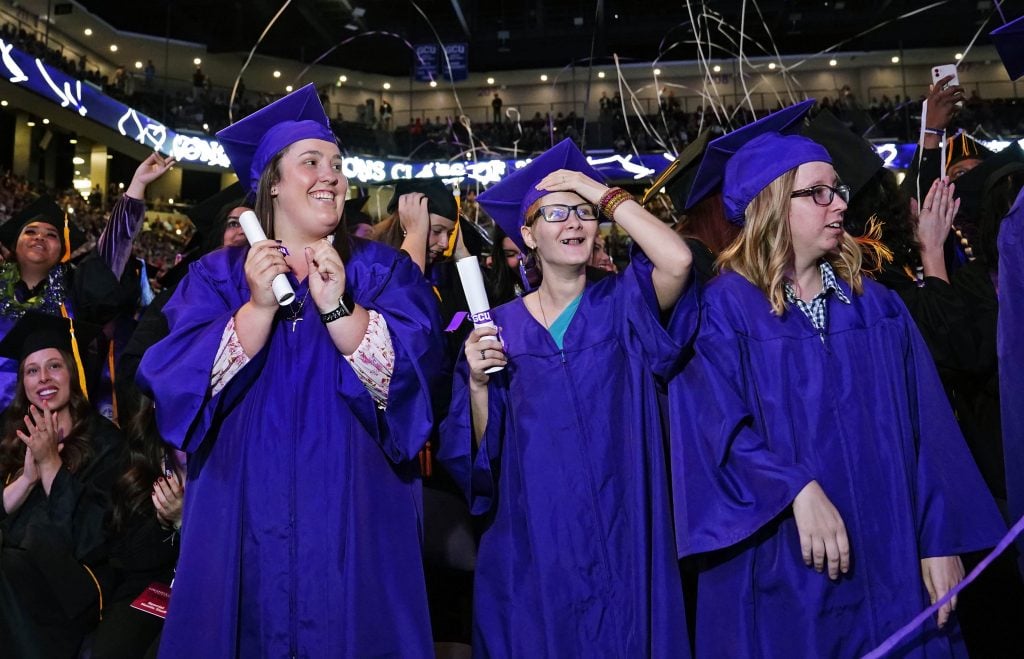 Photos by Ralph Freso / Slideshow / Stream ceremony
Emma Cardon didn't let the importance of this moment pass her by. She made sure her rhinestone-studded, super sparkly sandals and ultra sparkly toenails were up to the task and as gleaming as she was on graduation day.
Chase Baird pounded his chest in celebration.
Jaden Lowery looked dapper in his bow tie, befitting the pomp and circumstance.
Ray Chiago just smiled, his big, big smile.
And an electrified Matthew Adams turned to the graduating seniors of the Grand Canyon University College of Humanities and Social Sciences (CHSS) and waved his outstretched arms, hyping them up to wild cheers and ecstatic celebration during the Friday afternoon Commencement at GCU Arena.
They were just five of the nine learners from the LOPES Academy at the Cardon Center to receive their certificates of completion and became the first to finish the nondegree, two-year program. The academy gives adults with intellectual and developmental disabilities a college experience at a Christian university and prepares them for jobs.
Walking the Commencement stage was a journey two years in the making.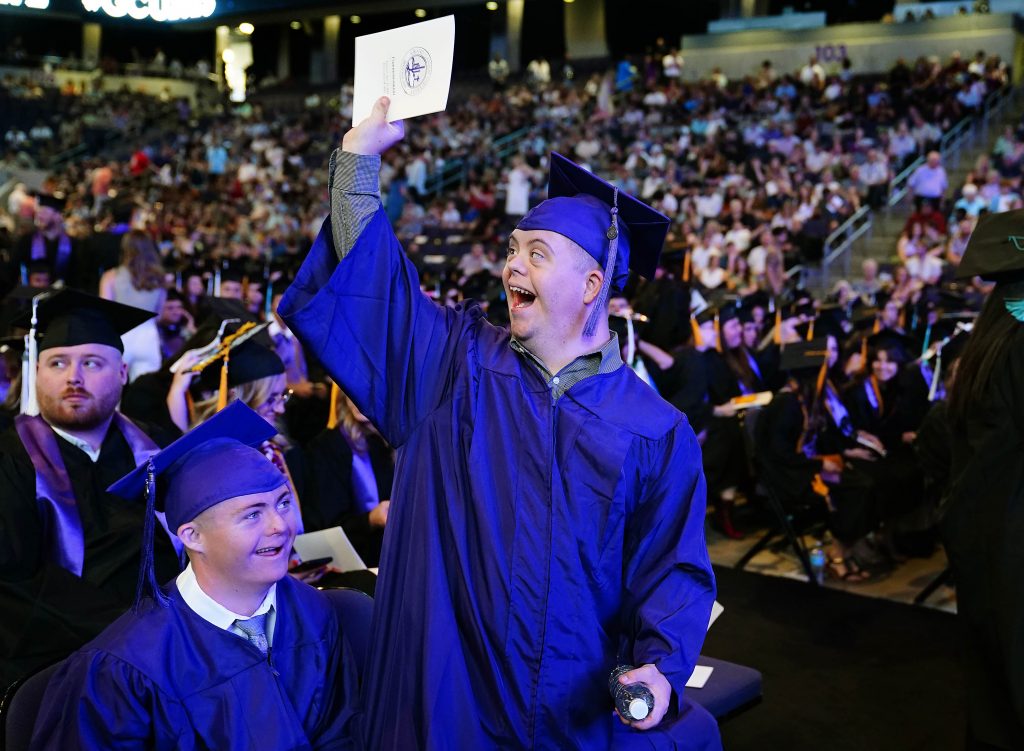 "The story of the LOPES Academy begins with a father's dream for his daughter," said CHSS Dean Dr. Sherman Elliott of the program, which might never have existed without the financial support of Emma Cardon's parents, Don and Kim Cardon. "Like so many other parents, there's an innate desire to offering your child the same experience afforded to others. … (These) nine unique program completers have enhanced their independent learning skills, profoundly developing their ability to acquire a meaningful job and shared with us the beautiful diversity that Christ brings to the world."
It was a journey that brought them here, to Commencement, an event that LOPES Academy Program Manager Allison Mancinelli Kolanko, Program Coordinator Courtney Patton and CHSS Assistant Dean Dr. Heidi Boldway wanted to make sure to mentally prepare them for.
They practiced two days before to get them ready for the noise, the crowds, the bright lights. They sat in the front row so they could be near the back of the Arena, where they could go to decompress, just in case they became overwhelmed.
But the program's leaders also wanted to make the ceremony special.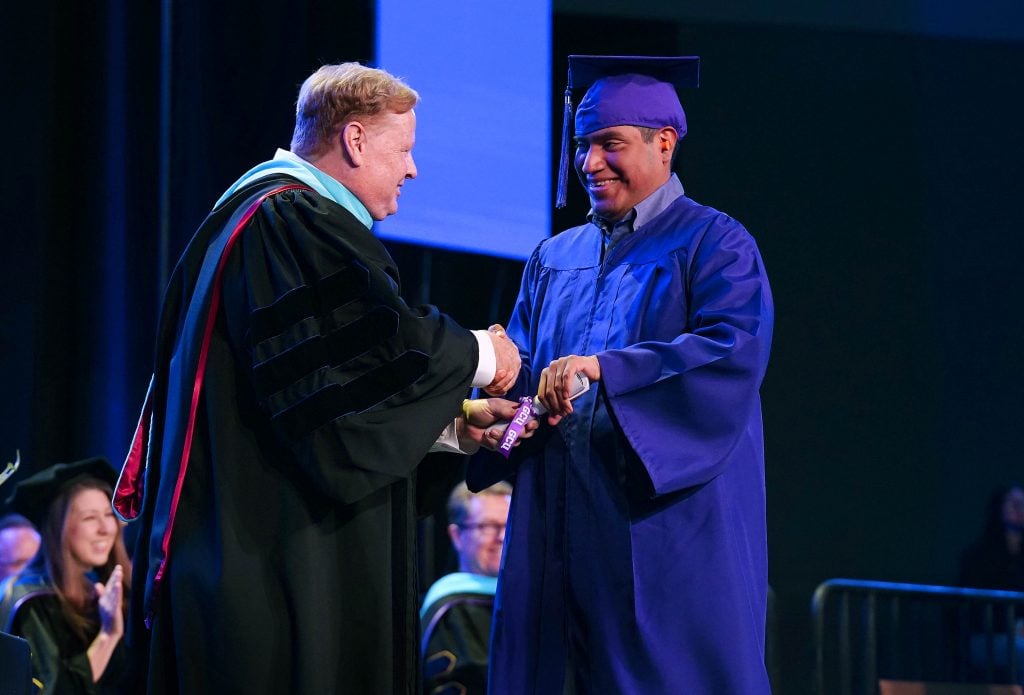 To distinguish them, they wore purple robes instead of black, and President Brian Mueller addressed them at a short ceremony to honor them ahead of the main ceremony.
It was important for them to get the same college experience, just like they have in their two years at GCU. They took classes, attended Chapel and basketball games and completed internships.
Like any college student, they experienced Commencement, too.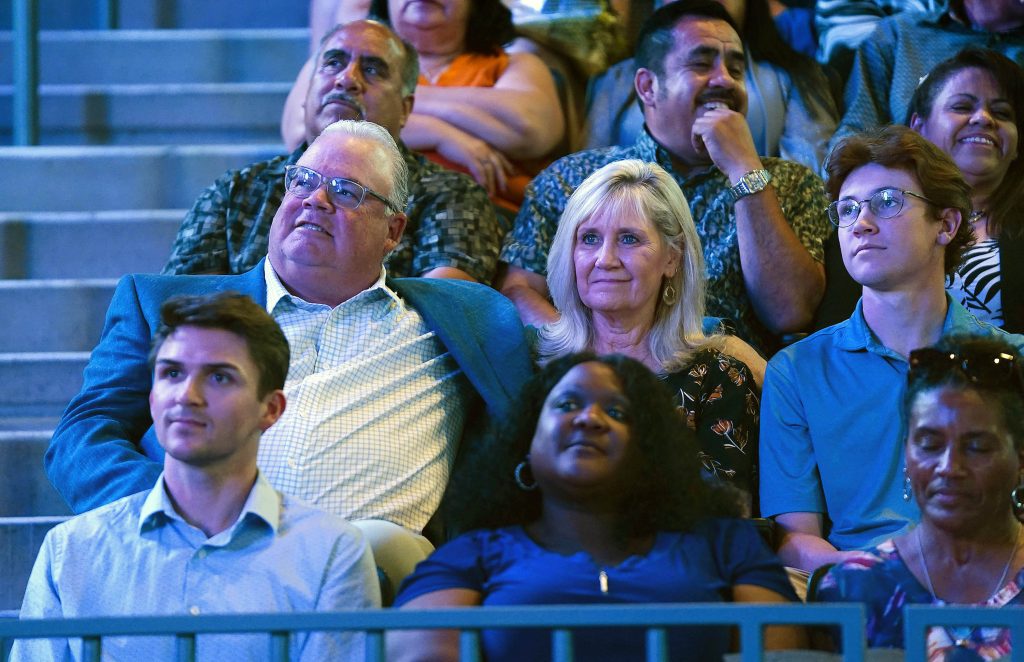 "The fact that you stood them up in front (of the Arena) was very meaningful," said Don Cardon, who saw Emma beaming as she accepted her certificate. " … It was neat to hear the student body rally and clap. It's what we would have hoped for, where they're no longer special, they're a part (they're included)."
Mancinelli Kolanko, who's so passionate about the program and believes everyone has the capacity to work, had no more tears to shed. She had been crying all morning.
"It's bittersweet," she said as these first graduates leave the program. "Im SO proud of them. I'm happy and excited for their futures with employment. I'll be sad to see them go. But they're our first alums, so it's not the end, it's the beginning."
The past two years has been an experience Lynn Bragelman said was "life-changing" for her son, Kyle, who is among the nine trailblazers.
"His leadership, his spiritual growth, the friendships that he's made. He just has a new outlook on life. He knows that, with God, all things are possible; the sky's the limit," she said.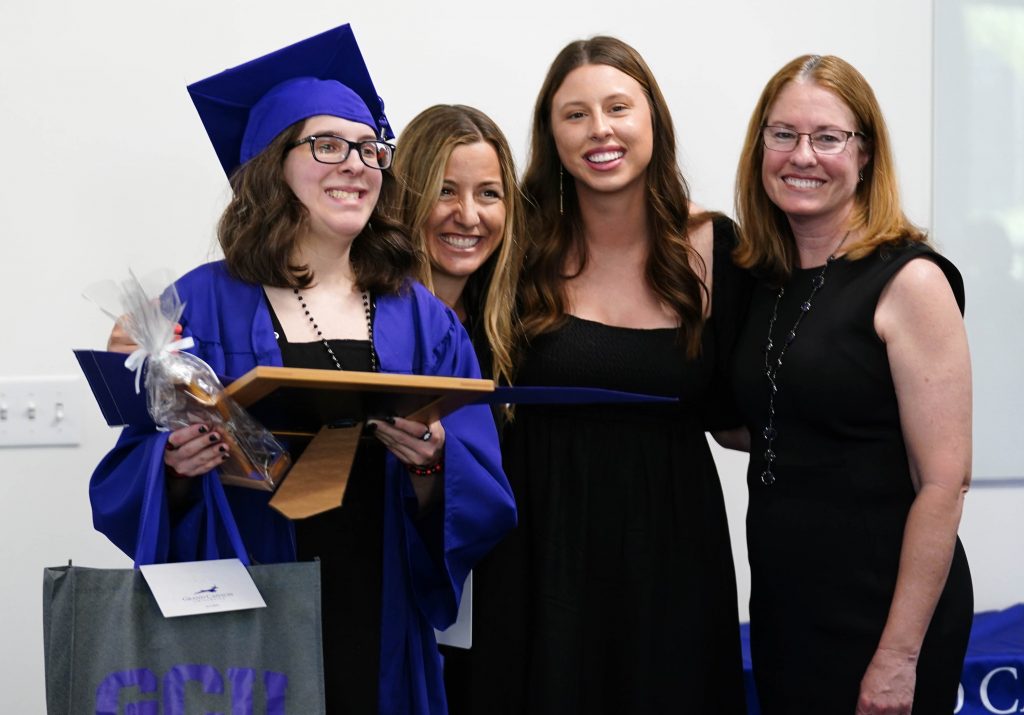 Serena Lowery said her son, Jaden, has grown socially, spiritually and intellectually. But what she has noticed especially is "the independence that he has learned from being in the program," including arranging his own transportation to get to GCU on his own.
Jaden never failed to share how his days went at the LOPES Academy.
"He talked about the church services and going to lunch together as a group and working on his resume. Everything he learns here, he shares with us."
Emma's mom, Kim, said, "What are they going to do when they part ways? There's such a camaraderie amongst all of them."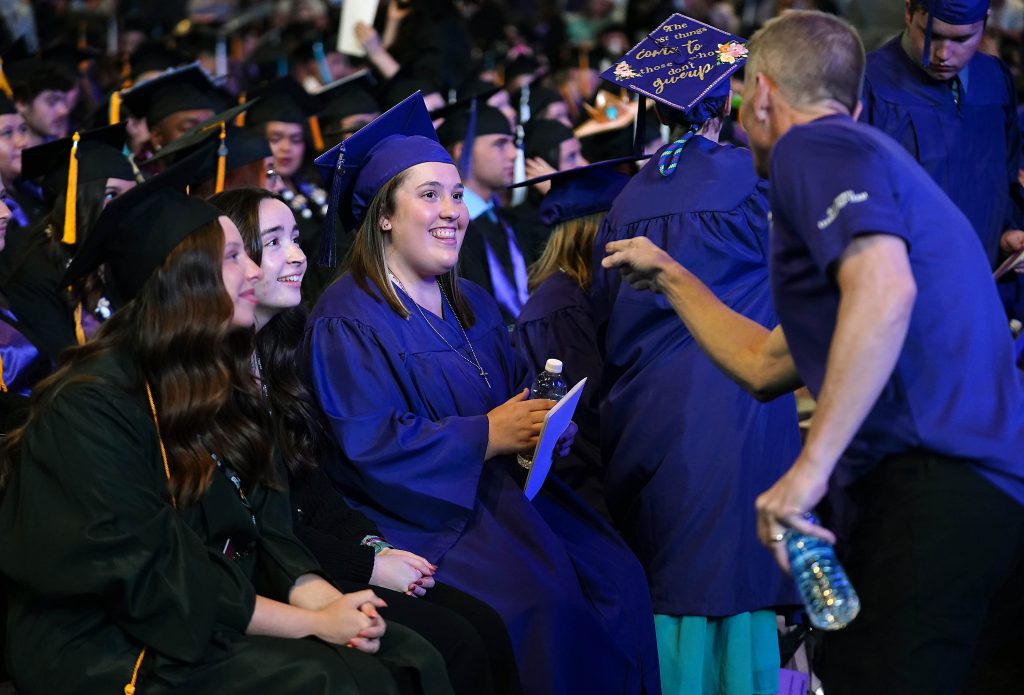 Part of the college experience is making lifelong friends, and Emma has done that with all the participants but especially with fellow program alum Alexa Herriman, who decorated her graduation cap with Mickey Mouse ears.
"That's one thing she's acquired from this is a best friend," Kim Cardon said.
Emma said what she was most excited about on Friday as she sat in the Arena waiting for the ceremony to start was getting her program completion certificate.
LOPES Academy alum Vicky Richardson is still figuring out what's next after Commencement, just like many other college students after the final course is done. She does know she wants to come back to GCU and visit.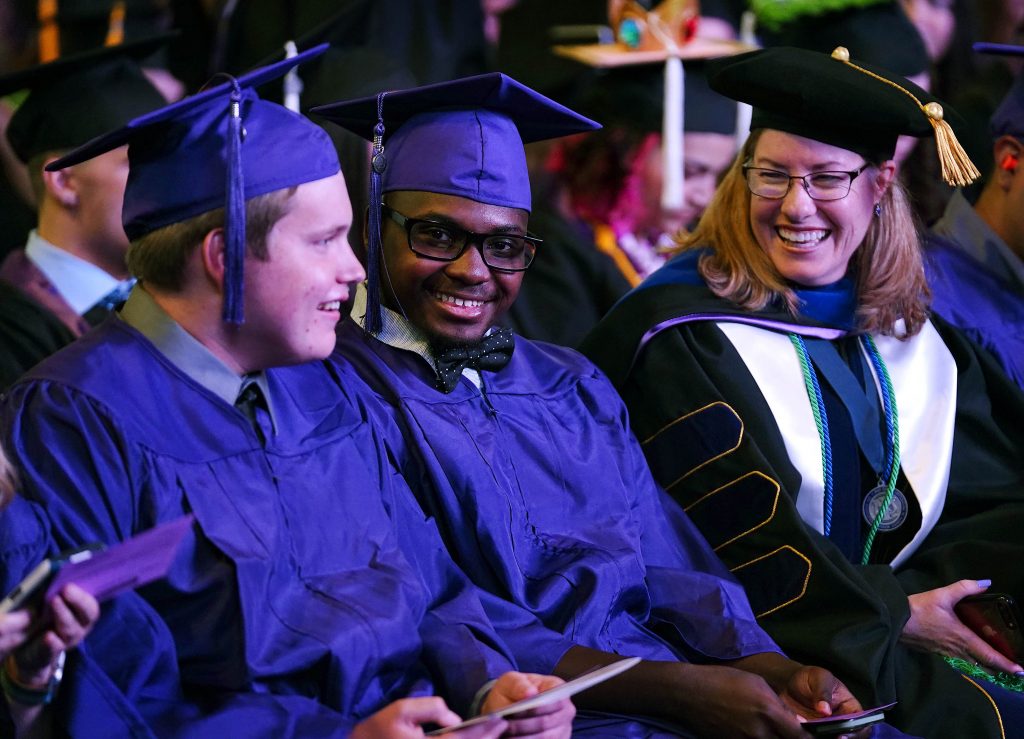 Lindsey Eaton, a passionate advocate for those with autism, already landed a job with Christ Lutheran, where she has worked as an office assistant for the past nine months.
She had a chance to refine her job skills this year at the LOPES Academy, which focused on the internship portion of the program. Eaton interned with the Athletics Department, while other participants interned at the Lope Shop and with Sodexo at Lopes Mart in Chaparral Hall.
Don Cardon reflected on the past two years and looked forward to what's next for the LOPES Academy learners.
"What matters is how this thing can go on," he said. "You're done with high school, now what? You're done with this program, now what?" Cardon said. "… These students potentially could be a CEO of a little company. I mean, they really could. Who's to say they can't?
"I hope that, as parents, you're encouraged about just seeing your children flourish and be something, and that's the biggest gratitude."
As for Kyle Bragelman, his biggest gratitude isn't for the gifts he'll receive for completing the program: "No, no, no. I'm not greedy," he insists. "The most exciting thing about graduation is for everyone to be able to see me graduate. Graduation, in my opinion, is not just about you. It's about everybody."
Manager of GCU Internal Communications Lana Sweeten-Shults can be reached at [email protected] or at 602-639-7901.
Related content:
GCU News: New participants sing praises of LOPES Academy
GCU News: Film features LOPES Academy participant
GCU News: How a GCU student will graduate with no debt
GCU press release: Grand Canyon University celebrates graduating class of 29,116 in 2022-23
GCU News: IT Help Desk helped him land a job with Tesla