Photos by Ralph Freso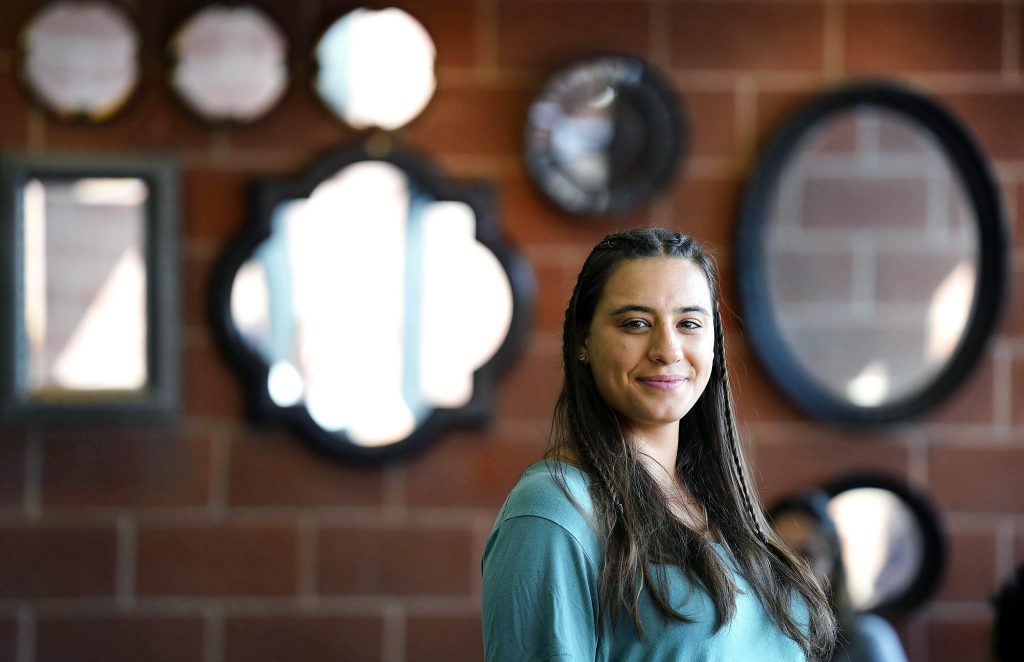 Mary Szabo will walk the Commencement stage tonight at Grand Canyon University Arena feeling mighty light. She has zero debt from attaining an undergraduate degree.
Zero.
Let that figure sink in as the student loan debt issue becomes a political and economic issue of increasing worry in the U.S.
The accounting major didn't accomplish this because she's a rich kid, or simply because she is a whiz with numbers and finances.
It happened through a concerted effort over several years, encouraged by her parents and professors to apply for numerous scholarships. It happened with summer jobs and internships and a frugal mindset born of an immigrant mother and father who grew up with little.
It also happened, she said, because of GCU's affordability — tuition that hasn't risen in 15 years and $180 million in institutional scholarships. It means that GCU graduates have taken on less debt (a median of $21,073) than the median at public and private nonprofit universities ($28,959, according to the Institute for College Access and Success).
Szabo is one example of a student who got to first base before she's even at bat in the work world. Her mom, Vanya, and dad, Tom, of Pinetop, Arizona, will be in the Arena stands cheering the loudest.
"This is my biggest accomplishment, getting my kid through college debt-free. This is how complicated it is in America with college," Vanya said. "You give them a good start in life. They are free. They decide where they can go and what they can do."
Mary Szabo's goal of staying debt free was formed by her parents long before she was born.
Tom Szabo, a school teacher most his life on the nearby Fort Apache Reservation, grew up with nothing, Szabo said. "He saw the effects of paying off his student debt. It followed him for so long," she said.
And her mom was raised in Communist Bulgaria until the economy crumbled when she was 12.
"When I went to college, it was the last year of free college education. I graduated debt free," Vanya said. "The whole concept of being in debt and being 21 didn't make sense to me."
So when Mary Szabo got to ninth grade, she ushered her to college fairs, and they began gathering information on scholarships and how to get them, such as starting a ready file of information on every volunteer opportunity and job she took. Good grades also were vital.
"My parents always told me, 'Never go into debt.' And my grandfather told me for every A I got throughout school, he would give me $10," Szabo said. "Over time it became a habit to get As."
She had her sights on GCU right away. She got a personal tour one summer day from a faculty member in 109-degree heat, and a personal meeting with Colangelo College of Business leaders. That caring attitude convinced her years before she set foot on campus.
When she got here, she had a leg up after listening to popular financial expert Dave Ramsey on the radio with her parents, who they said held values like older generations — to save and stay free of debt by not buying things you can't pay for.
She also began a concerted effort to apply for scholarships. "It's been a lot of time and effort over the last four years of my life," Szabo said. "But after so many, you get efficient at it, even the 250-500 word essays they all ask for."
Szabo got scholarships from local businesses, such as a county club, and organizations like the Rotary Club and Audubon Society, from her high school and church, and those specific to her accounting major.
"I don't think people realize how many scholarships go unused," she said. "Nonprofits will have funding or do fundraising events for scholarships and the money is sitting there waiting for students."
One example was from the Audubon Society (think birds). She said, with a wry smile: "I'm an accounting major."
But she knew how to tell her story — of watching the birds with her mother in the woods near Pinetop and what it meant to her. She landed the scholarship with little competition.
She also kept her grades up, finishing with a 3.9 grade point average in high school and high scores on college entrance exams.
But she also learned that to have something that sets you apart is important. She helped build a soccer field in her mother's village in Bulgaria as a high school junior and told that story.
"I saw by her doing this, she got inspired to help others," Vanya said. "It was a miracle, honestly."
Then came all the scholarships from GCU. She had to be on top of a big one — the Honors College Scholarship — that she needed to apply for her junior year. She also won a President scholarship, Honors Showcase Scholarship and one for in-state students.
Szabo said faculty and staff at GCU were vital in pointing her to other scholarships.
"GCU students get a lot of support from GCU," said Kelly Damron, Associate Professor of Accounting, who passes on scholarship information to students, including Mary, who always showed up prepared and ready to discuss in class.
"I would love all Marys in my classroom," she said.
Szabo didn't qualify for government financial aid because her parents made a bit too much — her mom works at Johns Hopkins University Center for Indigenous Health in Pinetop, and her dad is a semi-retired teacher working part time — but not enough that they could foot the college bill.
They helped with what they could, but Mary said scholarships paid for nearly 70 percent of her college education, and summer jobs helped with another chunk of it.
Another key factor was getting through college in only three years. She buckled down, took extra courses, and figures she saved several thousand dollars.
As she crosses the stage tonight, being debt free is a celebration for the whole family.
"Oh my gosh, it means so much. Right now we are looking at renting an apartment, for example. It is so expensive," Vanya said. "I can't imagine paying a loan on top of rent."
It means that Szabo can begin work to start a nonprofit after she graduates. She calls it Project 681. She wants to help Bulgarians with health care, economic issues and maintaining cultural traditions, an idea that all started with the soccer field where she still gets videos of kids playing.
She can start living her dream now, with a clean slate.
Grand Canyon University senior writer Mike Kilen can be reached at [email protected] or at 602-639-6764.
Related content: