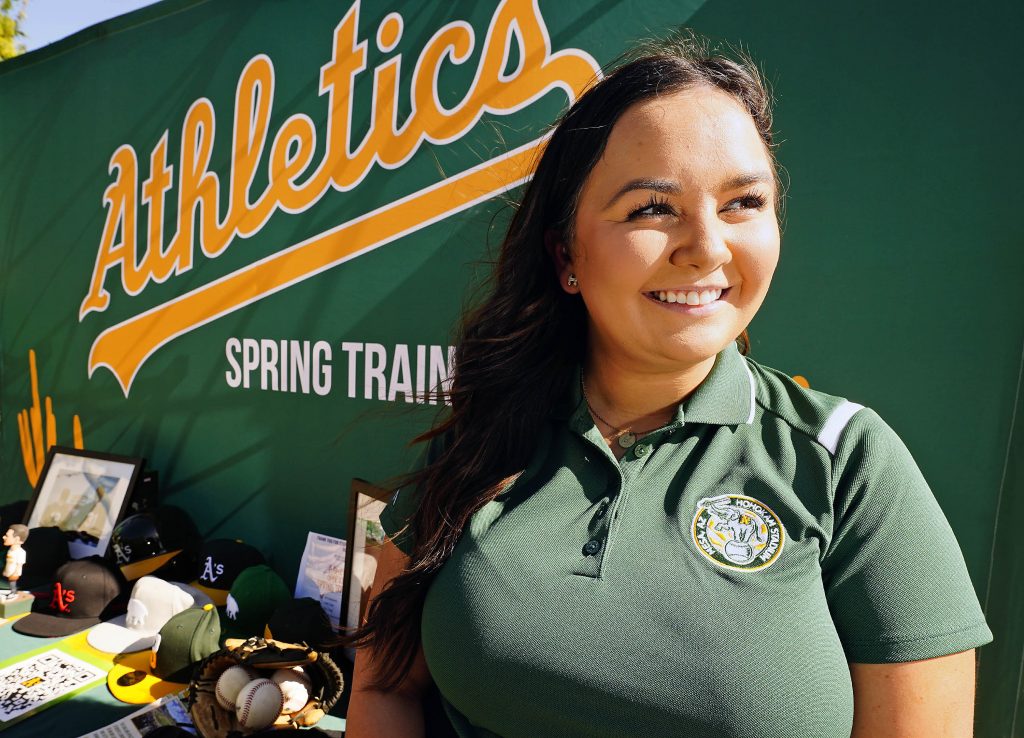 Photos by Ralph Freso
Benjamin Heyler spent a majority of his last two springs handling a spectrum of chores at Goodyear Ballpark, from making sure vendors adjusted their merchandise to reflect Cleveland's new nickname, to operating the scoreboard and monitoring the length of walk-up music in accordance with Major League Baseball's new rules.
Heyler's diligence as an intern has paid off.
After he graduates from Grand Canyon University in December with a degree in sports management, he will travel to Colorado to start his full-time, paid duties as an experience associate with the Colorado Springs Switchbacks FC of the United Soccer League.
And while the Texas Rangers embarked on their march to the World Series in early October, GCU students already had their sights on landing spring training internships.
The Sports Entertainment Business Club's job fair, which consists of several major league teams, spring training facilities and businesses that provide services to the 15-team Cactus League, set up shop at the Colangelo College of Business Courtyard earlier this fall.
It is a fertile area for employers and students, who often adjust their spring schedules to accommodate their duties should they land internships.
As in the case of Heyler, those duties may seem mundane, but they enable interns to learn many facets of operations and gain more experience as they move closer to graduation with sights on joining the workforce full time.
"It's extremely important to us," said Debbie Diveney, assistant general manager of marketing and business operations at Goodyear Ballpark, who also serves as an adjunct professor at GCU.
"We always like to integrate GCU students into our operation because the sports management program here gives them the experience. We need good seasonal staff, so it's a win-win for both sides."
Spring training also affords opportunities to those not wedded exclusively to baseball.
Bailey Antrim recalls how she advanced through the Enterprise Mobility program, receiving five promotions in three years, to earn a full-time position with the car rental company a few weeks ago after graduating from GCU and now is a human resources coordinator.
"There's a lot of opportunity in your first year to grow," said Antrim, who was looking for interns with a concentration in customer service and sales for spring training. "You definitely get promoted."
There are other steps, such as an eight- to 10-month program where students are taught to run their own business.
The auto rental business – particularly in spring training – is extremely demanding. Enterprise services all 15 teams in the Cactus League, and fans and vacationers traveling from distant locations add enormous weight on employees to service customers without a glitch.
But it also serves as valuable experience for interns.
"I had a hospitality degree, and this career really uses my degree," Antrim said.
Kimberly Pashby, a senior majoring in sports business and marketing, estimates that 75% of spring training interns for the Oakland Athletics in 2023 were from GCU.
"They've been great interns, and a lot of them have moved on to become coordinators after graduation and moved to the Oakland area full time," said Pashby, the A's spring training promotions coordinator.
The A's spring interns are required to work only on game days but become involved with marketing, ticket sales, guest services, fan experience and behind-the-scenes operations, such as parking, security and maintenance, Pashby said.
The interns also can work when the A's are not playing home games at Hohokam Stadium in Mesa.
The A's coordinators devote most of their time from January to April with the planning and maintenance of spring training and the tearing down and storing of supplies following the conclusion of the season.
Diveney also likes giving the interns a "well-rounded experience of running a sports facility."
That means introducing them to everything that it takes to host a game, from marketing to selling tickets to attending sponsor meetings.
"We try to give them as much as they want to learn," said Diveney, whose facility is the spring home of the Cincinnati Reds and Cleveland Guardians. "We want to teach."
Heyler appreciated that Diveney expanded his duties to learning statistics to post on the scoreboard and playing walk-up music in a confined time.
He already was required to pay attention to details, such as making sure a vendor was not wearing a Cincinnati Reds cap at a Guardians game or selling nachos in a Reds helmet at a Guardians game, and vice versa.
"Debbie does a great job of showing us to be vocal about that and not let somebody else catch it, for us to be proactive about it," Heyler said. "Being vigilant about what's going on, making those changes and making the best experience possible for the fans."
GCU News Senior Writer Mark Gonzales can be reached at [email protected]
***
Related content
GCU News: Sports executives talk 'Culture of Belonging' at club's kickoff event
GCU News: IDEA Club's Marketplace mounts momentum for Canyon Challenge