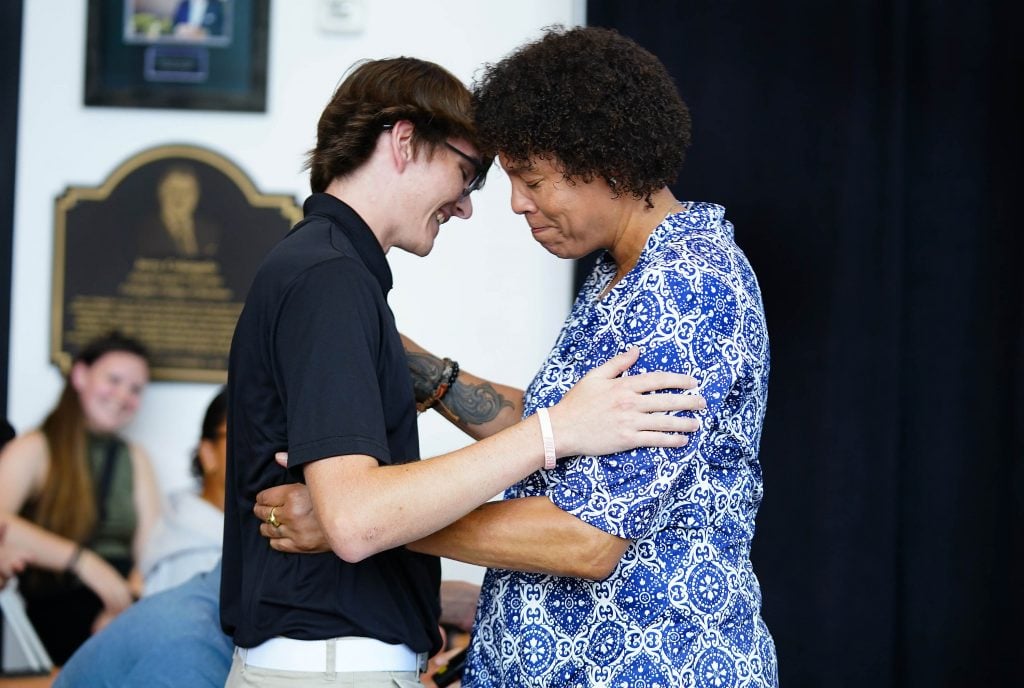 Photos by Ralph Freso / Slideshow
As arguably the greatest women's basketball player in the world, Cheryl Miller didn't relate to failure too often.
But Miller, who recently moderated Grand Canyon University Sports and Entertainment Business Club's kickoff event, reached out after sophomore Liam Bakalich asked a panel of three past and present executives about responding to repeated rejections from prospective employers.
Miller, who was inducted into the Naismith Memorial Basketball Hall of Fame and has served as a coach, general manager and television commentator, gave Bakalich a hug that ignited applause of an overflow crowd at the Colangelo College of Business lobby.
"I was confused when she called me over," said Bakalich, who met Miller earlier at a class. "The hug made me feel a lot better."
So did the answers provided by the panel: Brooke Campbell, Senior Vice President of Team Services for the XFL and former marketing executive with the Phoenix Suns and Brooklyn Nets; former Golden State Warriors President Robert Rowell; and Maddie Redmond, Associate with the TrailRunner International advisory group and a former marketing executive with the Dallas Cowboys and Arizona Cardinals.
The theme of the kickoff, "Culture of Belonging," kept students engaged.
"When Brooke said, 'all you need to do is stay in the game, keep trying, keep asking questions, keep applying, don't lose motivation,' that hit me at home," said Bakalich, a sports management major.
"And when (Rowell) said you can't take (rejection) personally, that was huge to me. I never want to take anything personally. But having a sensitive mind, it hits you a lot harder. Now I will go into everything I apply to with a little more motivation and not take it so personally."
Rowell warned the young crowd, "you will get told 'no' a lot."
The panel speakers shared their experiences of getting fired or realizing they weren't a fit with their employer, as well as some of their impactful achievements.
Before leaving the Warriors following an ownership change, Rowell was proud of how he helped change the environment of the organization in which he said 13 of the 15 players were Black, yet the entire front office was white.
Rowell wanted to create a culture that is reflective of the organization.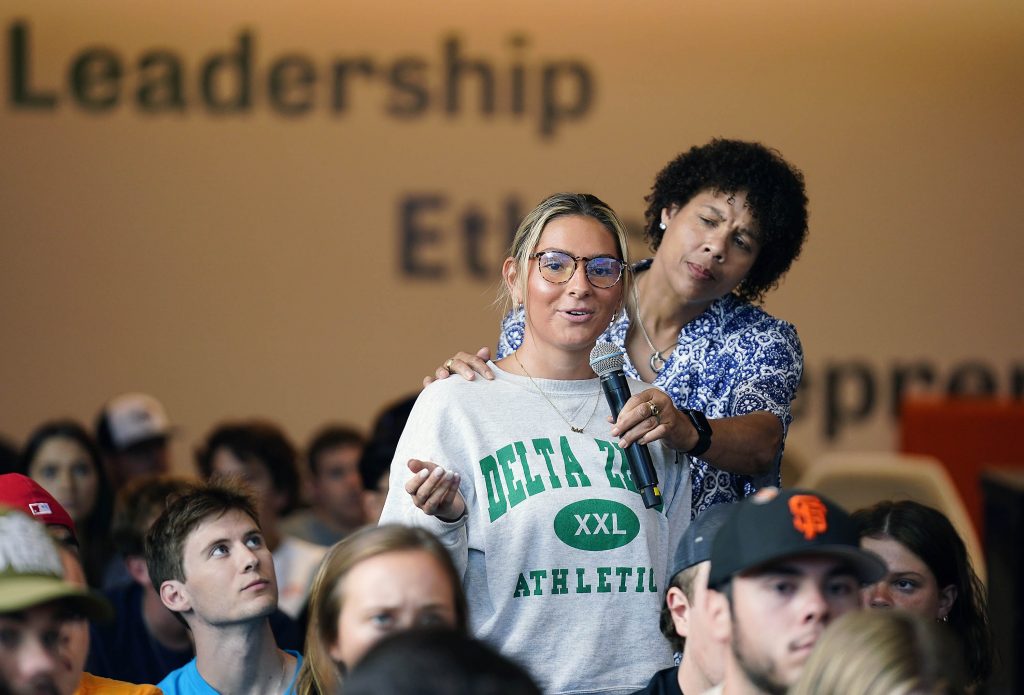 "I made sure they (the players) feel they belonged, interacting with (other departments) – game operations, marketing, community relations, tickets. We did this because it was the right thing to do, be true to what you're trying to do."
Redmond emphasized staying true to yourself and not pursuing a career solely because a mother or father succeeded in a certain form of employment.
"It's not what your friends want you to do," Redmond said. "It's not about what your professors want you to do. It's not about what society wants you to do."
Campbell, who sandwiched bachelor's and master's degrees in business at the University of Virginia around three years as a media planner, emphasized to students the importance of diversifying their skills to enhance their employment chances – short term as well as long term.
And life priorities change as well, often requiring in more income and family time.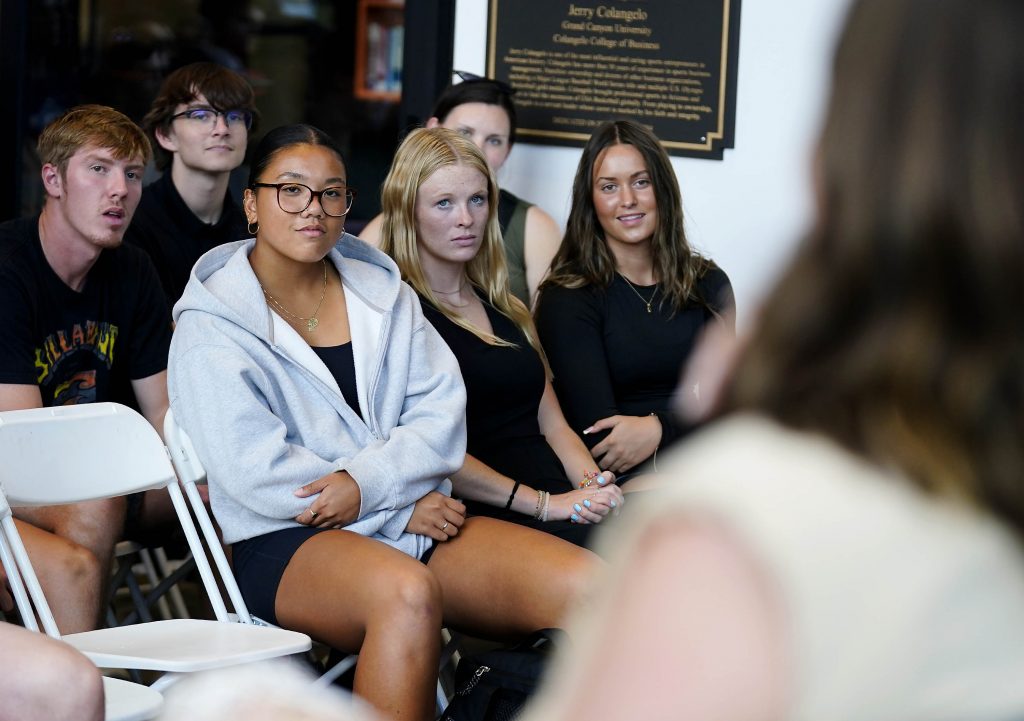 "I used to be a perfect example for what the sports industry wants," Redmond said. "I was willing to kill myself for this opportunity. And I did, and I made zero dollars doing it. Well, pennies.
"Now I'm getting married and starting a family. I don't want to start my weekends away from my family."
Rowell noticed that recent changes in sports have been caused by public outcries, and that older, complacent executives can be held more accountable to their actions.
Rowell cited a lawsuit filed against the NFL by a former league reporter who alleged Buffalo Bills owner Terry Pegula made a racist comment about Black players.
"The good thing about sports is you can't hide anymore," Rowell said. "The media is everywhere. Social media is everywhere, and people talk 24/7. And if you have racist tendencies and you don't respect women in the workplace, then you're going to get exposed, and I think you've seen that a lot in sports, right?"
Rowell said the younger generation has a better chance to spark change than when he was in college.
"We just shut up and put our heads down and got the work done," Rowell said. "Your generation is one that's going to raise your hand and say 'This isn't right. This isn't what you said it was going to be. You're not doing the things you told us you were going to do.'"
It's all about creating that culture of belonging.
Senior writer Mark Gonzales can be reached at [email protected]
***
Related content
GCU News: Women in Business going and growing strong
GCU News: GCU Canyon Ventures student on track to protect skateboards