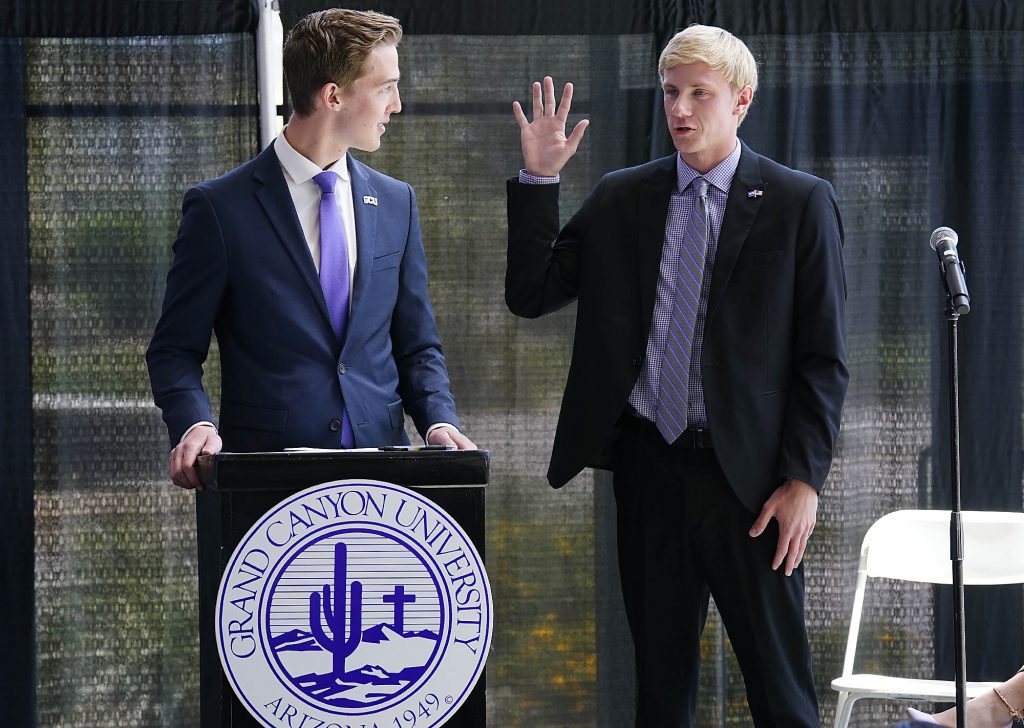 Photos by Ralph Freso / Slideshow
Jagaar Halverson and Camden Marasco often are told they could be brothers. Tall, slim and well-spoken, now both will have served as student body president of Grand Canyon University.
On Monday, outgoing president Marasco read the duties to successor Halverson, who responded with "I will" to leading the Associated Students of GCU (ASGCU).
The inauguration, held before a gathering of students, President Brian Mueller, Vice President of Student Affairs and Dean of Students Dr. Tim Griffin and other University leaders in the Colangelo College of Business lobby, was a shining moment for Halverson, who had several members of his family from Arizona and Iowa on hand.
"I can look around the room to each and every one of you and say thank you," Halverson said. "Thank for trusting this small-town Iowa kid to lead the students of the largest Christian university.
"Thank you for walking step by step with us."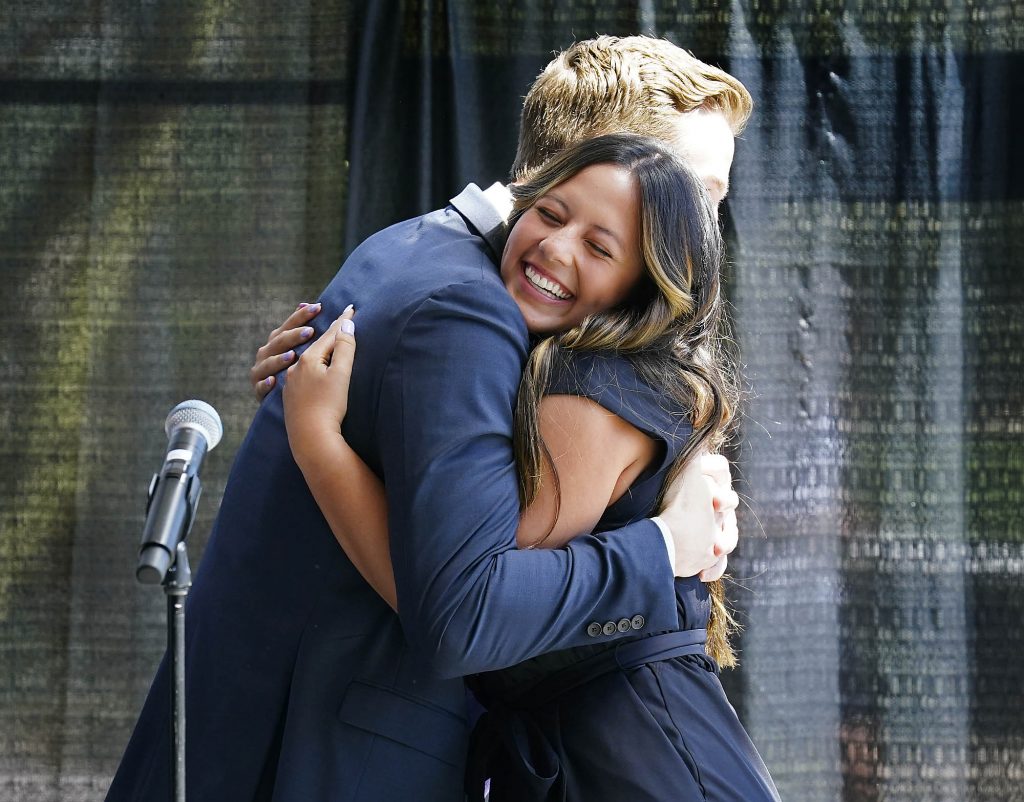 The occasion also marked another diverse step in student government. Halverson and Vice President Amaya De La Cruz are first-generation college students, and De La Cruz is the first woman in more than a decade to win an elected position in student government.
Halverson, a junior in government with an emphasis in state and local policy, is a Spencer, Iowa, native who has political experience in internships for Iowa politicians on the state and national level and served as ASGCU's chief of staff this year. De La Cruz, a junior in communications with an emphasis in broadcasting and new media, is a Sacramento, California, native and captain of the women's rugby team.
The president and vice president lead a team of seven senators and several other executive staff members also sworn in on Monday to serve as a voice for students and liaison to University administration.
"The success of this association rests in your hands," said Marasco as Halverson stood aside him on stage.
Halverson raised his eyebrows at the challenge, creating a chuckle from the crowd.
But make no mistake, he is serious about his goals to prioritize student needs and maintain the campus harmony that is its reputation.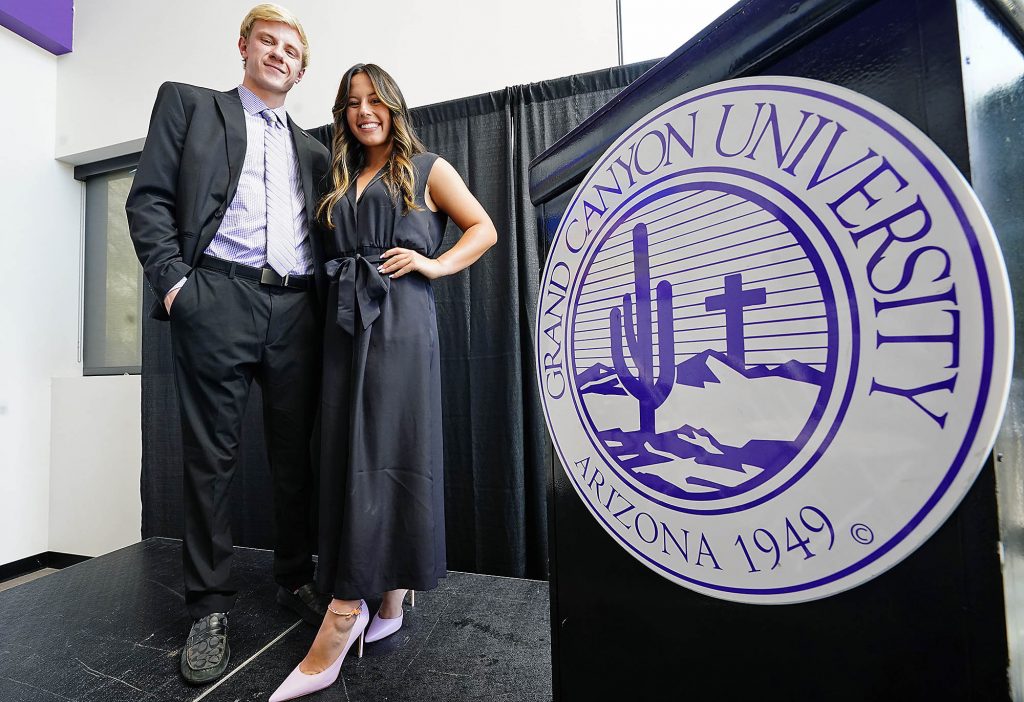 Halverson said his team is called to be servant leaders.
"When we all collectively work together, with our faith in Jesus, there is nothing we can't accomplish," Halverson said.
He wants to continue the feeling of unity at GCU.
"When you walk around campus and talk to students and ask them why they came to GCU, nine out of 10 of them say it's because of community," he said.
He wants all to be heard.
"I am here for you," he said. "You will be seen."
After the ceremony, Halverson said that working with the administration and building relationships are the first order of business as a month-long transition takes place in student government.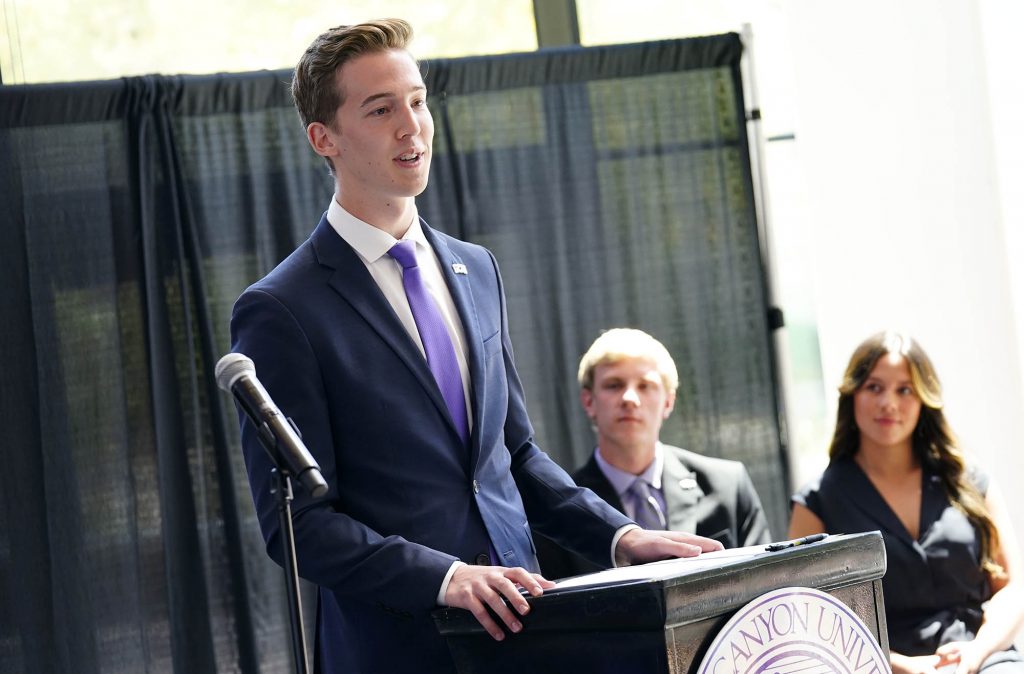 "I can assure you he is well prepared," said Marasco, who in his year-long tenure became a recognizable face at countless events and ceremonies throughout the year.
"GCU, I gave you all I had. I served you with my entire heart and I poured all my efforts into improving student life."
Afterward, Marasco said he was most proud of ongoing efforts to improve safety on campus, not just fixing the potholes that was a drive early on in his tenure, but in working with officials on ways to secure the east side of a growing GCU campus.
"That is long-lasting change," he said.
Also sworn in Monday: First Generation Director Elijah Torres, Elections Director Tristan John-Jandles, Operations Vice President Jake Martin, Administrative Vice President Alexis Foreman, Chief of Staff Elly Kenninger and Senators Alexandra Weber, Hope Ingalls, Nolan Ramsey, Jabae Carter, Tucker Hudson, Karen Munoz and Dianne Nosibog.
Grand Canyon University senior writer Mike Kilen can be reached at [email protected] or at 602-639-6764.
***
Related content:
GCU News: Halverson-De La Cruz team wins ASGCU election
GCU News: Diverse candidates make case for student leadership