Reprinted from the August issue of GCU Magazine. To read the digital version of the magazine, click here. Here's a video in which students share what they're most looking forward to this fall.
You're going to be new to GCU this fall. What will it be like? And even if you've been on campus for a year or two, there always is something new to learn about the University and what's around it – as far away as the wilds of Arizona. GCU Magazine has the answers with tips from student leaders. Here's everything you need to know about campus life – the best events, the best food hacks, the best ways to stay fit, the best places in the state to visit and much more.
1 Best only-at-GCU experience
Basketball games, camping out, being a Havoc, etc.
"Havocs section at basketball games … duh."
GCBC
"Especially the Stampede."
Chapel
" The music by the Worship team gets me every time."
Life groups
" Getting to know people who are on your floor while fostering your faith."
Campus activities
" Always so much to do that's free in this very expensive economy."
Ring by spring
For some couples, the goal is to get engaged before the spring semester ends.
The GCU cats
"You'll have so many pets."
2 Best free-time activities
Hanging out at Student Union or GCBC with friends to talk, study
Hanging out in your residence hall/apartment lobby
Hanging out with friends in the arcade at The Rivers
"Worth the walk if you're not on that side of campus."
Hammocking on Quad, Promenade or at Colter Field
"On the weekend it is especially quiet and peaceful, so it is easy to focus."
Painting with your friends on the grass
"Gossip, laugh and learn more about each other."
Sand volleyball
"Especially when you have the courts to yourselves."
Also: Giving treats to the cats, going to the gym, karaoke nights, pop-up events, hiking, swimming, walking around campus, Canyon Activity Center climbing wall
3 Best student events
Lip Sync Battle
"It's like watching a concert, but it's free and everyone dances with you."
"It's so fun to see the performances!"
Midnight Breakfast
"In the midst of final exams and anxiety, students can unwind by dancing the night away. It has fun themes, a variety of thrilling games and free food."
"The best event food. Never disappoints."
Silent Disco
"It's hilarious to take your headphones off and see people dancing to silence."
Homecoming/Family Weekend
"What better way than to show off your life at GCU with the ones you love the most?"
Student market
"Will you spend all your money? Yes, because we have students who are extremely talented at selling product."
Also: Chapel, Midnight Madness, basketball games, Canyon Cool Down, Snow Much Fun
4 Best places/events to meet new friends
Clubs, volunteer/student leader opportunities
"Get out of your comfort zone and put yourself out there. Clubs and diversity and inclusion groups are the best places to find people with shared interests and cultures."
Welcome Week volunteer
"Meet new people and share the same joy you received when you first came on campus."
Lobby of your residence hall
"It's a great opportunity to meet people from your building."
Project L
"A themed multicultural celebration that is a great way to meet new friends, get free food and dance."
Karaoke night
"Next thing you know, you're singing with a stranger and having a 'High School Musical' moment."
Chick-fil-A line
"Since you'll be there for an hour."
Volunteering with clubs on campus, such as Homeless Ministry, or for Habitat for Humanity projects
Also: Classes (especially those for your major), Welcome Week events, basketball tailgates, Grove lawn, Outdoor Rec trips, Student Union, orientation groups, volleyball games, GCBC, intramurals
5 Best places for a date
Library
"Study together – productive date, isn't it?"
Apartments with picnic tables and a grill
"Cozy on up and mark your territory."
Also: Quad, Purple Greens, benches around campus, Fear Farm at Halloween, Little Canyon Park, North Rim Apartments courtyard, Ethington Theatre performances
6 Best places to study
Library
"I prefer the third floor because the fourth floor is where people have a larger seating area and the private rooms, so they tend to talk more there."
GCBC Student Union
"The background noise can help you focus if you need some extra stimulation."
GCBC Roadrunner patio
"A nice, shaded area to work."
Classrooms after hours with friends
"It gets you out of your room, and there are fewer distractions."
Also: Student Union, study rooms and hallways in colleges, courtyards next to Student Advising Services Building, Quad, your room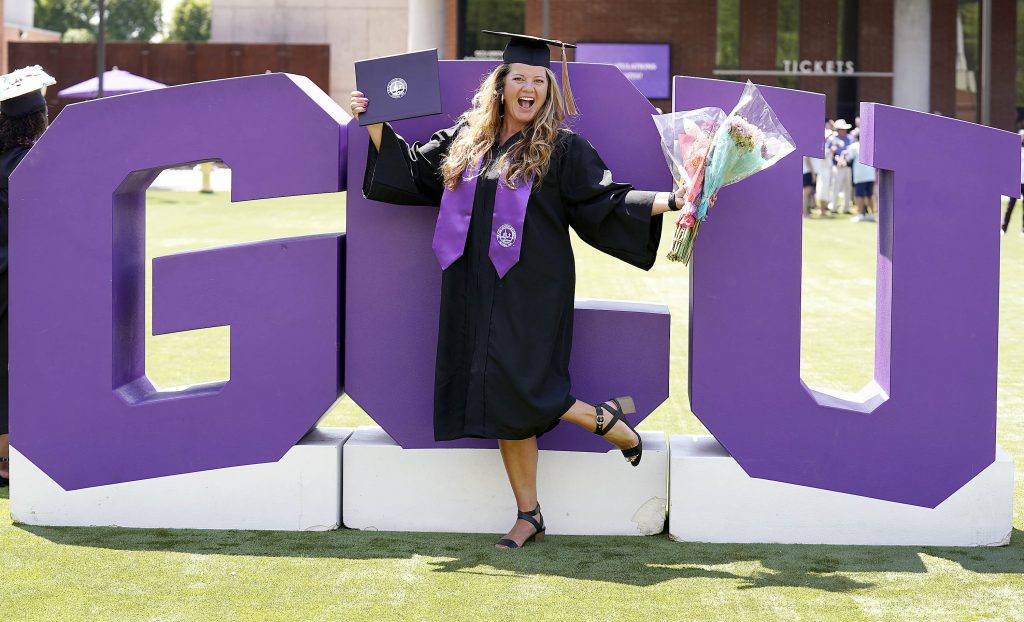 7 Best places for photo ops
Top of just about any parking garage, especially at sunset
"Best for stargazing as well."
In front of GCU Arena
"On graduation day, they will have huge GCU letters and another stand with the GCU letters and the Lope attached. If you get there early, there will be fewer people in the background of your pictures. Avoid the worry of using Photoshop."
Courtyard between Student Advising Services and Student Life buildings
"Great sunset pictures."
Also: Lopes Way, GCU Ballpark, on the antelope outside the Arena, anywhere there is a pretty brick wall, Promenade with Student Union in the background, outside Technology Building, Thunder Alley stairwell where the murals are, anywhere Thunder is
8 Best ways to get around campus
Walk
"Make friends who live across campus so you are forced to walk all the way there to meet them."
"Get in those steps and avoid collisions."
"#nowheels"
Electric scooter
"When it's one of those days where you got out of bed with two minutes before your class, zoom right past people to avoid any distractions."
Longboard/skateboard
(They're everywhere on campus.)
Put wheels on an ice chest
"It's a scooter and a fridge all in one."
Also: Bicycle, hitch a ride on a golf cart
9 Best Camp Elliott tips (Quad campouts to get best seats for Midnight Madness and basketball games)
Be early
"This is like you are going on a trip, but it's feet away on campus. Get in line HOURS before. Have a designated person to hold the group's spot. Missed breakfast? Ask a friend to pick it up while you are waiting in line for them or pack a bag full of food so you never have to get out of line."
Also: Lots of blankets, bring a book, camp with and around friends, bring bug spray
10 Best basketball game stunts
Purple Pre-Game Party
(10 minutes of Havocs dancing and jumping to music)
Havocs race
(Students are lifted by their peers from bottom row to top of Arena)
Outrageous costumes
Theme nights
11 Best Lope Shop must-haves
GCU T-shirt, hat, sweatshirt, sweatpants (especially Champion)
(Clearly No. 1)
GCU fanny pack
"Easy to get in the Arena because it's clear."
A fun GCU lanyard
"Show your personality but wear it with pride."
Your college's gear
"So you can pass it down to your grandkids."
Also: Hydro Flask, fuzzy socks, pajama pants, Hype & Vice apparel, Nike and Champion hoodies
12 Best electives
Servant leadership (DSM-215 or DSM-301)
"Never gonna disappoint you."
Pilates
"Is a required class for dance majors, but I think anyone can enroll."
Also: COM-312: Conflict and Negotiation, ADV- 340: Media Law and Ethics, Dance Somatics, Coaching Soccer, World Religions
13 Best GCU Instagram accounts
@gcu
"Full of fun posts."
@gcbc49
"If you are addicted to GCBC, it is important to stay up to date on new drinks and information."
@cabgcu
"Really keeps you up to date on campus events."
@gcu_multicultural
"GCU Multicultural Office Instagram page promotes multicultural tabling and events at least once a month (such as Native American Month, Black History Month and Women's History Month) and focuses on bringing awareness to the GCU campus about diversity, inclusion and equity."
@gcudining
"Food hacks, hours of eateries, updates on food."
Also: @asgcu, @gcuhavocs, @gcucommuters, @gcuresidencelife, @canyonpizzaco49, @gcunews
14 Best meals
Chick-fil-A
"What makes it better is the workers are always nice."
Taco Bell's Mexican pizza and nacho fries
"But don't get addicted – they aren't always available."
Purple Greens
"Any bowl you build is delicious."
Fresh Fusion
"Try the panini."
Also: Panera Bread, Taco Thunder cart, Pita Jungle, bagels from Einstein Bros., Nekter Juice Bar
15 Best dining dollar stretchers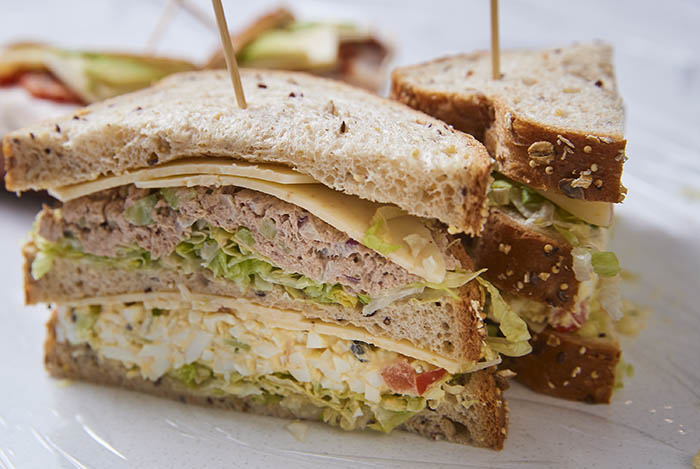 Qdoba/The Grid combo
"Get chicken, black beans and fajita mix from Qdoba, buy a quinoa packet from The Grid and you have a healthy burrito bowl for two meals."
Lopes Training Table to-go boxes
"You can fill that baby up, and it's only $10."
Taco Bell dollar menu or $5 box
"When you're running low, go for the five."
Split one purchase into two meals
"Use your microwave to reheat it later."
Herd Stop egg sandwich
"When you're at the end of the semester and you're about to mooch off a friend for lunch."
Also: Canyon Pizza Co., Taco Thunder, Herd Stop breakfast burritos, follow budget on student app, practice self-control
16 Best fitness centers
Lopes Performance Center
"It has everything you could ever want in a gym, from traditional barbells to treadmills to weights ... and the best sunrises in the wintertime."
Canyon Activity Center
"The climbing wall is a whole body workout, is different and is a chance to meet new people." (CAC powerlifting room also got a vote.)
Papago, Juniper fitness centers
"Papago if you actually want to work out. LPC if you just want to stand in front of the mirror and take selfies."
"LPC is spectacular, but I love the Papago gym and Juniper gym. I think they're underrated."
Chaparral Hall fitness center
"Not as well known, but has all the necessary equipment."
17 Best food line tips
Check the GCU Student app cameras
"They help you know what places have the longest lines."
"Meet a lot of people and hopefully find them in the front of the line."
Eat at slower times in the day
"I ended up eating early lunches and dinners almost every day to avoid the long lines."
Have patience
"Don't get something to eat if you want it fast."
18 Best GCBC drinks (not surprisingly, the Stampede energy drink dominated)
Rose Stampede with Breve
"You can always make it into a tea."
Strawberry Watermelon Coconut Stampede
"My snow cone lovers will love this if they like the Tiger's Blood snow cone flavor."
Blood Orange Stampede with Breve
"It sounds weird, but you gotta try it."
Blood Orange Stampede with no Breve
Strawberry Watermelon Stampede
Watermelon Blueberry Stampede
Blackberry Watermelon Stampede
Lavender and Lemon Stampede with Breve
Blackberry and Lemon Stampede with Breve
Blackberry and Blood Orange Stampede
Stampede with a splash of milk
Pomegranate lemonade
"Refreshing on a hot day – a perfect balance of sweet and sour."
Chai
"Is anyone else addicted to it?"
Caramel Apple Chai latte
"It tastes like fall in a cup."
Also: Bee Sting, Latte, Cinnamon Latte, Matcha or Stampede Lemonade, Cyclone, Dirty Chai, Green Tea with Lemonade with Strawberry and Peach, Matcha with raspberry
19 Best hiking trails
Camelback Mountain
"Echo Canyon Trail is engaging and exhilarating with a stunning view on the top for hikers who want a more thrilling workout."
Sedona
"You can't go wrong! Cathedral Rock, Devil's Bridge and Soldier Pass are all amazing."
Mount Elden Lookout Trail in Flagstaff
"Hardest hike with the most rewarding view."
Also: Piestewa Peak, Dreamy Draw, North Mountain, Thunderbird Conservation Park
20 Best local restaurants
Joyride
(The leading vote-getter, where the specialty is street tacos, is on Central Avenue just north of Camelback Road.)
Chantico Mexican Restaurant
"Vibes, amazing food, cute building, good photo op by the door."
Scoopwell's Dough Bar
"Can get it as dough or as a cookie, lots of flavors, won't melt in the heat, not a common thing to have."
Great Wall Cuisine
"If you love dim sum."
The Vig
"Best burgers and chicken wings I have ever eaten."
Rio Mirage Café
"There are two in Surprise, and the one in El Mirage has a live mariachi band on Fridays. They make fresh tortillas."
Bitz-ee Mama's
"Diamond in the rough."
Welcome Diner
"Biscuits galore."
La Purisima Bakery
"It will change your life. It's a must have to get the conchas and freshly made tortillas. When it's time to make tamales, get the masa."
Also: Postino, Hula's Modern Tiki, AZ/88, Novel Ice Cream, Taco Guild, Prep & Pastry, Beach House, Handel's Homemade Ice Cream & Yogurt, Oregano's, Luci's at the Orchard, Perfect Pear Bistro, Short Leash Hotdogs & Rollover Donuts, La Piazza Al Forno, Modern Market Eatery
21 Best deals/discounts
Top tip
"Don't be afraid to ask for student discounts. The movie theatres and some restaurants, retail stores and auto shops offer student discounts."
Tanger Outlets Phoenix
"They have everything."
Buffalo Exchange
"For your second-hand needs."
Also: GCU game discounts, Savers, $1 iced tea and lemonade at AJ's Fine Foods
22 Best Arizona destinations
Sedona
"Take culture passes from local libraries so you can explore the museums, botanical garden and the zoo for free. Use your GCU address so you don't have to pay the out-of-state resident fee."
"Best for outdoorsy people."
Grand Canyon
"GCU's namesake, of course, is one of the best Arizona destinations. It makes for a fun trip with friends (even if it's not quite next to GCU)."
Lake Havasu
"For more of a relaxed vacation."
Also: Flagstaff (especially Lockett Meadow), Antelope Canyon, Horseshoe Bend, Gilbert, Prescott, Page, Salt River … and GCU got a vote, too
****
Related content:
GCU News: Slideshow: Students camp out for Midnight Madness
GCU News: Dancing students pack GCU Arena for Lip Sync
GCU News: Project L: Welcome Week's love letter to diversity
GCU News: Fun gathering spaces highlight campus changes