Expanded facility provides more versatile safe space
From the November issue of GCU Magazine
Photos by Ralph Freso
Children typically don't want to leave playgrounds, candy stores and computer gaming stations. A place for education often doesn't fall in that category.
Grand Canyon University's Learning Lounge has been different in that regard since it began providing academic support for neighborhood K-12 students in September 2013. And with its move to a much larger and more accessible location at 27th Avenue and Camelback Road, it's truly a place kids don't want to leave.
There's space for GCU students – the learning advocates (LEADs) who make the Lounge so special – to toss around a football while waiting for their proteges to arrive.
Space for the younger ones to better understand English, math and science without distraction, at the tables in the main room or in the three even quieter classrooms.
Space for a volleyball/badminton net, a cornhole game, a Nerf basketball hoop and a game room.
Space to kick around a soccer ball if that's their sport of choice.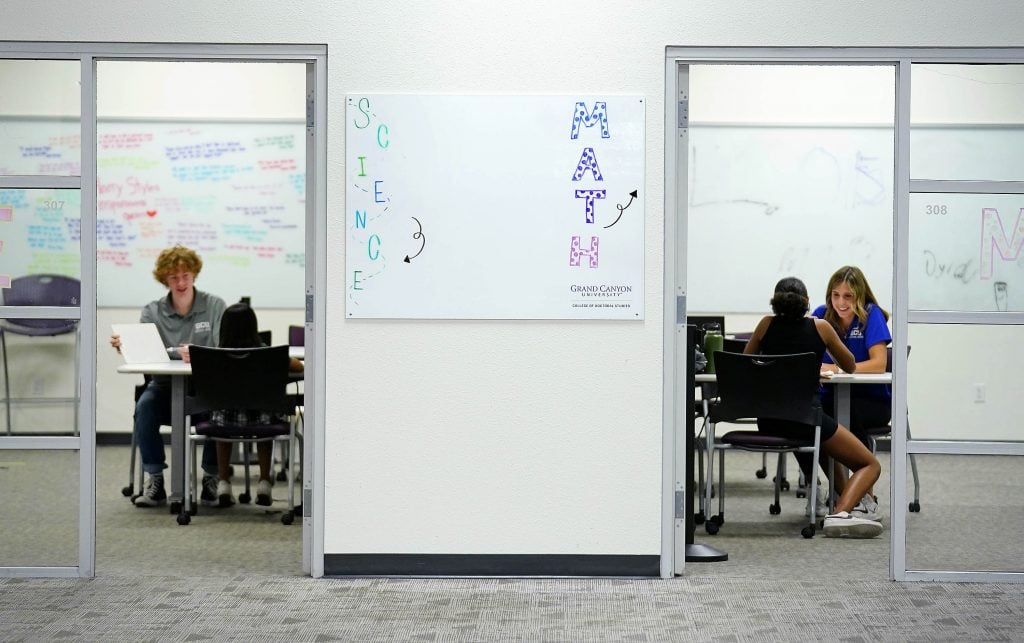 Looking out at this serene scene brings a smile to the face of Shari Stagner, Director of K-12 Outreach. When the decision was made last spring to move the Lounge from its original home on the Promenade, she thought of how summer camps need to fill down time with recreation. She wanted to inject more of that into the Lounge.
"We've always been fun," she said. "The LEADs make it fun. They're youthful and upbeat and all those things that kids enjoy. But we're also trying to make the environment conducive to that."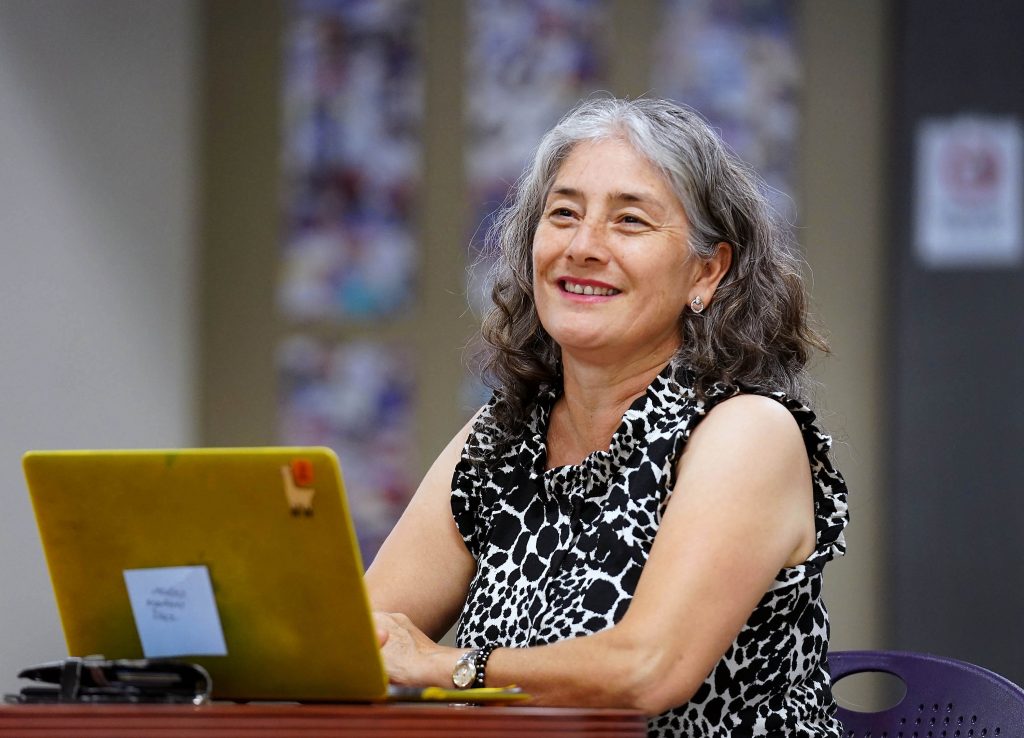 The Lounge story is filled with tales of determination on both sides of the learning ledger. Just as the University has made it a priority to aid the community, parents have gone extra lengths to take advantage of the opportunity.
But the previous location near the busy main campus entrance could be intimidating to a population that often doesn't speak English. "The guard would say, 'Why are you here?' And they could barely say, 'Learning Lounge,'" is what Stagner heard over and over. Then they had to find their way up one of the busiest campus thoroughfares and sit in a hallway while their children worked.
Now they park right in front of the building and walk inside to a comfortable seating area teeming with tables and sofas. "Parents have their own space and can see what kids were doing," Cristina Guzman said through an interpreter, motioning to her two sons.
Kindergarten teacher Manuela Moreno said her children tell her, "Mom, I love this place. I can do everything. I can play. I can do homework." Looking down at her laptop, she added, "And then I'm so excited because I have this space."
GCU sophomore Yoselin Martinez knows why kids are so enthusiastic about the Learning Lounge atmosphere. When Martinez needed help grasping pre-calculus while in high school and learned of the Learning Lounge, she asked her sister to give her a ride. Then she had to stay until the Lounge's 8 p.m. closing time – her sister couldn't pick her up until after work.
That didn't mean a late dinner. The Lounge offers dinner and snacks every day, courtesy of an arrangement with St. Mary's Food Bank. Martinez had found her comfort zone. "I just felt safe being there," she said.
Her pre-calculus grade went from a D to a B. The next step was learning about the Students Inspiring Students full-tuition scholarship GCU offers to eligible neighborhood students.
"I had no clue about SIS when I started," Martinez said. "I didn't have any friends. I didn't know other people. But the LEADs were super, super supportive and welcoming."
A LEAD gave her an SIS application, Martinez was chosen, and now she's a LEAD, mostly at the Lounge's other location – the Milwaukee Brewers' training complex in nearby Maryvale. Before hearing about SIS, she had planned to go to a community college. Now she's working on a social work degree with a minor in counseling.
Like Martinez, freshman Jennifer Gastelum started coming to the Lounge as a high school sophomore. And also like Martinez, she didn't think college was for her back then. Her transformation is a road map for where the Lounge can take students – it even can change their personality.
"I was very shy," she remembered. "I would come in and try to avoid any conversation because I was a very anxious kid." But two of the LEADs, Mario Barron and Jacob Lee, eased her anxiety.
"They were always encouraging me, starting conversations with me, checking my grades. They helped me stay organized. It's the reason why I blossomed as a person."
Today, she's a GCU freshman, also on an SIS scholarship, is majoring in forensic science and speaks with eloquent conviction about wanting to pass on what she learned from Barron and Lee. "I liked the way they impacted my life, so I want to be that person for somebody else," she said.
When she started working in the Lounge last summer and put on the LEADs' signature purple polo for the first time, she didn't want to take it off. And here's the irony in Gastelum's story: She originally came to the Lounge because she needed help with math. Now that's her main subject area as a LEAD, employing the same techniques she learned at the Lounge.
"It's very crazy to me," she said. "I still can't even believe it. It feels like it was just yesterday that I was tiny, in my second year of high school, and didn't know what I wanted to do. Now I'm here, and there have been so many changes in my life. When you think about it, not that many people get that opportunity."
Stagner continues to look for even more ways to provide Lounge opportunities. Academics are a given. "I feel like we have the academics down. Academic support is where we planted our flag," she said.
New to the Lounge are Tech Tuesdays, taught by College of Science, Engineering and Technology students thanks to a National Science Foundation grant, and in the works are instruction in digital design and financial literacy (the latter will be for adults as well as children).
The Thursday soccer clinic, managed by GCU's youth soccer ministry, began in early October, and a Saturday dance program – movement for younger kids, hip-hop for high schoolers – got going the following week.
But every day, the prospect of all the other fun activities has made the Lounge even better.
"It's funny," Stagner said. "We didn't even plan this out, but it has become an incentive for them to do their homework because they know play is coming after. They're focusing more."
And the most popular activity?
"Badminton. Who knew? Who knew? And they're getting better at it, too."
Just one more net gain of the Learning Lounge, truly a place kids never want to leave.
Contact Rick Vacek, Senior Manager for Internal Communications, at (602) 639-8203 or [email protected].
****
Related content:
GCU News: New Learning Lounge is a study in roominess
GCU News: Learning Lounge wins Governor's Tourism Award