Photos by Lydia P. Robles
Passion.
That's what Grand Canyon University President Brian Mueller stressed on Monday at the Learning Community and Research Symposium, hosted by the Honors College in the Technology Building.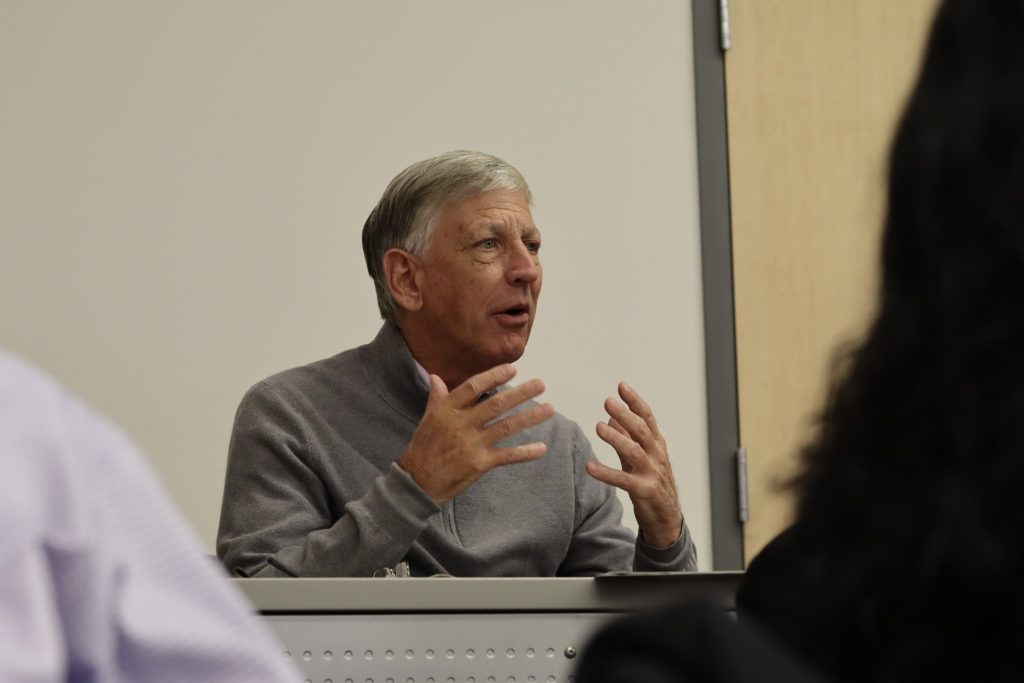 "Society has told people that have passion for education, health care, law enforcement or engineering that if they want to serve Jesus, they have to quit their passion and go into fulltime preaching ministry. That is not true," Mueller said. "We can bring our faith to those places. If you have a passion, then you already have a ministry."
The symposium featured the result of experiential learning, engagement and industry-inspired projects presented by undergraduate students. For Honors College Dean Dr. Breanna Naegeli, it's a chance to take their rigorous work ethic out of the classroom.
"It's one experience to be in a classroom setting presenting to peers who are researching comparable content, and another experience to present to a diverse audience inclusive of various educational and professional backgrounds, said Naegeli. "This platform serves as an great opportunity for students to practice crafting and articulating their information, and explain how this research connects to their future profession."
At GCU, passion and purpose go hand in hand. And the students who presented their research showed how they can implement vocation as the intersection of those ideas.
"At GCU, students enter into their career field pondering, 'How can I integrate or become an advocate for the things I am passionate about as opposed to simply thinking of a job as just a job?' GCU faculty have always been strategic in embedding experiential learning opportunities in and out of the classroom, and in helping students connect passion and purpose with vocation."
Pre-med student Brian Durbin felt so inspired by his experience on a mission trip to Puerto Penasco, Mexico, during his freshman year that he is actively pursuing a career in health care.
His presentation, titled "Serving the Underserved," touched on the health care disparity and lack of health resources available to citizens of Mexico. Only 34% of those who need medical care receive it.
Durbin offered a solution that is a GCU partner: Well Child International. Its mission statement is to "serve the most underserved of the underserved," and it seeks to accomplish that with free clinics in Mexico, Costa Rica and Belize.
On a mission trip with Well Child International, Durbin fought through burnout to administer the first dose of COVID-19 vaccinations, set up a clinic and see about 200 people a day.
"I entered into the pre-medical degree program but didn't really know what I wanted to do," said Durbin. "But ... that mission trip provided the 'why' for why I wanted to continue to pursue a career in this field."
Without the support of mentors, Durbin would not have found his vocational purpose in life.
"As the executives here in this room and people who are important within the lives of GCU students, I encourage you to continue to provide these trips and continue to encourage them to do things like this," he told the faculty and administrative members of the audience. "You help provide them with the 'why' for what they want to do in the future and the purpose behind their career."
Emily Sharp and Chloe Stahl presented "Making an Impact on Local Schools," an extension of their roles as president and vice president of GCU's Education Club and members of the student chapter of Christian Educators, a private union that supports educators and teachers.
Sharp and Stahl saw a need within the local education system, and their passion led them to partner with Valencia Newcomer School, which welcomes students from immigrant or refugee families and provides their first exposure to America's teaching and learning system.
"Learning about spiritual discipline, discipleship and devotions prepared us and grew our relationship with the Lord," Sharp said. "Now, we can go out into the world and be the light."
While touring the school, the duo saw teachers in action and experienced the first-hand the effects of giving.
"One specific moment that stuck out to us was what they call 'Valencia mall,' which is basically a free-for-all mall which provide shoes, clothing, toiletries — anything they need when entering the United States," Stahl said. "We prayed about how we could then be a blessing to them."
Following God's voice, the duo orchestrated a clothing drive, racking up 15 bags of garments that required five cars to transport them.
"Just getting to see the impact that this clothing drive had on them and just realizing that this is a way I get to be like Christ and love others is really encouraging to be a better educator in the future," Stahl said.
It was equally fulfilling for Sharp.
"We want to be the hands and feet of Jesus and just pour love into the school environment," she said. "We were able to bless them as they blessed us."
Contact staff writer Lydia P. Robles at 602-639-7665 or [email protected].
****
RESEARCH AND PROJECT PRESENTATIONS
"For the Least of These: A Literature Review of Arizona Laws and Policies on Child Maltreatment"
Student presenter: Lena-May J. Haught
Advisors: Makisha Gunty, Kelly Maguire. Trevor Duston
Honors College & College of Humanities and Social Sciences
"Moving Beyond the Mat: Emotional and Psychological Aspects of Brazilian Ju Jitsu"
Student presenter: Heather Noblitt
Advisor: Dr. Dulce Maria Ruelas
College of Nursing and Health Care Professions
"Making an IMPACT on Local Schools"
Student presenters: Emily Sharp, Chloe Stahl
Advisors: Michelle Keso, Dr. Alicia Kozimor
College of Education
"TEDxGrand Canyon University: For Students by Students"
Student presenters: Rocco Berbetti, Abbie Gage, John Ducusin
Advisor: Paul Waterman
Colangelo College of Business
"Serving the Underserved of Mexico"
Student presenter: Brian Durbin
Advisors: Dr. Breanna Naegeli, Anya Confranceso
Honors College & College of Science, Engineering and Technology
****
Related content:
GCU News: Scholars have a banner day at inductions