For Emiliano Montijo, the easy trip to Grand Canyon University from Tucson didn't feel so easy.
He watched as his 3-foot-high model skyscraper, gingerly built from cardboard and glue and skillfully balanced on wooden dowels, topple with a bounce of the school bus.
But everyone from his school, Tucson's Alta Vista High, rallied and helped Montijo reassemble the skyscraper just in time for the Arizona Mathematics, Engineering and Science Achievement (or MESA) Day on Saturday at GCU.
GCU partnered with Phoenix College and the University of Arizona to help make the statewide competition happen.
Crisis averted, Montijo nervously waited for his turn in a second-floor classroom in the Technology Building to present his entry in the sustainable skyscraper event, just one of the engineering design challenges tackled by students in MESA-enrolled middle and high schools.
They also launched bean bags with cornhole catapults, hacked other teams' computers (and steadfastly defended their own) in the Hack Attack Challenge, aimed paper helicopters toward a target two floors below, and launched paper rockets toward a hole on a board in the on-site design challenge, to name a few of the events.
Montijo's multi-leveled skyscraper, called Sky High, touted lower-level ramps that lead up to floors housing a gym area and then a mall, complete with a food court on the second floor.
"He worked very, very hard on this," said Alta Vista High School math teacher and MESA co-advisor Alexia Puig, who appreciated how these events "nurture that desire to create things and team-build."
Another team erected a seven-floor residential area with hanging gardens and a roof-top park.
Others submitted digital designs for judges to observe at the statewide competition, held every other year on the GCU campus, with the regional event taking place at GCU every year.
"It's the only STEM competition that serves underrepresented students," noted Cori Araza, Senior Project Director of GCU's K12 STEM Outreach, and is why hosting MESA on the University's campus is so important.
The University shares the same mission — to serve underrepresented communities — and it sees education, particularly in math, science, engineering and technology, as a pathway to jobs and community transformation.
MESA USA, a consortium of statewide MESA programs representing 10 states across the country, wants more representation from underrepresented communities in the STEM disciplines.
Approximately 450 students represented 35 Arizona schools at Saturday's competition, which was sponsored by Raytheon, Microsoft and Northrop Grumann.
One of those students, Julian Barreras, a sophomore at Sunnyside High School in Tucson, tested his skills in the on-site design challenge.
With materials like paper, cardboard, glue and tape at their behest, Barreras, his teammates and fellow competitors who packed one of the Technology Building's larger rooms had to put together four rockets that they would launch toward the hole on a board a few feet away.
"It seemed daunting at first, but we got into the groove of it," he said.
The team built four rockets but decided to scrap them and build another four because the first set, made out of cardboard, seemed too heavy.
Freshman Natalie Salvador of Tucson High Magnet School competed in the paper helicopter event with her teammates.
They peered over the guard rail and dropped their paper helicopter from the second floor of the Technology Building, hoping to hit the center of the bull's eye below them.
But the wind was their nemesis.
Only one team had hit the bull's eye all day.
While Salvador liked the paper helicopter event, she admits the most fun she had was preparing for the cornhole catapult competition.
She and teammates Caitlyn Rosenbluth and Beth Kamilah spent months testing their design and got permission to launch the catapult in the school hallways because the grassy area outside the school was too slanted.
"It was really fun," said Salvador, who wants to be a mechanical and materials engineer, though she admitted it was particularly fun to get out of class and send things hurling through the air.
Added Kamilah, "It was really fun bonding with my teammates," too.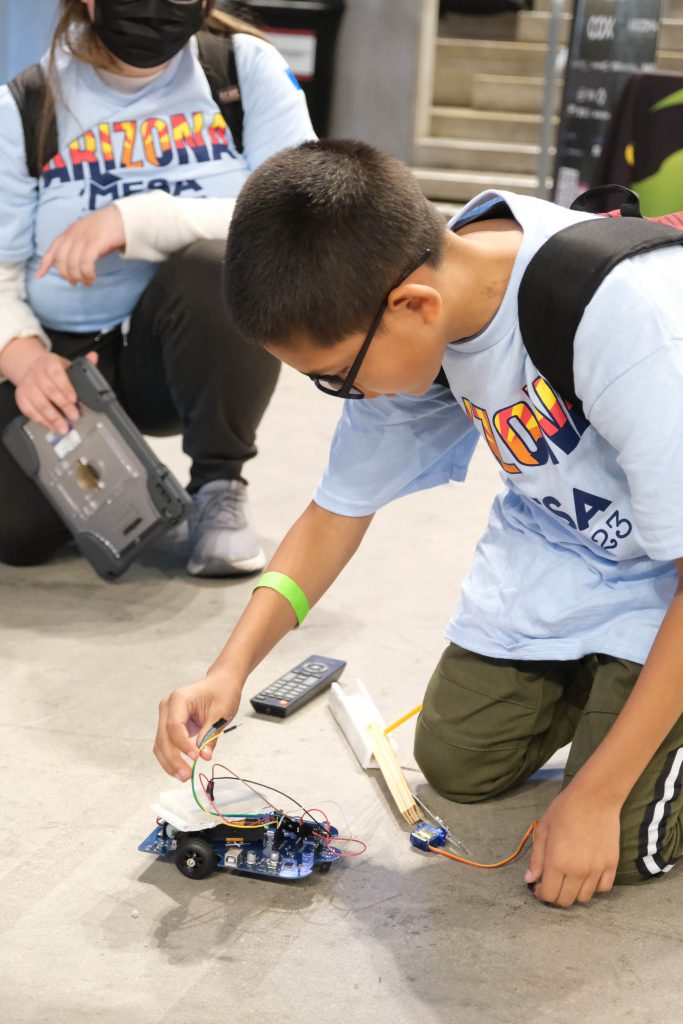 Outside on The Quad, fifth grader Katalina Amaya Turner and Yarel Lopez of Phoenix's Cartwright School donned their protective goggles and hard hats and were in the midst of completing their turn at the cornhole catapult competition.
"Adjust your tension," Arlette Johnson, who teaches sixth through eighth grade STEM at Cartwright, tells them. " … Looking good. All right. Make this one count, girls!"
Johnson said the Cartwright team, "They were using the drills. They were putting it all together." An engineering design event like this "really opens them up to possibilities," she added, by introducing students to careers they may never have been exposed to before.
That's what happened to GCU senior Alma Orozco, the event's keynote speaker.
She competed in MESA when she was in eighth grade, including on the GCU campus. When she discovered the University offered a bachelor's degree in the STEM field that she connected with the most, she was in.
"It opened the door to biomedical engineering," she said.
It opened the door to opportunity.
Manager of Internal Communications Lana Sweeten-Shults can be reached at [email protected] or at 602-639-7901.
***
Related content:
GCU News: STEM savvy launched at MESA Regional Design Day