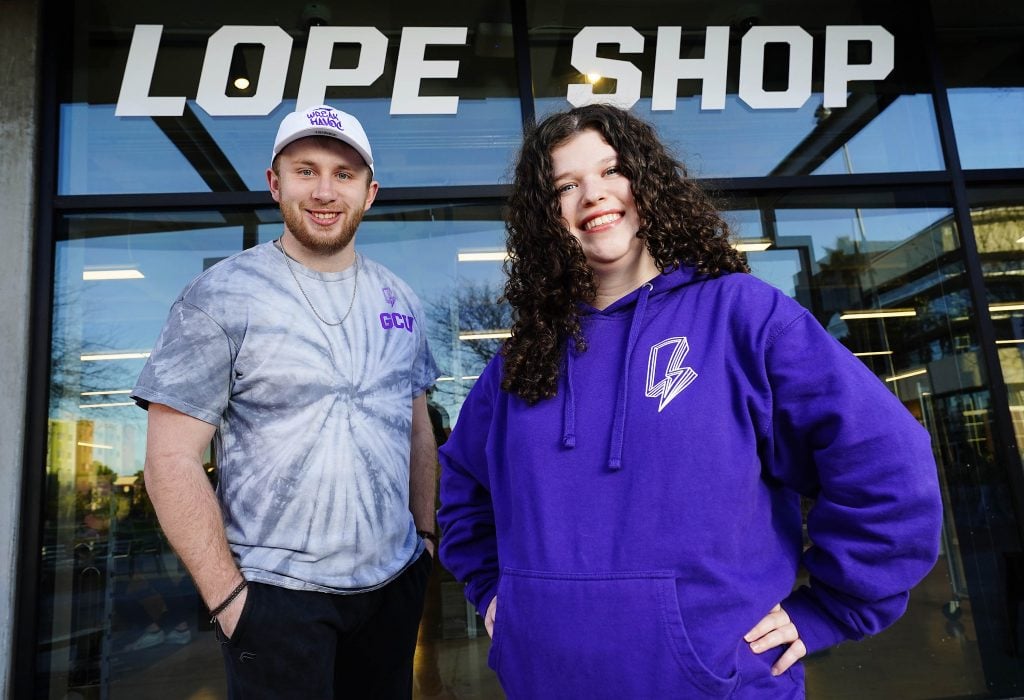 Photos by Ralph Freso
Thunder's Threads is wreaking havoc inside Grand Canyon University's Lope Shop.
The GCU-centric clothing collection by a group of four GCU Ad Agency student workers is the first student-designed apparel line being carried by the campus retailer.
They spent three months last summer as part of a creative campaign to bring the apparel line from idea to final product approval, with the collection being offered in the Lope Shop since January.
Thunder's Threads focuses on the kind of casual styles students love to wear to games or when they're just hanging around campus.
GCU purple and gray hoodies, tie-dye T-shirts, caps, stickers and athletic-inspired shorts emblazoned with "wreak havoc" vie for shoppers' attention.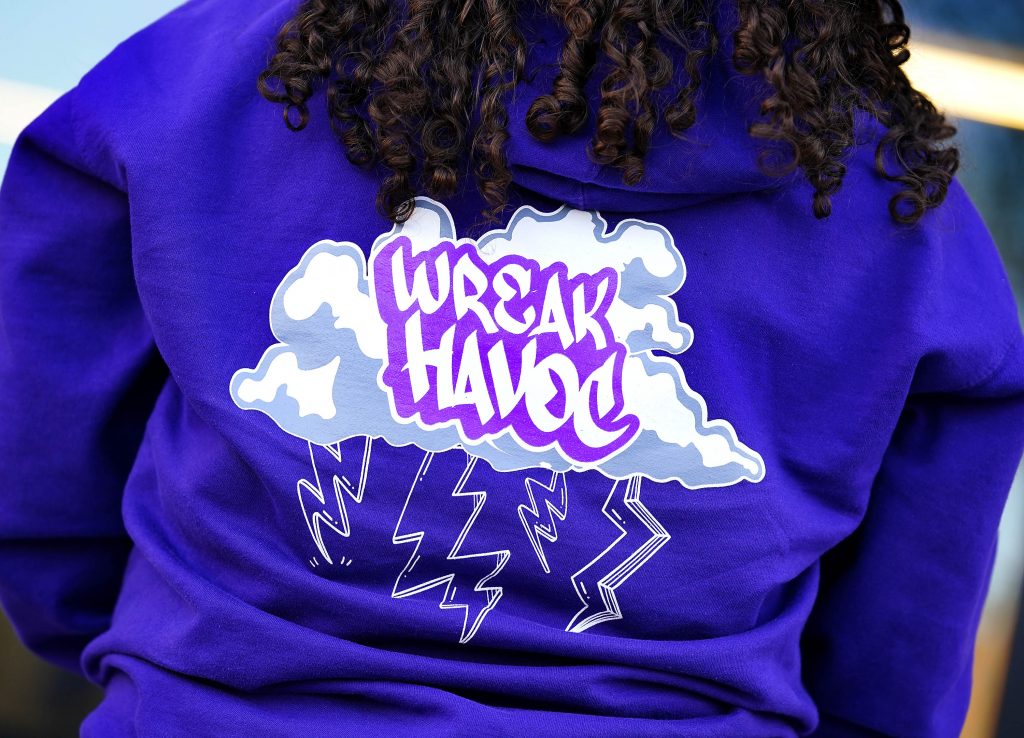 All the pieces in the collection, which tout pocketbook-friendly pricing ($21.99 for a tie-dye T-shirt, $32.99 for a hoodie), were influenced in their design by an Arizona monsoon storm, with Camelback Mountain and storm clouds in the background.
But more importantly, the creative team wanted to reflect the University's distinctive on-campus atmosphere.
"We were inspired by GCU's loud energy and pride for being a Lope," said student worker and professional writing junior Ireland Fleck, an assistant copywriter for the ad agency, which is part of Grand Canyon Education's Marketing Department. "Since this collection was made for students, we wanted to excite the student body, especially at games."
Thunder's Threads is one of the creative campaigns students develop as part of their internship — one each for the summer, fall and spring semesters. The projects result in campaigns students can produce to help build their portfolios.
But it has built much more than that.
Junior graphic/web design student Catalina Eshelman, Thunder's Threads campaign project assistant, said the project helped sharpen her leadership skills.
"I'm definitely more afraid to ask people for things, and it's definitely helped me a lot being more confident," said Eshelman, who worked on the collection with fellow students Olivia Ice, Mason Mulcahy, Ireland Fleck and Marshall Angst.
"It was an awesome experience from start to finish building the Thunder's Threads campaign, alongside the rest of the team. As designers, Olivia and I were given near full creative freedom to take the student-led collection in whatever direction we believed would resonate with the student body at GCU," Mulcahy said. "The goal was to make some noise and bring a new vibe to the Lope Shop, and I'm very thankful we were able to make those ideas come to life and exceed our goal.
"Not a day goes by where I don't see at least one person repping Thunder's Threads, and it's an awesome feeling every time," he added.
GCU alumnus Joffrey Hammit, who was a student worker for the GCU Ad Agency before he started full time as a marketing project specialist in the Marketing Department, said the project opened his eyes to the value of collaborating with a team.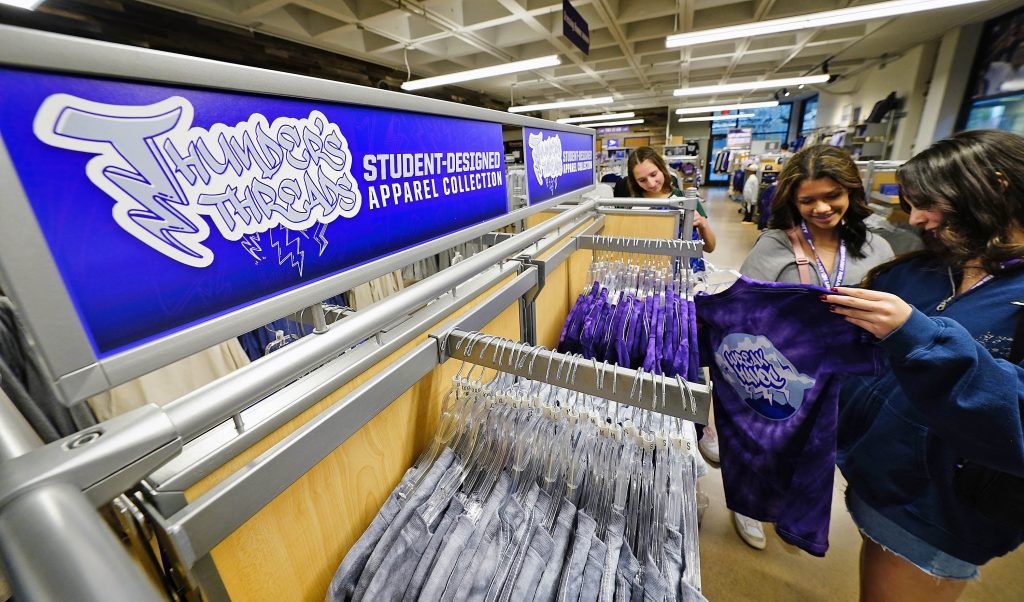 "For Thunder's Threads, it was really cool to see different ideas for one client (The Lope Shop)," said Hammit, one of the Marketing team members who supported students in the creative campaign. "The students each presented to the client. After they presented, it really taught me leadership doesn't mean to decide on only one idea."
Denisse Montoya, senior graphic designer in Marketing, has witnessed phenomenal growth in the students, who not only learn from their hands-on experiences in creating the clothing line but from presentations by professionals and trainings to elevate their creative thinking skills.
"We definitely try to prepare them as much as we can for the real world, as far as professionalism and internal processes — things that you do not necessarily learn in school. Then there's those things where you can only learn by working," Montoya said.
Ashley Maish, a copywriter in the Marketing Department, also helped guide the student workers as they created Thunder's Threads.
"We've all been in internship positions where you don't know if everyone is going to like it. This job is really putting yourself out there," Maish said.
"When I first started the job, they said, 'You can message us anytime. You can ask us any big question or little question.' ... That seemed really nerve wracking, like I don't want to keep pestering and bothering them, but I've learned that they really want to be there for you," said senior professional writing student Marshall Angst, one of the project's assistant copywriters.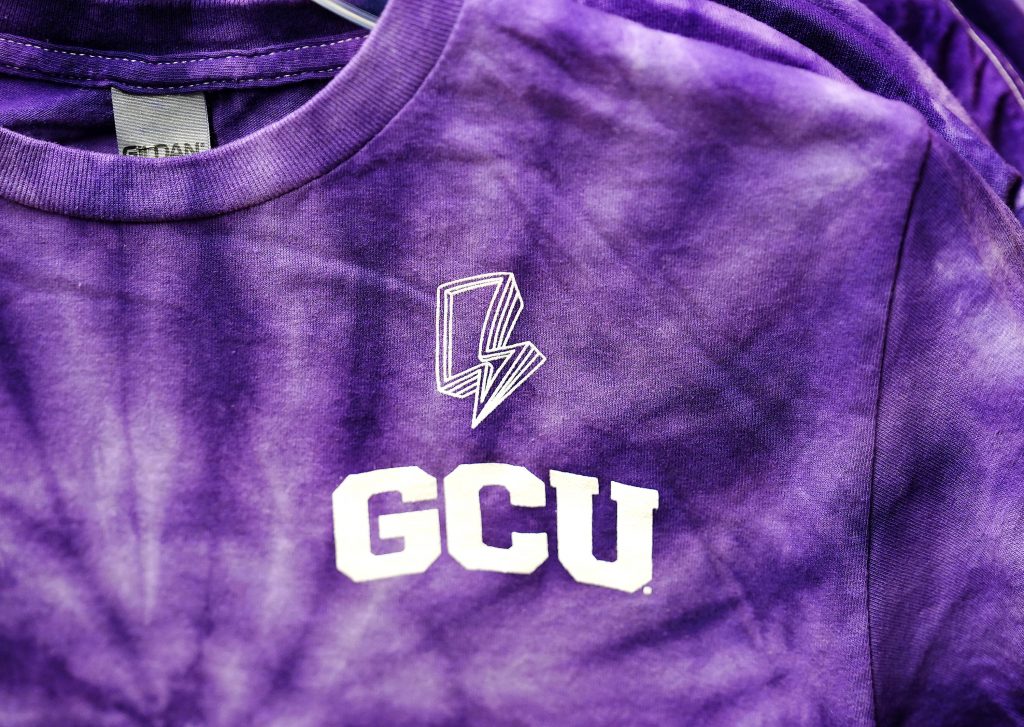 Some of the students also recently worked on a GCBC campaign in the fall.
"These projects are a lot of hard work and a lot of collaboration. There isn't one person to take all the credit. It takes a lot of different moving pieces to come together at the end," Montoya said.
"One of my favorite projects has been writing the GCBC posters," Fleck said. "I created a catchy tagline. For the December one, it was 'Sleigh the Day.' That's my favorite saying when I work on a project. When I see my work on campus, I'm like 'Oh, I made this.'"
It's a sense of pride shared by the other members of the Thunder's Threads team.
Shelly Schrimpf, Assistant Director of Campus Retail & Licensing, said the clothing line has been a successful addition to the Lope Shop — so much so that the GCU Ad Agency is planning another launch.
Expect GCU's students to wreak havoc once again.
***
Related stories:
GCU News: Lope Shop a prime stop for Welcome Week