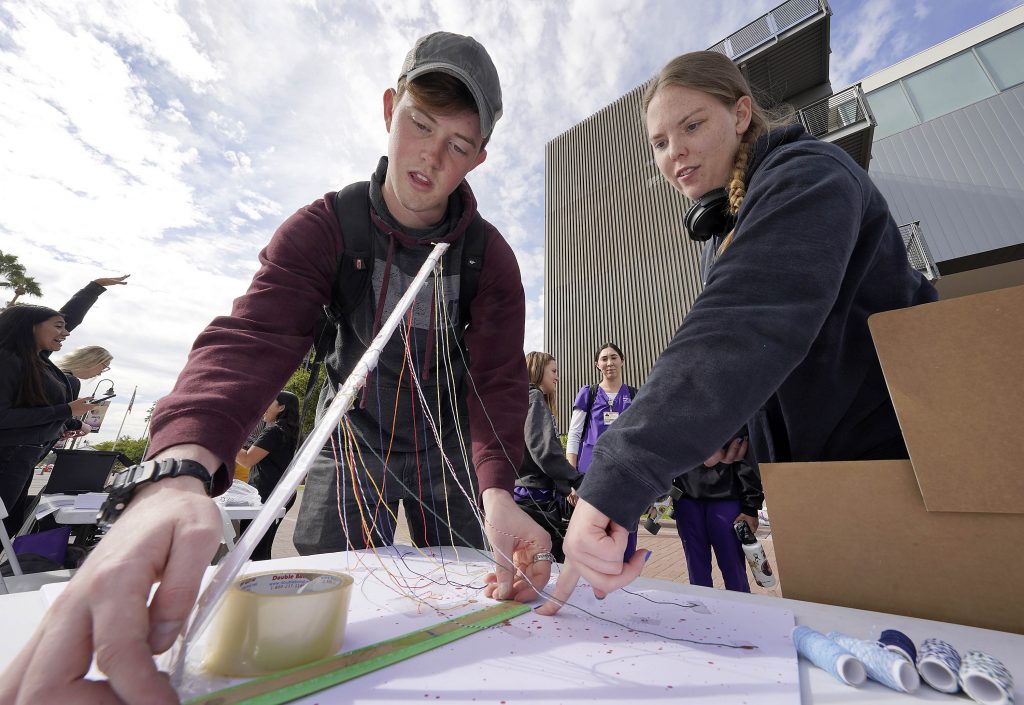 Photos by Ralph Freso
Just like humans, koalas have fingerprints – ones that are virtually indistinguishable from human fingerprints.
"The koala one is my favorite (fun facts), because I never knew," Grand Canyon University senior forensic science major Robert Urquizo said of the trivia he and his team presented Tuesday on the Promenade as part of his team's senior capstone community enrichment project.
"So if you're ever in a crime scene in Australia, where there's koalas, and they happen to be touching things, the crime scene investigators will find it," he said with a smile.
He was among a group of soon-to-graduate forensic science students showcasing their community enrichment projects — everything from handwriting to DNA, tire track and broken glass analyses. They came complete with hands-on activities to demonstrate what the students have learned in the Forensic Science Program over the past four years.
Previously, they presented the projects during Health, Science, Engineering and Technology Day, but with HSET Day not on the schedule this year, they instead partnered with the Forensic Science Society as it collected new teddy bears (with the tags still on) and other stuffed animals for the Phoenix Police Department. They also collected cash for the Phoenix PD for the purchase of stuffed animals.
"Not many people know this, but police officers carry stuffed animals in their trunks so when they meet with a child during a difficult situation, they're able to give the child some comfort," said College of Science, Engineering and Technology associate professor Dr. Melissa Beddow, director for the bachelor's and master's programs in forensic science.
Forensic Science Society President Lauren Coulter said the teddy bear drive is a community outreach project the club engaged in before the pandemic. It wanted to bring back the fundraiser, which runs through Friday (to donate, reach out to the group via Instagram @fss.gcu).
Not only did Coulter accept donations at the Forensic Science Society table, but she also was one of four forensic science students who spoke about fingerprinting analysis at "The Science of Fingerprints" table.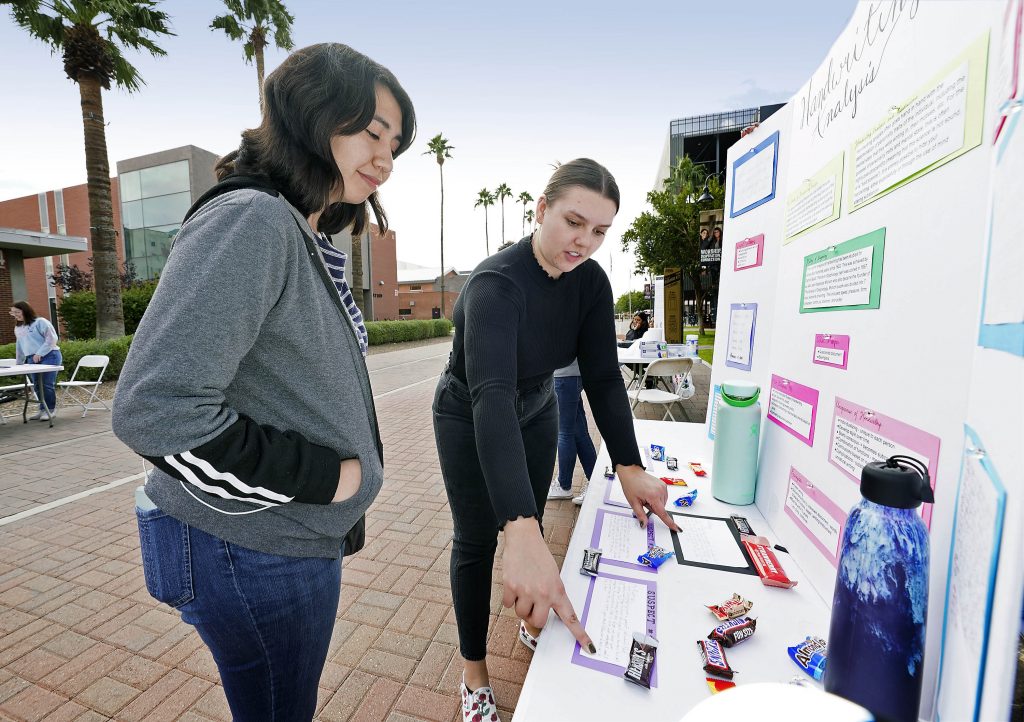 It was where students could press their thumb onto an ink pad and then onto a balloon that's inflated so they could compare their fingerprints to the three main types of fingerprints: whorls, loops and arches. They also could play a match-the-fingerprint game or read up on a few fun facts, including how koalas, like humans, tout their own unique fingerprints.
It isn't the only unique thing that shines a light on a crime scene for investigators.
"I think it's interesting how people have their own way or style of writing. You know how we were taught at a pretty young age how to write? Over time, it changes, how we write," said Pyriel Bitter, a senior forensic science major at the handwriting analysis table. "I think it's interesting how we all don't have the same handwriting."
Fellow senior forensic science major Bridgette Barbeau said, "What we did … we all tried to copy an example paper, what was found at a crime scene. But even trying to copy, you could see there are certain factors of our own handwriting that still got in there even though we're trying to copy it exactly. I thought that was pretty cool."
Barbeau and Bitter, who are graduating in December, are planning to continue with the forensic science master's program at GCU. Barbeau is planning to apply to medical school to be a forensic pathologist, while Bitter has applied to the Phoenix Police Department.
Fellow senior forensic science major Vanity Perez, scheduled to graduate in April, spoke to students about glass reconstruction.
Shattered glass at a crime scene is an important piece of forensic evidence. Forensic scientists can analyze breakage patterns in a window, for example, to determine the angle of trajectory of a bullet, which can tell investigators where the suspect may have been standing when the gun was fired.
"Ours is kind of like a puzzle," she said of the theme of her team's community enrichment project, since putting together broken glass is a lot like putting together a complex puzzle. Forensic scientists will, at some point in their career, analyze broken glass from a hit-and-run, robbery or spray of bullets, said Perez, who last spring accompanied death investigators to crime scenes to retrieve bodies while working with the Maricopa County Office of the Medical Examiner.
"We go out and take pictures and document how someone might have died. … It's very interesting. It's something new every day," said Perez, who hopes to become a crime scene processor.
She said heading out to the Promenade and presenting these community enrichment projects to the rest of the GCU community helped with her presentation skills.
"In this major, we need to be able to communicate effectively," she said, "especially if you work in a lab. You might be called in to testify to court and explain your findings."
Tuesday's community enrichment projects are part of the requirements for the students' senior capstone course, SCI-498, which also includes individual written reports.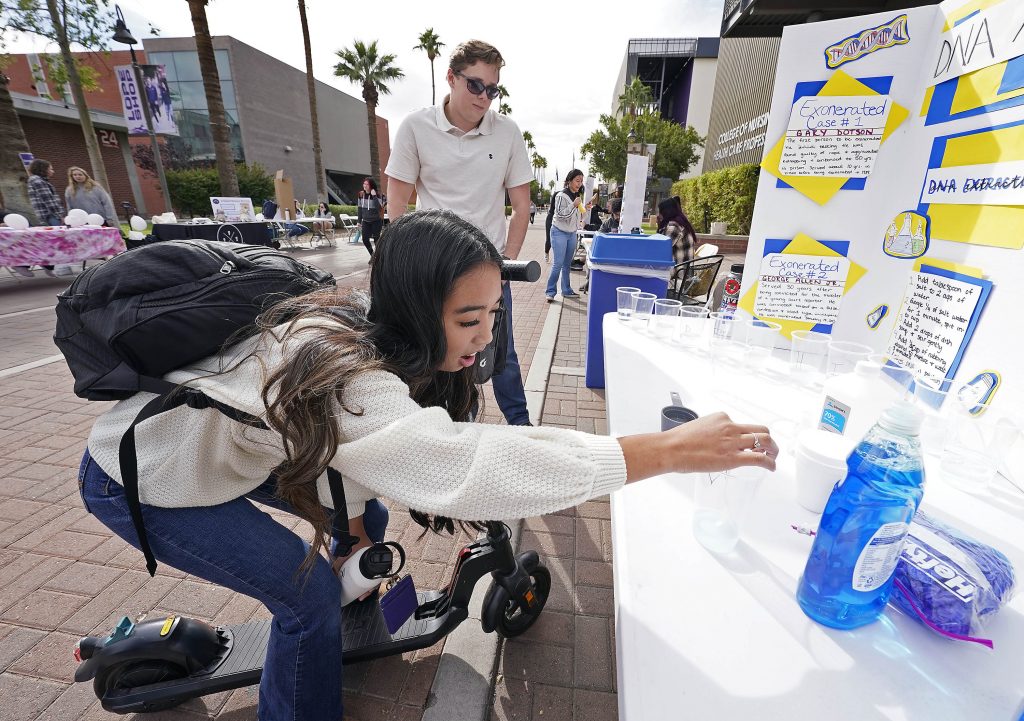 "Our papers are on different court cases based on a certain topic, so it might be evidence mishandling. We'll find a case that has that within it, then we just talk about where they went wrong and how we can improve it in the future so it doesn't happen again in future cases," Barbeau said. "We get to talk about a bunch of cases in class together. It's so fun."
What's next for the program is the popular Forensic Science Day, slated for Feb. 7. Beddow said it will be even more interactive than in past years.
Forensic science instructor Leah Webb, who teaches the capstone class, said students not only complete a community enrichment project and write a paper but also get help in resume writing and have deep discussions about ethical dilemmas in the field before they're launched into the work world.
"We're trying to get them ready for their future careers in forensic science," she said.
Senior writer Lana Sweeten-Shults can be reached at [email protected] or at 602-639-7901.
****
To donate to the Forensic Science Society's teddy bear drive: Contact the group via Instagram (@fss.gcu) or donate via Venmo at ForensicScienceSociety-GCU
****
Related content:
GCU News: GCU goes online with forensic science program