Reprinted from the August issue of GCU Magazine. To read the digital version of the magazine, click here.
Photos by Ralph Freso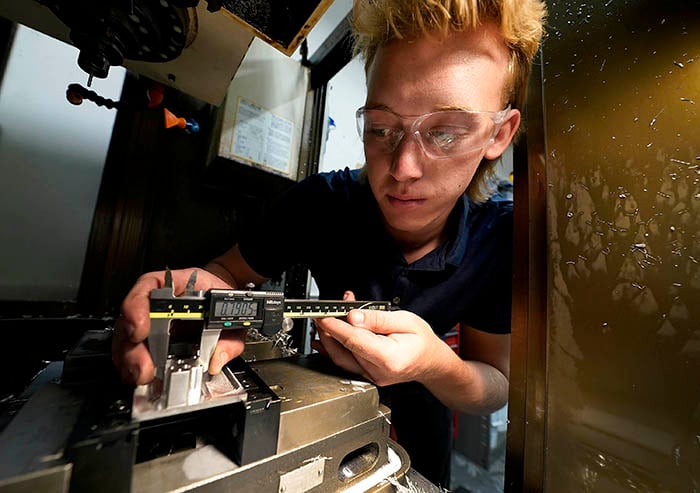 Nathan Olsen is tinkering away in the belly of Lux Longboards' and Lux Precision Manufacturing's shared machine shop, his music blaring. He's one with the steel and shards, the buzzing and whirring, and the smell of earthy, metallic things.
The companies' product development engineer and chief operating officer is part of the machine shop symphony that goes into making things — no, not just making things, but manufacturing things. He's distracted for a bit when the door suddenly shoots open, the Phoenix sunlight spilling in along with a visitor.
Then it's back to work, which today means designing parts for the dashboard of a high-end classic car.
It's a new mantra for Olsen, who for the past 18 months has concentrated exclusively on designing electric skateboards for Lux Longboards, a startup housed at Grand Canyon University's business incubator, Canyon Ventures, in GCU's 27th Avenue business complex.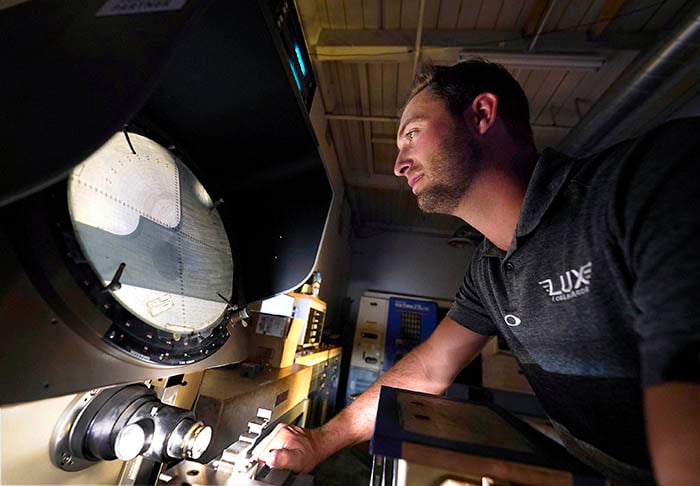 The onetime longboard rental and repair company pivoted in 2019 into making elite longboards, powered by the same battery technology found in Tesla cars.
In the last few months, the company has branched into manufacturing.
Designing and machining parts for a car dashboard — and anything else clients might want — is something different for Olsen, a mechanical engineering junior at GCU, and for Lux, the company founded by Weston Smith, a GCU mechanical engineering graduate who earned his master's in business administration this spring.
Olsen and Smith realized there was room for them to grow in manufacturing when they acquired Lux's first Computer Numerical Control (CNC) vertical milling machine, which makes upgrade kits and other components for the startup's longboards.
China accounts for almost 30% of the world's manufacturing output, according to the United Nations Statistics Division, and the pandemic made it clear, Smith said, that the U.S. can't depend on other countries for manufacturing.
"We've seen a big impact here in the Valley. They're going, 'We've got to bring manufacturing back.' We need to have dependency manufacturing in the U.S.," Smith said.
According to Gov. Doug Ducey in his 2022 State of the State, manufacturing jobs in Arizona have increased at one of the fastest rates in the nation, with the second fastest job growth rate from 2016 to 2020.
Nearly 177,000 Arizonans work in the manufacturing industry, and with the arrival of companies such as Taiwan Semiconductor Manufacturing Co., which is building a $12 billion facility in north Phoenix, and companies such as Intel, Benchmark Electronics, KORE Power, Raytheon and others adding to industry growth in Arizona, Smith sees Lux as filling a niche.
"These manufacturers are going to need parts created for their product or the machines they're building for their manufacturing plants," Smith said. "I launched Lux Manufacturing so we can build those parts."
Since acquiring that first CNC vertical mill in the fall, Lux Precision Manufacturing has added two more CNC vertical milling machines and a live tool lathe, which are used to produce parts made from plastics, aluminum, titanium and more.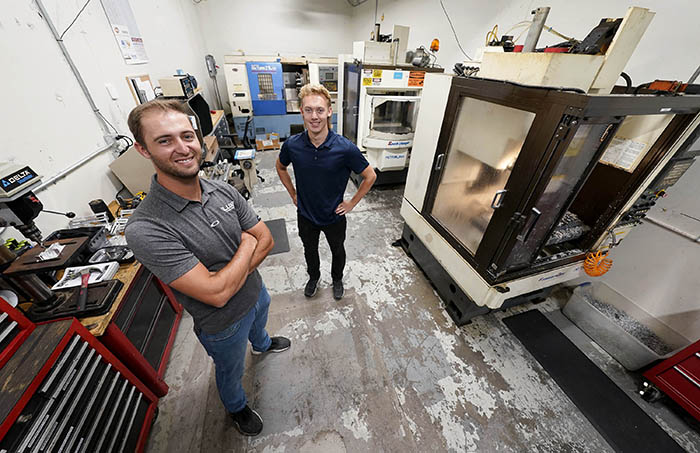 Lux has worked with companies in the defense, medical, aerospace and manufacturing industries but, because of nondisclosure agreements, can't disclose the names of companies it is working with.
"But we can make almost anything clients hand to us," Olsen said. "Ironically, the project we are running now is for another machine shop that said the part was too complicated for them to make – but we figured it out."
Smith said Lux is under contract to make more than 3,800 parts by August, "which has proved there is immense need in the industry."
Meaning, there's also a need for CNC operators, such as Olsen.
"This isn't just about capitalism," Smith said of Lux's expansion into manufacturing. "It's about the impact we can have," not only among GCU students but in the west Phoenix neighborhood around the campus.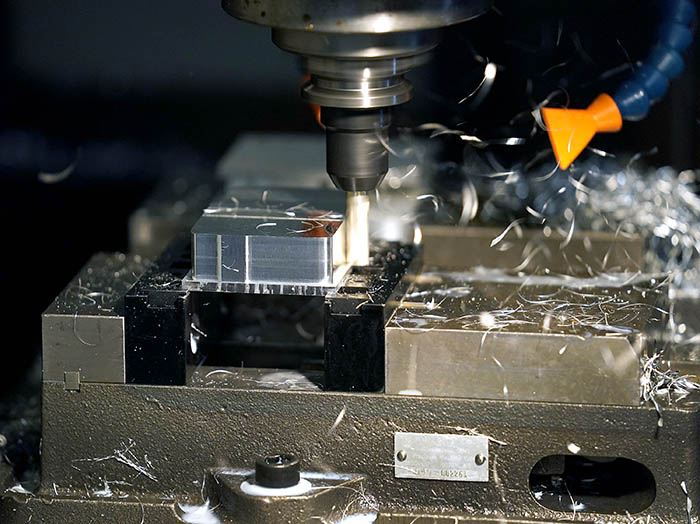 The company plans on hiring 10 to 20 GCU students and neighborhood residents by the end of the fall 2022 semester. Training the local workforce is a key, Smith said.
"It will give STEM students a tangible education in-house on how manufacturing is done in industry. The goal is for students to be able to graduate not only with a degree but with real hands-on experience in industry."
Said Robert Vera, Founding Director of the Canyon Ventures Center, "Lux is delivering real world, professional experience to a student team of aspiring engineers. GCU's vision to be the catalyst for economic development in the west Phoenix community is being fulfilled by Lux."
Smith already can envision the impact beyond GCU's gates. Give a resident a manufacturing education, he figures, and they could wind up in a lucrative job with Taiwan Semiconductor.
The transition has been transformational for Olsen, too, who taught himself how to program and operate the CNC machines that no one knew how to use at his high school, then landed a job at a machine shop for two summers. It has taken a lot of YouTube videos and personal projects to get him to where he is today.
"In high school, my dream was to start my own machine shop. This has given me the opportunity to work with Weston to start this company and expand it like crazy," Olsen said, as he spends another summer, his music blaring away while he's one with the metal, steel, shards and smell of earthy, metallic things.
Contact GCU senior writer Lana Sweeten-Shults at [email protected] or at 602-639-7901.
****
Related content:
GCU News: Canyon Ventures helps Lux Longboards keep rolling
FOX 10: Made in Arizona: GCU graduate and entrepreneur creates Lux Longboards
Cronkite News: GCU students' love of 'boarding' drives launch of electric longboard company