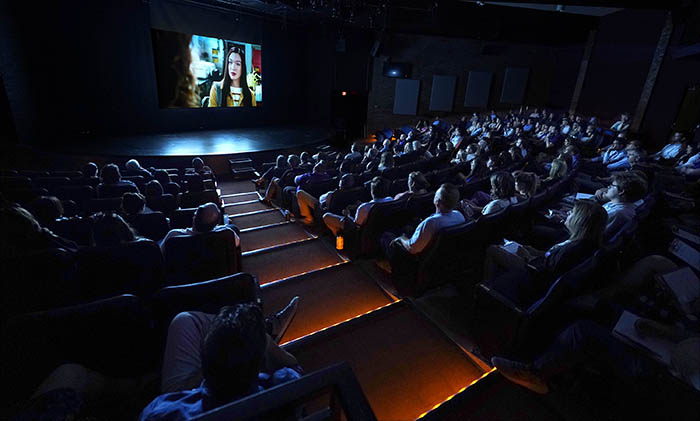 Photos by Ralph Freso Slideshow
With the lights dimmed, surround sound reverberating and opening credits rolling, Grand Canyon University transformed into a movie theatre on Wednesday.
The prescreening of Alexandra Boylan and Andrea Boylan Polnaszek's new movie, "Identity Crisis," was presented by the College of Arts and Media (CAM) and moderated by the college's dean, Dr. Craig Detweiler. The Boylan sisters have produced such faith-based films as "Switched" and "Catching Faith" (both starring a recent GCU graduate, comedian Bill Engvall) and their latest film, "The Greatest Inheritance."
Following the showing of the film, Third Coast Content founder and CEO Ben Howard, who has produced "Roll With It" and "Blue Miracle," and Shari Rigby, director of "Identity Crisis" and founder of "The Women In My World," a women's group focused on identity, purpose, and serving others, conducted a Q&A session where faculty were invited to ask questions regarding the film.
GCU buildings and popular campus locations were easily identifiable throughout the movie, which turned the campus into a film set earlier this year. CAM was equally involved as students and alumni worked as hair and makeup artists, costume designers, extras and behind-the-scenes camera crew.
The impact GCU had on the filmmaking crew was a mutual feeling for the CAM students striving for a career in the film industry.
"I'm so excited to think we might've launched a bunch of filmmakers who didn't know they can go tell stories and change the world," said Andrea. "If we change one life, then that's enough. But I think we changed a lot more than one."
Detweiler reinforced that theory.
"I think it boosted our students' confidence by reminding them that they have the skills and know how to be valuable in the heat of movie production. Our theatre, design, and film majors demonstrated their ability to work on sets and solve problems. What a fantastic experience for them," he said.
When scouting locations for "Identity Crisis," Andrea Boylan and Howard felt a prominent sense of community as soon as they set foot on GCU's brick-paved, Lope-spirited campus in July 2021. The prescreening is visual evidence of what happens to a community when GCU students, alumni, faculty and God are involved.
"Everyone at GCU is so special," said Alexandra Boylan. "The spirit of the Lord is overflowing and thriving at GCU. The students have the hearts of servants."
Students, faculty, and alumni made themselves readily available to assist wherever help was needed. From transporting equipment to lugging gear up flights of stairs to decorating, GCU went far beyond offering only physical support.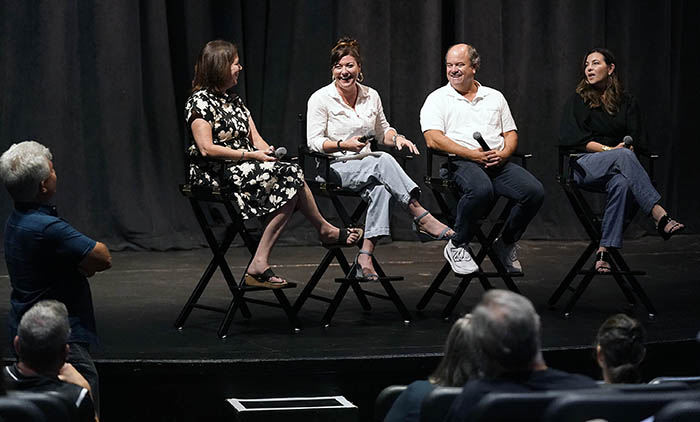 In a year's worth of production time, there's an overflow of emotions. Andrea Boylan recounted a day where she faced adversities but found solace in the students.
"A few things happened where things were not going well, and I burst into tears," said Andrea. "But when I turned back around, there was a team of over 10 GCU students who had stepped in and were taking down decorations, all while singing and dancing."
The students' positive attitude was infectious and made a lasting impression on the film crew.
"One of the things I thought was so amazing was watching the kids show up ready to work 10 hours a day. They were talking with one another, serving one another and praying for one another," Rigby said. "Every student was excited to be a part of this production, and it showed."
"Identity Crisis," whose message is to remind viewers of their identity in Christ, faced spiritual resistance. A movie with such a noteworthy message poses as a threat to the enemy.
"We made a movie about our identity in Christ, and we knew going into this that the enemy was going to attack hard because he doesn't want people to know that," said Alexandra. "The enemy is against such a strong powerful message that is going to change many lives."
President Brian Mueller thought the film is a great way to articulate that message to young people.
"There are a lot of people that are nervous about where our country is going because of what is going on in schools and this country. We've got so many kids that seem like they have a significant spiritual void," he said.
The Boylan sisters' spiritual foundation and their desire to shed light onto such a prevalent message align with the many things GCU strives for.
"I hope that the film reinforces the things GCU reinforces: spiritual foundation, community, purpose and identity — all the things people identity with this school," Mueller said.
To watch the prescreening of "Identity Crisis," after first encountering GCU in 2021 with Andrea, Howard is in awe of the final product and efficiency of the filmmaking process.
"For us, a year later, to be watching the movie is unbelievable," said Howard. "The support that you guys gave in helping make it happen — both all kinds of tangible support in addition to morale and emotional support — is incredible. For it to work out like this is no small feat."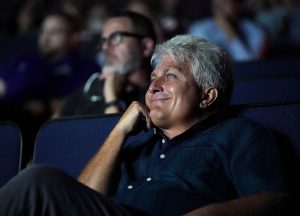 Although the search for a distributor of the movie continues, GCU is planning to roll out the purple carpet during the fall semester and host a screening of the "Identity Crisis" for the entire campus. Students, faculty, and alumni are invited to view the beauty of GCU on the big screen and hear the message of God through a lighthearted, comedic film.
The Boylan sisters' decision of filming at GCU is no different from the initial feeling they felt when they discovered the Lope spirit. "Identity Crisis" being turned away by other universities as a film location turned out to be a blessing and aligned with what they knew God planned for the film.
"All the different elements that were put together for us to film here was not an accident," said Alexandra. "God just kept lining things up and removing things, so we knew this is where He wanted us — and we knew the collaboration was going to be amazing."
Contact Staff Writer Lydia P. Robles at 602-639-7665 or [email protected].
****
Related content:
GCU News: 'Identity Crisis' movie casts campus in starring role
GCU News: Slideshow: 'Identity Crisis' movie shot at GCU
GCU News: Film star has acted to keep her faith in the industry