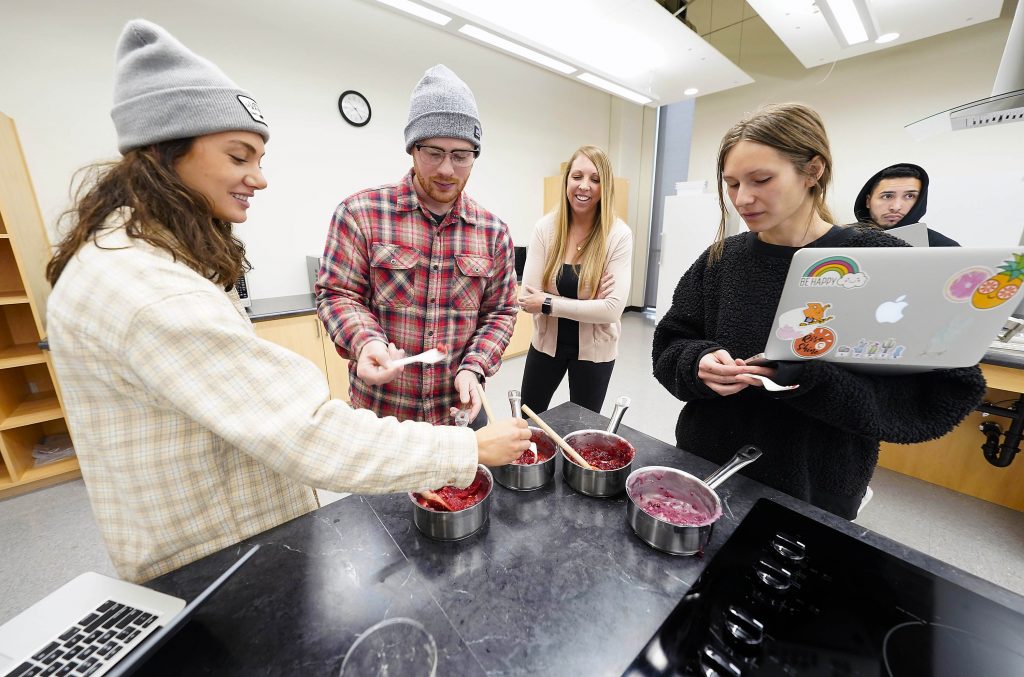 Master's degree, lab expansion added to the mix
EDITOR'S NOTE: This story was originally published in the February issue of GCU Magazine.
Photos by Ralph Freso
It's 8 a.m. Do you know where your nutritional sciences majors are?
If they're at Grand Canyon University, you just might find a few of them in the Technology Building's Food Science Lab, where mixers are whizzing, oven doors gingerly shutting and kitchen timers beeping. More than a dozen students are tinkering with recipes before zipping toward a wall of ovens to complete their experiments before class ends.
For senior nutritional sciences major Aimee Lopez and her team, that meant mixing up a generous batch of cookies, one made with brown sugar, the other with granulated sugar, to see how they will affect the cookie.
"This is the first class where I get to do stuff like this," Lopez said of playing — and experimenting — with her food.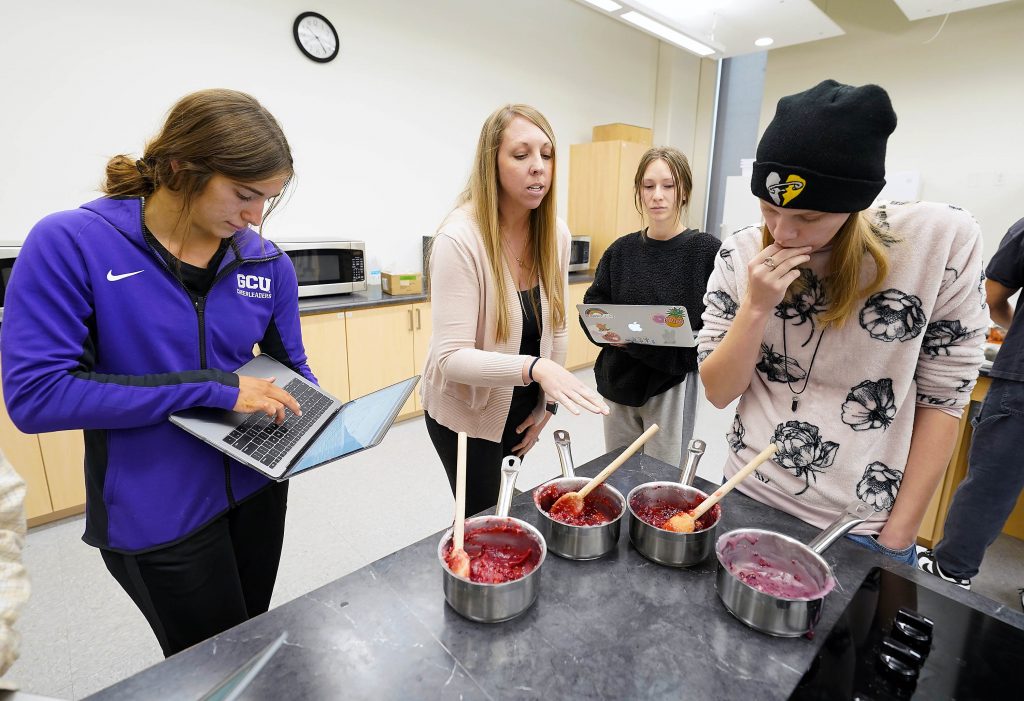 Other teams are asking: How will different milks (almond, oat and cow's milk) affect pancakes? Will Splenda change the landscape of your cookie? And will switching the eggs in brownies with flaxseed oil alter their baked-goods integrity?
In this lab, it isn't about the joy of baking or gastronomic delight of eating cookies. It's about why you need to add an egg to certain recipes. It's about ingredient interactions and the impact of food-preparation methods. It's about the science of food.
That science — the nutritional sciences — has been a juggernaut at GCU since its introduction as a bachelor's degree program in fall 2019, prompted by students who pushed for it and nudged it forward by word of mouth.
Leaders in the College of Science, Engineering and Technology witnessed its popularity firsthand.
Students packed the one nutrition course the college offered before the bachelor's program was launched. So adding a nutritional sciences major to the University's other established health and science programs, such as exercise science and sports medicine, filled that "missing piece" for the department, said Associate Dean of Science Dr. Jon Valla.
"We actually were one of the fastest growing in the first year," Director of Nutrition and Dietetics Courtney Baker said of the bachelor's track for nutritional sciences, a major that touts more than 110 students.
Because of the program's popularity and phenomenal growth, the capacity of the Food Science Lab will be doubled this summer, just three years after it opened.
More proof in the pudding of the program's growth is the burgeoning Nutrition Club, which students launched in spring 2022.
The club invited nutrition professionals to speak, co-hosted a dairy farm tour and volunteered at such events as the GCU CityServe/No Child Hungry meal-packing event for Ukraine.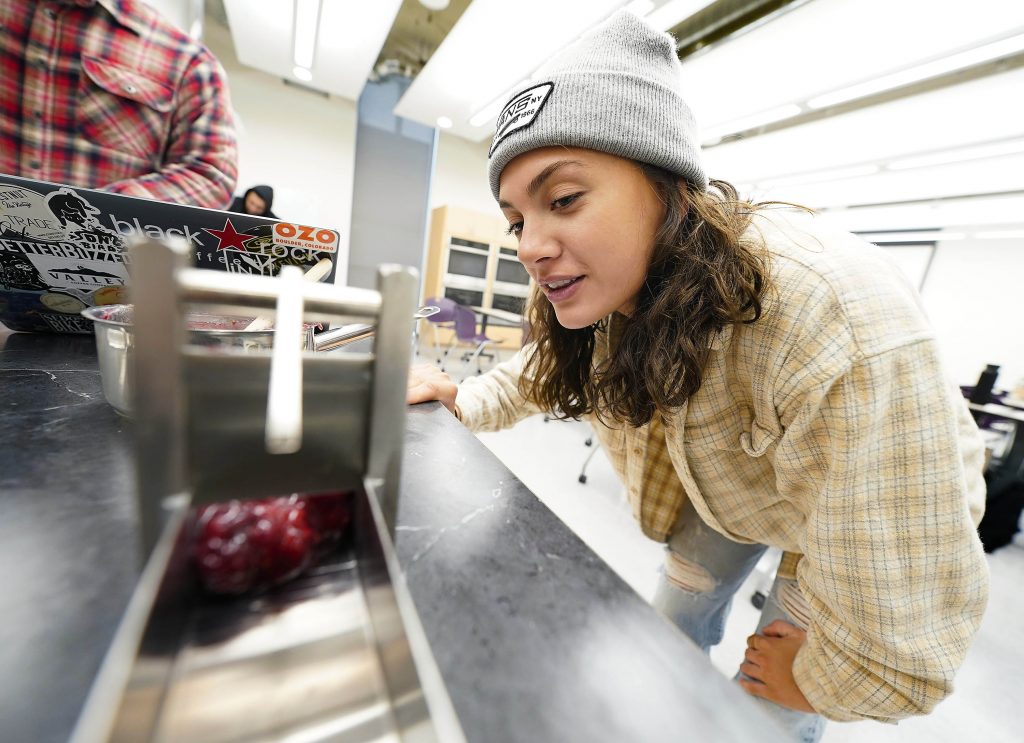 The club plans to team with nearby elementary schools to provide nutrition education, and it volunteered at the International Rescue Committee's community food hub.
Senior nutritional sciences major Megan Zagozda, Nutrition Club president, chose to go into nutrition because of the role it has played in her life. She joined cross country in high school, but "I was the worst person on the whole team," she said.
Instead of running more, she started researching nutrition and how it could affect her performance. She began meal prepping, ate to fuel herself rather than just eating "random foods," and soon started to lead her team.
"That was super exciting for me, going from the bottom to a leader, and that was really because of that nutrition aspect," said Zagozda, who shares her passion through the Nutrition Club and is excited about the growth of the nutritional sciences.
The club has as many as 50 members, she said.
"It has been providing an opportunity for students to learn about different areas of nutrition," Baker said. "They're also working to get hands-on experience in nutrition because it can be competitive to get into master's programs," including at GCU.
Perhaps the biggest sign of GCU's growth in the nutritional sciences has been the addition of the Master of Science in Nutrition and Dietetics, a minimum requirement beginning in 2024 for students who want to become registered dietitians (RD) or registered dietitian nutritionists (RDN).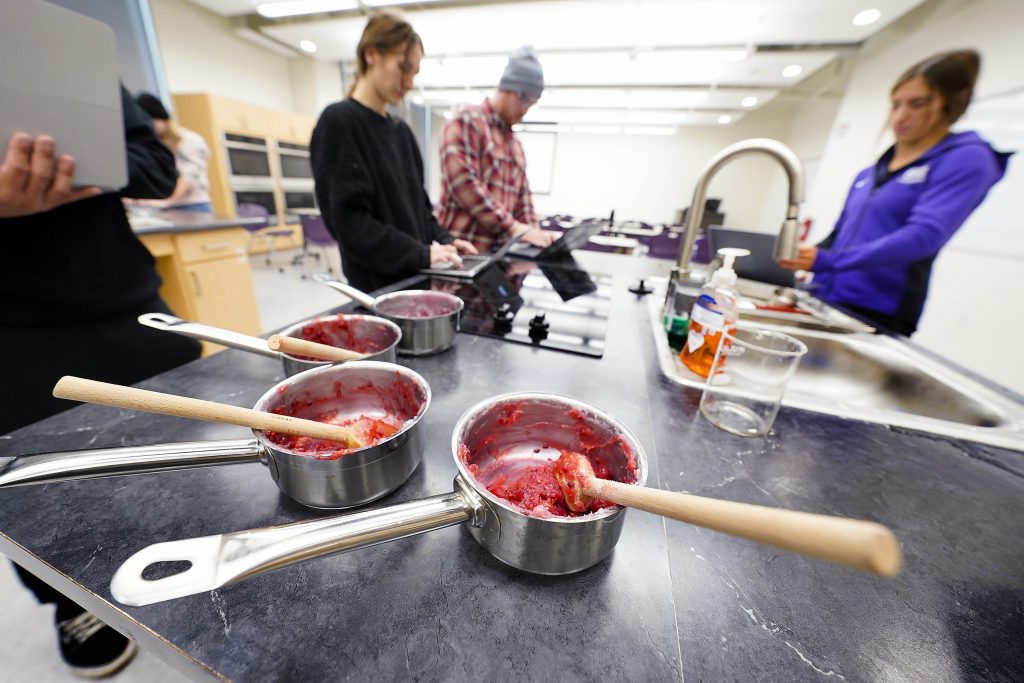 The new degree aligns GCU with the new national standard, which requires not only a master's but supervised practice. The first GCU students on the master's track started the asynchronous online program in November.
"It seems to have a lot of interest, which is really exciting," Baker said of the program, which doesn't require a bachelor's degree in nutritional sciences. As long as the prerequisite coursework is met, a student from any major is eligible to apply.
The master's pathway includes an experiential learning component, so in addition to 30 hours of college credits, master's students complete 1,000 hours of hands-on experience with a nutrition professional.
Senior Becca Morgan, who wants to become an RD and sports nutritionist, plans to apply to GCU's master's program.
"I've always been interested in nutrition," said Morgan, who was busy in the Food Science Lab testing different milks in pancake batter. "I did sports all through high school and elementary. Nutrition was a big part of sports performance, and I wanted to better my skills through nutrition."
Valla said while the bachelor's program includes 110-plus nutritional sciences majors, "We expect that number to continue growing, especially as students can now see the track to full master's-level certification as a registered dietitian" via the new master's program.
Lopez also is hoping to get accepted into the master's program. She wants to work as an RD in a hospital setting
"I like that you can help others heal themselves through food. That isn't talked about a lot in medicine," she said of why she loves nutrition and hopes to do what so many GCU students do when they find their passion — help others — even if it means baking cookies at 8 a.m.
***
Related content:
GCU News: Nutritional Sciences program grows fast, adds lab
GCU News: Dietitians dish advice about nutrition field