Two studies exemplify targeted nature of federal government overreach
Phoenix, AZ (Nov. 16, 2023) – Grand Canyon University has sent a notification to the U.S. Department of Education that it is appealing the unprecedented and unjust $37.7 million fine levied against the university and has vowed to stand up to the federal government's broader efforts to target the largest Christian university in the country.
"I have spoken to thousands of students, parents, employees, alumni and community stakeholders in Arizona and they all tell me the same thing: We need to fight this tyranny from federal government agencies not only to stand up for ourselves but to ensure this type of ideological government overreach and weaponization of federal agencies does not happen to others," said GCU President Brian Mueller. "American people are losing confidence in the federal government to be fair and objective in their operations and there are clearly no checks and balances to prevent this type of behavior from the Department of Education, which is out of control and continues to broaden its authority and selective enforcement powers.
"GCU does not mislead or deceive students in any way," Mueller added. "In fact, the opposite is true given that GCU goes above and beyond what is legally required and is considered by its peers to be a leader in higher education transparency. Rather than applaud such efforts or work cooperatively with GCU in a matter that could easily be resolved in a 10-minute phone call, the Department has instead chosen to impose a record fine, which speaks to their agenda and motivations."
The Department's accusations are not validated by either the federal court system, which has already ruled in GCU's favor in a similar matter at both the district and appellate court levels in Young v GCU, or other regulatory agencies such as the Higher Learning Commission (HLC), which is GCU's accrediting body. Specific to a prospective doctoral student's experience, HLC stated in its comprehensive review in 2021: "The information and resources provided are robust and thorough, providing prospective students a clear picture of their academic and financial path toward a degree at GCU." In Young v GCU, the courts rejected the claim that GCU's disclosures misrepresented the time or cost to complete a doctoral program.
GCU offered to have another objective third party, the Federal Mediation and Conciliation Service, provide mediation on this matter, which the Department refused, citing the appeal process available to GCU. All of those appeal opportunities fall within the Department of Education, first with the Department's Office of Hearings and Appeals, and then to the Department's Secretary of Education.
Two studies highlight the targeted nature of this government overreach: a preliminary internal study by GCU examining disclosures of doctoral programs at 100 other universities and a 2022 report by the U.S. Government Accountability Office (GAO) looking at broader financial disclosures in higher education.
GCU's preliminary study of publicly available information found that only 2% of universities show total program cost for doctoral programs, 51% either failed to disclose anything about the need for additional courses needed to complete a dissertation or were unclear about them, and 45% made statements that a doctoral degree could be earned in a set number of years (varying from 2-8) despite the varying length of time needed to complete a dissertation. The sample of 100 universities includes 52 Tier 1 Research institutions (including five Ivy League schools) and 19 Tier 2 Research institutions. While this is internal research that is ongoing, it can easily be replicated by others who can examine the same information.
The GAO report (which we don't believe GCU was part of) shows that 91% of the colleges reviewed have misleading information or understate the net price in their financial aid offers to prospective students. That includes 41% of colleges that do not even provide a net price in their offers to students.
"The point of sharing these studies is not to disparage other universities," Mueller said. "Rather, it highlights the selective enforcement from the Department in singling out GCU. We maintain that not only is there nothing misleading about GCU's disclosures but that we provide higher levels of transparency than are observed in higher education. In short, we are taking a leadership role in this issue."
Mueller added that, while it became clear four years ago that the Department is diametrically opposed to GCU's nonprofit model and its innovative approach to higher education, "We hoped that, over time, that would lessen given the positive metrics this model continues to produce – low tuition rates that have been frozen on the ground campus for 15 years, low student loan default rates, low student debt levels, diverse student bodies, strong outcomes on the Department's gainful employment regulations and 90/10 calculations, and strong financial outcomes since the nonprofit transaction occurred in 2018. Unfortunately, the Department only seems further entrenched in its opposition given the targeted inquiries and coordinated efforts with other federal agencies to harm GCU."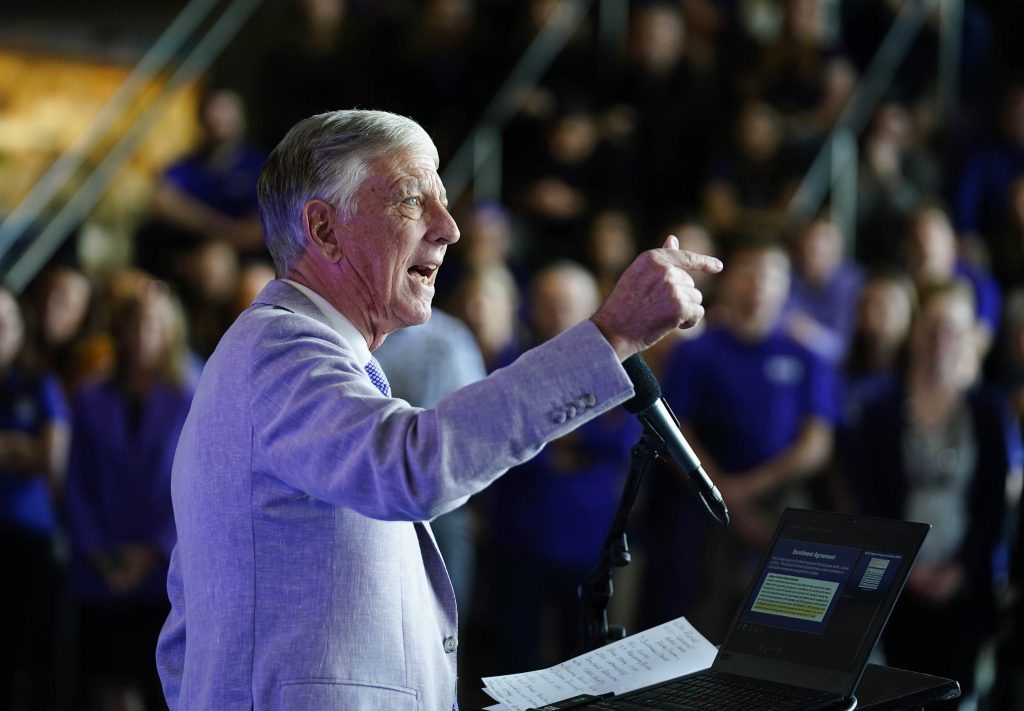 Specific to the Department's characterization that GCU's doctoral disclosures are in "fine print," the university makes clear in the most prominent place it provides financial disclosures for academic programs – its Degree Program Calculator (see pdf image in original statement) – that the average student takes several continuation courses with the associated costs in order to complete the dissertation process. GCU's disclosure is in full-size red type and placed above the Degree Program Calculator (DPC) calculation in order to bring attention to it. The number of continuation courses, which are common in doctoral programs, vary for each student, which is why GCU discloses the 60-credit cost estimate and provides information about average student experiences with continuation courses. This is not "false advertising" as the Department claims. Further, GCU reiterates the need for continuation courses in six other areas prior to the start of classes. The net impression of these disclosures is the reason federal courts have already sided with GCU on this matter.
"For the Department to look at GCU's numerous disclosures, including the DPC, and determine that merits any fine at all, let alone the highest fine it has ever levied, speaks volumes about their motivations and the coordinated efforts being taken against GCU," Mueller said. "Further, for the Department to state that we intentionally lied is absurd. We are providing more cost information than the Department requires, which we do because we want to be fully transparent and because it benefits students. We also conduct surveys at the end of every doctoral course, and there is no substantiated feedback from students that our disclosures about continuation courses are misleading. The Department spent a year cold-calling our students trying to get them to say something negative and has stated publicly it will conduct secret shopping exercises in its investigations, but has confirmed to us that its findings are in no way based on evidence that any student was actually misled. That is a shocking admission from an agency seeking to impose its largest ever fine.
"If we really intended to deceive students, why would we choose the smallest degree program we offer – doctoral -- which is less than 5% of our students and involves our most experienced students?" Mueller added. "If our goal was to generate more revenue, rather than allegedly deceive students we could simply increase tuition 3-4% a year for a few years – as most universities have done – and no one would bat an eye. We haven't done that. In fact, we have frozen tuition on our ground campus for 15 straight years because our innovative approach to managing this university, which the Department objects to, has allowed us to do that for the benefit of our students."
# # #
About Grand Canyon University: Grand Canyon University was founded in 1949 and is Arizona's premier private Christian university. GCU is regionally accredited by the Higher Learning Commission and offers 312 academic programs, emphases and certificates for both traditional undergraduate students and working professionals. The University's curriculum emphasizes interaction with classmates, both in-person and online, and individual attention from instructors while fusing academic rigor with Christian values to help students find their purpose and become skilled, caring professionals. For more information, visit gcu.edu.