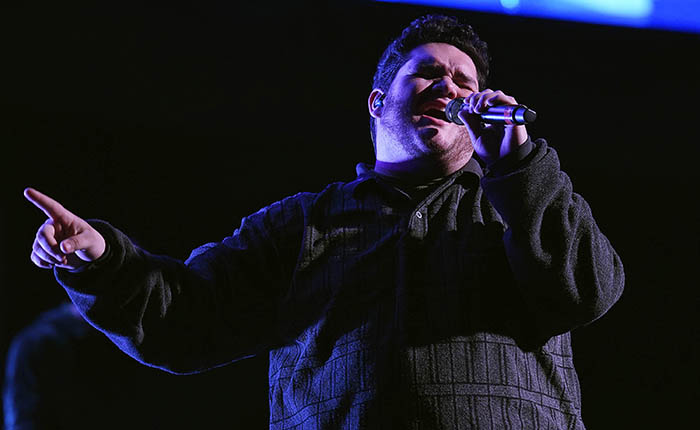 Sixth in a series
On one hand, Edwin Lopez says things like, "I don't know how I got here, but I'm here."
But then, moments later, he says this about how he came to Grand Canyon University as a shy, I-just-want-to-blend-in transfer student and suddenly found himself working in the Recording Studio, performing front and center in Chapel and on the Canyon Worship 2022 album, and graduating in April before moving on to an internship at Living Streams Church:
"It feels like it's been such a long time, but at the same time it feels like I've just blinked my eyes and then everything changes so quickly. It's just been God's work completely, and I've been learning to listen to His voice. His voice has come in the way of coincidental providence.
"That's been my whole journey – coming to GCU, getting the job here in the Studio, getting on the Worship team to now being on the album to now graduating and doing the internship. Through every next step, God was like, 'I have it covered. I have it so planned out.' I don't even have to worry about it and just have to trust. It's so easy to say and so hard to do."
Another sign of how God has blessed Lopez: He's the lead singer of one of the featured songs on Canyon Worship 2022.
Worship Arts Coordinator Dr. Randall Downs says "Sometimes" is "a very, very worshipful song" that is "really going to resonate with people. It's a hopeful message, but it's a fun song. It's one that people are going to hum walking down the street. I think it grabs your attention right from the get-go."
Recording Studio Manager Eric Johnson called it "the pop song on the album. That's every bit a pop song like you might listen to on the radio. It's got a groove. It makes you want to move."
Lopez, who collaborated on the song with Madison Russell, Victoria Gutierrez and Colter Bonaroti, was amazed by how the song moved the group to come together from the get-go.
"It came from hanging out and wanting to write a song about honesty and about how we really feel and how real our struggles can be in feeling discouraged or feeling lonely – whatever we're going through – and how we give that to God," he said.
"It was cool to do that together because it wasn't just about my feelings or someone else's feelings. Together, we would check off on, 'Do you guys feel this? Do you feel like that?' We were able to get together and build the song off of that but still make it a joyous song and not focus on how easy it is to become negative or dreary about a situation."
The chorus reflects Lopez's journey:
Sometimes I get lonely,
But I know You're working.
I know You're with me
And sometimes I feel unworthy but I know You're working.
"It was just a confession of our humanity and knowing how hard it is to not fall into comparison or own battle of the mind," Lopez said. "His grace is always enough. We have to learn to rely on that and also know that there's strength and there's power in opening up to the honesty and giving that to God instead of saying, 'God, You know my battle, but I'm struggling.'
"Even with our friends, whom we should be really honest with, to be able to do that in song was important for me and for them as well."
Lopez's other song on the album, "Here (I Will Be)," is a collaboration with Trina Beecher and Alex Ramirez that came about almost by accident.
"It was just about making a worship song. I feel like there are so many creative ideas and so many left lanes in worship music," Lopez said.
Said Downs, "We don't look at the students and say, 'Write about this topic.' It just flows. It comes out of Scripture, it comes out of their walks with the Lord. I've always liked when Edwin and Trina have worked together. They work well together as songwriters."
Lopez also is thankful for the collaboration at Chapel. He made the Worship team right after arriving at GCU thanks to Johnson's intervention – he hired Lopez as a student worker in the Recording Studio, then heard him sing. It was mesmerizing.
"He struck me as someone who was shy, and then I realized he was trying to be anonymous," Johnson said. "I understand that as a worship leader. At times, it's difficult to remove yourself from what other people think of you as. Edwin was always onstage. Everyone in his church knows who he is. I understood it because I'm an introvert."
Auditions for the Worship team already were over, but Johnson convinced Worship Manager Jared Ulrich to give Lopez a shot. When the decision-makers for auditions came out of the studio after listening to Lopez, they had tears in their eyes.
Mesmerizing.
Lopez also felt God's mesmerizing glory when the Worship team gathered in a circle to pray with the speaker and the technical crew before every Chapel service.
"Every single one of us there is at the same level," he said. "It's really easy to get caught up in the hierarchy, but it's more about community. Those are my friends, those are my classmates, here's this new pastor who I've met."
And as he looks back at two remarkable years on campus, he gets the same good feeling:
"GCU isn't a church, but we're also not just a university. There's something that happens in that blend at Chapel and The Gathering and any kind of worship event within the spiritual life at GCU. Our community is answered prayers. All this providence from God has fallen into our laps."
That coincidental providence. You see it everywhere in life, and then you say things like, "I don't know how I got here, but I'm here."
Contact Rick Vacek at (602) 639-8203 or [email protected].
****
Canyon Worship 2022 is scheduled to be released Sept. 9 on Spotify, Amazon Music and Apple Music. It will be available in the iTunes Store.
****
Related content:
GCU Today: Canyon Worship 2022 is in step with collaboration
GCU Today: Fearlessness propelled ascent to Canyon Worship
GCU Today: Freshman's talent is the talk of Canyon Worship
GCU Today: Russell leads the way on album, with other students