Every continent was represented on Prescott Field on Tuesday at the Association of Christian Schools International Job Fair, but representatives from an Indonesian school were among the most excited to be at Grand Canyon University.
Brandon Ingram, a chaplain with IPEKA Integrated Christian School in Jakarta, Indonesia, learned in GCU President Brian Mueller's address to the school's the day before that GCU had a player from the same city.
He looked up GCU basketball, even watching coach Bryce Drew's buzzer-beating shot in the NCAA tournament decades ago, but also the story of Derrick Xzavierro of Indonesia, who overcame a collapsed lung that required two surgeries last year and rebuilding his body over the past nine months to play today for the Lopes.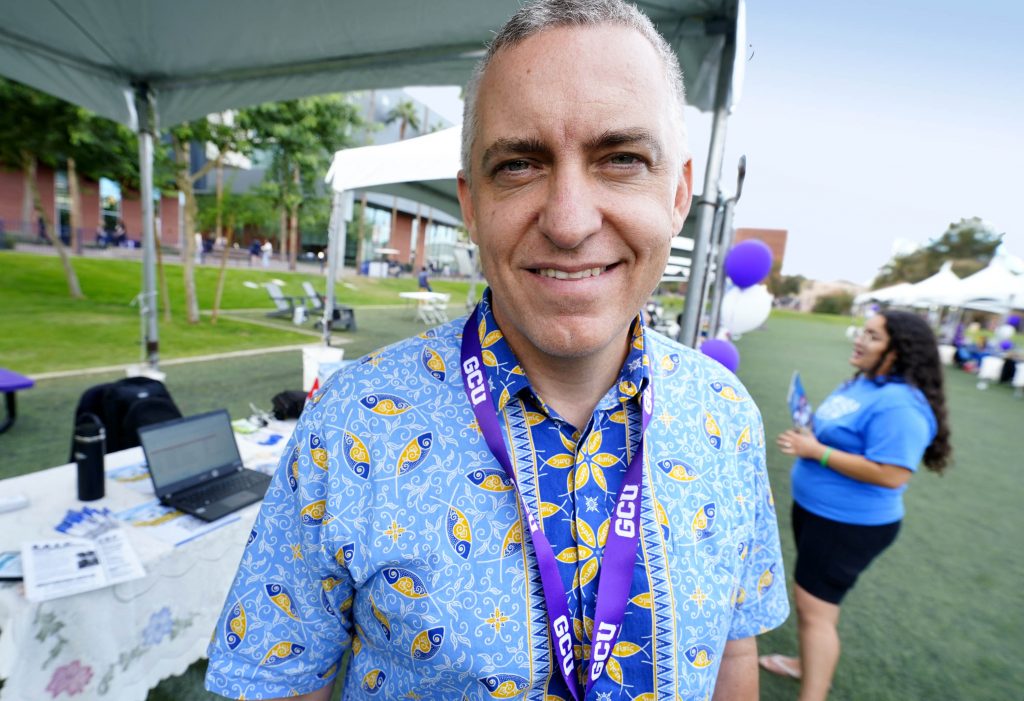 "He was enamored with him and asked, 'Is there any way I can meet this guy?" said Dr. Daniel Egeler, Vice President of Academic Alliances, K12 Educational Development.
You could hardly miss it when it occurred Tuesday, a 6-10 basketball player finding folks from his home on campus.
"It was really neat to talk to him and pray with him," Ingram said later. "Indonesians are like family, and he was really happy to see us. He is far from home, and it is not easy. When you meet people from your home country, it is so special."
Xzavierro and IPEKA recruiters, Susanti Kowinto and Lulu Bata, excitedly talked in their native Bahasa language, before they all posed for a photo.
"We want him to speak at our school when he comes back," Ingram said. "I told my family who are basketball fans in Indonesia, and they are excited."
The fair also included representatives from Ethiopia, Kenya, Ghana, Kazakhstan and many other countries who could have jobs or internships for students in many occupations, not just teachers.
Other highlights on a packed Prescott Field:
For the first time, the fair coincided with the College of Education's Lopes Leap to Teach and Leap Networking Expo, in which 60 schools and districts were represented. COE Assistant Dean Lindy Gaudiano said the job fair has been fruitful for area schools to hire teachers and interns and that some students "will have interviews and get job offers on the spot."
Alicia Edwards, who has worked at the Morrison Academy in Taiwan for 27 years, was especially happy to have a booth at the fair. Her son, Cole Edwards, is a student at GCU. She had not heard much about GCU before her son decided to attend, but the more she looked into it, "I love how they not only want to train the next generation but give back to the community," she said. Cole has been involved in outreach, just like his mom and dad in Taiwan, who talked to students about the mission and purpose at her school and said, "If we can keep this next generation passing on that torch, that is amazing."
Grand Canyon University senior writer Mike Kilen can be reached at [email protected]
***
Related content:
GCULopes.com: Xzavierro rebounds from lung surgeries