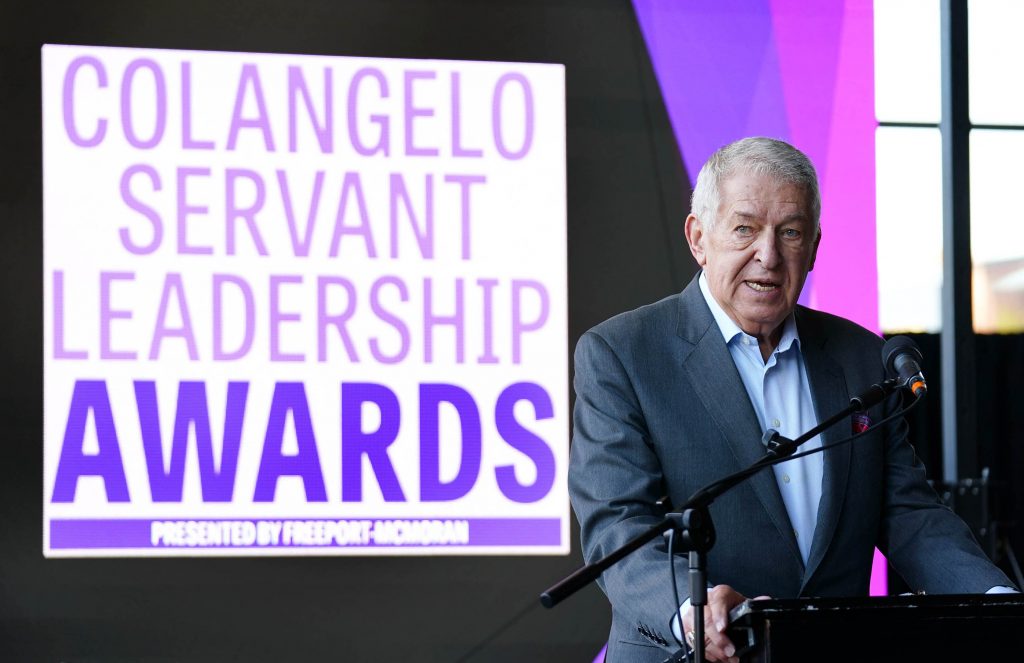 PHOENIX (Jan. 20, 2023) – Grand Canyon University's Colangelo College of Business honored four devoted leaders on Friday who exemplify the ideal for which Jerry Colangelo is best known: servant leadership.
The Colangelo Servant Leadership Awards, presented by Freeport-McMoRan, are named after one of Arizona's biggest business and sports icons. The award ceremony was held at GCU and honored the following recipients:
Don Cardon, founder and CEO of Cardon Development Group: Cardon is known for his disruptive approach to forging public-private partnerships to enable developments that not only create scaled housing and mixed-use communities, but also substantial aviation-related infrastructures across the nation. In 2009, Arizona Gov. Jan Brewer recruited him to lead the state's global economic efforts as the Director of Arizona's Department of Commerce. Cardon built the department into a globally competitive powerhouse and transformed it into a private entity, known today as the Arizona Commerce Authority (ACA). He served as CEO of the ACA until he returned to the private sector in 2012.
Tommy Espinoza, past President and CEO of Raza Development Fund: Espinoza is a prominent architect of Latino community and business development policy and programs, with over 45 years of experience. A Phoenix native, Espinoza has dedicated his career to helping Latino families and individuals live in peace and with dignity through educational opportunities and community/business development. In 1998, Espinoza pioneered a faith-based approach to community development, establishing Partnership of Hope and the Hope Fund, now RDF.
Dawn Grove, Corporate Counsel and Vice President of Karsten Manufacturing Corporation: Grove has served on KMC's board of directors continuously since 1995. In 2015, she was appointed to the U.S. Manufacturing Council advising the U.S. Secretary of Commerce on issues related to strengthening manufacturers and achieving policy solutions that allow them to remain globally competitive. Arizona Gov. Doug Ducey appointed her to chair the Workforce Arizona Council from 2017-2021, helping Arizona job seekers obtain the skills needed by local job creators.
Steve Zabilski, Retiring CEO of St. Vincent de Paul: St. Vincent de Paul was known for his countless charitable works, but the spiritual hallmarks of this Catholic priest were his attention to the poor and unwavering humility. Though Zabilski never knew the renowned saint, he embodies the philosophy of serving those in need and lived out those precepts of charity as executive director of the Society of St. Vincent de Paul Phoenix, where he oversaw the day-to-day operation of the organization's employees and volunteers throughout Arizona for 25 years. Now, Zabilski will serve as President and CEO of Virginia G. Piper Charitable Trust.
The 2021 Colangelo Servant Leadership recipients were David Adame, President and CEO of
Chicanos Por La Causa; Bridget Binsbacher, Executive Director of the Cactus League; Barry Meguiar, President of Meguiar's Car Wax; and Dave Donaldson, co-founder and Chairman of CityServe International.
Servant leadership is one of the three pillars of the Colangelo College of Business, along with ethics and entrepreneurism, and is taught both in and out of the classroom. "Servant leadership should be a core principal of every successful business or organization and these four individuals exemplify that," Colangelo said. "They are truly making a difference in our communities and setting an example for future leaders in Arizona."
Colangelo is an Arizona icon whose Hall of Fame career in sports, business and real estate has spanned 50 years -- from the day he arrived in 1968 with $300 in his pocket to a career that included ownership of the Phoenix Suns and Arizona Diamondbacks; the Valley's only major sports championship with the 2001 World Series; the creation/relocation on the Phoenix Mercury, Arizona Rattlers and Arizona Coyotes; reshaping the Valley skyline with two state-of-the-art sports facilities that transformed downtown Phoenix; re-establishing global dominance of USA Basketball; and serving as principal partner with JDM Partners, which has a 60-year history of real estate acquisitions, development and management.
# # #
About Grand Canyon University: Grand Canyon University was founded in 1949 and is Arizona's premier private Christian university. GCU is regionally accredited by the Higher Learning Commission and offers 312 academic programs, emphases and certificates for both traditional undergraduate students and working professionals. The University's curriculum emphasizes interaction with classmates, both in-person and online, and individual attention from instructors while fusing academic rigor with Christian values to help students find their purpose and become skilled, caring professionals. For more information, visit gcu.edu.