Dr. Breanna Naegeli is a strong leader. She know what it takes to get things done.
That's why the dean of the Honors College at Grand Canyon University was selected for the Athena Valley of the Sun Founder's Award earlier this year.
And it's also why she nominated two GCU colleagues who were honored recently — Aysha Bell, Director of Employer Relations & Recruitment Services, and Marette Hahn, Director of Academic and Career Excellence.
Athena Valley of the Sun, the Arizona branch of the nonprofit Athena International, has been supporting, developing and honoring female leaders for 35 years. The 62 women who have earned the Athena title are challenged to invest in not only their careers but implement leadership qualities into their industries and communities.
Naegeli, who models that ideal, sees the same characteristics in Bell and Hahn.
"I know them as colleagues and as peers. I've had the privilege of experiencing their diligent work ethic and generous servant hearts firsthand, which is why nominating them feels so important," Naegeli said. "A lot of what they do is behind the scenes, and I just wanted to bring their efforts and contributions to our community into the spotlight."
Both GCU nominees were caught off guard by the news.
"I was completely shocked that anyone would think highly enough of me to nominate me for this award," said Hahn, nominated for the Young Professional award. "It was such a beautiful display of women lifting other women."
Bell, nominated for the Private Sector category, said, "I was awestruck. I don't do my job or help others for the purpose of receiving anything return so when it happens, I am very humbled. I have the utmost respect for Dr. Naegeli, and her nomination means so much. And to be recognized alongside Marette is truly an honor."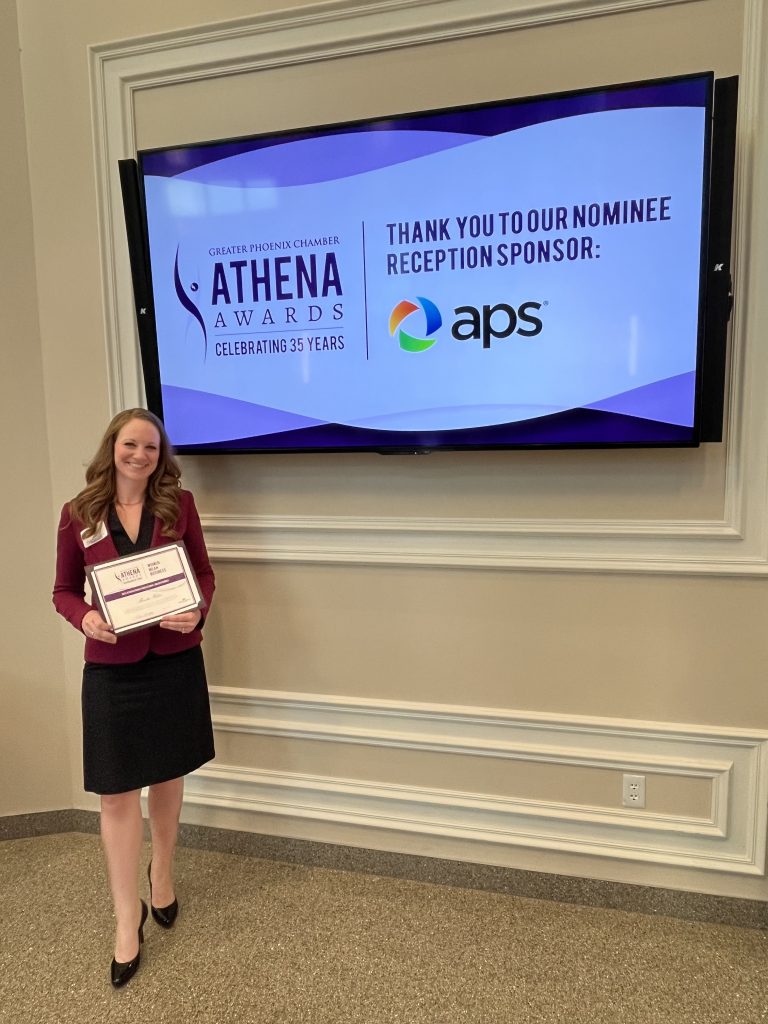 Their humility also was evident when they accepted their certificates at the awards banquet.
"You can tell that it is not in their comfort zone to be applauded for what they've done or accomplished," Naegeli said. "None of them were self-nominated or used a PR team to get their name in the headlines. They were nominated by their peers who recognized their effort. Being in the spotlight is not why they do what they do."
The common perception is that a leader should be assertive, bold and dominant. That's not Hahn. The Minnesota native models the "Minnesota Nice" reputation and considers herself calm, compassionate and shy — and doesn't want to be told to be something she is not.
"I grew up looking at such strong, bold female leaders and thinking, 'I wish I could be more like them.' I fully believed I couldn't be a leader because, in my head, I was so different from them," she said.
Instead of allowing these labels to harbor feelings of doubt, she redefines what it is to be a leader in the only way she knows how: by being herself. She leads with authenticity by breaking the stereotypical corporate model.
"Thankfully, I've had a lot of incredible people here at GCU believe in me and support me, including both Dr. Naegeli and Aysha. Leadership is a difficult skill, and being a female leader has additional barriers," Hahn said. "You can't be too assertive or else you'll be called names — but if you're not assertive enough, then you're not a strong enough leader. It's a delicate balance and fine line to walk."
Through her unique leadership style, Hahn has successfully created unity among three departments, improving workflow and efficiency. Although she had no prior experience in a leadership role, she continually uses her past positions and unique approach to leadership as leverage to help her navigate her current position.
Academic and Career Excellence supports the approximately 25,000 students on campus, and Hahn also manages a staff of three full-time employees and almost 100 student workers.
Similarly, Bell sees her leadership role as a chance to serve others. Besides helping students have success through GCU's Strategic Employer Initiatives and Internships, she also supports a faculty sub-committee on campus and has served at churches and nonprofits.
"Leading is about serving others so your team and sphere of influence have the opportunity to be their best selves," she said. "I have had incredible mentors and leaders in my life, and it is imperative that I reciprocate that."
As director for the past two-years, Bell has worked on initiatives within her department and the GCU community. Her duties involve partnering with colleges and departments across GCU and Grand Canyon Education to support the post-graduation success of students. She manages employer engagement in recruiting events, professional development and connecting faculty to resources their department offers.
Why should we help others? The answer for Bell is simple: "Because someone helped me along the way, and it's only right that I pay it forward."
Although Bell and Hahn were not selected as finalists for the Athena award, they were grateful just to be nominated alongside incredible businesswomen. Their goal is to continue to impact others.
"We need to do more. We can all do more," said Bell. "I believe it is our God-ordained purpose to bless others."
Contact staff writer Lydia P. Robles at 602-639-7665 or [email protected]
****
Related content:
GCU News: Honors students applaud Naegeli's Athena award