Photos by Ralph Freso / Slideshow
The kindergarten cubbies might not be there.
But Grand Canyon University's new ACE Space might be just as comforting, with the cozy nook beckoning to students from the first floor of Willow Hall, one of the freshmen residences in The Grove.
Peppering the welcoming gathering space: A Foosball table, cornhole, comfy sofas, a table packed with old-school board games and another area with new-school Xbox and Nintendo Switch video games.
Last year, the ACE Space (Academic and Career Excellence) was all business and home solely to the First-Year Experience, the tutoring location on campus focused on freshmen and transfer students.
"This was all for just academic requirements, but now there's a social area," said ACE Centers Director Brian Jones, who has wanted to create a small gathering area like this since he started at GCU as a university admissions counselor.
As a counselor, he heard feedback from students who wanted an easily accessible hang-out space where they might rest between classes or meet up with classmates, one that had a different vibe from, say, the busy, buzzing Thunderground.
"This is for every student, for ALL students to come by. Any of the freshmen students who are here in Willow, any commuter students," Jones said.
But the ACE Space isn't just a social nook.
It's still the tutoring area for first-year students who need academic support in math, science and writing. Not only can they play Connect 4 or Super Mario Kart, but they can find a student learning advocate, or LEAD, and make an appointment to meet for tutoring in the dedicated space in the back of the center. First-year LEADs also help first-year students acclimate to being on a college campus, helping with everything from directions to class to getting connected to clubs or campus resources.
Brenna White, a junior LEAD at the Willow Hall ACE Space said, "It gives students a safe space just to hang out, if they don't want to be in their dorm room or apartment, and it's a space where they can feel comfortable to ask questions about any of their classes."
White said she has seen students who are commuters hang around and wait for friends who live on campus because they don't have a dorm room to wait in.
"I've seen a lot of good friendships form," she added of students who frequent the center. "… They find people they have something in common with."
Also new at the Willow location, beyond the ACE Space, is that it's a first-generation center, too.
"We're going to have first-gen students who are going to be carrying out that mentorship, if you will, so that way it's students just like them who can help get them out of their shell and get them connected as soon as possible. I'm really, really excited about that space for all those reasons," Jones said.
The ACE Space isn't the only reimagined feature at the ACE Centers, which kicked off the year with a bang, thanks to all-day, carnival-themed open houses at various tutoring facilities across campus the week after Welcome Week.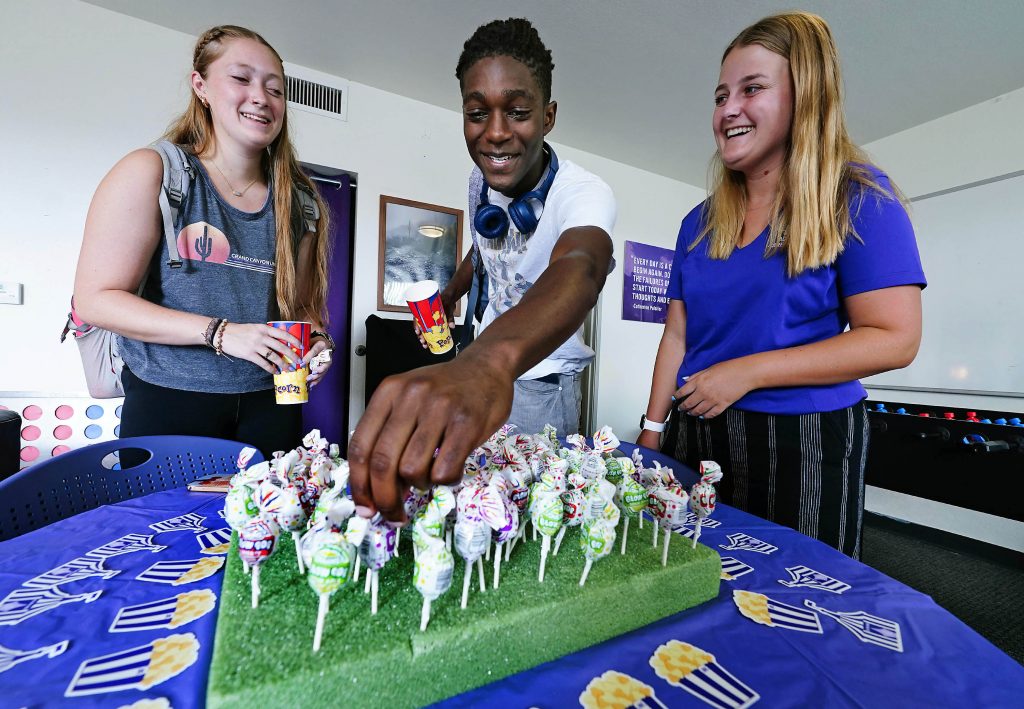 On the opposite end of the spectrum, the face-to-face, in-person social gathering space will be joined in October by another initiative, the virtual ACE Center metaverse.
Metaverse expert Greg Lucas, College of Doctoral Studies online faculty chair, has been partnering with several colleges and campus departments to develop these virtual reality social platforms, including his own college. Doctoral learners have been getting together in the metaverse outside of class to work on projects and get to know one another.
For the ACE Centers, Lucas re-created the on-campus academic help centers in a virtual setting.
Students can log in with their laptops, phones or even experience the metaverse on a virtual reality headset. It's where an ACE LEAD avatar will be sitting virtually at a front desk, in real time during regular hours, to help them check in and get resources.
Flyers on the wall in that are in physical ACE Centers will be in the VR space, too, ready to download.
For procrastinators who might be thinking, "Oh my gosh, it's 10 o'clock at night and now I can't meet with a LEAD and my test is tomorrow at 7 and the ACE Center doesn't open until 10 a.m.," Jones is hoping the metaverse will serve as that last-minute resource.
One wall in this virtual world will display banners of the classes that the centers support, such as Chemistry 101. Once a student clicks on a banner, they're whisked to college-specific portals that will include resources such the After-Dark Series (test preparation) recording sessions.
"People will come in (to the metaverse) the night before the test and see what questions students asked leading up to that test for that class. So, maybe, it's a long shot, but if that student procrastinated and came in at midnight, they might see those two questions they're having trouble with and see how they were answered by our LEADs.
"It's just one of the cool little things we're thinking could work for our students," Jones said.
Another cool thing: a new podcast series called ACE Campus Chase, created by the First-Year Experience team.
"They already have begun interviewing movers-and-shakers across campus, including Jagaar Halverson and Amaya De La Cruz, our student body president and vice president," Jones said, and have interviews scheduled throughout the year with the deans of each college.
Students plan to host a weekly show, create 3-minute reels recapping past shows and highlighting upcoming shows and campus events.
Another cool thing is that the ACE Centers have expanded from six last year to 13 this year.
Jones said his department looked at how much the campus has grown and knew GCU needed more academic help locations.
"You know, CCOB (the Colangelo College of Business) is now the center of campus. We have (thousands of students) on the east side of campus, and we had two ACE Centers there. We thought, we can't do it with just two centers."
The east side now includes ACE Centers in Salt River, Agua Fria, Diamondback, Antelope, Cactus, Jerome and Ponderosa. They're open like the other locations, from 10 a.m. to 10 p.m. Mondays through Thursdays, 10 a.m. to 3 p.m. Fridays and 5 p.m. to 10 p.m. on Sundays.
LEADs help students with general writing, math, science and career support, though each center also specializes in a specific area. Roadrunner and Salt River ACE locations are both nursing-specific, for example, and the Jerome location is College of Arts and Media and College of Education-specific.
It's an expansive system of academic support for students that extends across campus and, in a few weeks, even into the metaverse.
Jones, who also is an instructional assistant on campus for an entry-level English class, worked as a high school assistant vice principal before making his way to GCU a few years ago.
Helping students as the ACE Center director and as an instructional assistant, he said, has been a perfect fit for him.
"It's all my experience just wrapped into this; this is perfect," Jones said. "… I love doing this. I love teaching these kids. Now I'm working with students who also like giving back in that way. So I'm literally working with people who are like me, who think like me, who are passionate like me. This is the dream job."
Manager of Internal Communications Lana Sweeten-Shults can be reached at [email protected] or at 602-623-7901.
***
Related content:
GCU News: GCU program helps new students find guiding lights
GCU News: First-Year Experience, ACE Centers aid new students