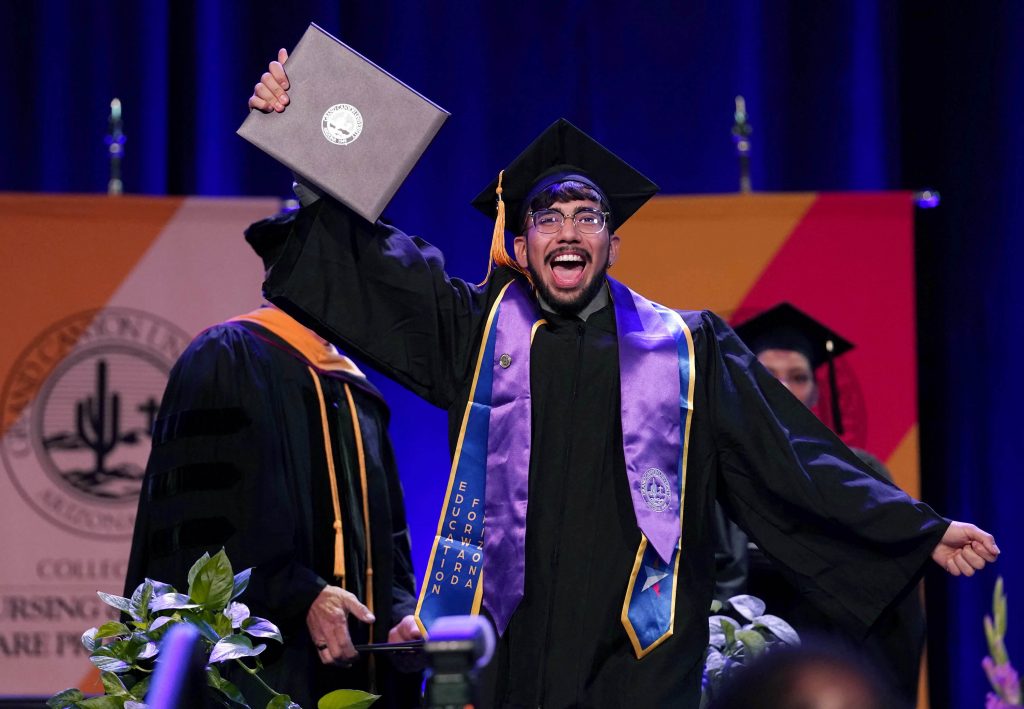 EDITOR'S NOTE: This story originally appeared in the February issue of GCU Magazine.
His dad once lived out of his car. His mom cleaned houses.
When Luis Peña Espinoza was born, his immigrant parents had a dream for their son — an American education — and a way to achieve it.
"We made him feel confident," his mother, Beatriz Espinoza, said. "And his self-confidence helped strengthen himself as a person and focus on his goals."
One goal he whispered to himself daily on the bus to Metro Tech High School as it passed over a high bridge with a clear view of the Phoenix skyline: "One day, I am going to work downtown."
Espinoza, a 2022 graduate of Grand Canyon University, reached his goal this fall.
He is working downtown and is making so much money that his mother can now quit cleaning houses.
How it happened, he hopes, is an inspiration to other undocumented children.
On the bus ride, he also could see the Phoenix Convention Center, where he competed in speech. He was so raw he didn't even know speakers were supposed to stand behind the podium. Yet he earned third place.
"I remembered the fulfillment I got from realizing the harder you work and more you practice, the more you can accomplish things you never thought you could," he said.
His own father, Abundio Peña, was a model of that diligence. He lived out of his car as a young man and placed sticky notes on damaged vehicles, offering to fix them for a good price, to bring back money to his Mexico family.
But in 2000, Abundio and Beatriz took their dreams for their two children to the economically challenged Phoenix Maryvale neighborhood.
At times, Luis grew discouraged by the obstacles of being undocumented, such as not qualifying for most college scholarships. He told his mother he didn't think college was for
him. But she didn't accept it, Luis said.
She said, 'Regardless of what it takes, I will make sure you get into college, even if I have to knock on every door in the country asking people to help me help you. I will find a way.' Hearing my mom say that was so motivating — that she was willing to do whatever it took to get me where I needed to be. It pushed me to push myself harder," Luis said.
He studied hard and, in 2018, earned GCU's Students Inspiring Students scholarship, awarded to high-achieving students from underserved Phoenix neighborhoods. It catapulted him into a world that his parents had dreamed of, though he didn't rest on his accomplishment. He joined everything. He tutored high school students as a learning advocate in GCU's Learning Lounge. He joined the Speech and Debate team. He became a vice president of TEDxGCU. The computer science major entered student entrepreneur competitions and became a resident advisor.
Luis remembered what it was like to visit the Learning Lounge as a kid.
He remembered the panic of losing a residence hall key and needing help.
And he remembered what it was like sitting among freshman SIS recipients at the welcome reception and telling his buddy that one day he would be on the stage welcoming others.
"The more I got to know people, the more I got to know myself. I see a little bit of myself in everyone," he said. "The way I help myself is by helping others."
By the time he was an upperclassman, he was taking well more than a full load of classes, doing a research project, competing in Mr. GCU and, true to his word, serving as a master of ceremony at the SIS reception — all while launching his own business, Conext Platform LLC. "At times, I was a bit overwhelmed," he said. "But those are the moments I thought about my mom and dad and their struggles, and I worked as hard as they needed to work to get here."
By the time he graduated in April, he already had a contract for Conext and was working a part-time job with WhatNot, an online community marketplace, in its sneaker division.
Then he saw the opening for a job at Connected Vehicle Optimization, now called PrePass, a suite of services offered by PrePass Safety Alliance that focuses on commercial transportation safety.
He was hired in October and immediately called his longtime mentor at GCU, Megan Serafini, SIS and External Scholarships Director.
He told her he would be earning six figures. Serafini cried tears of joy. "Luis has always been an outstanding example of what the Students Inspiring Students scholarship stands for: Changing lives through the gift of education," Serafini said. "I am beyond proud of him, and I feel lucky that I was a part of his journey to success."
Luis said he's busy using the skills he learned at GCU while working with technology teams, chiefly leadership and communication, in his role as project owner at PrePass.
He won't soon forget GCU. He already has offered to mentor other SIS students and speak at campus events.
Another visit that he made that day meant even more — to his mom, who had to leave her family in Mexico to come to the U.S. for her children. "I could never give up as much." Luis showed her the contract, and she was overcome. He told her she could quit her job, and he would make up the difference.
"I feel blessed by the gift he gave me," she said. "Now I can clean my own house."
On his first day, Luis headed to work over that same bridge where he dreamed as a kid.
"That dream my mom had for me when I was a baby, the reasons I came to this country, is what I finally accomplished this year," he said. "I won't lie. I cried. I was hit by so many emotions, reflecting on what it took to get me here. It finally came true."
Grand Canyon University senior writer Mike Kilen can be reached at [email protected] or at 602-639-6764.
***
Related content:
GCU News: Sisters' scholarship story filled with gratitude
GCU News: SIS scholars out to prove mentors right