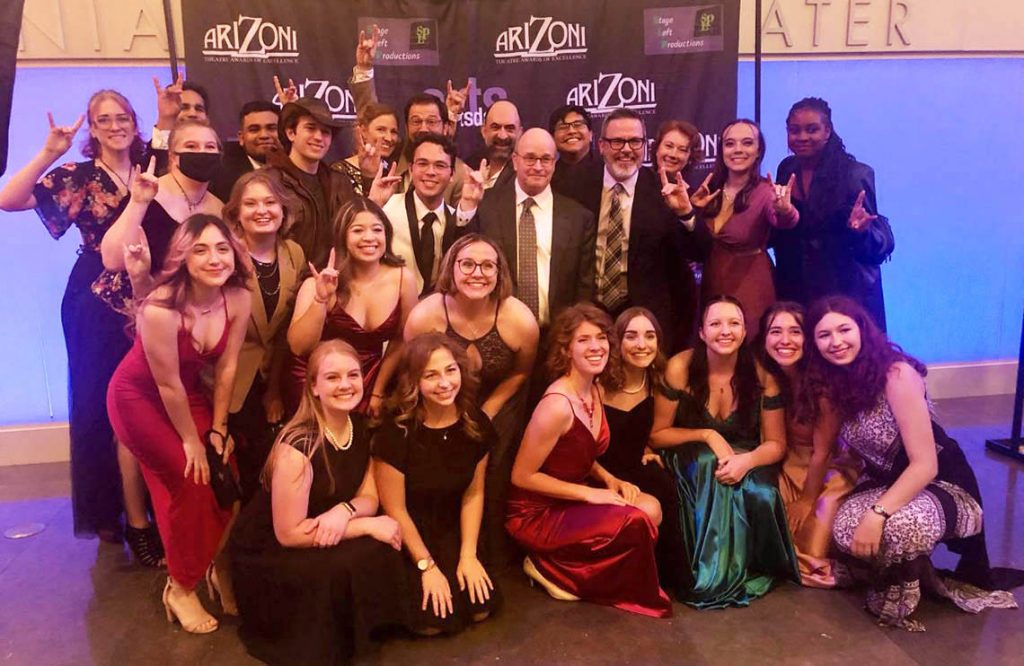 After earning a whopping 24 nominations for four 2021-22 productions, Grand Canyon University's Theatre Department took home six ariZoni Theatre Awards of Excellence on Monday night at the Scottsdale Center for the Performing Arts.
GCU's victories included:
Best Overall Musical Production: "The Addams Family"
Best Director: Michael Kary for "The Addams Family"
Best Musical Director: Mark Fearey for "The Addams Family"
Best Original Score: Mark Huggins and Kary for "The Musical Comedy Murders of 1940"
Best Choreography: Elizabeth Oates-Orr for "Joseph and the Technicolor Dreamcoat"
Best Specialized Choreography: Kary for "The Musical Comedy Murders of 1940"
GCU professor Claude Pensis also was presented with the Kyle Lawson Outstanding Contribution Award, recognizing Pensis' 40 years at GCU and work in theatres across Arizona.
Knowing Lawson personally only deepened Pensis' appreciation.
"Kyle Lawson was always a class act and very supportive," Pensis said. "To be associated with his name and the ariZonis is a kind and rewarding feeling."
Presenting Pensis with the award was a full-circle moment for Kary, one of Pensis' former students. And revisiting "The Addams Family" production was nostalgic for Kary, too:
"In theatre we are used to working on a production for four weeks, then watch it for two, then pack it all up and move forward. What made this night special is that a bunch of that cast was there, and with theatre you don't ever have the same people in the room. Seeing photos from the 'Addams Family' play pop up made me emotional for that reason."
Kary also downplayed his role in producing "The Addams Family" even though he received three awards for it.
"Winning best overall musical production for 'The Addams Family' means that every element of production was at such a pristine level, but I was just one small aspect of production," he said. "There is a reason we won, and it was because everyone involved worked so hard on it."
The latest ariZoni Awards are another reminder of the Theatre Department's accomplishments. College of Arts and Media Dean Dr. Craig Detweiler was overjoyed to see the faculty, staff and students honored at the ceremony.
"This recognition by the ariZonis demonstrates how much professional polish our theatre program brings to each production," he said. "Our faculty are mentoring students, whether as cast or crew, toward award-winning excellence."
Contact staff writer Lydia P. Robles at 602-639-7665 or [email protected]
****
Related content:
GCU News: GCU instructor's film explores pastor burnout
GCU News: Unusual stage shines light on 'Hamlet' lessons