The National Society of Collegiate Scholars (NSCS) at Grand Canyon University has been selected as a Platinum chapter for the past two years. Now, the group has earned the recognition of Diamond Chapter of the Year, awarded to one out of 300 chapters across the country.
What that means: GCU's chapter is the best in the nation.
The GCU chapter began in 2014 and was awarded the Platinum status in three of those years before achieving the top award.
"Given we haven't even been around a decade, that's a huge mountain for us to climb in a short amount of time," said Honors College Associate Dean Dr. Breanna Naegeli, also one of the two NSCS advisors.
The chapter consists of approximately 7,400 active members, including in-person and online students, making it the largest chapter in the country.
Naegeli said aside from outstanding recruitment, she believes the group earned the accolade because of engagement and community efforts.
"Some things that took us over the top were our presence on social media and how we engaged our traditional campus and online students in this community," she said.
She went on to say online and in-person students have formed a unity and great sense of collaboration in the chapter.
"GCU approaches education as if we're one campus, it's always been a one community approach."
NSCS inductees are lifelong members that Naegeli said makes for a great mentorship program. Students have access to members who already have experience in the industry and are able to build connections with those who want to help and give back to the next generation.
"Even though they're at the same phase in their educational journey, they're at different phases of life and their professional journey. It provides a more unique networking opportunity for students," said Naegeli.
"One thing that has really worked to our advantage is that the NSCS partners with our Honors College on a lot of big initiatives. We have a lot more support and brainpower behind these initiatives to make a greater impact."
Aaryanna Nelson, GCU senior and incoming president of the 2023-24 GCU NSCS chapter, has been a member of NSCS for two years and has served on the board for the past year.
She has contributed to recruitment events, induction ceremonies, Integrity Week and professional panels, which she says have all been extremely rewarding.
Nelson says her plans as president include increasing volunteer service activities and partnering with more organizations, including mental health nonprofits.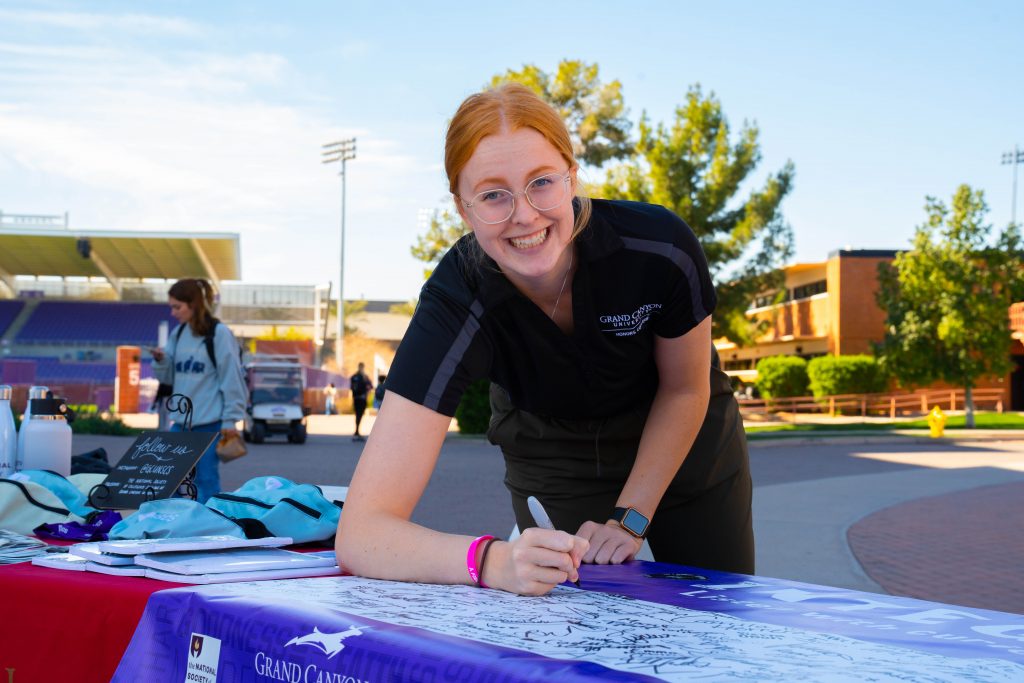 "I would love for our board to connect together, not just at events, and I encourage everyone to show up in order to receive the benefits NSCS offers."
The group focuses its work on local service projects, such as Service Week, which promotes volunteerism in local communities, wherever members may be located.
They also maintain partnerships with organizations, such as Valley of the Sun United Way, to raise funds and collect donations for communities in need.
Throughout the year, the chapter focused heavily on sharing its work online and promoting its members.
"That was one campaign we were very consistent on all year, and I think it was something the NSCS national office was really excited to see because it was putting names and faces together," said Naegeli.
"We continue to honor and recognize students for their academic achievements and make sure they feel celebrated in those milestones."
The Honors College will celebrate its 10th anniversary in the 2023-24 academic year. The college anticipates anywhere between 3,200 and 3,300 students in total enrollment for the 2023-24 academic year.
GCU News staff writer Scianna Garcia can be reached at [email protected].
Related content:
GCU News: Honors students applaud Naegeli's Athena award
GCU News: Integrity Week is all-inclusive
GCU News: The life of Riley: From homeless to GCU