Editor's note: My LopeLife is a GCU Magazine feature in which GCU students, staff and alumni share enlightening experiences. To be considered for My LopeLife, please email a short synopsis of your suggested topic to [email protected] with "My LopeLife" in the subject field. To read the digital version of the February issue of GCU Magazine, click here.
By Lorenna Lentz
Photos by Ralph Freso
The campus was beautiful and bursting with activity. Everywhere I looked, students were passing by on skateboards, hanging out on the grass with friends and walking to classes with backpacks slung over their shoulders. I loved the energy and wanted to explore it more.
However, I already was enrolled at a public university for the 2022-23 academic year and doubted I would be able to afford the cost of a private school. I was in foster care and did not have family members who could provide financial support.
Then last summer I learned that my scholarships and grants at the other college would cover only half of my room and board, and I would have to pay an additional $1,200 fee for staying on campus for winter and spring break.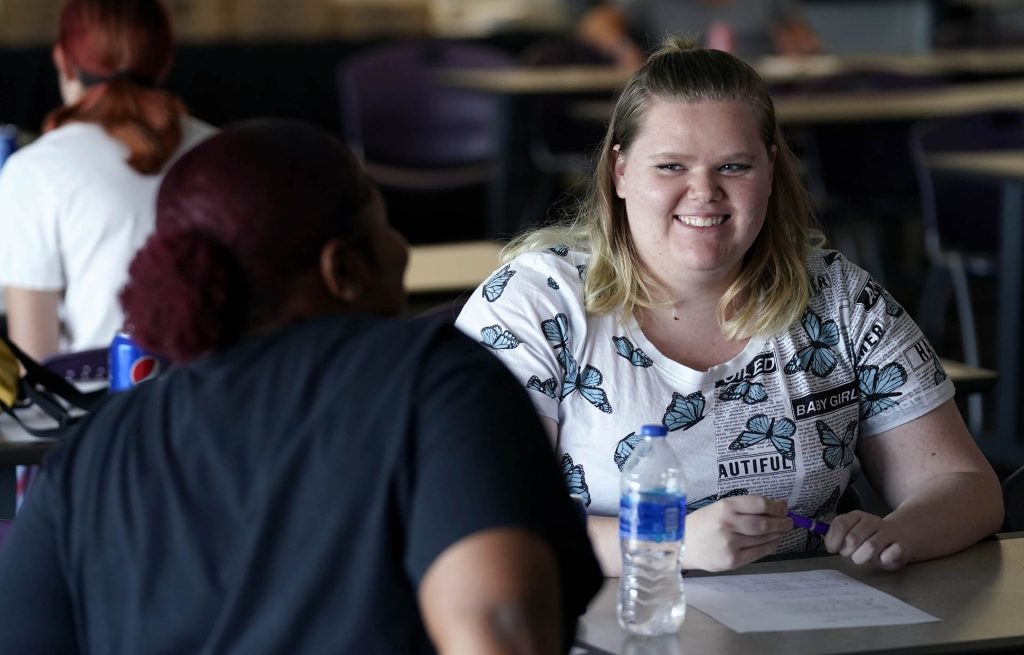 The fees were not fun, but I figured I could manage it. Summers would be a problem, however. As a teen with no credit history, finding an apartment would be hard enough, but finding one I could lease for two months was almost impossible – and would require a lot of money I simply did not have. I was stressed, worried and not sure what I was going to do.
While I was dealing with this, I found out that my friend had applied and been accepted to GCU. I mentioned the news to my foster mother, who in turn got excited and reminded me about the Fostering Futures Scholarships.
In February 2022, GCU announced the new program, a partnership with the Arizona Department of Child Safety. It covers tuition, fees, room and board, and meals.
This was a huge deal. My financial issues and worries would be taken care of instead of being left for me to figure out on my own. It sounded too good to be true. Even now, though I have lived on campus for nine months, it feels crazy to have this opportunity.
I was nervous about leaving behind my support system in Tucson, Arizona, and moving to a new place. But the scholarship offered more than just financial support. I had people on campus who were there to help me with any issues I had.
In my first week at GCU, admissions counselor Brady Farup brought me trash bags, air freshener, notebooks and a huge box of Goldfish that became my best friend during late night study sessions.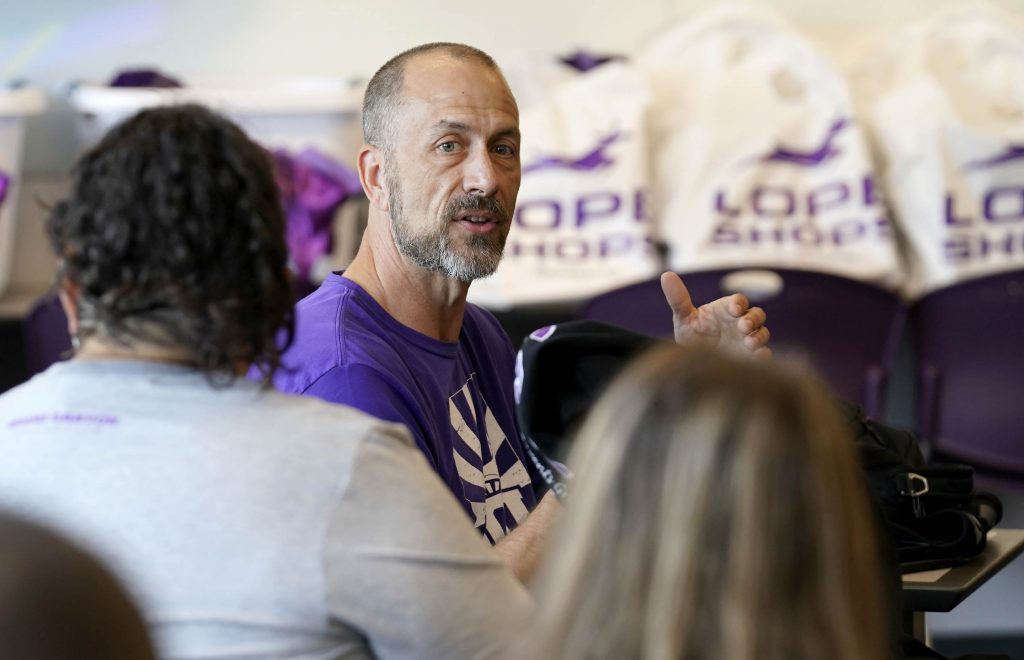 Then I met Brandi Turner, Fostering Futures Student Administrator. She also brought me a lot of goodies.
We meet with Brandi once a month for checkups and can go to her for anything. She even sets up activities, such as breakfast at Chick-fil-A, painting parties and pool days.
I enjoyed the painting so much that I went out and bought a bunch of supplies. She even gave us goodie bags for Halloween and snacks for over the holidays.
Then there were the Thanksgiving and Christmas parties. For Thanksgiving, Brandi set up a lot of food at her office – the pumpkin spice cheesecake was especially good.
I got to meet two of her daughters, who were very sweet and just wanted to know about me. It was nice to have a lighthearted conversation about that. I also got to play UNO Attack with them, which was a highlight of my day. Brandi won. I want to play her again.
Brandi arranged a luncheon with GCU alumnus Levi Conlow, who told us how he started Lectric eBikes. It gave us the idea that we could do something similar someday.
Another Fostering Futures feature is the mentorship program. I wasn't sure how it was going to work, but I've met with my mentor, Charity Norman, a few times, and I've just loved our time together.
She mentioned she has studied abroad, and when I took an interest in that, she brought me a bunch of information and some handwritten notes. It was so thoughtful and filled me with such joy.
Now I'm looking into studying abroad during my last semester of college, preferably in Japan or England. That would be an amazing experience.
Another wonderful feature about the Fostering Futures Scholarships is the academic support. We get to meet with Student Services counselor Abby Bennett, who helped me switch some classes for ones more tailored to my major and interests. She also is available for any questions I have and monitors how I am doing in my classes – she even provides book recommendations, which is wonderful and highly appreciated.
The scholarship is an amazing program that offers a wide range of support to children in foster care who otherwise would miss out on this incredible experience. That's why we forever will be thankful for the opportunity to take part in something so life-changing.
***
Related Content:
GCU News: Fostering Futures move-in provides big lift
GCU News: Fostering Futures recipients meet the future
GCU News: GCU unveils scholarships for Arizona foster children