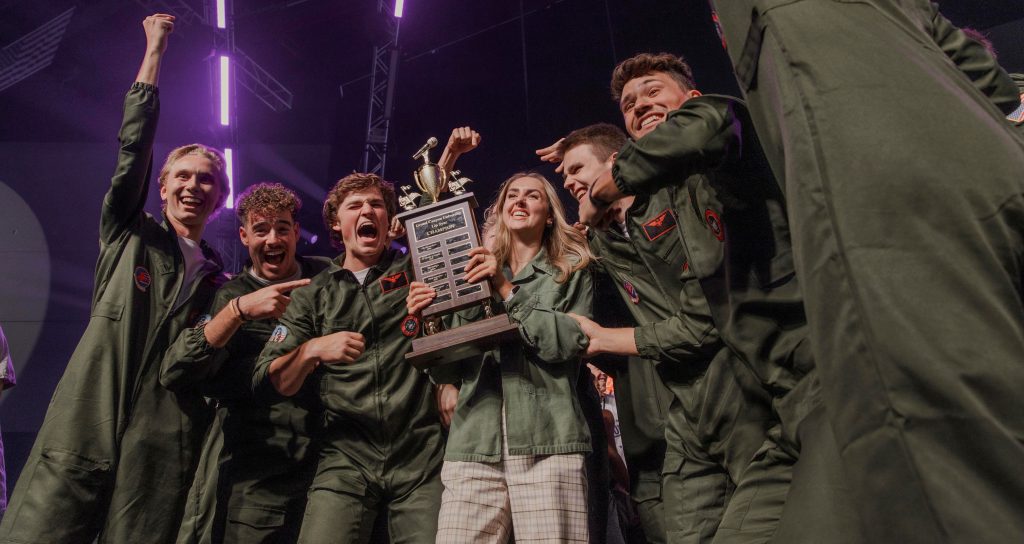 It's not that all college guys act the fool around young women, but Isabelle Aff had seen enough to know it can happen.
Then her view changed at Grand Canyon University, and the experience helped transform one of the biggest student events on campus.
The senior grew up next door to Gabe Rodgers in Vancouver, Washington. She followed him to GCU in 2019, and soon after arrival, Gabe's wife Megan persuaded her to help her coach a Lip Sync Battle team with its dance moves.
Aff had been in dance since she was a child but was wary of the hormones of 13 young men, even as she began to teach steps to the Pitch Imperfect team.
"I was a freshman girl coming to college. I had grown up believing in God, but I didn't hang around the best people and the best guys," she said. "So to immediately have a group of college-age guys treat me like their little sister, give me respect, protect me and just give me the time of day and be so kind to me was different.
"It's the first time I'd been around guys that were so loving and so respectful, and it showed when you follow Christ, your life looks different. I love Lip Sync because of that experience, but also because my faith grew dramatically through that. When they love Jesus, they do different things."
Pitch Imperfect went on to win the annual talent competition that features a good share of dancing before a typically packed GCU Arena.
Aff had worked so well on the choreography and dance and stunt training with novices that she was asked to coach in 2021 for 6 Beats Apart (COVID canceled 2020 Lip Sync). Those 18 young men also won it. And so did last week's 22-member team of Mach 10 that she coached with Olivia Chavez.
"Having us two around a bunch of dudes was amazing. I think (with faith) they are more likely to view me as a friend and a sister, a sister in Christ, and that's it," she said. "Loving Christ meant they were showing character – listening to my ideas and caring for me both inside and outside of practice as an individual."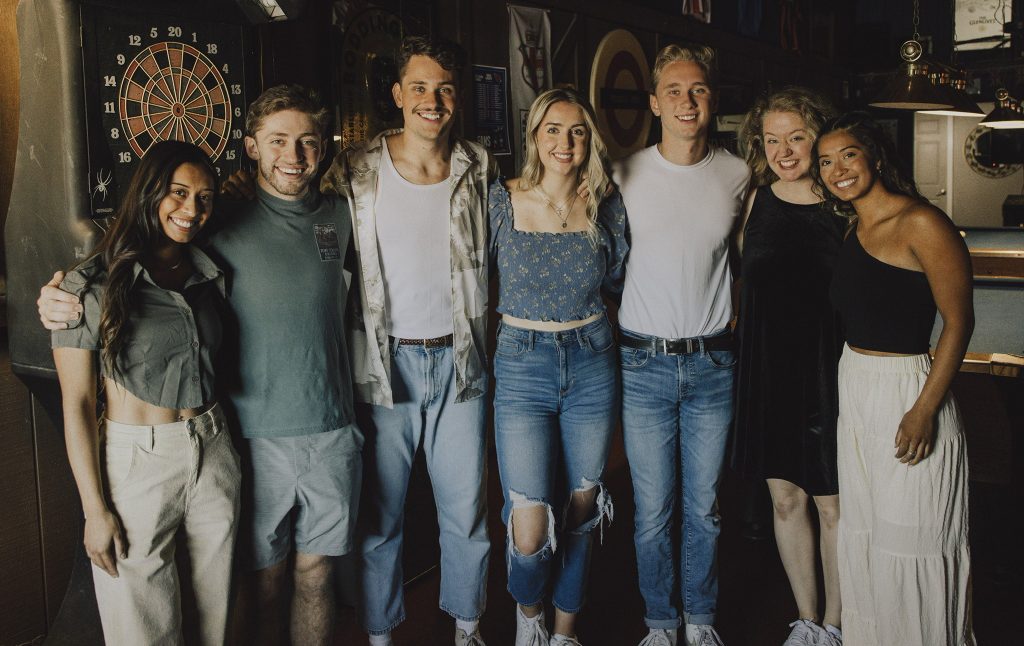 Lip Sync's appeal is that students who mostly don't have dance or performer backgrounds get together and come up with dance, lip sync, video and storytelling that entertains their fellow students and friends. At first, most teams were not coached.
Coaches started to become more prevalent after Aff's efforts with her winning teams.
"We kind of invented it. This year, Canyon Activity Board for the first time recognized coaches," she said, and allowed them backstage.
The next-level moment, she said, was last year's 6 Beat's Apart win, when the team constructed a dazzling, spinning globe of bodies.
"Then it became clear that it wasn't just guys lip syncing, it was no longer just guys being silly onstage," Aff said.
The appeal is that a randomly assembled group of novices can risk embarrassment before friends and fellow students onstage. But behind the scenes, Aff said it's nothing if not a lot of disciplined work.
Team captains Brennan Young, who was on the winning 2021 team, and Broder Magnuson picked 20 teammates because every year more want to be involved, came up with the theme of an offshoot of the summer blockbuster film "Maverick: Top Gun," and stepped back and let Aff do her work.
"If someone would ask, 'What are we doing?", they would always look to me and say, 'Isabelle's got it.' They would defend me," she said. "In an environment of high stress and late nights, having an environment and identity in Christ made it easier."
Just getting 22 young men in the same place on time four nights a week – and six or seven in the last couple weeks – over 2 ½ months for practices of more than two hours was a win in itself. Then to put together a five-minute show that she said requires a balance of "dancing, stunts and silly storyline," required starting from scratch.
There were backflip practices, dance maneuvers, choreography to fill every moment with action, and instruction on routine exits.
"It has to be easy on the eyes, and what sets it apart is cleanliness and repetitiveness, making sure they are good on being on time on movements," she said.
The stunts were also tricky. Several got minor injuries in falls, and the final stunt that brought the house down left many in practices with their heads stepped on.
Spencer Huppert ran across a bridge of intertwined bodies to launch in the air, but in practice there were some nasty falls.
"They pushed through the pain and were committed," she said.
By the time they got onstage, they had an electric charge of energy, and Aff watched her brothers really shine and fly through that final stunt with ease.
"They had the most fun I have ever seen," she said. "We did it and it was amazing."
Onstage afterward, Magnuson and Young would credit only their coach for pushing them hard and teaching them to dance.
As she prepares to graduate in December with a psychology degree and start her new job working with children on the autism spectrum at Southwest Autism Research and Resource Center in Scottsdale, she'll always remember her time as a Lip Sync coach. She found a community, a stronger faith and a lot of brothers.
"One of the guys came up to me my first year and said, 'I love you so much, please don't go on a date with that person.' He was trying to protect me, telling me I was really valuable," she said. "Very much like a big brother."
Grand Canyon University senior writer Mike Kilen can be reached at [email protected] or at 602-639-6764.
***
Related content
GCU News: Lip Sync flies at high speed to delight crowd
GCU News: Dancing students pack GCU Arena for Lip Sync