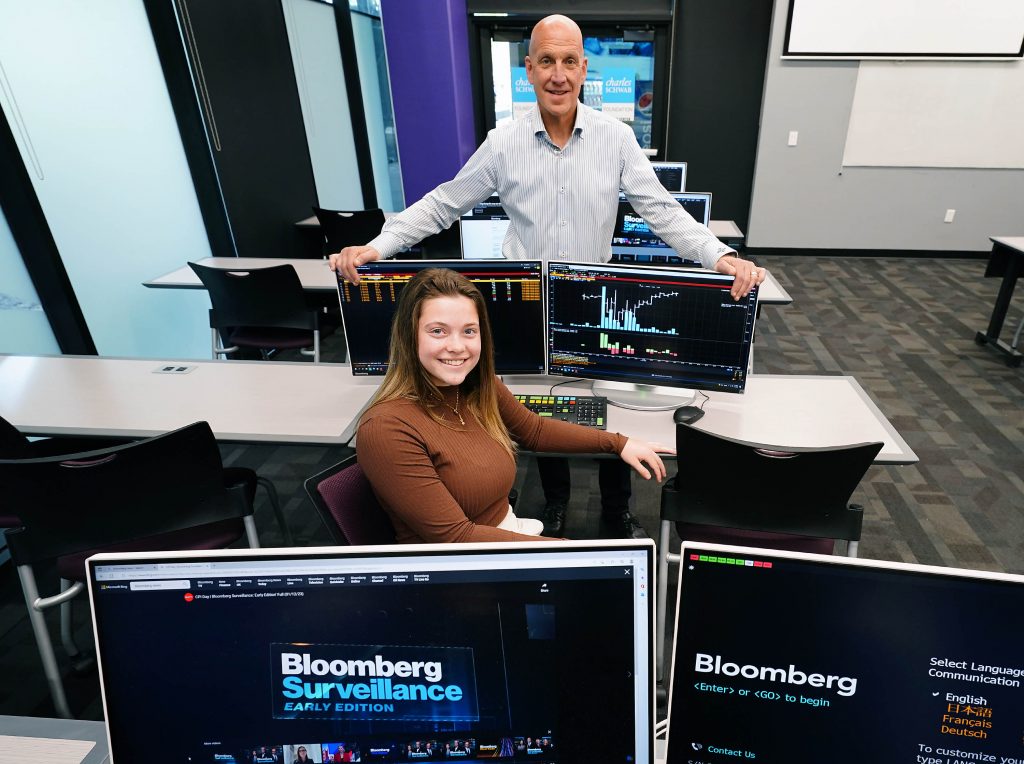 Photos by Ralph Freso
A coincidence and a competition perfectly sum up why the introduction of the Bloomberg Terminal has been so valuable to Grand Canyon University students.
Colangelo College of Business (CCOB) finance professor Alan Klibanoff tells the story of Alison Smith, a GCU finance student who was working on her Bloomberg project while waiting for an interview at Morgan Stanley.
Then a manager walked by, noticed that she had Bloomberg skills and asked what division of Morgan Stanley she worked in. She said she was just there to interview.
"There was no more interview. She was hired," Klibanoff said.
Then there was the Bloomberg Global Trading Challenge, in which competitors are hypothetically given a million dollars that they try to grow by buying and selling stocks. Klibanoff has all of his students do it, and 24 GCU teams – from his classes and the Finance Club – took part last fall.
Most of the 24 finished in the top 150 out of more than a thousand teams from 72 countries on five continents, Klibanoff said, and the team of Katy Wieczorek, Elizabeth Graven and Lily Allen was ninth for one week of the monthlong event and made the top 20 overall.
Neither turn of events would have been possible without the installation last September of 12 Bloomberg Terminals in the Charles Schwab Foundation Finance Center, on the first floor of the CCOB Building. To understand how they got there and what a coup they were, you first need to understand what a dynamo Klibanoff is.
Not only was he a senior vice president at Morgan Stanley and JP Morgan before coming to GCU. He also worked for a firm that had the first Bloomberg Terminal in Arizona in the 1980s … and he has the phone number of Michael Bloomberg (yes, that Michael Bloomberg) in his contact list.
"Hey, Michael. Could you donate some machines to us?" Klibanoff asked him.
GCU bought three, and Bloomberg donated nine. They're available to anyone on campus.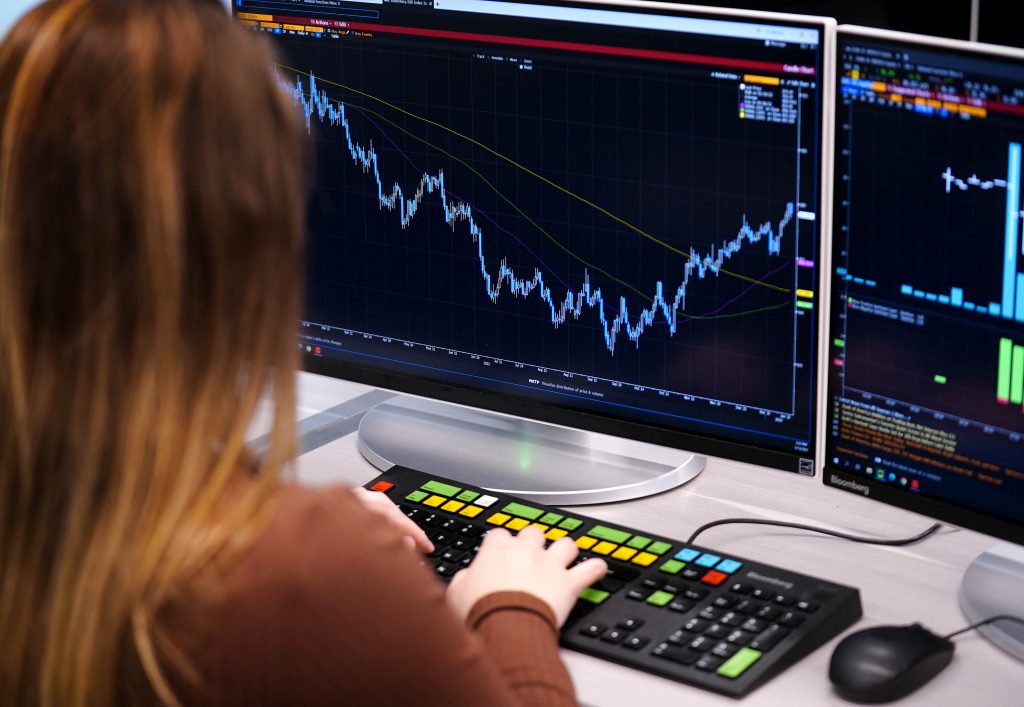 What's the big deal about a Bloomberg Terminal? Klibanoff can explain:
"There are 300,000 machines worldwide. There are about 3,000 people who really know how to use them. I was a Bloomberg baby. I knew about 96% of the machine. I know 4% now. That's how much it's grown.
"You can code on there. There's law on there. It's an amazing machine. It is total real world in the academic world."
What else is on there? A sampling from Klibanoff:
Chemical agents that go on the wafer that is made for Intel. Where it's exported. The supply/demand curve. Where it's manufactured. What's really made in America, what's outsourced.
Project management
Data analytics
Code for engineering
Business management
Management case studies
Corporate finance
Mergers and acquisitions
Heat maps
Instagram, Twitter
Trading information
Good news, bad news
Gossip that's weighted
Fashion
Theatre
Sales of islands, Rolexes, Lamborghinis
A jobs page
What analysts make
What marketing people make
Jobs that are in the financial world
In other words, it makes Google look so 1998.
"Google is stale," he said.
Bloomberg does it by employing more than 19,000 people across 176 offices worldwide. The news will be first on its terminal before it's anywhere else, Klibanoff tells his classes.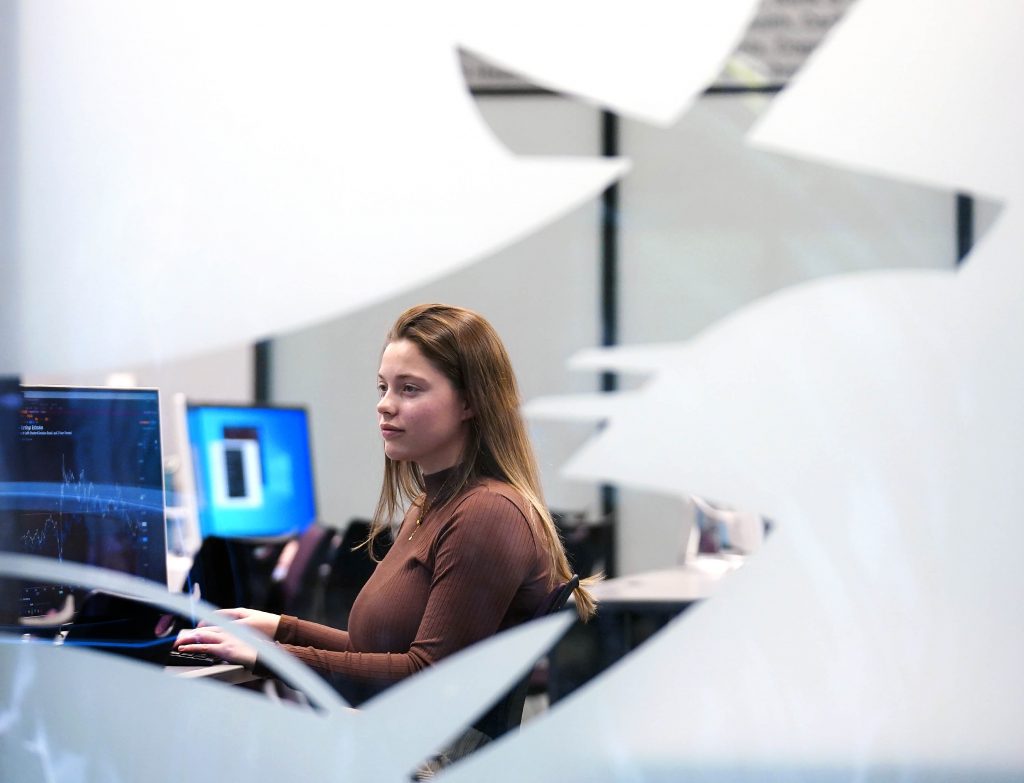 Wieczorek said she had never been on a Bloomberg Terminal before learning of the trading challenge while sitting in Klibanoff's finance class (FIN-375) last fall.
"I did the challenge for fun, honestly," she said. "This is my first challenge in the stock market. I've done research, and I've studied a lot. I think this challenge really got me ready to invest in the stock market myself."
It also helped prepare her for a career in finance, which she plans to pursue after graduating next December. And it certainly piqued her interest in the Bloomberg Terminal, which played a vital role in the students' success.
"You can do so much research, it's crazy," she said. "I probably didn't get into even half of what you can do in those terminals. They're amazing. We're so lucky to have them at our school."
She also appreciates the input of Klibanoff, who never seems to run short of humorous asides. "He's a character. He has something for everything," she said.
One of her favorite Klibanoff innovations was Filterless Friday, when students can say whatever they want – there are no wrong answers. But his knowledge of the financial world is what she values most.
"He's one of my favorite professors. Making connections with him has been so nice. He was so helpful throughout the challenge. He was always congratulating us. Even with careers, he's helping us. He says, 'If you need help with anything, come to me and I will reach out to people.'"
Like many CCOB faculty members, Klibanoff was a honcho in the business world. He knows a veritable who's who of big names.
"I spent 35 years with lists of contacts like this," he said. "It's like dying with too much money. I've got too many people who owe me. I want to pay it forward."
His enthusiasm is infectious, his zest for life immeasurable. He tells his students that he'd like his epitaph to read, "I lived. Then I died. But I did live." And he adds, "That's what you guys need to do. Life's too short."
Mainly, he wants them to understand how using the proper tools, such as the Bloomberg Terminal, can help them successfully compete in their careers.
"It allows them to expedite financial answers. Instead of going through due diligence, they can get an answer like this," he said, snapping his fingers. "The best companies aren't always the best investments.
"It's like how we shop at the grocery store. It's no different. Everybody uses coupons; why don't you use them for your investments?"
Now GCU students, just like investors, can find the best values … and so much more.
****
Related content:
GCU News: GCU, Schwab invest in students with finance center