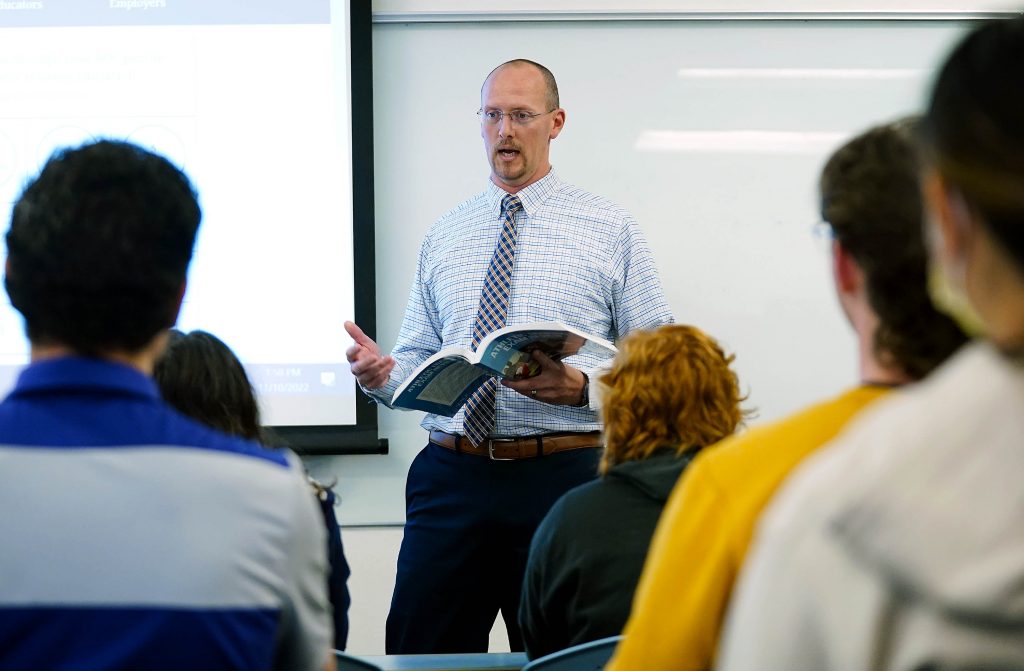 Students again achieve 100% first-time pass rate on BOC test
Photos by Ralph Freso
When her sister injured her knee, Akayla Dolezal knew what she wanted to do with her life. The then-seventh-grader wanted to help people, like her sister, recover from their injuries.
That led her to Grand Canyon University's Athletic Training program in 2018.
But just two years later, the COVID-19 pandemic disrupted the comforting day-to-day goings-on of the world. Like students everywhere, Dolezal isolated at home and attended classes remotely, far away from the steadiness of teachers and friends. And the hands-on clinical experiences so vital in preparing Athletic Training students for their profession became virtual for a time.
It was the best anyone could do.
With all the anxiety and distractions brought on by the ravages of COVID-19, it didn't take long for GCU's Athletic Training faculty to see how the pandemic world battered students who couldn't take their exams to become certified athletic trainers in a timely manner because of test cancellations. When they finally were able to sit for those tests, what they knew at graduation was no longer fresh in their minds.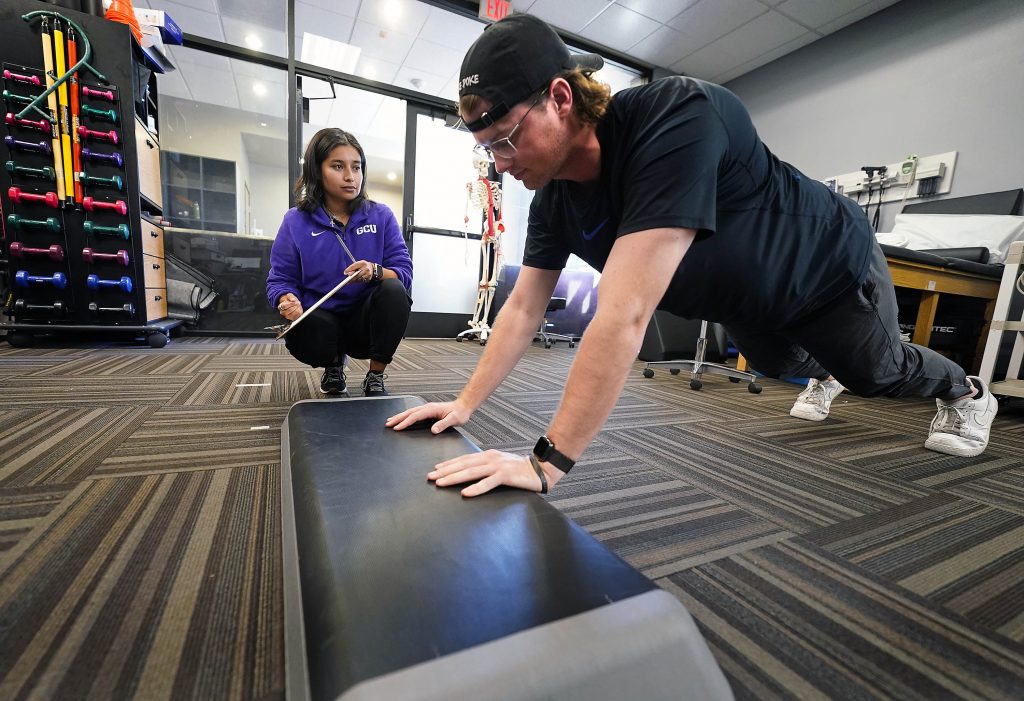 "That's what crushed them," said Director of Athletic Training Brandon Warner, who in 2019-20 saw the program's first-time pass rate on the test — the number of students who pass the certification exam on the first attempt — fall below the passing standard.
But in an incredible pivot for the program, the picture would be far different just a year later as that number soared to 100% in 2020-21. What was even more amazing: GCU's Athletic Training students repeated that stellar performance in 2021-22, again scoring a 100% first-time pass rate.
"These students, I admire their strength and their perseverance because there had never been a time like this in our generation," Warner said. "Think about the fear we had back then. I can't imagine what it was like to be a student entering the workforce — the medical field — during the beginning of that hysteria of the pandemic."
After seeing the first-time pass rate dip below standard in 2019-20, the athletic training faculty immediately took steps to help their students, turning for guidance to the leaders of their college, the College of Nursing and Health Care Professions.
Nursing students had been excelling over the past few years on the National Council Licensure Examination, or NCLEX, which they must pass to start working in the field. A high point was the first quarter of 2021, when GCU's nursing students dominated the NCLEX, scoring a 100% first-time pass rate.
What became obvious in their talks was that Athletic Training needed a faculty member dedicated to preparing students for their Board of Certification for the Athletic Trainer exam, or BOC. It's something the college did for nursing when it named Amy Leach its NCLEX Success Director.
"I would say the biggest thing was actually working with Amy Leach and learning everything she did," said Dr. David Mesman, named the BOC Success Coach for Athletic Training. "I shadowed her a handful of times with her students. I picked up on how to coach, really, and more or less identify their weaknesses and turn them into strengths.
"I learned to see what students need and pour into them so they can be more successful in all their exam-taking strategies and their time management. The biggest thing was just seeing what Amy was already doing and creating that same framework for our program."
In Mesman's first semester as BOC Success Coach, he was intentional in one-on-one meetings with students, building their trust in him and confidence in taking the exam.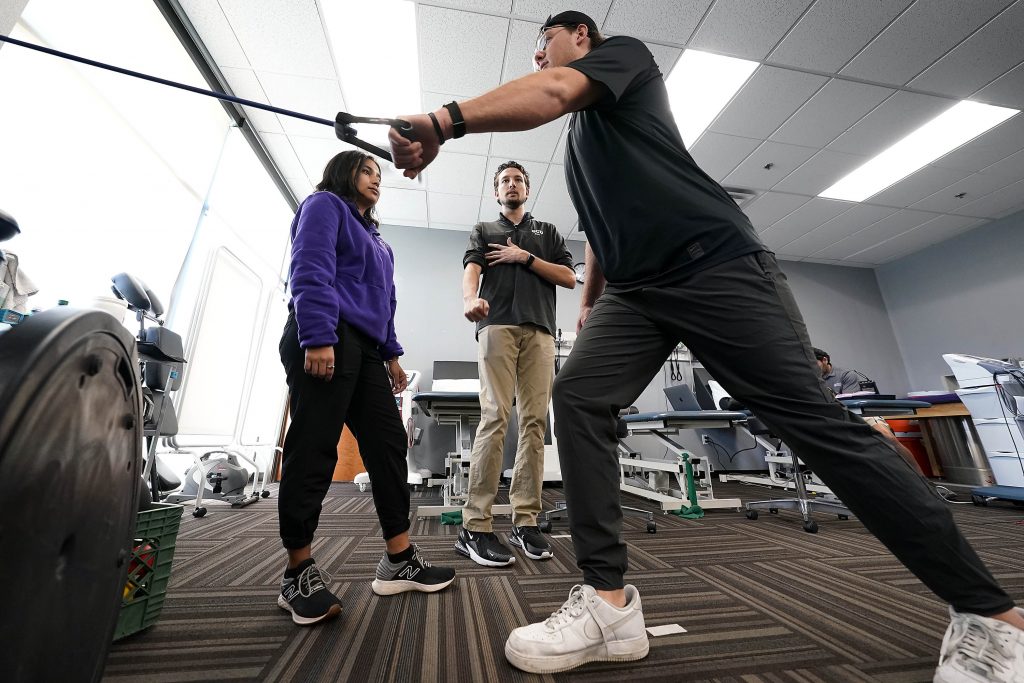 Students, who are accepted into the Athletic Training program their sophomore year, take a practice exam at the end of every semester. The faculty gathers data over their six semesters in the program to gauge their strengths and hone in on their weaknesses so it can help refine students' skills "and guide them toward study habits for that," said Mesman, who helms a BOC preparatory course in addition to meeting with students, intervening when a student seems to be struggling, and creating individualized success plans for them.
Students also have access to such tools as the ACES Preparatory Workshop, a virtual study guide for the certification exam that comes with two mock tests.
Even after students graduate, Mesman reaches out to them, making sure they have everything they need before they sit for the BOC.
He will continue in his role as Athletic Training transitions to a master's degree program. As of fall 2022, athletic training programs are no longer allowed to admit undergraduate students, so this fall's bachelor's cohort is GCU's last undergraduate cohort in that program.
Future Athletic Training students will pursue an undergraduate degree in a related field, such as exercise science/sports performance, pre-physical therapy or pre-physician assistant.
Warner projects the first master's cohort will launch in summer 2023.
Akayla Dolezal, now a sports medicine teacher and athletic trainer at Phoenix's Sandra Day O'Connor High School, is grateful for the help she received in preparing for the BOC.
The spring 2022 graduate said of the mock exams: "You actually get results of how well or how not so well you did so you can start preparing — 'Oh, I struggled in this section' — so you can gauge what you need to work on."
She was grateful, too, for her time at GCU.
"You can't NOT get close with everybody," she said of the program, in which students see the same faces as they journey through their Athletic Training classes with the same students in their cohort.
It also was easy to get to know her professors, the same handful of educators who teach all the Athletic Training classes and who themselves are certified athletic trainers.
"They have us come out with them since they're still certified. … You get these opportunities," which for Dolezal included working with such organizations as USA BMX.
Another opportunity through GCU evolved into her job at Sandra Day O'Connor High, which was one of the clinical sites she trained at through GCU's Athletic Training program. The school hired her once she passed her BOC.
Most of all, she appreciates how much the faculty invested in her.
"They still say, 'If you need help with anything, you can always reach out to us.' It's nice knowing once you graduate, they're not just moving on to the next group. They care even after you graduate," said Dolezal, who stopped by to visit the faculty during Thanksgiving break.
"Our program is a family," Warner said. "It's the camaraderie you have.
"We really do care, and we really do want you to succeed more than to just pass an exam."
Warner said the most joy he gets from his job is when he receives that text message or email from a student telling him they passed their board exam.
"Then I can text them back: 'Congratulations, colleague.'"
GCU senior writer Lana Sweeten-Shults can be reached at [email protected] or at 602-639-7901.
****
Related content:
GCU News: Students treat students in bustling Orthopedic Clinic
GCU News: GCU Athletic Training graduate delivers at Amazon