Photos by Ralph Freso
"Wow, you must be really smart to get a Ph.D.," someone once said to Dr. Anne Marie Bach-Starling.
"No, I'm not any smarter than anyone else — I just work really hard," she said. "I make a commitment to finish what I want to get done."
And she did get it done. Bach-Starling secured her doctoral degree in psychology with an emphasis in cognition and instruction Thursday afternoon at Grand Canyon University's Fall Commencement.
That doesn't mean there were no tribulations along the way.
The day Starling started her doctoral program, her mother was put into hospice care.
"The doctor told me it was time," she said. "It was a very significant and hard experience for not just myself, but for my family."
Her mother died a few weeks later. Bach-Starling already had planned to center her dissertation topic on grief, but now she debated whether the timing was right.
"I knew researching grief as I was healing would be too much for me," she said, "so I chose a grief topic that was not an intense experience for me yet was one I was very interested in."
Her dissertation titled, "Sports Fans Describe Experiences, Conceptualizations, and Responses to Parasocial Relationship and Breakup," focuses on grief through the lens of a sports fan.
The night before her first day of data collection, she received a call that almost halted her dissertation process. Her father passed away late that evening, and she had to call her six siblings and tell them.
She questioned whether she should continue her data collection the next morning. But a familiar voice interrupted that thought.
"I heard my dad's voice clearly in my head tell me, 'Get it done,'" said Bach-Starling. "I got up and did my interviews. Having something to do helped me cope with my grief."
Less than a week later, Bach-Starling received even worse news. One of her two children, son Luke, had gone missing in the mountains of Colorado. His death was confirmed eight weeks later.
"At this point, my whole world stopped — everything stopped," said Bach-Starling.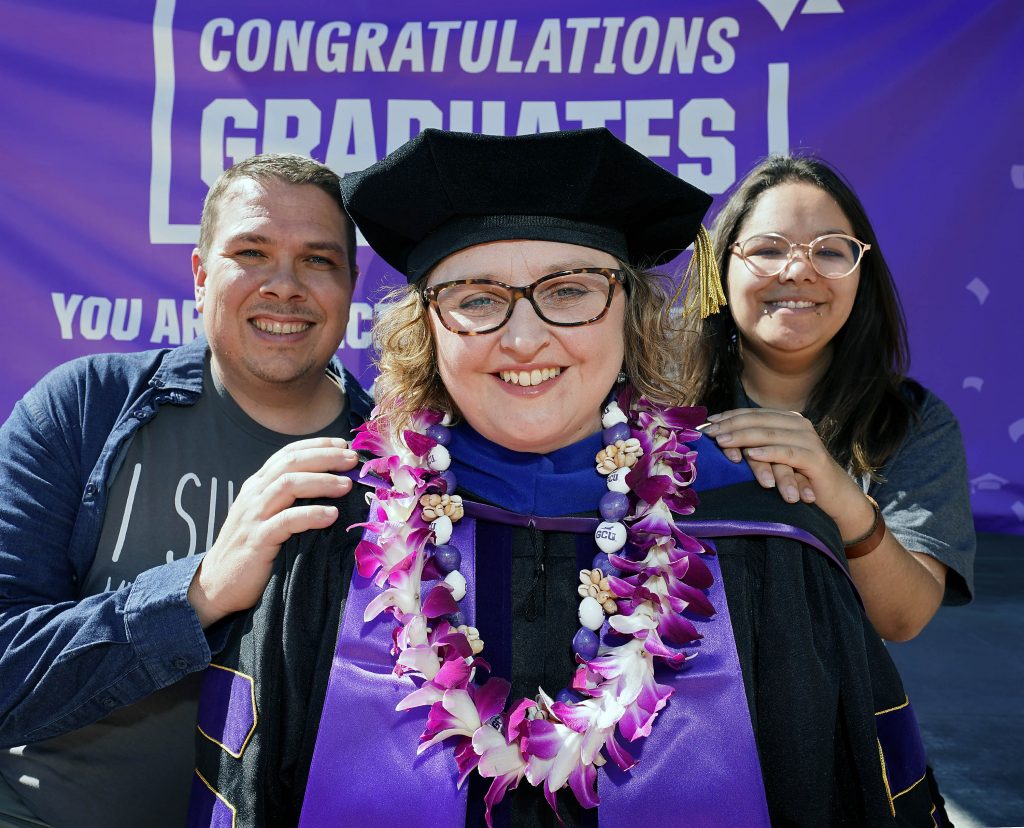 Aside from receiving support from her husband, Jeff, daughter Milo, 20, siblings, nieces and nephews, Bach-Starling turned to the doctoral faculty for support. She lists many of them as mentors.
After contributing to GCU for 13 years, she was promoted to a full-time position as a professor and is now a chair for the College of Doctoral Studies.
"I'm really honored that GCU thought about me when deciding who could contribute to the doctoral program," said Bach-Starling.
Equally as thankful is Dr. Daniel Nichols, who earned his doctoral degree in psychology with an emphasis in performance psychology.
"Psychology was always my niche in terms of motivating people, which is valuable whether it's the hiring process or getting people to compete at their highest level," he said.
The doctoral degree provides great value to his career and fulfills his desire to help others.
As a former GCU basketball coach, associate athletic director and current Director of Club Sports for GCU, as well as a licensed therapist for 25 years, the degree was right up his alley.
"I wanted to give myself extra credibility and get more into the mental health field," he said. "I'm really interested in building others up and getting them to where they want to be."
Like Bach-Starling, Nichols faced unexpected hurdles while on his doctoral journey as well.
"I used what I learned throughout my degree to have the discipline to stick with the process because a lot happened," said Nichols. "My mother fell ill and I was her caregiver, I was busy with jobs, other unexpected life events, and changes in my committee stalled my doctoral degree process, but just being able to move forward inch by inch was how I was able to get it done."
Nichols has one piece of advice for those starting their academic journey:
"Choose what you have a real passion for," he said. "When you're really interested in the subject matter, your job won't feel like a job."
The list of other GCU and GCE faculty who graduated with their doctorates this week includes:
Dr. Cameron Whitcomb, Associate Vice President of GCE, Doctor of Philosophy in General Psychology
Dr. Jeremy Hayden, Academic Records Manager, Doctor of Philosophy in General Psychology
Dr. TiffianyAnn Lundine, Dissertation Education Counselor, Doctor of Education in Organizational Leadership
Dr. Magen Branham, College of Humanities instructor, Doctor of Philosophy in General Psychology
Dr. Thomas Joseph, Online Faculty, Doctor of Education in Organizational Leadership