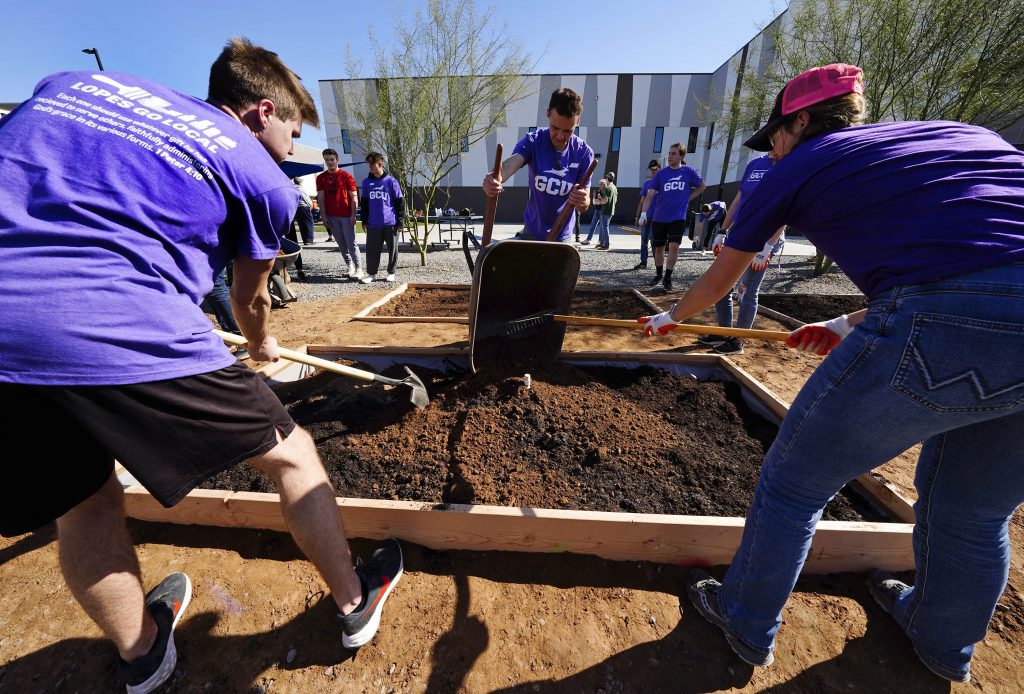 Photos by Ralph Freso / Slideshow
"Boys! Boys! Boys!"
A trio of robust Grand Canyon University students yelp and yawp into the crisp morning air as they pump themselves up, then lift and heave-ho a wooden garden bed frame to the site of a future school garden at Great Hearts Maryvale Preparatory Academy.
Once snugly fit into place, it will hold back the weeds and welcome soil and seeds that will sprout into lettuce. Or carrots. Tomatoes. Or squash. More than that, it will encourage hands-on learning.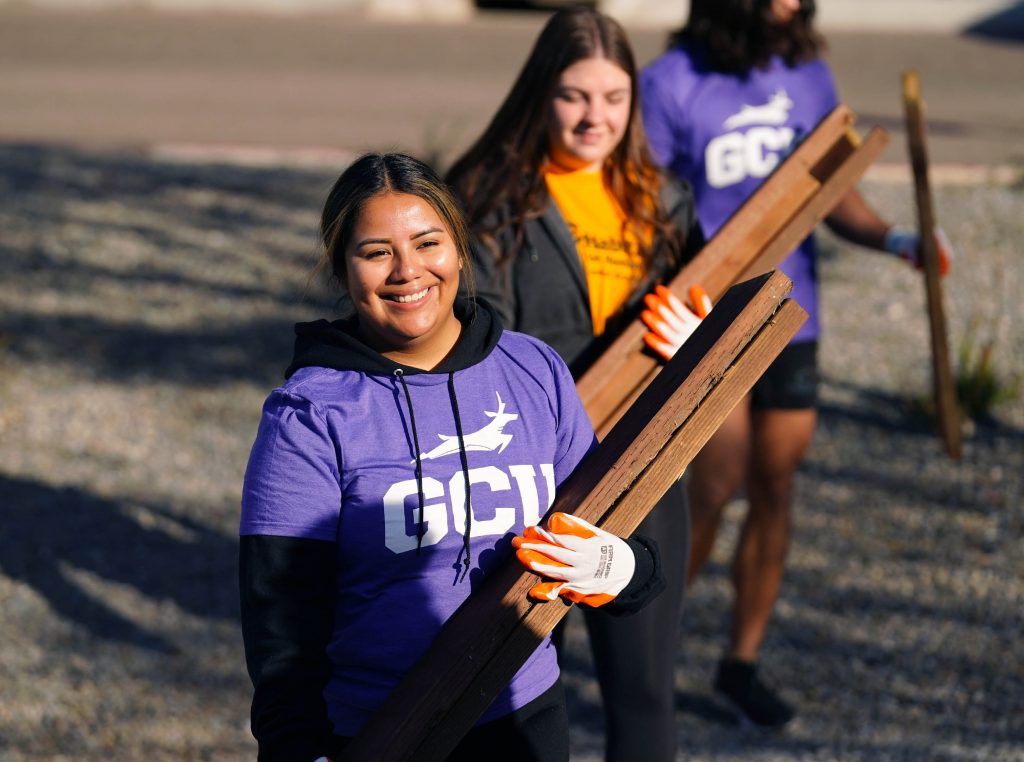 About 40 GCU students dredged and turned over the hardscrabble Arizona earth to create a sextet of gardening beds for the K-12 school.
It was among a slew of Habitat for Humanity projects — 13 of them — students tackled on Saturday as part of Lopes Go Local.
The semiannual event, a home improvement blitz the University embarks on with community partner Habitat for Humanity, saw multiple student teams fanning out into the nearby neighborhood to complete painting and landscaping projects, clean up alleyways and build a school garden.
Saturday's day of service marked the 15th Lopes Go Local (previously called Serve the City), an initiative launched in 2015 to complete restoration projects at 700 west Phoenix homes. It is part of GCU's five-point plan to improve neighborhoods. Through the partnership, one of the largest of its kind in the nation, more than 1,200 home repairs have been completed at more than 465 homes.
When a faith-based university can partner with a similarly faith-based organization to transform the community, "It just doesn't get any better," said Habitat for Humanity Central Arizona President/CEO Jason Barlow.
Director of Spiritual Life Erik Nelsen told students before heading out to their projects, "This is an opportunity to serve in the community and be a light." He reminded students that even when they're shoveling gravel, they're serving. "It's an amazing way to let your light shine and be the hands of Jesus."
Building a garden
About 40 of the 250 Lopes Go Local volunteers let their light shine 2 miles from campus to help build a garden for Maryvale Prep, which partners with GCU as a clinical site for nursing majors and as a practicum site for education students.
"I just cried over there, because they (GCU's students) are doing something that will have a lasting impact," said Patty Slider, the school's director of campus operations.
Slider spoke with such emotion and eloquence about how this one small act means something much bigger — something GCU students might not even realize. They are leaving a legacy for years to come, as class after class of Maryvale Prep's students grow academically in that garden.
The six garden beds — they'll complement the school's outdoor chicken coop — will be where biology teacher and garden liaison Tom Barringer might pass on knowledge about the anatomy of a leaf or the difference between a monocot and dicot, the two groups into which flowering plants are divided. He and other life science educators will be able to teach those concepts in an interactive way, thanks to the new garden.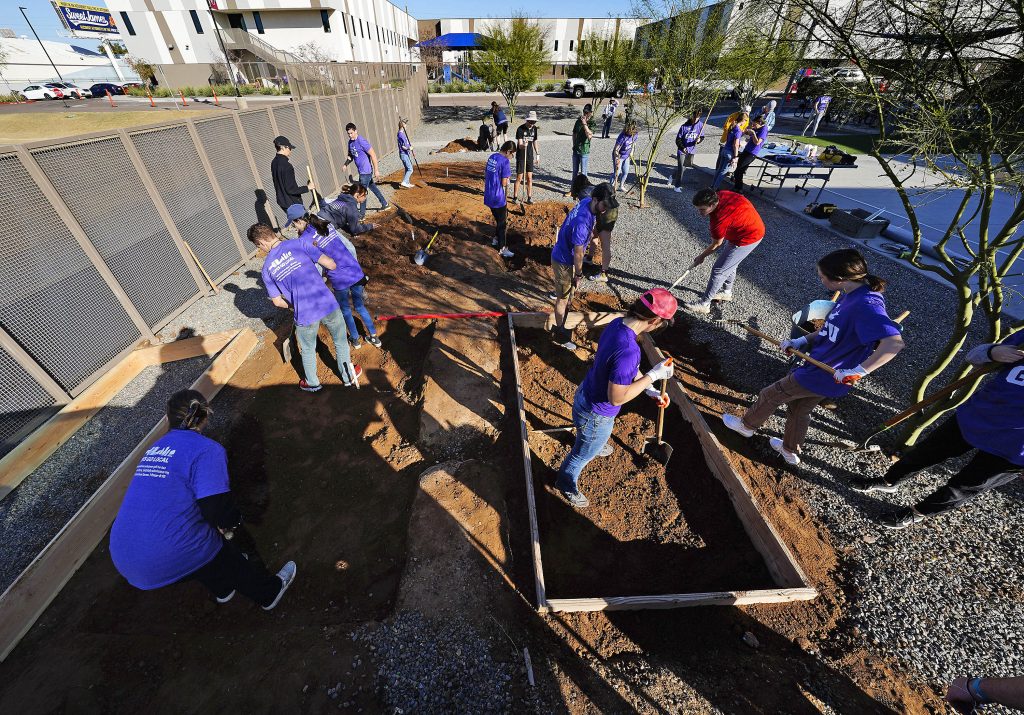 "Our school philosophy is to try to take textbooks out of it and put the real thing in front of students in everything we do," said Barringer. "… There is nothing better than seeing the students come out here, do something outside of the classroom and smile, joke and laugh, and enjoy being in school."
The garden wasn't the only thing GCU planted at the school.
GCU CityServe, which supplies the community with much-needed household goods and other items, delivered four pallets of merchandise, from teacher-requested office chairs to bean bags, soap dispensers, games (including 100 jump ropes) and gardening equipment.
Slider spoke of the school's nine core virtues, two of which are responsibility and citizenship.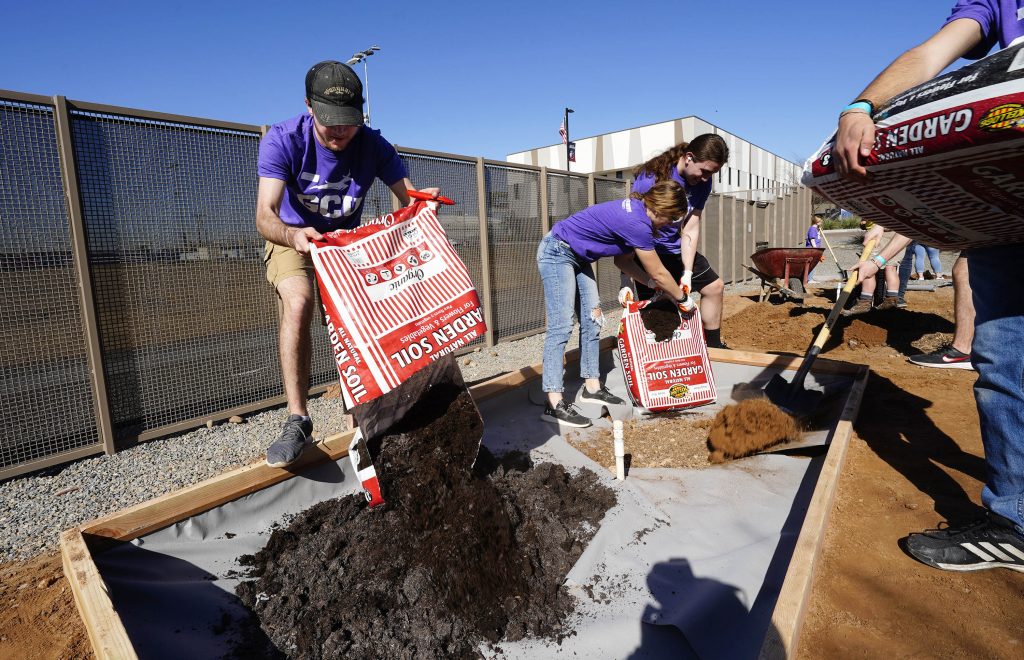 "This (garden) gives them a very tangible way of being responsible for something that's for the good for the whole citizenry … and also (to be) responsible for something outside of themselves," Slider said, qualities GCU's students embodied.
Freshman business management major and garden volunteer Ashlyn Janzen said, "I think it's so cool to see all the GCU students come together and do a project for the community in the name of Jesus."
Barringer agreed.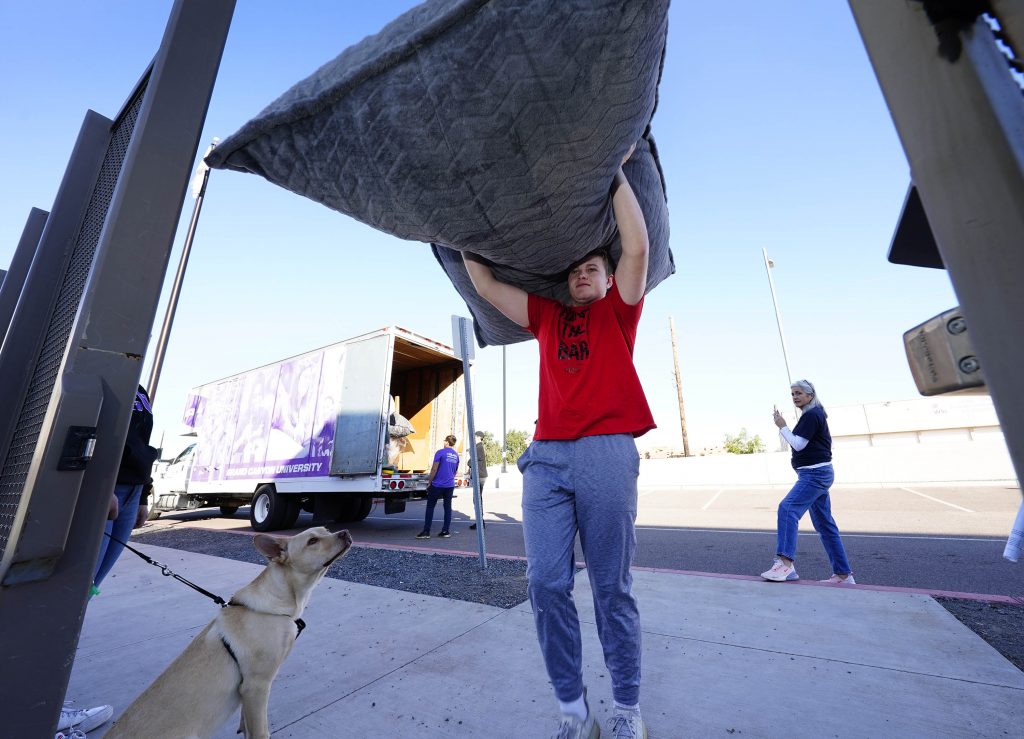 He said of GCU's students, "Seeing them give up a Saturday morning … to come out here and make an impact is just awesome to me."
Kindness of strangers
GCU students' generosity extended beyond Maryvale Prep's garden to include improvement projects at 10 homes, including the Pierson Street home of Susan Sandoval, just a few blocks from GCU's 33rd Avenue front entrance. It received the attention of the wildly exuberant men's soccer team. Players cheered and whooped at check-in, when they were told they would be shoveling landscape rock.
"I think I ran out of tears," said Sandoval after seeing an army of students marching to her door, then watched in awe as a flood of students covered her front yard with landscape rock. As the sun rose, she tapped her hand to her forehead in disbelief at the sight. "This is just INCREDIBLE! God bless them," she said.
Sandoval inherited the home her parents bought in the 1970s after her World War II veteran father and her mother passed away. A bad back prevents her from making the kind of renovations she wants on the home.
"Simply, on my own, I couldn't do it," she said.
GCU's students could, knocking out landscaping and painting projects in about three hours.
The ultra-spirited men's soccer team approached their coach, Mike Kraus, about signing up for Lopes Go Local.
"One of our team captains, Sam Lossou, came and said, 'This is what we really enjoy volunteering and doing,'" said the first-year GCU coach, who was helping lay down landscape fabric on Sandoval's front yard.
Kraus said one of the things that drew him to the University is its work in the community.
"Anytime you can give your time, that's probably the most valuable thing you've got. … It really makes it worthwhile when young men, who aren't always the most enthusiastic when you tell them, but once you're out here and you see them enjoying themselves, and they get to see who they're helping and what the benefit is, that's what really takes it over the top."
Lossou didn't hesitate when it came to signing up for a Habitat project.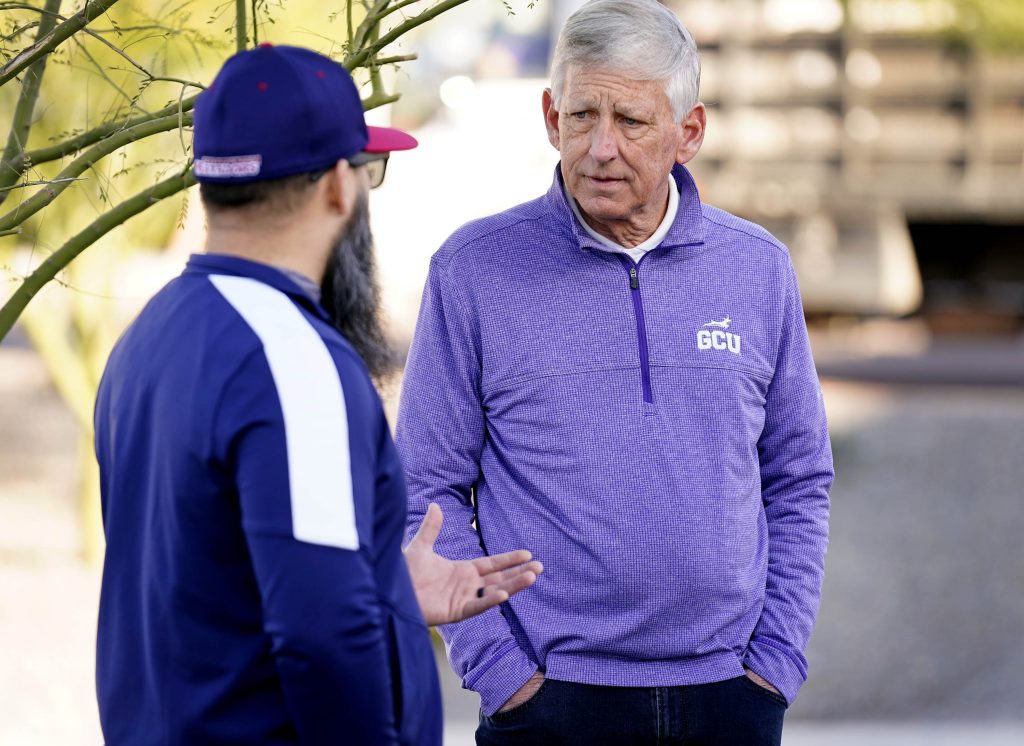 "We're just a team full of a bunch of energy, and we want to use that toward a good cause, so why not help somebody who needs it," he said. "… At the end, you feel happy, not just because you helped somebody out, but because you had a productive day."
Sandoval was amazed by GCU's students.
"They were coming up to me and saying, 'Hi, Ms. Susan. Their parents did it right. … I'm just overwhelmed by this kindness," she said as she reflected on so much in the world that's disheartening. "… To see all these young people come and help me — just the kindness of strangers is incredible."
Good neighbors
That kindness extended, too, to the home of Michelle Brazil. Her home is so close to campus she can see GCU's Technology Building outside her front door.
While men's soccer team players didn't populate her lawn, GCU local outreach ministry students such as Justin Eckler, a junior finance/economics major, painted her house. They were distracted only occasionally by family dog Dodger, who sought belly rubs.
Eckler loved hanging out with his friends, "doing good and staying out of trouble," he said with a smile. "We just wanted to do what we could do in the community."
Saturday's paint work wasn't the only project GCU and Habitat have completed for Brazil. They also installed windows and laid down landscape rock.
And the University has been a big part of Brazil's life in other ways.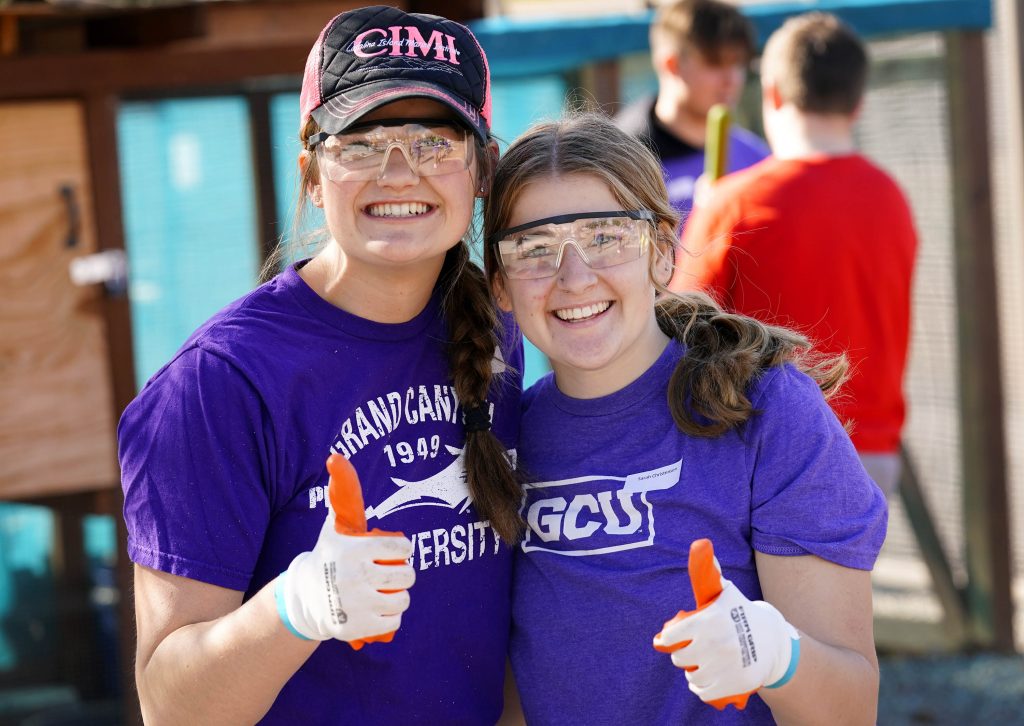 Faith Weese, a GCU community liaison before her retirement, often would connect Brazil to athletic tickets and tickets to other events. And Brazil's son, Nathaniel, receives academic help at GCU's Learning Lounge.
She echoed what so many Lopes Go Local project recipients said about GCU's heart for the community: "It's amazing," Brazil said. "This whole program is amazing."
GCU Manager of Internal Communications Lana Sweeten-Shults can be reached at [email protected] or 602-639-7901.
Related content:
GCU News: Lopes Go Local special to neighbors, students