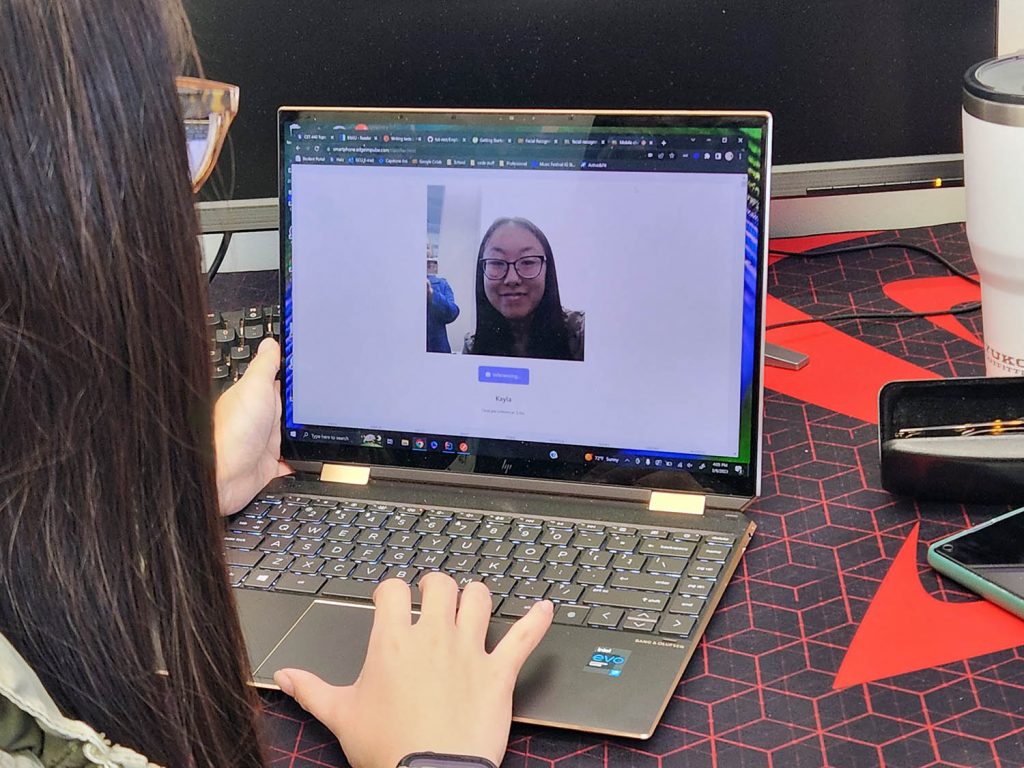 Students explore everything from facial recognition to ChatGPT
The Yahboom Raspberry Pi Tank putters along the floor of Grand Canyon University's Virtual Reality Lab, the glass-walled classroom on the first floor of the Technology Building.
Evan Lee controls the toy-car-sized artificial intelligence robot wirelessly with his smartphone.
"It has a bunch of different types of sensors. It's got lights, depth sensors, it's got a camera, as well," said Lee excitedly, one of the senior-level computer science/big analytics majors in Dr. Isac Artzi's CST-440 class, which teaches the principles of machine learning.
But Lee is even more excited about his team's class project.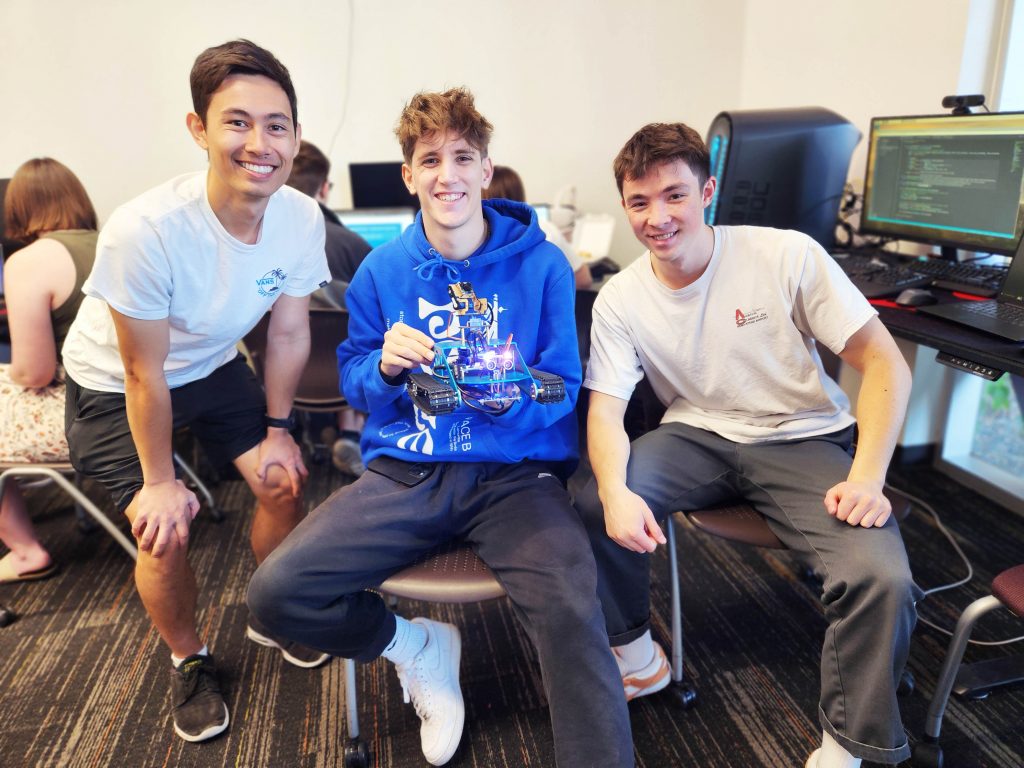 The goal is to place facial recognition software programmed by his team onto the robot so it can use its camera to recognize people and follow them around.
"The Amazon version of it, the robot that follows you, is like $4,000," said Artzi. " … You don't need a $1,000 iPhone to be able to do facial recognition."
The Yahboom Tank? It starts at $149.
Of course, the implications of a robot with facial recognition technology are much bigger.
"You can tell the robot, 'Go find Evan' and give him a message. We can put a little screen that will display a message only when that person is recognized. Or, if there's a platform, you can put a drink on there and say, 'Go deliver this to that person.'"
Lee is anxious to present part two of the project, the facial recognition software that teammate Hunter Egeland is testing. The software recognizes him and Lee when they're standing next to each other, but when a third person pops into the picture whom it doesn't know, it declares: "Unknown person."
Lee said the team is working on perfecting the facial recognition software and an app they're also creating to control the tank by the time the class project is due.
The Yahboom Tank is just one of the array of projects students are working on that focus on deploying machine learning applications on small microcontroller devices called Arduino boards.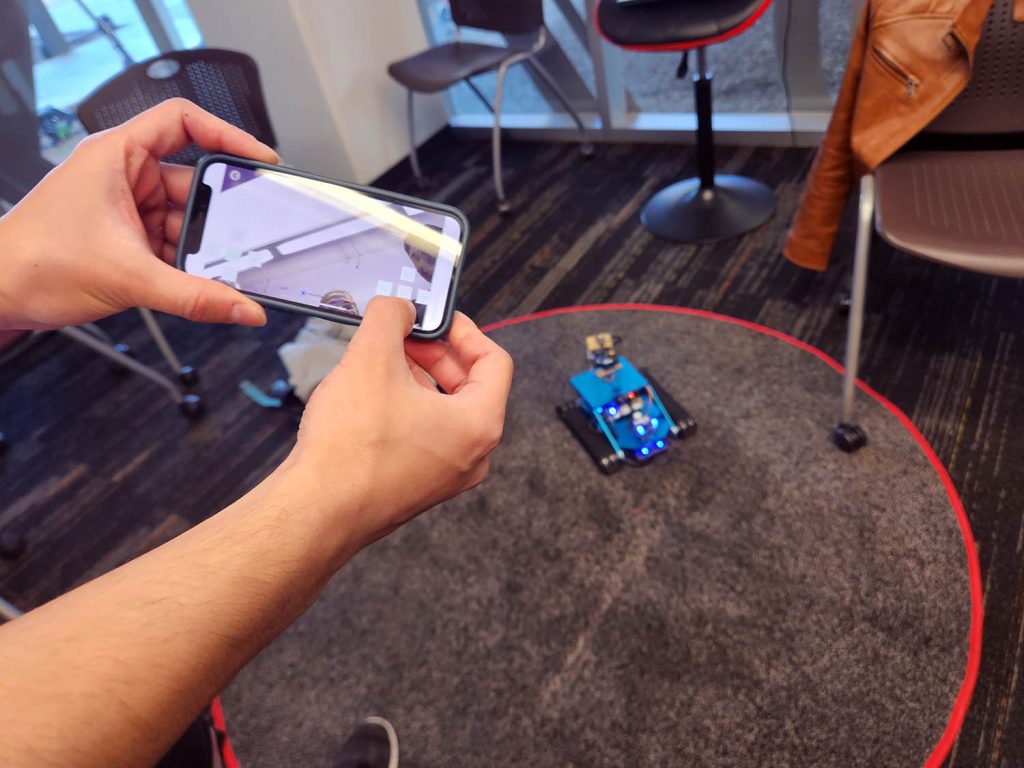 "Every current tech buzzword is present in these projects — edge devices, artificial intelligence, machine learning, smart glasses, AR (augmented reality), ChatGPT," Artzi said of the cutting-edge technology students in the class are working with and the projects they're working on to prepare them for their first post-graduation jobs in the tech industry.
The class has explored voice, gesture and facial recognition using small devices and tiny cameras, and they're working on various open-ended projects they'll display at the Technology Capstone Showcase April 20 at GCU Arena.
Kara Sumpter and Kayla Zantello are busy in class fine tuning their facial recognition model: "We get really good accuracies, but when we try our live tests, it only recognizes Kayla at the moment," said Sumpter.
But the final class project they're anxious to talk about involves creating a machine-learning application that reads electroencephalogram waves (EEG waves, an indication of the electrical activity of the brain) using an EEG headset.
The headset includes pads on which users place saline solution to ensure conductivity.
"It collects brain wave data. It can also look at different performance metrics, so like how engaged you are, how excited, how focused."
Technology Capstone Showcase:
9:30 a.m.-noon April 20, GCU Arena
But for Sumpter and Zantello, "Our goal with this is to be able to create a program that recognizes when people have suffered a concussion or similar traumatic brain injury so they can receive the treatment that they need," Sumpter said. " … We collected some data yesterday, which looked super cool."
To do that, Zantello said her team will feed data sets into their model from someone who had a concussion and from someone who did not, "and we'll just train the model to recognize the difference."
When someone puts on the headset, the model will tell them the percentage of likeliness that person has a concussion.
"We kind of see it in the mind of using it in sports, like football, where it could be applied on the field or even in players' helmets," Sumpter said.
Adam Abrams-Flohr is working on a couple of facial-recognition projects, one that recognizes gestures and another for his team's capstone project: a firing system that will use facial recognition to operate a foam ball launcher.
His team was busy debugging one of the programs, but the other, he said, is "a pretty robust program and is basically fully functional for our capstone; it does everything we need it to do," he said.
The facial recognition program prioritizes one face at a time — whichever face is closest. It tells you the distance the face is away from the camera and where it is in relation to the center of the screen.
Abrams-Flohr said not only has he and his CST-440 classmates explored facial recognition, but they've created programs that recognize voices and words that you say.
And they've worked with ChatGPT to help improve their code bases, with Artzi's approval.
"With strong encouragement," said Artzi, a proponent of new technology and using language models such as ChatGPT so students can aren't stuck in the minutiae of writing code and can focus on the nitty-gritty aspects of their projects.
Abrams-Flohr said in this class, "You are learning all the interesting artificial intelligence stuff you see all over the internet nowadays."
Artzi shares one of the scenarios he and his students have discussed in class.
Imagine, he said, being at a social networking event where a hidden camera scans the face of the person in front of you. That technology detects who that person is and instructs a computer, via wireless connection, to search his or her profile on LinkedIn. The app on the computer then asks ChatGPT to suggest three conversation talking points to engage that person.
You're wearing smart glasses or AirPods and see or hear those talking points.
"From introvert to networking hero in 30 seconds," Artzi said.
It could be something Abrams-Flohr might experience in his lifetime as he prepares to graduate in April and start a job with aerospace and defense company Raytheon Missiles & Defense.
"This class is doing a great job in preparing us for the things we need for the future," he said.
Internal Communications Manager Lana Sweeten-Shults can be reached at [email protected] or at 602-639-7901.
Related content:
GCU News: Showcase orbits around virtual reality projects