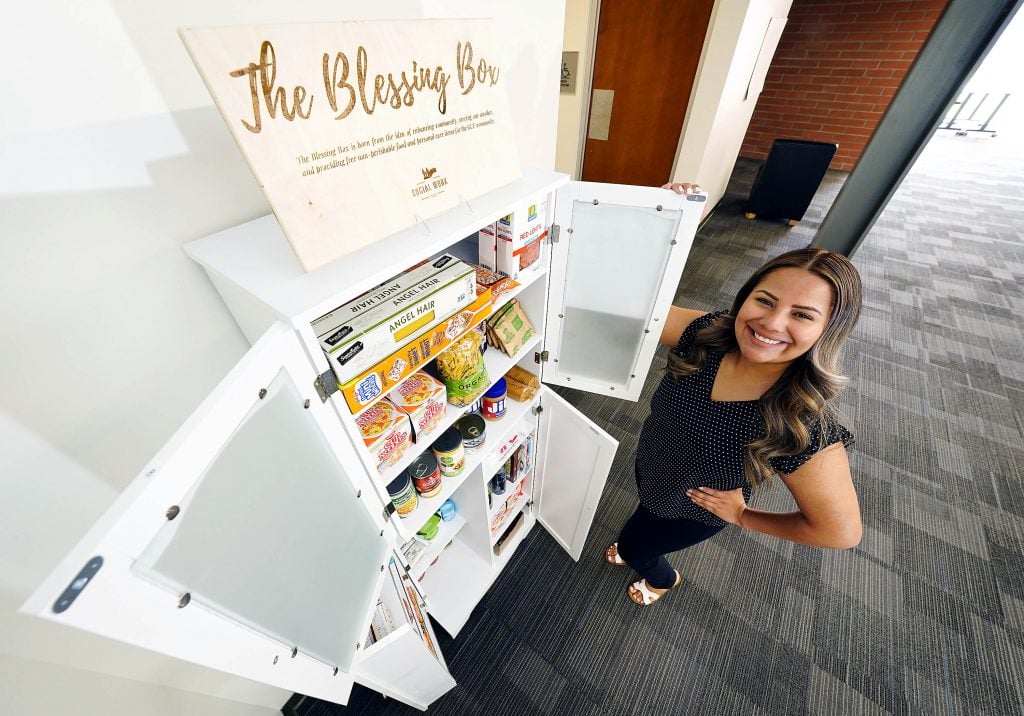 Photos by Ralph Freso
Ashley Tobar-Alonzo will graduate next week but is leaving a legacy at Grand Canyon University.
She had the idea for The Blessing Box, and it speaks to her passion of social work.
Even though she is a commuter student, Tobar-Alonzo heard a lot her friends talk about being short of food, especially toward the end of the year.
"They run out of Dining Dollars and some students don't have cars to go off campus to the grocery store or just run out of money," said the senior with a double major in sociology with an emphasis in social work and behavioral health sciences.
"What if," she asked at the start of academic year, "we start a food pantry on campus?"
Tobar, president of the Sociology/Social Work Club, has worked on the idea since then. On Tuesday, she stood aside a fully stocked white cabinet filled with food and personal care items on its first day of operation on the second floor of the College of Humanities and Social Sciences Building (16).
Inside were many nonperishable items, including rice, spaghetti sauce, mac & cheese, cereal, peanut butter, nuke-and-serve cups and the ubiquitous Ramen noodles.
"I think that is a staple in many dorm rooms," Tobar-Alonzo said.
Within 24 hours of the club posting about the pantry on its Instagram account, students already had made a dent in The Blessing Box, which also includes personal care items, such as toothpaste and soap.
Makisha Gunty was busy refilling it Tuesday morning with items she brought in, including a giant box of Frosted Mini Wheats. Gunty is the Sociology and Social Work Department Chair and a big fan of what Tobar-Alonzo and the club took on.
"It's right in line with what I believe to be Christian values and our social work values. It's a beautiful manifestation of what we are about as professionals and people," Gunty said. "I'm very proud of Ashley and her efforts."
It's not just as those-kids-are-always-hungry problem. It addresses a real issue of food insecurity, the lack of reliable access to enough affordable, nutritious food, a problem at colleges nationwide. According to a 2016 study by university food bank alliances, 48% of survey respondents reporting food insecurity in the prior 30 days.
And food insecurity among college students is related to lower grade point averages, according to the Journal of Health Psychology.
Earlier this month, GCU's Canyon Community Kitchen and Nutrition Club held a food distribution event on campus and 900 bags of food were issued in one hour.
But Tobar is looking at this as a long-term solution, one that took a bit of legwork.
She approached student clubs, the student government and University leadership to get approval. She reached out to College of Humanities and Social Sciences Dean Dr. Sherman Elliott. The college chipped in the money for the cabinet and space to house it. The faculty will also keep it stocked during the summers.
There was finding space for the donation drop box – on the 5th floor of the Student Services building right as you come off the elevator.
She even had to do some construction when she got the cabinet box from Amazon.
"Yesterday, she put together the 800 pieces of the cabinet, which is really a social work skill. You show up for work and you may be putting together an 800-piece cabinet," Gunty said. "Or engraving a sign."
Tobar approached the Engineering Department for materials and tools to make and engrave a The Blessing Box sign.
It was a learning process, executing the operational aspects of a social work mission in addition to scheduling who will pick up, sort and stock donations – and keep it going long after she graduates.
"Through the establishment of the pantry, I believe that I was able to demonstrate not only my Christian principles but also my values as a social worker, she said.
GCU faculty, staff and students who have extra can support the pantry, placed inside because of Arizona heat.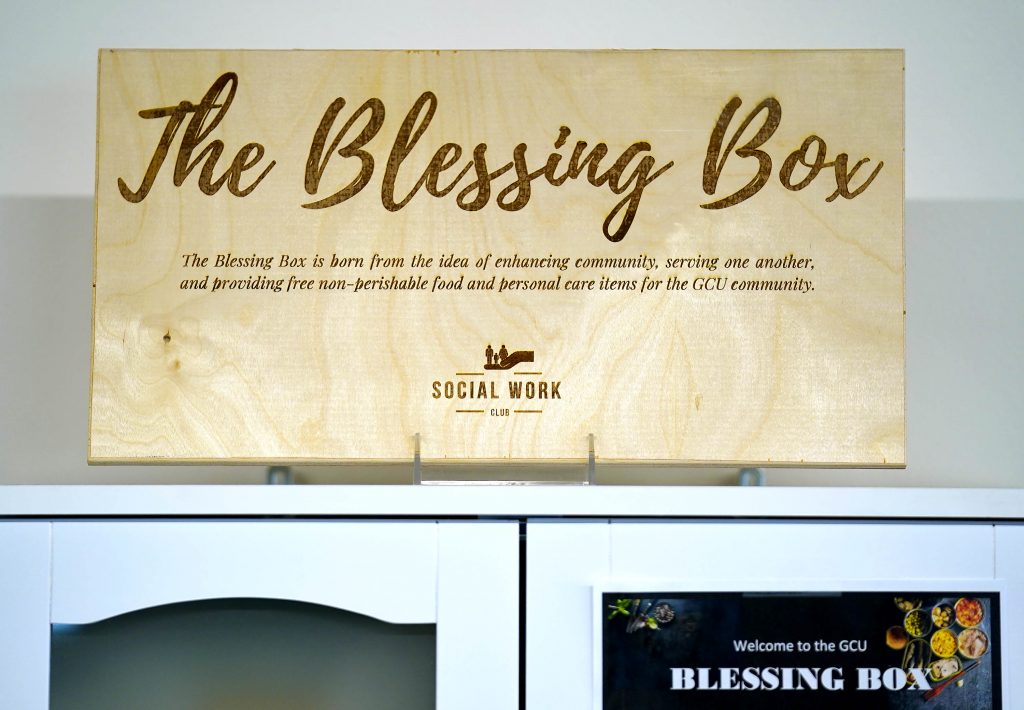 Erin Kisser is a student who has a little extra. She has already tossed in a few items and will take over as president of the club next year.
"It's a legacy that I get to say I was a part of. I'm excited to run it after Ashley's graduation," she said.
Gunty said they will gather anonymous survey data from recipients – this is sociology, after all – to see who is using it and whether they live on campus or off and other demographics. But its heart is encouraging "students to love and care for one another."
It has already warmed the heart of Tobar-Alonzo.
"All these donations so far are from faculty," she said. "It really shows they care about students."
Grand Canyon University senior writer Mike Kilen can be reached at [email protected] or at 602-639-6764.
***
How to donate: Drop of nonperishable food items and personal care items in the donation box on the fifth floor of the Student Services Building (18) between 9 a.m.-5 p.m.
How to receive: Go to the second floor of the Humanities Building (16), look for the white cabinet labeled The Blessing Box and fill up one bag per visit.
Related content: Campus distribution event addresses food insecurity