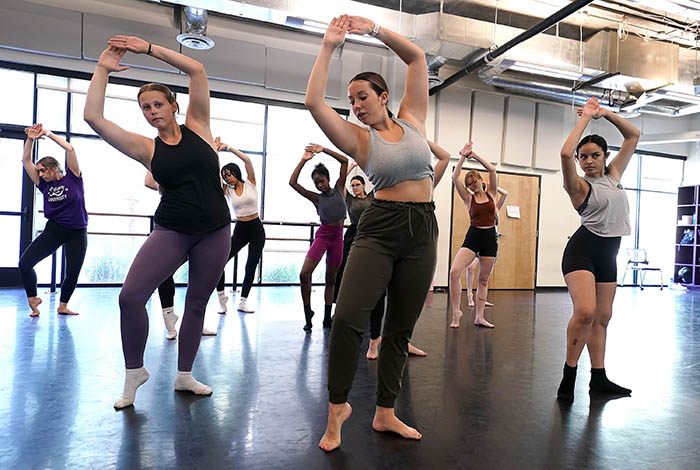 When the clock strikes summer, Grand Canyon University gives 14- to 24-year-olds an opportunity to experience college life through dance.
The recent Summer Dance Intensive is a weeklong experience, including a performance that showed their families what they learned. This year's Intensive included 11 students, five of whom will start classes at GCU in the fall semester.
"This is a really cool opportunity for them," Director of Dance Bekki Price said. "It's like a pre-professional program for them where they get to train all day and then connect with the other students in the Intensive in the evening."
Dance performance major Trinity Gracia, an assistant in the camp, said, "I think a lot of these things that we do in college dance programs, it's hard for kids to find those experiences before they go into college. I know from experience because coming into college was kind of a culture shock for me.
"I think it's really good for these kids to come and do this experience and have all the experiences they would have in a college dance program to (1) know whether they would actually do it and (2) know that it's out there because I know sometimes it's not as accessible. It's good for them to be exposed to more aspects of the dance culture."
The leadership of the dance staff was reflected onto the students.
"It's so versatile. There's so much happening, and all the teachers have been so helpful in each of the areas. There's not one that is stronger than the other, and that's what I really like about it," says Paige Heilig, a student who will attend GCU in the fall as a double major in dance ed and entrepreneurship.
Heilig dreams of owning a dance studio where she can do the teaching. Her aspirations for teaching dance have only grown stronger during the past week.
"I can learn from them and their teaching styles and techniques," she said.
Claire Allen, a student at the Arizona Conservatory for Arts & Academics, is learning to break out of her shell. She heard about the Dance Intensive from her mother, Candace Stewart, a coordinator in GCU's College of Arts and Media.
"I definitely have learned to open up and ask questions," Allen said. "The teachers make the environment so comfortable, so I don't feel bad if I say, 'Oh, how am I supposed to do this certain thing?' They are very open to explaining it, especially since all of us dancers are at different levels. I feel super comfortable asking questions."
The girls grabbed every meal together and spent their time off having game nights, movie nights, an optional Bible study session and a pool party.
Those activities create friendships that could last into their college years and beyond.
"It feels like a small town," Heilig said of the campus. "I immediately clicked with three or four other girls that are coming in the fall. They were the first people I met, and we have stuck together ever since. It has been a great opportunity to know what it's like, and I love it."
****
Related content:
GCU Today: Dance Intensive gets students jazzed about college