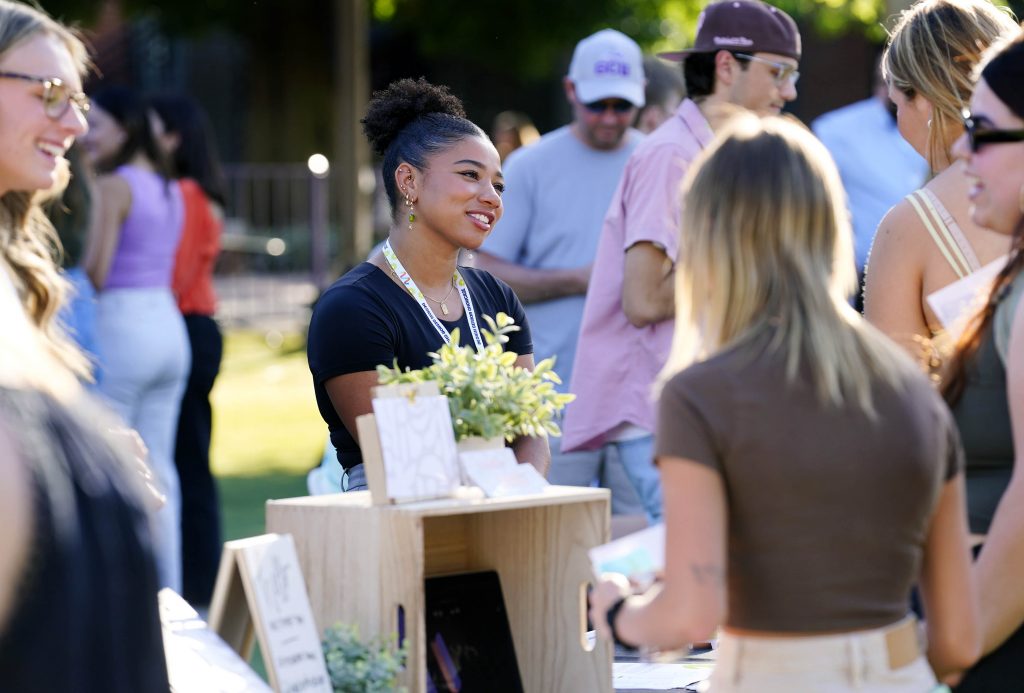 Photos by Ralph Freso / Slideshow
"Yeah, girl." "Werk."
They're part of Dominique Merrell's vocabulary and are emblazoned on the stickers that the Grand Canyon University graphic design and advertising major gave away Thursday on The Quad at the College of Arts and Media's Design Showcase.
Also part of her love language? Telling stories through her designs, such as the throwback, earthy vibes of the cans of Rumble root beer she re-imagined for a class project. They're sand and arctic colored with the company logo of mountain peaks in the center hugged by a rounded-off window.
The company that makes the drink gives 20% of its proceeds to fighting climate change, which drove her creative process.
When you ask about her style, she said she loves clean vibes. But in the end, "It just depends on what someone is looking for — what story I'm trying to tell."
Merrell, who's from the Seattle area, said learning to convey those stories through her designs is something her GCU professors encouraged her to do.
"They did a really good job of highlighting the importance of storytelling, how to make yourself stand out from the competition, and that's something I wanted to take advantage of being a person of color."
Merrell emphasized how the design industry lacks diversity. She'll be moving the needle a little bit after graduation when it comes to diversity, already having landed a job with an advertising agency in Seattle.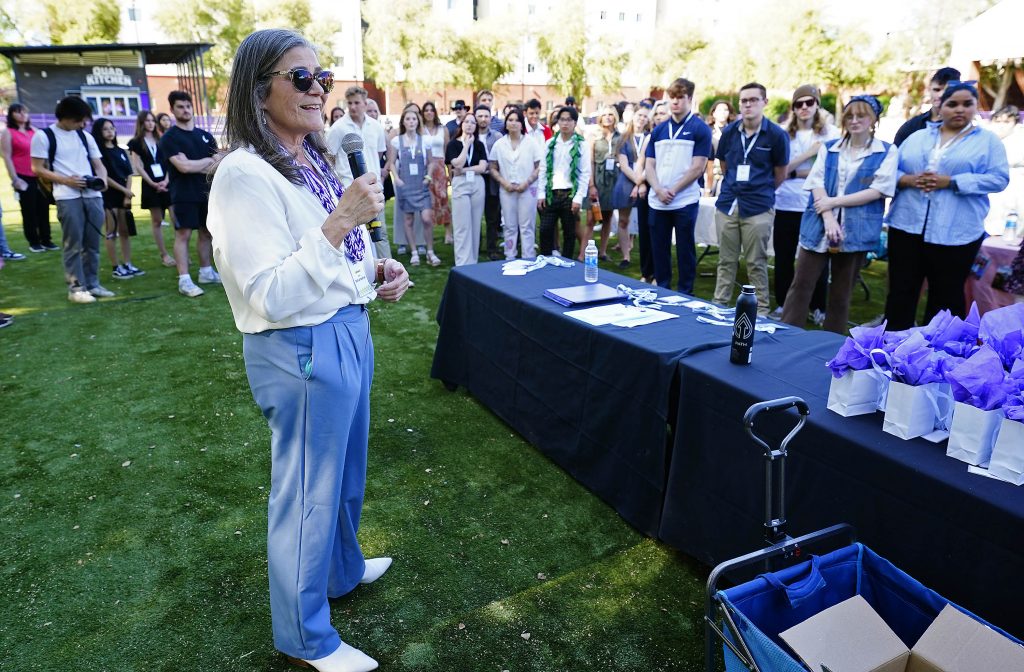 Merrell was one of more than 70 College of Arts and Media advertising, graphic design, web design, animation, 3D modeling and other design students culminating their college journeys at the showcase, where they shared their portfolios with the campus community and industry representatives.
Just a few years ago, you could find the showcase spanning the college's hallways and classrooms. The program has grown so much that it now fills half The Quad.
"It's grown with our enrollment, which has been dynamically increasing," said Sheila Schumacher, Director of Digital Design Programs. "… We're seeing 300 students enrolling every semester."
Traditional Commencement
7 p.m. today: Colleges of Arts and Media, Business, Nursing and Health Care Professions, and Theology
9 a.m. Friday: Colleges of Education and Science, Engineering and Technology
2 p.m. Friday: College of Humanities and Social Sciences
7 p.m. Friday: Colangelo College of Business
Those students will end up at the showcase, this year the day before graduation. The College of Arts and Media's students will walk the stage at GCU Arena tonight, the first of four Commencement ceremonies for traditional students today and Friday.
Assistant professor of design Chris Murphy, who teaches a portfolio class, said the class and showcase "allows students to compile their work in a professional-level portfolio, and it helps them go out into the field and showcase that work so they can get jobs."
Schumacher estimates about a third of the seniors at the showcase already have landed jobs, like Merrell.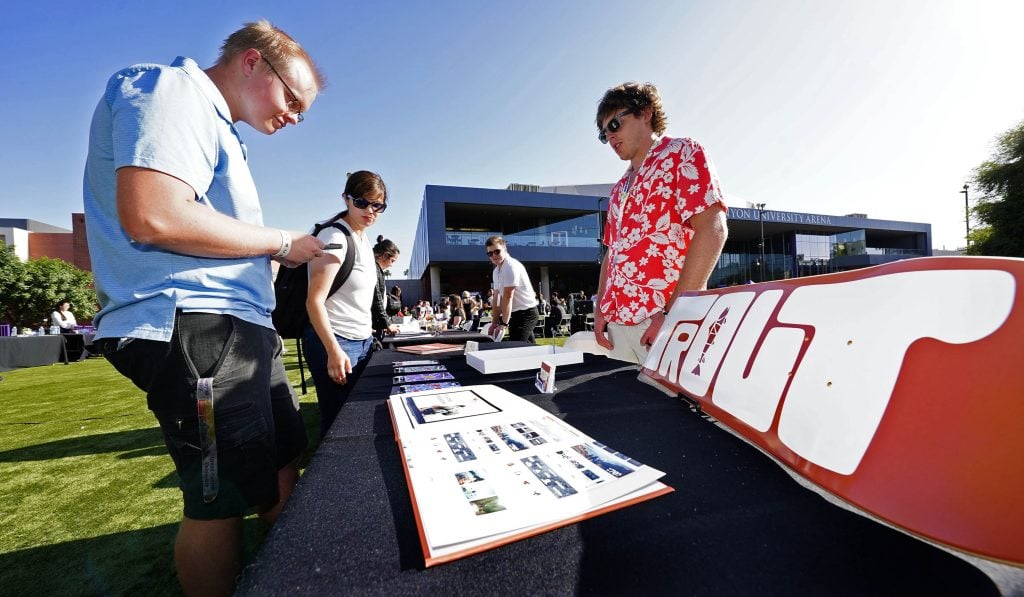 "We have students employed in the gaming industry, in app development, lots of advertising agencies, digital media, social media airlines. You can't have a company and NOT be pushing your message out," she said.
The showcase allows the University and industry to see that these students are "viable, employable students with skills that every department at our University needs."
Graphic design major Tyler Trout also will walk from the Commencement stage to his first job out of college. He was interning at Senergy Petroleum, which offered him a full-time position as a marketing automation specialist. He'll be doing email marketing and building landing pages.
GCU's Advertising and Graphic Design program, he said, helped him hone his skills.
"I've always had a passion for design, but I've never practiced as much as this. But also just exploring different techniques and styles. I didn't think of myself as anybody who ever knew web design, but I ended up doing a little bit of that here."
Trout also displayed his other passion at the showcase — a skateboard he created, complete with his Trout logo. It's something he has done since sixth grade, also completing a surfboard when he was in France during a gap year before college.
Animation major Ava Cuttill showcased her Disneyesque, stylized illustrations of characters with big, bright eyes.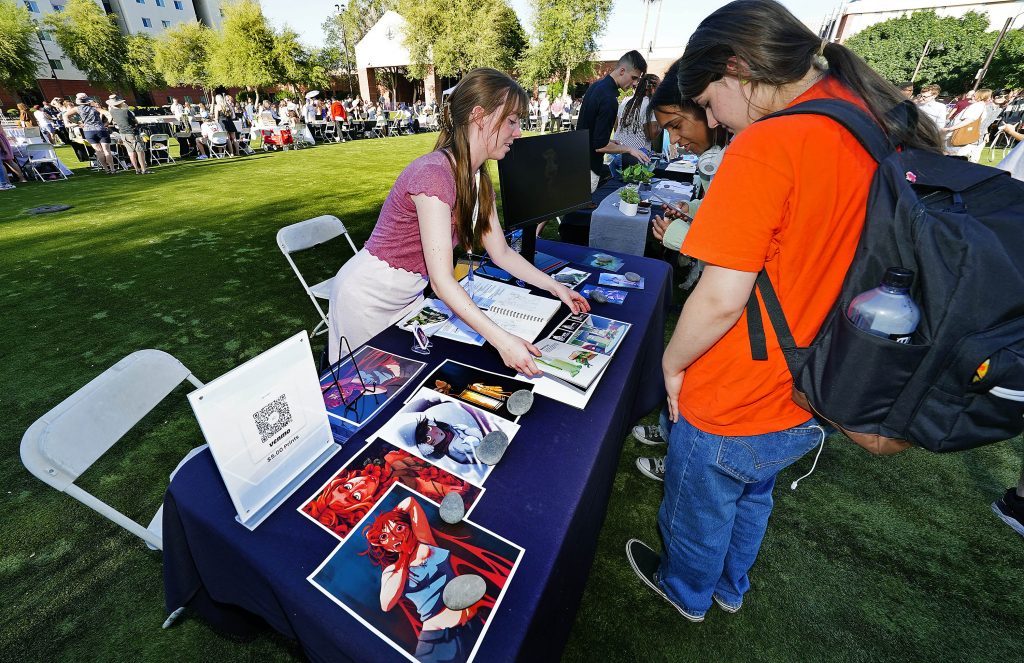 She discovered something new during her journey at GCU. Like Trout, who found a talent for something he never thought of before. Cuttill said, "Coming to graduation, I was set on illustration, but I think GCU has shown me that 3D modeling is the way to go."
It's taking two-dimensional illustration concepts and building it into a 3D space that's used to create the images in video games. Cuttill would like to "build fun props to fit into those games that I've grown up playing. … It's nice knowing that (3D modeling) is something I can do."
Cuttill, who's from the Phoenix area, chose GCU because it's a small school and was the only school she looked at that offered animation.
"It's what drew me here."
Emma Blake also wants to work in the 3D space. The 3D environmental artist, who showed visitors the photorealistic "Gravity Falls" Mystery Shack she made for one of her classes, wants to create 3D environments for video games.
"All the backgrounds you see in movies or in cartoon shows, that's what I would do," she said.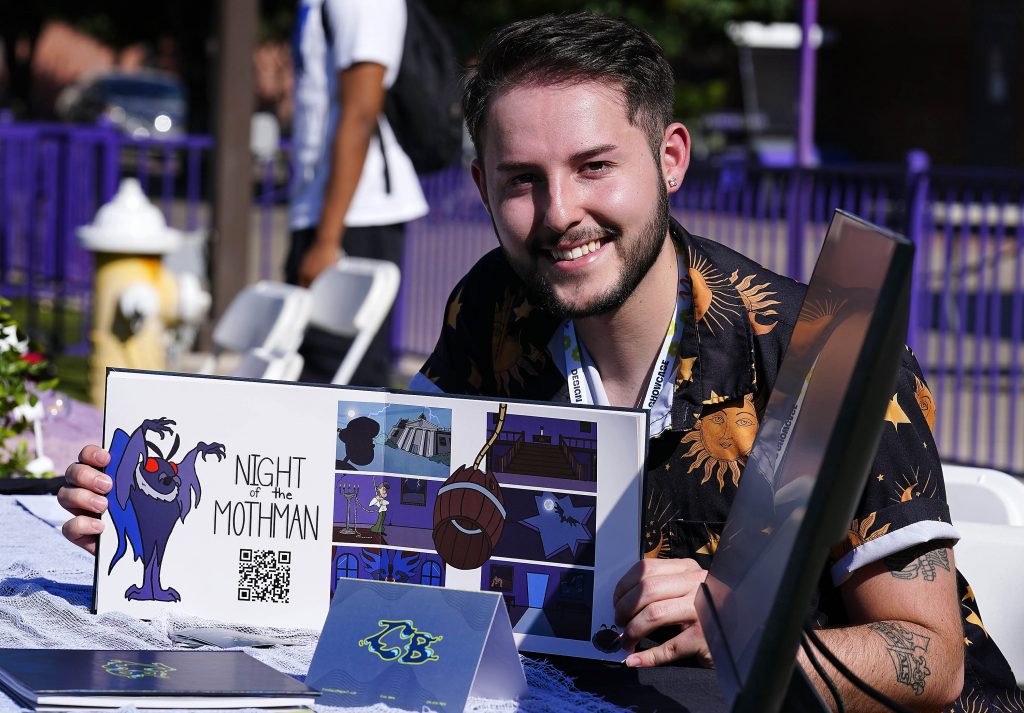 Cruz Baca, an animation senior from New Mexico, goes for a spookier kind of vibe in his artwork, such as the skeletons and ghosts in his "A Bone to Pick" and "Night of the Mothman" graphic storybooks at his table.
They're stories "that are my own, just stuff I want to do, tell my own stories."
He grew up watching cartoons and said his dream isn't so much to work for an animation studio. "My dream is just to make cartoons that can hopefully reach a new audience and inspire someone the same way I was inspired."
Graphic design graduating senior Amani Carrillo's heart is in off-roading T-shirts and jerseys that showcase his graffiti streetwear style.
"I love printing, I love making stuff come to life," he said.
What he loves about GCU is how that love of off-roading and the outdoors is something he shares with his family of GCU classmates.
"GCU is perfect. Everyone here pretty much loves the outdoors," he said.
It's a family of students that, after four years of design and animation projects and portfolio classes, will move on from GCU to tell the stories of their clients, as Dominique Merrell will for advertising clients, or even to tell their own stories, like Cruz Baca will in his animations.
And they'll share one more memory tonight as College of Arts and Media Dean Dr. Craig Detweiler reminded them: "See you at graduation."
Manager of Internal Communications Lana Sweeten-Shults can be reached at [email protected] or at 602-639-7901.
Related content:
GCU News: Bridges/Larson scholarship finalists screen films at showcase
GCU News: Theatre professor Claude Pensis stages 40th year at GCU