Karen Gengle grew up in Detroit and worked for auto titans such as General Motors and Volkswagen before serving as an adjunct professor in the Colangelo College of Business at Grand Canyon University.
That's just a sampling of Gengle's talents, as she has received considerable recognition for her botanical artwork at places such as Grand Canyon National Park and Sky Harbor International Airport.
It turns out that Gengle, who studied art and foreign language at Kalamazoo College in Michigan before earning her master's degree at Arizona State University's Thunderbird School of Global Management, has possessed a love for nature and botanical artwork dating back to high school that has swelled into a secondary career as a botanical illustrator.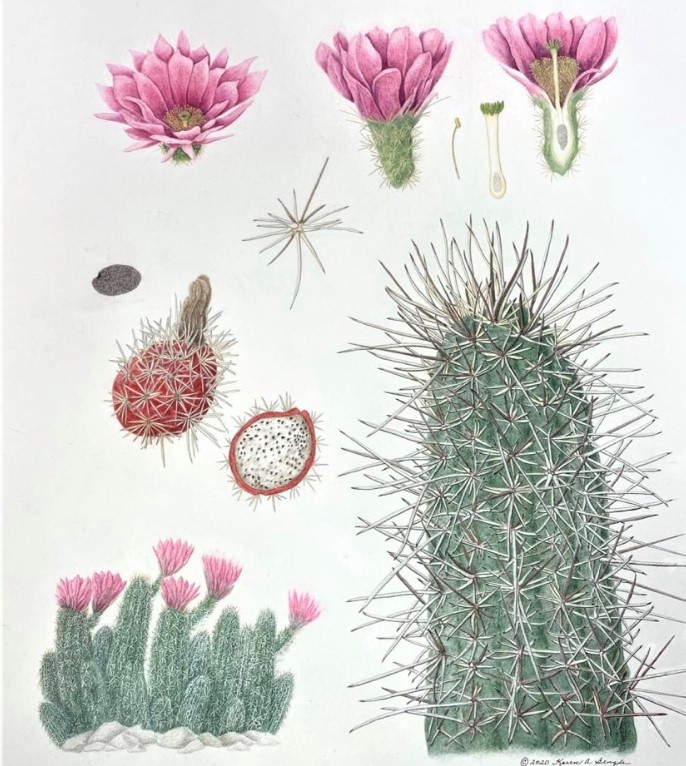 "I use my summers to focus a lot on the artwork, and during the school year I'm focused on the classes I teach," Gengle said.
Weekends during school year serve as a break for Gengle, who will enter her sixth season of teaching at GCU.
"Of course, my classes are a priority and I grade papers, attend faculty events and answer students' questions. I love the students at GCU. They're so respectful and energetic and feed my soul in terms of that interaction.
"But when that part is finished for the time being, then I turn to my artwork."
Gengle said her art journey was inspired by Sister Ignatius Marie, her high school art teacher. "She instructed students to include AMDG (Ad Majorem Dei Gloriam) on each piece, a practice I continue," said Gengle, who also emphasizes AMDG (For the Greater Glory of God) in her classes.
Gengle's work includes a heavy concentration of plants and flowers from the Southwest, another paradox, considering she spent her childhood in the upper Midwest.
Gengle quickly grew to love the Southwest.
She admitted her first stint in Phoenix was planned as a "quick, get my degree and go back" to Michigan, especially since she was still employed by Volkswagen.
"But all the time, I still enjoyed studying plants and botanic art, so it was always percolating in the back of always doing something botanical," Gengle said.
GM recruited her after graduation, but she soon was transferred to upstate New York.
"We just decided we really miss the Southwest, we have other things going on, so we chose to move back here," Gengle said of the move with her husband.
She was hired by Siemens Transmission Systems (now Siemens Communications) in the Valley as a project manager. The job provided her stability and eventually the opportunity to enroll in the botanical illustration certification program at the Desert Botanical Garden in Phoenix.
Gengle recalled the 12-class program took several years to complete, but the experience was worthwhile. The courses, taught by botanists and botanical artists, covered watercolor, pen and ink, colored pencil and graphite.
Her work, which was subject to a juried portfolio review, earned her a Certificate of Botanical Illustration in 2010 and the praise of a botanist who offered her the opportunity to produce exhibits.
"Tell me more," Gengle told the botanist.
Gengle became part of a group that produced "Grand Canyon's Green Heart: The Unsung Legacy of Plants," displayed at the Kolb Studio on the South Rim of the renowned park.
Two years later, her four pen-and-ink illustrations on the intermountain flora (covering the area between the Sierra Nevada and Rocky Mountains) were published in the New York Botanical reference manual.
"Things just took off from there," she said.
Eleven ephedra shrub drawings were commissioned for a doctoral dissertation at the University of Alaska.
Gengle's "Birds, Blooms and Bugs" exhibition was on display at Sky Harbor in 2014. Her watercolor piece, "Echinocereus Coccieus," was chosen for that exhibition. The cactus is commonly known as the scarlet hedgehog cactus.
"It was a good opportunity for her to have her work as part of that exhibit that could be seen by millions of people," said Gary Martelli, Phoenix Airport Museum curator.
Shifting from the business world to the teaching world at the University of Phoenix (2009-2017) and GCU hasn't steered Gengle from botanical art. Her pen-and-ink illustration of Englemann's hedgehog cactus is on permanent display at the North Mountain Visitor's Center.
She also seeks to improve. She's grateful for visiting famous gardens such as the Huntington in San Marino, California, and the Butchart in British Columbia.
"One that's on my bucket list is the Kew Botanical Gardens in England," Gengle said.
But there are obligations to consider first. When Gengle prepared her University of Arizona exhibition, she had to digitize her work, frame and label it and get the work approved so it's botanically correct.
"You can't rush creativity," she said.
Gengle hasn't thought about teaching botanical art, but her work has been recognized.
"When people say, 'Oh, you teach at Grand Canyon. Are you teaching art?,' I say, ' well no,' " Gengle said.
GCU senior writer Mark Gonzales can be reached at Mark.Gonzales@gcu.edu
***
Related content:
GCU News: GCU's Noggin Boss company caps climb with NFL licensing contract
GCU News: Manufacturing pathway launched at GCU to meet big need