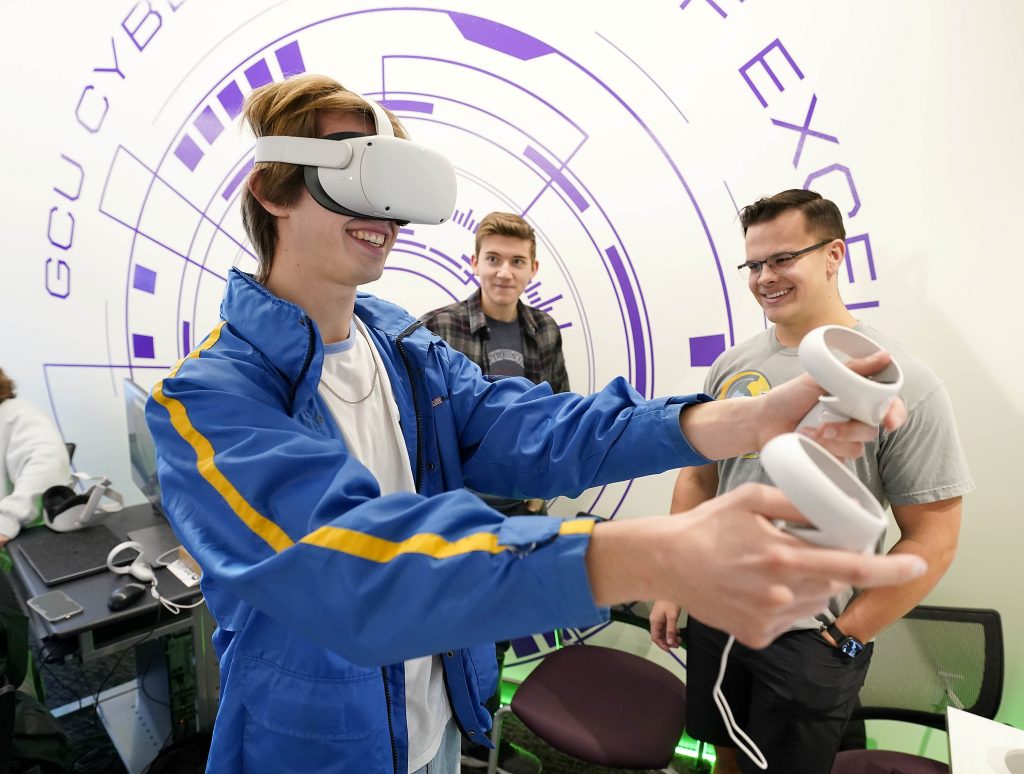 Photos by Ralph Freso / Slideshow
The assignment for the 75 students in the Human Computer Interaction classes this semester sounds like fun.
All they had to do was split up into teams of two to four, collaborate on reimagining a biblical story as if it took place at Grand Canyon University, then help people see it through the goggles of a virtual reality game.
But Dr. Isac Artzi's assignment came with three challenges:
None of these students knew anything about VR when the class started in September.
They're not artists.
Artzi's help was minimal. He demonstrated where to find what they needed, but that's about it. They pretty much were on their own.
"It's mostly project-based learning, which is our favorite type of instruction," he said. "Give them a task they really identify with, and they learn on their own as they collaborate."
When the results were displayed Tuesday in the Virtual Reality Showcase in the Cyber Center of Excellence, visitors were alternately amused and astounded by the imaginations in the senior-level class.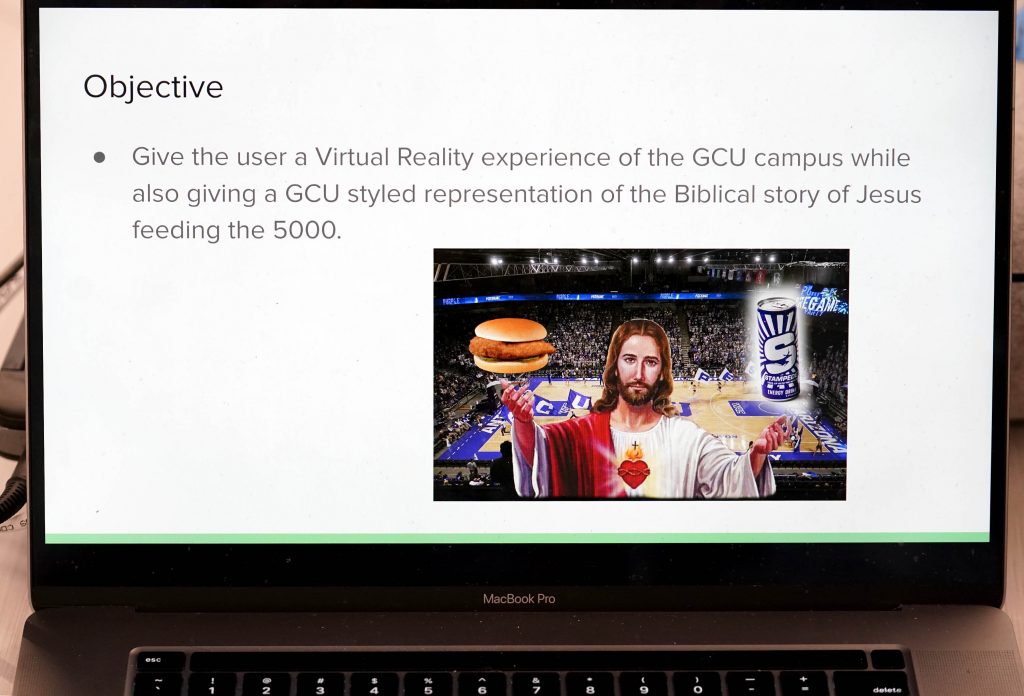 Take, for example, the creation of Dante Ciarabellini, David Novak, Blake Pierce and Aaron Galicia. They turned the gospel of the loaves and fishes into Jesus treating 5,000 hungry Havocs in GCU Arena to Stampede energy drinks from GCBC and chicken sandwiches from Chick-fil-A.
"It was a lot of fun – just a really cool experience that I never expected at GCU," Pierce said. "I thought I'd just be writing code. Building a virtual reality game is something I never expected to do."
The Havocs, GCBC and Chick-fil-A are pretty central to the GCU experience. So is homework, as evidenced by two other games.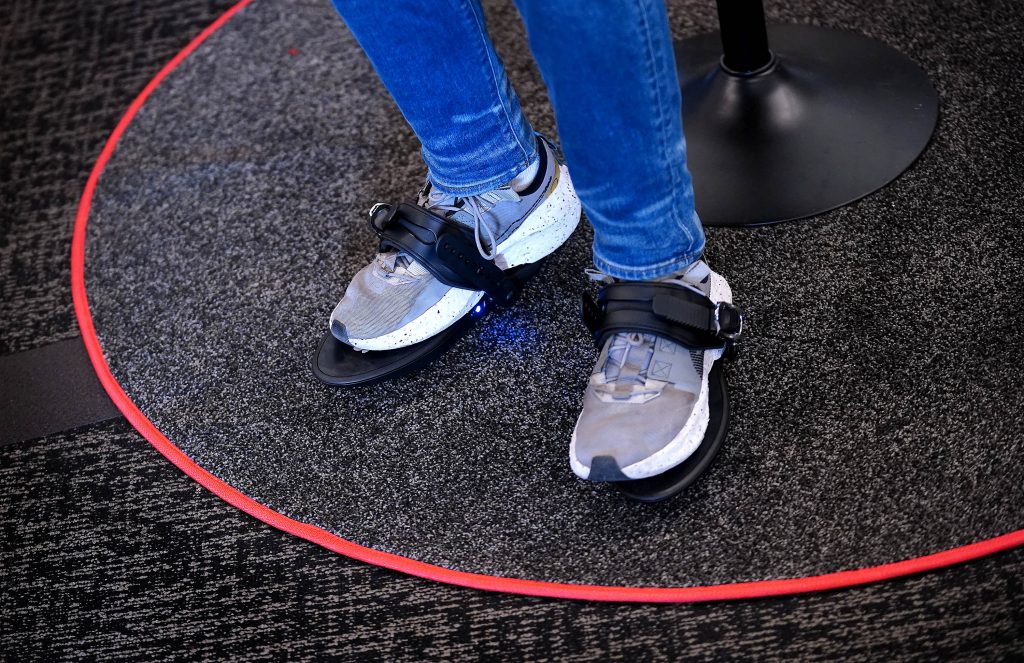 Nathan Dilla, TJ Potter, Ben Carter and Josh Canode re-created the story of Jonah and the whale with this scenario: A student runs away from homework and is swallowed by it, which returns the student to the residence hall to study more.
"We chose Jonah because we like how God gives you second chances," said Carter, who insists he always does his homework.
The group needed multiple chances to finish the project, which includes the use of cybershoes – special footwear that allows the user to simulate walking. Carter estimated that it took 10-15 hours a week, not including class time.
"We started from scratch. We had to figure out how to get the shoes connected with the headset, the whole program, the whole game," he said. "We spent countless hours in the lab getting it ready, sometimes nine hours in one day."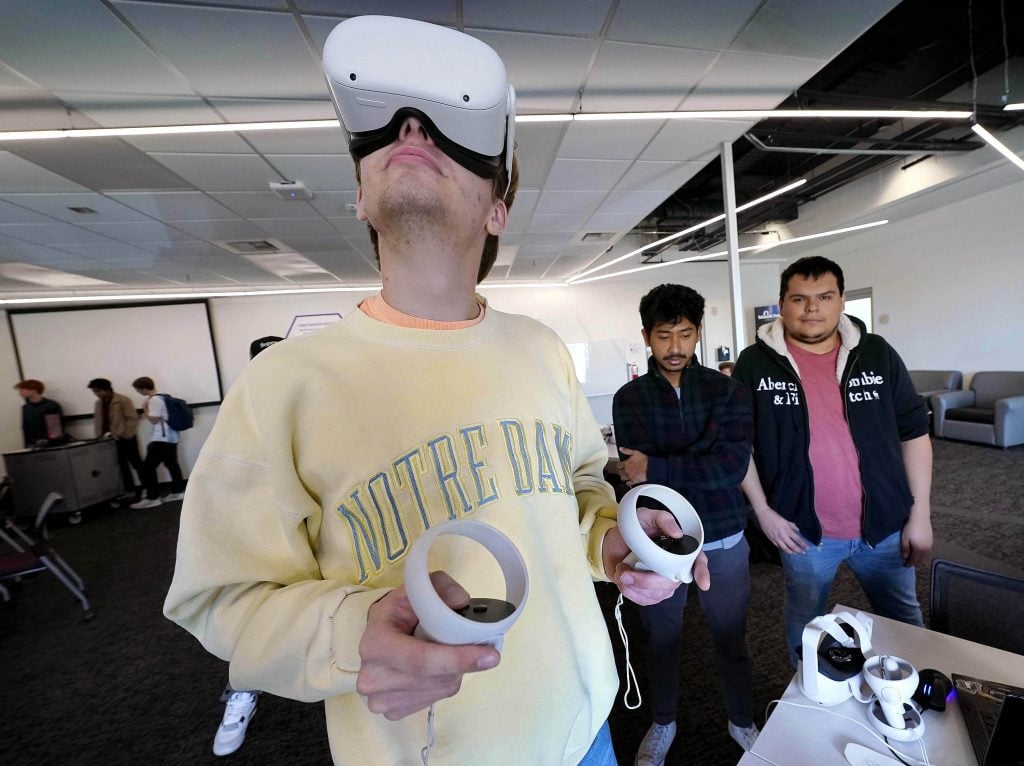 On the other side of the Cyber Center were Adam Ringwell, Jose Castillo, Panha Sim and Riley Monwai, who turned the tale of Sodom and Gomorrah into "Sodom and Grove-morrah." The idea is that students in The Grove residence halls weren't attending class enough or doing their homework, and there was a heavy price to pay for that in the game.
Ringwell likened the collaboration to building a car: "Someone's doing the motor, someone's doing the interior."
With an assist from one other source.
"There's a little thing called Google," Castillo said.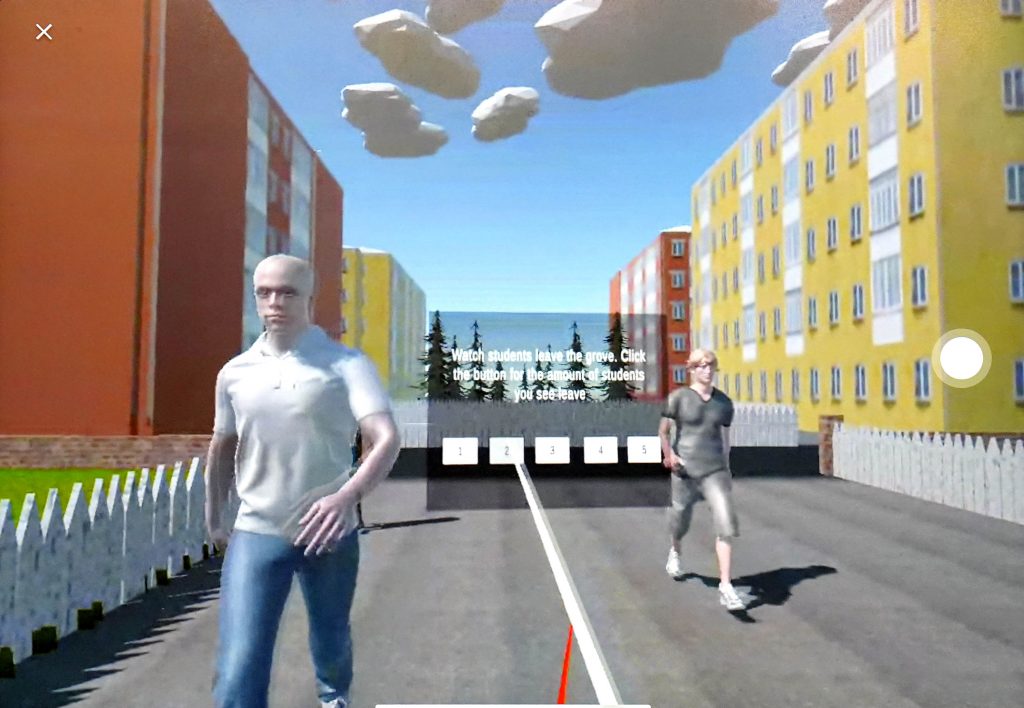 There also was what Artzi provided, such as tips about visual effects, animation, how to respond when two objects collide and how to create different colors.
"Every week we learn one topic, and then they find ways to adapt it and incorporate it into their project, if it makes sense," he said. "But they have total freedom on storyboarding."
The students could retrieve the objects they needed, such as buildings, trees, animals, furniture and people, from repositories on the web.
"They're not as perfect as if an artist had designed them specifically for this simulation, but they're free," Artzi said. "It's like copy and paste. Once you load it, you can stretch it, make it smaller, wider, make it fit. If you want a forest, you can find two or three trees and make a forest. You also can design terrain."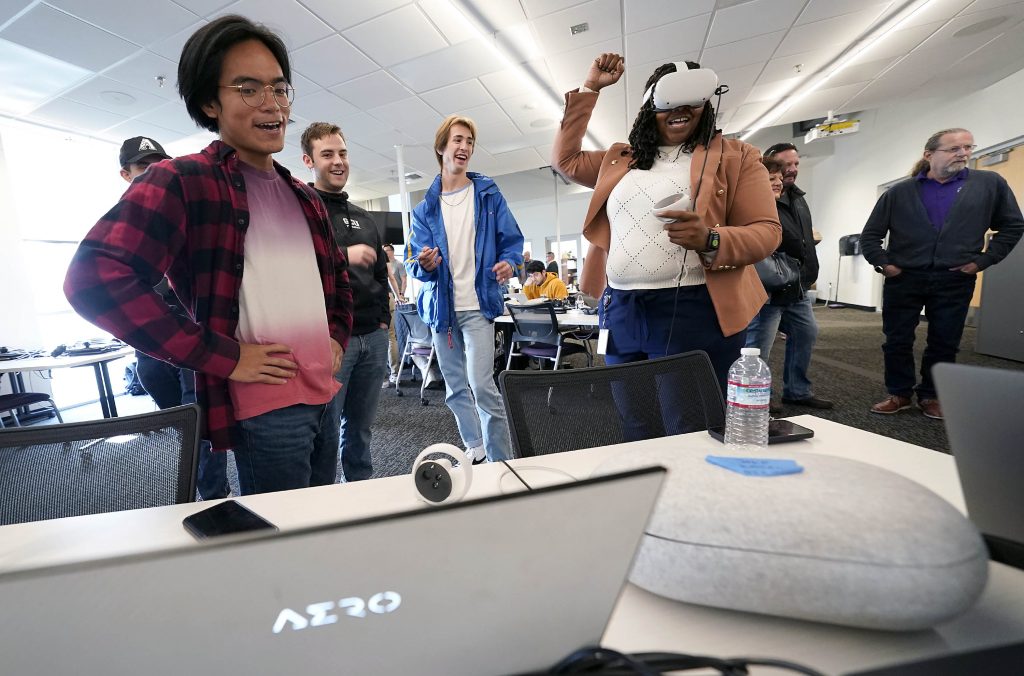 And even though it's the only artistic class in the computer science curriculum – Artzi likes to say that it puts an "A" in STEM to make it STEAM – he's not overly concerned with the art.
"The purpose of this class is to focus on coming up with an idea and creating an interactive, immersive environment," he said. "They're not evaluated on the artistic quality because they're not artists."
But they ARE learners, and it doesn't take a quick study to know that virtual reality is the future.
"Right now, some company meeting is in VR," Sim said. "They're using it for medical instruction, for learning, for gaming, for watching.
"I'm just trying to learn more, experience more – maybe tap into the market and make more VR stuff."
But first, he most likely will do his homework.
Contact Rick Vacek, Senior Manager for Internal Communications, at (602) 639-8203 or [email protected].
****
Related content:
GCU News: Showcase orbits around virtual reality objects
GCU News: Virtual reality project bytes into the Bible