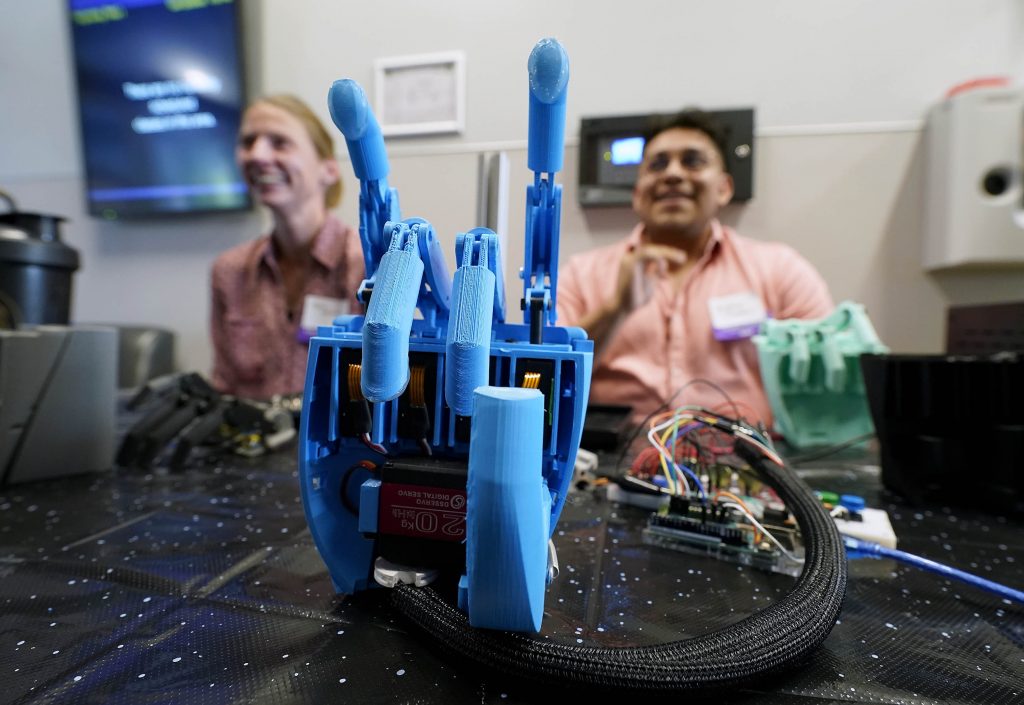 Story by Lana Sweeten-Shults
Photos by Ralph Freso
GCU News Bureau
Grand Canyon University students weren't the only ones tooling around the Engineering building courtyard Monday. So was a bit of engineering savvy encased in an aluminum cube, otherwise known as the Benchmark warehouse robot.
The mission this robot chose to accept: Shuttle nails, screws and other items autonomously from one part of a warehouse to another, as requested by GCU industry partner Benchmark Electronics.
"We've been working on it for the last nine months to deliver Benchmark a prototype," Jacob Crittenden said of the team he worked with, which included electrical and mechanical engineering students under the mentorship of biomechanical engineering professor Dr. Jeff Labelle.
Benchmark asked for the base of the robot to be less than 40 pounds, so it is made of a lightweight, yet sturdy, aluminum. The team, which also includes Caleb Rye, Tyler Luzar and Trang Pham, control the robot with a gaming controller, but the idea is to eventually use a camera system, which would be the next phase of the project tackled possibly by a future capstone group.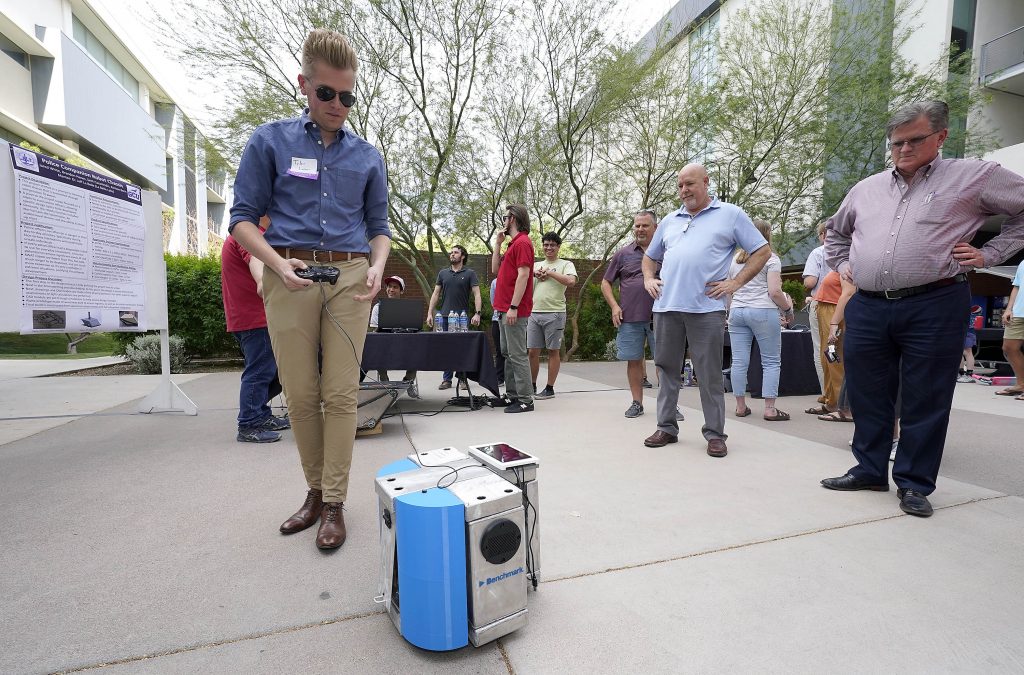 "In the future, they want to be able to put objects on top of it, so it needs to be able to withstand the different weights," added Crittenden, an electrical engineering senior and incoming engineer for GE Aviation Systems.
Not only did the Benchmark warehouse robot withstand different weights, but so did GCU engineering students. They have withstood the weight of their studies, spending the past two semesters designing and building their capstone projects – final projects designed to cull all the knowledge students have learned over their four-year college careers, turning theory into blinking, working, churning devices.
Students demonstrated more than 30 of those projects on Monday at the Engineering Capstone Showcase, presented by the College of Science, Engineering and Technology and Strategic Employer Initiatives & Internships (see a slideshow here). The event, which returned after two years of being presented remotely because of the pandemic, featured everything from the Benchmark warehouse robot, to elbow and ankle braces, high-accuracy fluid printers, automated greenhouses and a drone that can retrieve and test water samples.
"I am just so proud of all of our students and coming back after – it's been two years. To NOT have had that face-to-face presentation of the capstone projects, and to see the students, their professionalism in presenting all the things that they've learned, it's a proud moment," said CSET Associate Dean of Engineering Dr. Janet Brelin-Fornari.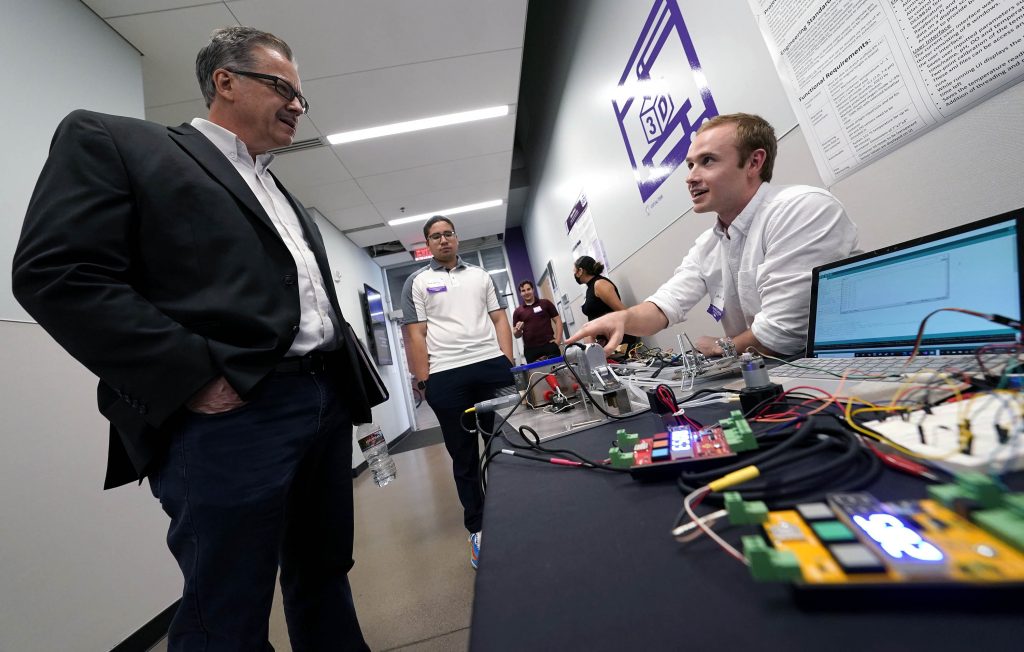 Partnering with industry
The Engineering Capstone Showcase not only brings together students' projects, it also gives them opportunities to work on teams and sharpen their presentation skills.
It puts them in front of industry professionals, too. Brelin-Fornari said about 20% of the projects are submitted by industry and nonprofits, while students come up with other projects in their Engineering Economics and Project Management course (ESG-395).
Human resources associate/recruiter Jackie Tautimez of Prime Solutions Group, who also attended the recent Technology Capstone Showcase, said, "We've got five interns and are looking for entry-level software engineers in the next few months. We're looking at growing our business by 15 more people by the end of the year," she said. Some of those people just might be GCU grads. "Since 2020, we've done a lot of hiring at GCU."
Besides the Benchmark warehouse robot team, another group that tackled an industry quandary was the Shamrock Foods Co. Quality Vision Reject System team.
Currently, Shamrock checks containers, such as bottles of milk, manually. The company looks for defects in expiration coding, bottle labeling and bottle sleeving. The company challenged students to create an automated system.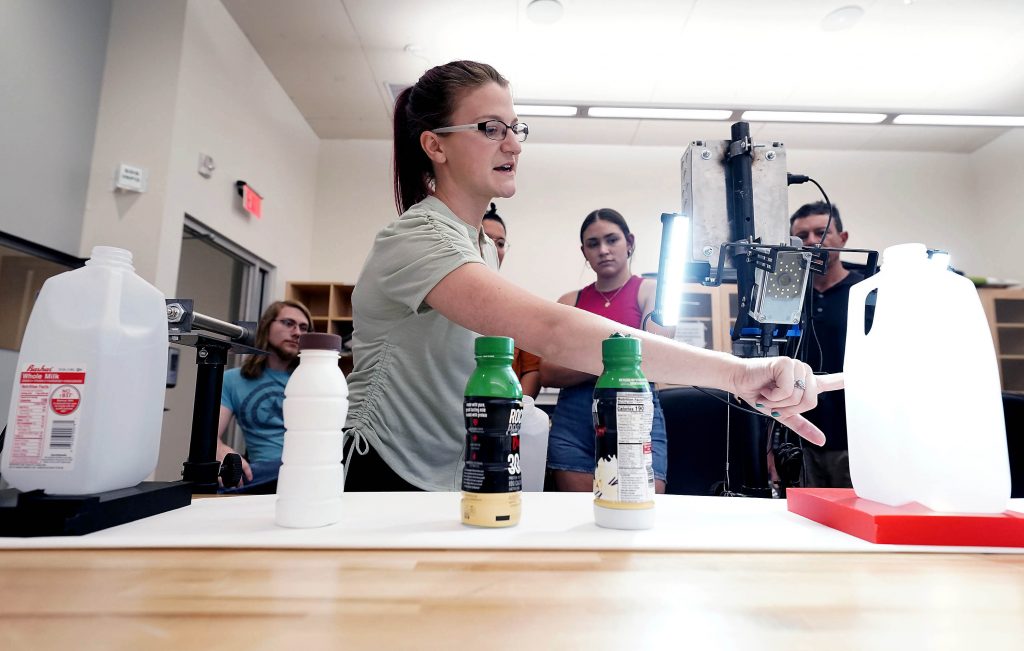 "They wanted this to be 98% accurate or higher to improve upon their own system," said Hannah Van Leeuwen, a mechanical engineering senior who will begin her first post-college job soon with Tempe-based KW Mission Critical Engineering.
The team's system takes a picture of a container after it passes by an optical sensor. If the labels, caps, expiration date and everything else looks good, the system doesn't engage. If something isn't quite right, a message is sent to a solenoid, which tells the system to knock the bottle off the production line.
"We want to make sure this thing (the container) doesn't go flying across the room, which was a reason we dropped down the PSI," said Van Leeuwen.
The biggest challenge for the team, mentored by biomedical engineering professor Dr. David Kwartowitz, was the constraints of its budget. The $3,000 camera system ate through a big chunk of the group's budget.
"At one point, the PCB (printed circuit board) fried our optical sensors, and at that point, with time constraints, we couldn't quite get it to work. I wished we had gone ahead and laid one working breadboard, integrated breadboard, with the optical sensor aside, just in case …" said Van Leeuwen, whose teammates also included Kyle Kaufman, Vanessa Castillo Ramirez and Jake Thornton.
Innovation in automation
Electrical engineering technology student Blake Wells, along with team members Glen Nolan and Isaac Wells, created an automated greenhouse that uses sensors to regulate pH levels and the amount of nutrients for the plants. The cabinet greenhouse, which uses an ebb-and-flow system, also includes pumps to pump out water and feed the plants.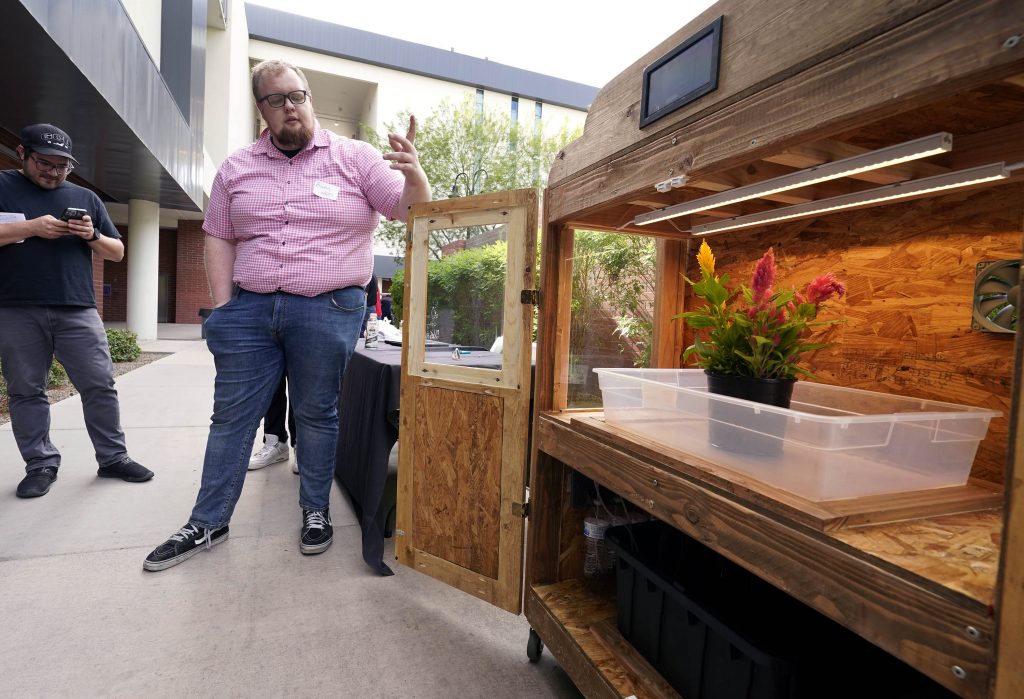 "Ideally, for the user, it's all just set and forget, you don't have to worry about anything," said Blake, whose team was mentored by engineering instructor Dina Higgins. "This is very much for people who can't have a gardening space outside or they're not very good at gardening. They can just follow a couple things online and then have fresh fruit and veggies."
A couple of teams worked on duck decoy systems for hunters.
The Duck Decoy 1 team created an automated system to maintain realistic motion in floating decoys at the push of a button. Many hunters work these decoys manually.
Up to three lines can be pulled by the system, which moves the ducks back and forth and gives them a realistic swimming motion to attract waterfowl.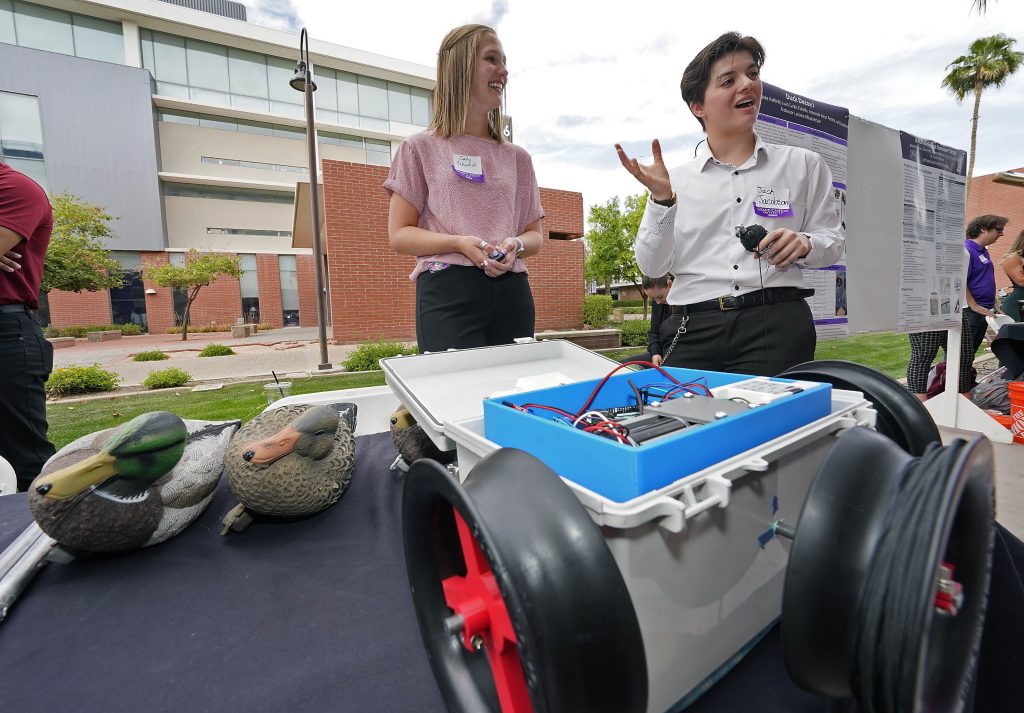 Mechanical engineering senior Carly Schwulst worked with Juan Carlos Estrella, Jacob Hatfield, Jacqueline Jacobson and Armando Yanez on the project, under the guidance of electrical engineering instructor Luciano Albuquerque. Schwulst said she learned how much these projects are all about people in the end.
"We were able to get a lot of customer feedback to learn more about what the hunters want in this product," she said: a hands-free option that is cost-effective, easy-to-carry, lightweight and that has more lines of decoys to attract more ducks.
Several other teams created auto-tensioning child safety seats, such as one for a rear-facing seat.
"We wanted to eliminate the manual process of having to secure a car seat into a car," said biomedical engineering student Judit Vargas, part of a team that also included Alonso Carazo, Job Potts and David Ybarra, all of whom were mentored by engineering instructor Craig Price. "I know a lot of grandparents have communicated it's very difficult for them to add force because they might have arthritis or other issues."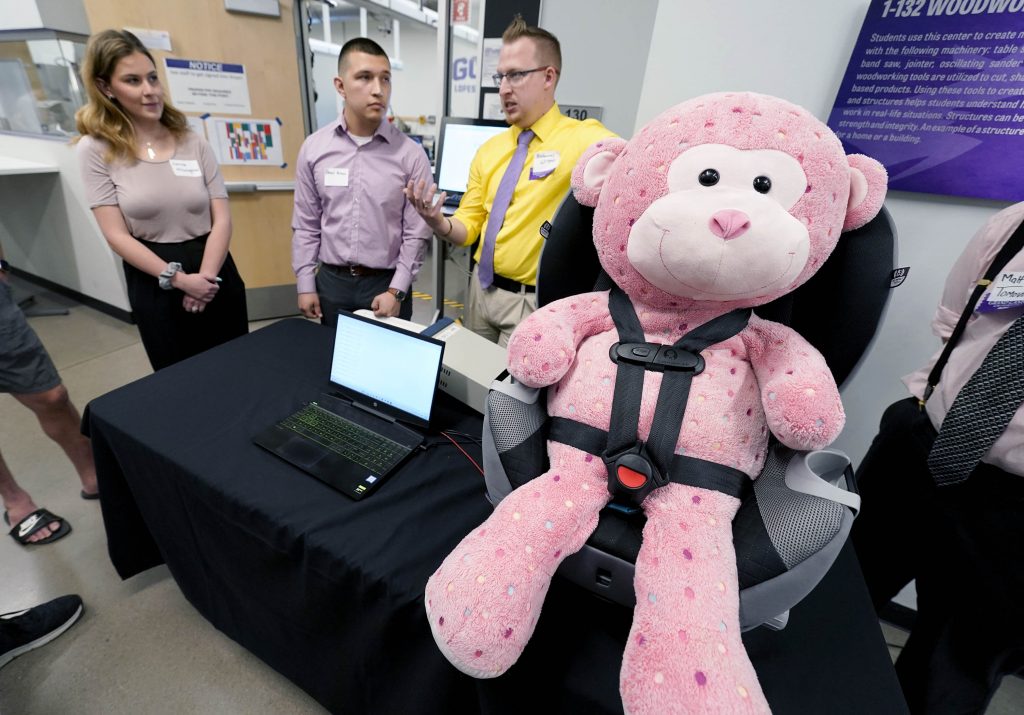 The biggest challenge for the team was getting its materials in time: "It created a lot of schedule delays in our design work," she said.
One other team designed an electronically based, automatic ankle brace that provides a more personalized fit compared to ankle tape or regular ankle braces.
The original idea would have required tens of thousands of volts to bring to fruition, "and that's not safe for anyone to use, so we kind of had to meet in the middle with an electronical validating form of an ankle brace," said biomedical engineering senior and GCU softball pitcher Ryan Denhart.
The brace is designed much like a standard ankle brace with a compression sleeve, stirrup wrap and crossover bands, but what makes it different is that the students integrated pressure centers into the band to help it obtain the correct amount of pressure to support the ankle. It is made of an 80-20 nylon/spandex blend, material already approved by the Food and Drug Administration for biomedical use.
"We want to make sure it's safe for the skin, it's biocompatible," said teammate Stevie Morales.
"Overall, it's supposed to help optimize rehabilitation and recovery," said Denhart, who also worked on the device with teammates Noah Fox and Thaddaeus Kunce with guidance from engineering instructor Emmy Tomforde.
Ask what was the most fun for the team in tackling this project, Morales said it was going beyond designing something on a computer screen.
"In other classes, it's theoretical – 'Oh, just create a 3D model.' I don't really like doing that," said Morales, who added that teams received funding from GCU to create their projects.
"By using the money to purchase stuff, it actually feels like something that's real," said Denhart. "It feels very similar to what our future is going to be as engineers."
Her team was able to build the ankle brace for less than $700.
The other fun part, Denhart added: "It's a lot of ups and downs, but in the end, I think it was just fun to complete a project from beginning to end – to actually have something we're proud to talk about."
GCU senior writer Lana Sweeten-Shults can be reached at [email protected] or at 602-639-7901.
****
Related content:
GCU Today: Students' high-tech projects impress industry
GCU Today: CSET to launch new engineering programs next fall