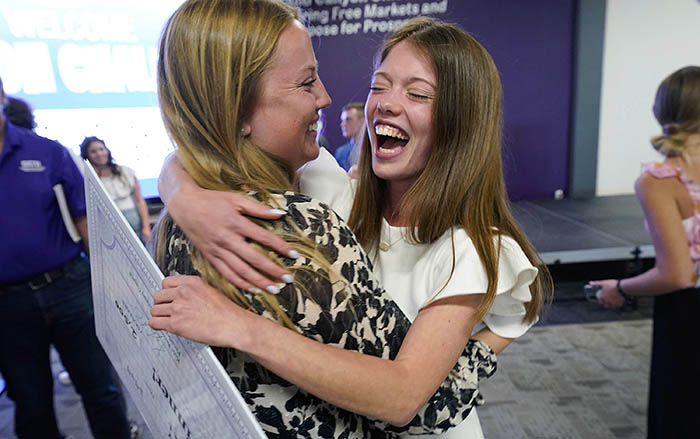 Story by Rick Vacek
Photos by Ralph Freso
GCU News Bureau
The circle of life at Grand Canyon University.
The challenge of solving the startup business puzzle.
The evolution of the last two years.
It was all on display Friday afternoon in the Canyon Challenge, GCU's biannual entrepreneurial competition (see slideshow here).
First, and most noticeably, there was the big crowd, which included high school students on a Discover GCU trip. They packed the Canyon Ventures Center to watch five students pitch their ideas to three alumni who served as judges.
Dr. Randy Gibb, Dean of the Colangelo College of Business (CCOB), was thrilled to see "the vibe, the energy, the atmosphere" after two years of pandemic-induced virtual sessions or limited attendance.
The energy was further charged by having three judges – Carson Foley, Spencer Bazz and Gabe Cooper – who are GCU alumni.
Cooper operates his Noggin Boss hat business out of Canyon Ventures, and Foley and Bazz both work for the event's sponsor, Trinity Capital. On top of that, Foley was one of the Canyon Challenge competitors in 2019 and then was the emcee the last two years.
Best of all, the winner is a perfect representation of how this all fits together. She even loves to do puzzles, especially Sudoku and Wordle, and learned in high school how to solve a Rubik's Cube.
As a resident assistant the last three years, senior Melissa Papulski was determined to figure out a better way for students to sell unwanted furniture and appliances and came up with Campus Consignment, which already has more than 150 users despite being launched only 10 days before the competition.
The startup addresses a disposal problem prevalent on college campuses across the country. Students struggle to find buyers for mini-fridges, sofas and the like when they move out, first looking to a Facebook group, then a Goodwill truck and then, as a last resort, throwing them away.
It saddens Papulski to see red tape on an item, which means it has been rejected by Goodwill and has to be taken to the dumpster.
"That's heartbreaking," she said. "There's so much potential. There's so much stuff. GCU is great. I love living on campus. We have such great residence halls, such great apartments, but we accumulate a lot in those bigger spaces."
GCU students typically start out living in a residence hall, which has more furniture, and then in subsequent years move to a campus apartment, which has a full kitchen but no furniture.
"So it's easy to switch between needing a mini-fridge for two years and then not need it," she said. "We have a lot of out-of-state students who don't want to take it home or put it in storage – it's easier to donate it or throw it away."
Papulski is one of those students who came from afar – she's from McMinnville, Oregon, where environmental issues are a big deal. "I have always cared about sustainability, trying to minimize as much as I can for myself, and even then I find it difficult," she said.
And she is about to experience it again. She graduates in a few weeks with dual degrees in film and entrepreneurship and is moving to the Dallas/Fort Worth area, hoping to start a career in video marketing. She loves the dresser she has used for the last two years, but it can't go with her.
But now there's Campus Consignment, which solves friction of distance – the length of the journey and its difficulty are a consequence of the energy and resources needed to complete the journey.
"I could see my friends using it," said Foley, explaining why the judges were swayed. "I just graduated from GCU, and I'm part of all the Facebook group chats that people sell things on. I just saw a very easy way to implement it here.
"And with the scalable model of it being an app, it made sense – they could scale to every single campus. It made sense, and it made money."
Papulski plans to use the $2,500 first prize to reimburse herself for the $200 she spent on startup costs and then invest the rest in what's ahead as she manages the business from Texas. She has been talking to GCU students about becoming the local point of contact, same as she would do if she scales it to other universities.
"What's nice is that it's a platform – it's an app," she said. "I'm able to run all the databases, basically run the whole business and do marketing from afar, anywhere I would like. This business is able to be scaled to other universities. They still could sign in and I could run all that data and be able to oversee it."
The judges selected Nathan Mikulin's RingMe, which turns a specially made ring on your finger into an electronic business card, as the second-place finisher, worth $1,500. Feiri (Rate My Food), Talbert Herndon's app that provides diners with ratings of each item at restaurants rather than just the general Yelp reviews, was third and received $1,000.
The other finalists were RCG Innovations, by Maggie Whalen and Riccardo Carranza, a custom headline company for vehicles, and Fixxi (Chamberlain St.Jean), an app for finding reliable technicians who can fix cellphones and other electronic devices.
"The pitches were so strong because so many are in revenue. They're not just an idea or a model or a plan," Gibb said, noting that each one also involves technology and thus encourages collaboration between colleges, such as the partnership between CCOB and the College of Science, Engineering and Technology.
Four of the five competitors were in ENT-446, the entrepreneurship class in CCOB taught by Canyon Ventures Director Robert Vera. Students from the class met with Vera afterward to discuss what they had learned from Friday's experience.
"He was able to sharpen us so well coming into this," Papulski said. "He played a pivotal part in me even pitching to be in this. I had this idea and he'd say, 'OK, this is a great idea. Where are you going to take it? What are you going to do?' I was able to, each week in class, say, 'This is where I'm at. What's the next step?' He would show me that this is what you need to do to make this an actual business."
The guidance process was further clarified by Papulski's participation in the shark tanks organized by the IDEA Club. That's where she learned how to pitch her product. But what was the first time like?
"Awful," she said. "My biggest weakness is actually my public speaking. My voice gets really shaky. It's not scary for me. I just get super excited, so I lose breath and I get all caught up on my words.
"In the beginning, it was a totally different presentation, totally different information that I put on. Then I tapped into friction of distance, which is a geography term, and was able to form it and see what I actually was trying to show. Before, it was all this information that was like, 'This is why we're so cool.' And now it's, 'This is what we want to offer and this is where we want to go.'"
It all goes back to that GCU circle of life. In entrepreneurship, that means various things, and Tim Kelley, who chairs entrepreneurship and the Canyon Angels investment group, is best equipped to explain it:
"The goal is to promote entrepreneurship to all students in every way possible, the mission being that the best, if not the only way, to learn business is to do business.
"Through IDEA Club being the gateway entry point, from freshman year or whenever you're motivated, that's when you can start and begin to build your idea at our shark tanks. You're pitching to crowds of people to realize your idea.
"If you're not the startup kind of person or you're not teaming up with another student, then come here to Canyon Ventures. Here, we've got almost 50 companies that are world-class companies that have received funding from professional investors. They're in revenue in many cases, and you can come here and work for them and see how those entrepreneurs are making it happen.
"And then if you're not interested in the operational side but you love investment and you want to see how entrepreneurs raise money, then come work in Canyon Angels. There, you see how the money flows into these organizations, how investors perceive the enterprises and, just like with our two alumni judges, what they did here on campus is exactly what they're doing working for a publicly traded venture capital group that literally invests hundreds of millions dollars."
So many possibilities, so many opportunities, and it all starts with simply having an idea. GCU's entrepreneurial circle of life continues to go round and round.
And maybe someday it will include some of those visiting high school students. The circle just keeps getting bigger.
Contact Rick Vacek at (602) 639-8203 or [email protected].
****
Related content:
GCU Today: Washed Clothing is right fit for Canyon Challenge
GCU Today: Senior nails the top prize in Canyon Challenge
GCU Today: Freshman sews up victory in Canyon Challenge