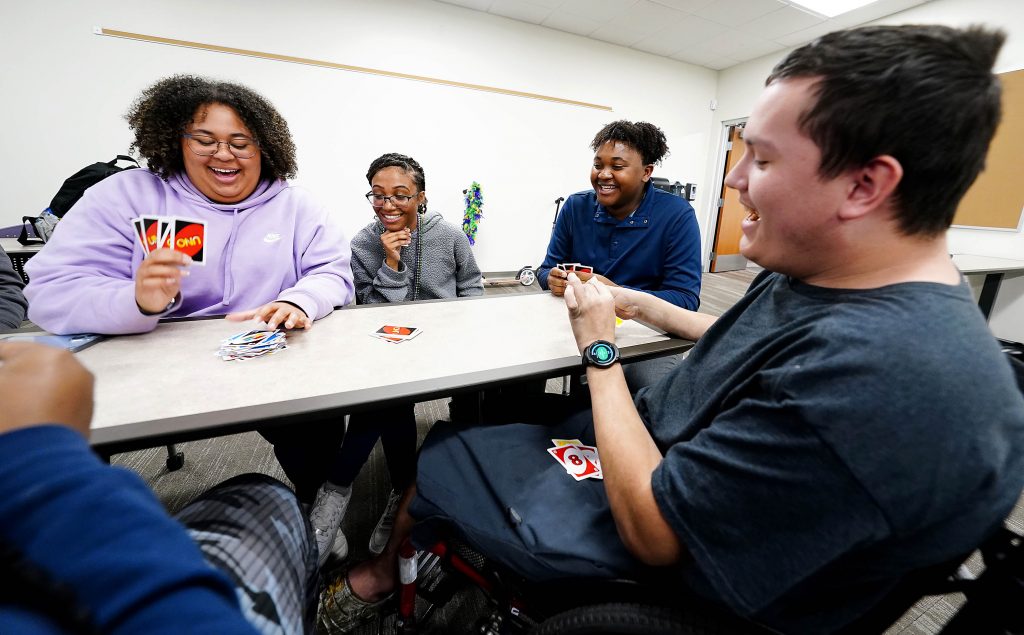 Photos by Ralph Freso
They feel comfortable here in Room 404, even as a game of Uno heats up.
"I don't make threats. I make promises," declared Alejandro Martinez.
You see, he'd been dumped on, having to pick up six cards in a game where the winner empties their hand first. By his next turn, he indeed was true to his promise, dumping a "draw 4" card on his nemesis to howling laughter.
Martinez, who uses a wheelchair to get around, sat next to his buddy, Tristan John-Jandles, who does not.
Their meeting and friendship resulted in this evening of games and laughter by a group of nearly a dozen at a new Grand Canyon University student group called Physical and Mental Disability Alliance (PAMDA).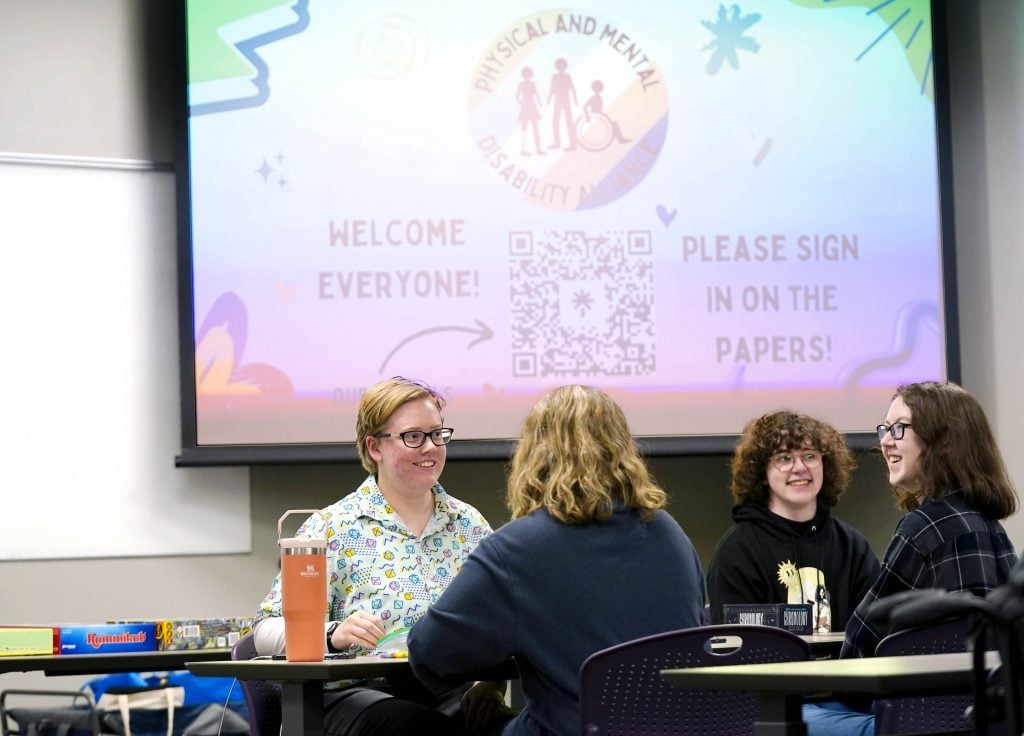 John-Jandles said he met Martinez last year when they lived in Prescott Hall on campus. They got to talking, and John-Jandles learned that Martinez was coming out of the isolation of the pandemic having learned nearly a dozen languages through apps.
So John-Jandles offered to teach him French, being a native of Canada.
In turn, Martinez offered to teach him Spanish.
Amigo.
Ami.
These new friends learned more than language from each other. John-Jandles noticed that Martinez, who has cerebral palsy, had a hard time reaching the top-loading washing machine. It got him thinking about the challenges students with disabilities face.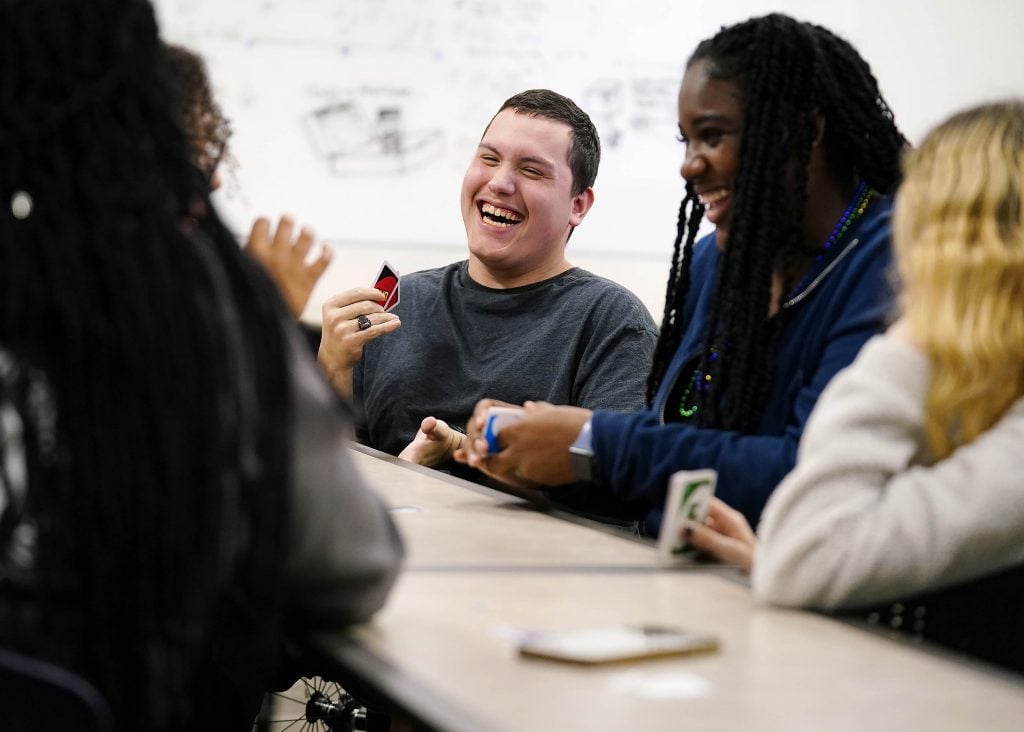 As a senator in Associated Students of GCU, the student government, he helped create a group where students who are disabled can have a community and a safe space while serving as a vehicle to promote accessibility on campus.
"Tristan has shown that they need to show more support for our population," Martinez said.
"Alejandro showed me that when people without disabilities rally behind those with disabilities and offer our support, we can simultaneously enhance our experiences at GCU," John-Jandles said.
This board game night of the group is their second of biweekly Tuesday 7 p.m. meetings of the Multicultural Office's infinity group. It's called infinity because they want to create life-long friendships.
PAMDA formed when students Kaela Nycamp, Walter Duncan and Willa Britton, who were all working on their own version of the group, combined forces with John-Jandles, Martinez and the Multicultural Office.
"The point of Multicultural is to build community and have a safe space to do it," said Laykrya Bland, a student liaison with the office, who had to draw four cards thanks to Martinez. "For me, it's a safe space to learn more about it."
One thing you learn quickly in the group is the level of comfort among members where it might be awkward elsewhere.
"I don't know what your motor skills are like, but it's a card-slapping game, is that OK?" PAMDA captain Nykamp asked while leading another group in a set of games.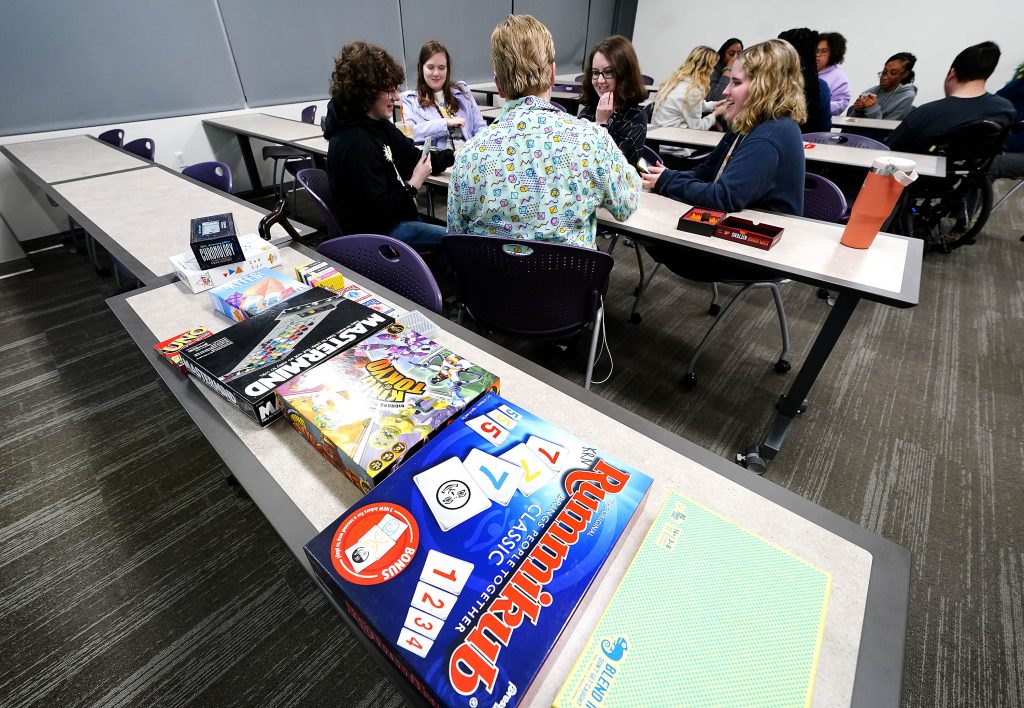 Nykamp is on the autism spectrum and says this community helps people to learn of others' struggles.
"When you think of an autistic person, you think of a little white boy who can't talk and screams," she said. "But autism people are very different. There are people who don't look different and other people who are language challenged. Disabled people don't fit in one box."
Her takeaway so far from the new group ?
"That we are here. That you are not alone. You can come here and share problems," Nykamp said.
For her co-captain, Duncan, it is also good to know others who are accepting.
"A lot of people ask why I have my cane. No one asks here," he said.
The group will continue to explore accessibility on campus, such as door buttons that are malfunctioning or washing machines that are hard to reach, but they will have fun doing it in these meetings.
Led by the example of John-Jandles and Martinez.
"I don't know, we just hit it off right away," John-Jandles said.
No matter the language or different abilities, they understand each other.
Grand Canyon University senior writer Mike Kilen can be reached at [email protected] or at 602-639-6764.
Related content:
GCU News: Club and Community Fair video